Season 2. Episode 7.
This is the episode when Schmidt messes with Cece and Robby, Jess has a mental breakdown which she attributes to PMS while unsuccessfully looking for a job, and Winston latches on to Jess' emotional rollercoaster. Meanwhile, Nick does some introspection, learns peace, and has his life changed by a mysterious, silent stranger on a park bench. This is the episode when Nick meets Tran.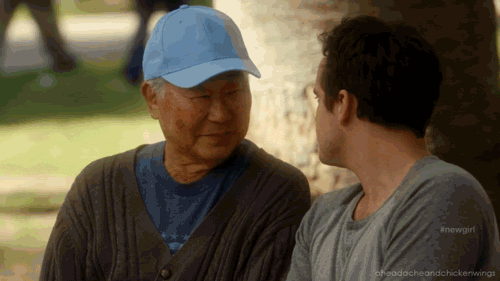 Tran, a man of little words but monumental influence, somehow teaches Nick to let go of his inhibitions and to stop holding himself back from happiness by being the best listener in the entire "New Girl" universe.
Though his methods are odd, he gets his point across. Nick passes this lesson along to Jess in hopes of snapping her out of her funk. After unsuccessfully interviewing for a few jobs, her attitude and overall bubbly spirit had been replaced with feelings of sadness and defeat and lots and lots of tears.
Jess had been misattributing her negative emotions to PMS, but Nick knew she needed to acknowledge the actual root of the problem in order to get over it. He puts on his most serious Nick Miller face and friendly but firmly tells her to stop feeling sorry for herself, to realize how capable she is, and to go convince the next person she interviews with of that.
THIS IS YOUR LESSON.
Do not let up. Do not get discouraged. Do not quit. Persistence is key in your job search. The more jobs you apply for, the more opportunities you give yourself to succeed. By shutting down you limit yourself. Who knows— maybe even in you don't get Job A, you'll meet someone in the process that will introduce you to Job B.
Do not look at your rejects as uncontrollable failures or blame the fact that you didn't get the job on irrelevant things. Rather, realize that you didn't get the job for a reason. Maybe you didn't prepare enough for the interview and that's something you need to challenge yourself to work on. Maybe the job just wasn't a good fit for you and now, knowing that's not what you need, you can focus your search a bit more.
Most importantly, do not stop believing in your ability to succeed. You need to believe in yourself. The people who are interviewing you don't know you and, therefore, don't have any reason to believe in you. You need to convince them that you can do the job and that starts with believing it yourself.
So yeah... thank Tran when you finally get that job after a grueling job search. Because if Nick didn't meet Tran in the park, Tran wouldn't have whirled Nick around like a baby in a pool. And if Tran didn't whirl Nick around like a baby in a pool, Nick wouldn't have tried to help Jess using the same ~innovative~ technique and wouldn't have shared the important lessons he learned from the one, the only.... TRAN.