Unlike Christmas, New Years Eve is celebrated all over the world in a variety of ways. In the United States alone it varies from state to state. As many of you know, in New York City a giant ball drops at midnight. In Nashville, Tennessee a guitar drops. People gather at the places where these things will be happening hours in advance! Here are some other traditions from around the world.
1. Scotland
[rebelmouse-proxy-image https://media.rbl.ms/image?u=%2Ffiles%2F2016%2F12%2F20%2F636178703698939827-1176683160_th%3Fid%3DOIP.M71d281c98c3b54d0fe1e165b96305662o0%26w%3D227%26h%3D170%26c%3D7%26qlt%3D90%26o%3D4%26pid%3D1.7&ho=https%3A%2F%2Faz616578.vo.msecnd.net&s=199&h=990fbdd5071d15f175b52584066b238d7826a86d8f229b6982418af73e1cab2e&size=980x&c=4192354333 crop_info="%7B%22image%22%3A%20%22https%3A//media.rbl.ms/image%3Fu%3D%252Ffiles%252F2016%252F12%252F20%252F636178703698939827-1176683160_th%253Fid%253DOIP.M71d281c98c3b54d0fe1e165b96305662o0%2526w%253D227%2526h%253D170%2526c%253D7%2526qlt%253D90%2526o%253D4%2526pid%253D1.7%26ho%3Dhttps%253A%252F%252Faz616578.vo.msecnd.net%26s%3D199%26h%3D990fbdd5071d15f175b52584066b238d7826a86d8f229b6982418af73e1cab2e%26size%3D980x%26c%3D4192354333%22%7D" expand=1 original_size="1x1"]
In Edinburgh, Scotland on December 30th, 8,000 people hold torches to create a river of fire that winds down through the towns streets from Parliament Square to Calton Hill. They march in step with pipers and drummers. They also enjoy dancing and traditional Scottish music. They also have what they call a "Looney Dook" which is a costumed, polar-plunge event in the Firth of Forth just outside the city.
2. Spain

In Madrid, Spain they have a tradition of eating 12 grapes, one for every stroke of midnight! They actually practice this so that they can get it right because if it is done in time then you'll have a year of prosperity! Afterwards, they have a big party and dance until the morning! Sounds like my kind of New Years.
3. Denmark

If you're into smashing things then Denmark is the place to be! Throughout the year, all the people save their chipped bowls and plates and glasses until New Years Eve, they then go around and throw them at the doors of friends and family. The more shards you have on your doorstep the next morning, the more popular you are! This sounds dangerous and is not for the barefooted. Sounds like so much fun though!
4. Brazil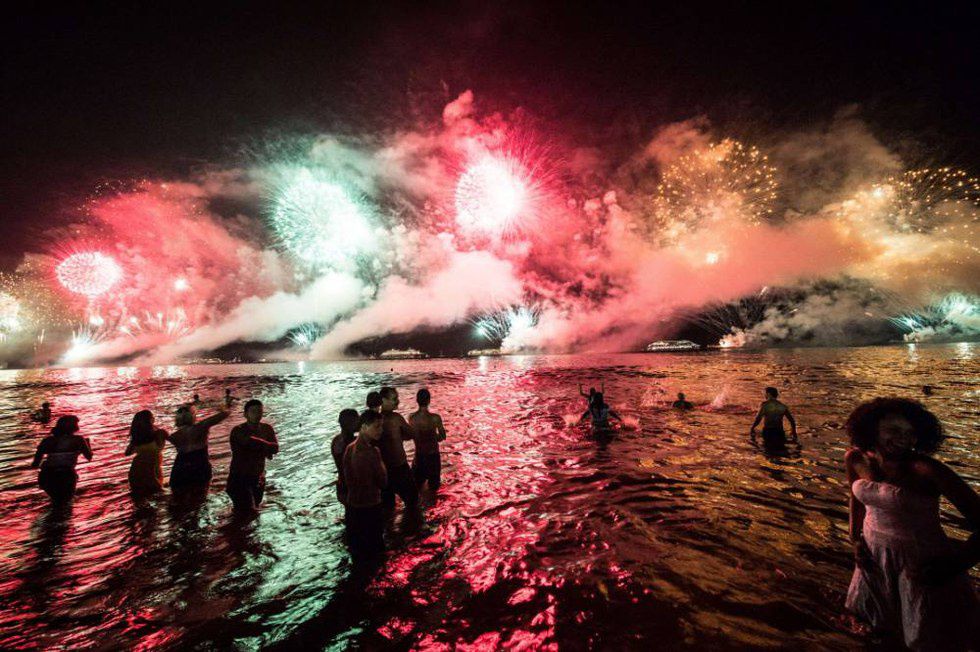 In Brazil, mainly on the beaches, one of the traditions is to jump seven waves. This will bring good luck in the coming year, and if you're wearing white while you do it then it will bring you peace. While you're at it, bring a bouquet to throw into the ocean as an offering to the goddess of the seas.
5. Japan

This New Years Eve tradition is for the more tame but not for those with sensitive hearing. If you're ever in Japan for New Years Eve or Omisoka, then you'll be ringing a bell in a Buddhist temple. However, it is not the traditional 12 rings.... You'll be ringing that bell a whole 108 times! This number of bell ringings is thought to dispel negative emotions and mentalities. If you happen to be in Tokyo at this time you can go experience this tradition at the city's Zojoji Temple.
6. Turkey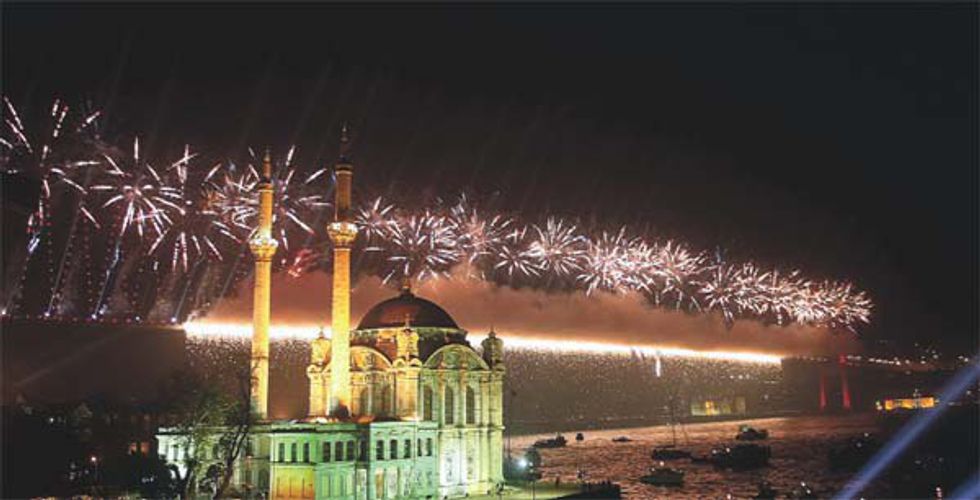 In Turkey, the evening begins with a nice family dinner. Many people then choose to play the lottery on New Year's Eve because the TV Channels announce the winning numbers just as the clock strikes midnight. Some families will decorate a "New Year's tree" and decorate their home with images of Noel Baba, which is a Turkish Santa Claus that is associated with New Years.
7. Russia
[rebelmouse-proxy-image https://media.rbl.ms/image?u=%2Ffiles%2F2016%2F12%2F20%2F636178719843954676-374204920_00-new-year-in-st-petersburg-nevsky-prospekt-05-01-13.jpg%3Fw%3D1200%26h%3D800&ho=https%3A%2F%2Faz616578.vo.msecnd.net&s=537&h=c8853335698d1e0d68bf420c3f66a05a56e48bfd41267b12b3d42d546fec7824&size=980x&c=1637698775 crop_info="%7B%22image%22%3A%20%22https%3A//media.rbl.ms/image%3Fu%3D%252Ffiles%252F2016%252F12%252F20%252F636178719843954676-374204920_00-new-year-in-st-petersburg-nevsky-prospekt-05-01-13.jpg%253Fw%253D1200%2526h%253D800%26ho%3Dhttps%253A%252F%252Faz616578.vo.msecnd.net%26s%3D537%26h%3Dc8853335698d1e0d68bf420c3f66a05a56e48bfd41267b12b3d42d546fec7824%26size%3D980x%26c%3D1637698775%22%7D" expand=1 original_size="1x1"]
Like the United States, a popular tradition is to bid farewell to the last year and welcome in the new one. Shortly before midnight, many Russians will tune in to watch the president's speech on TV or watch the New Year's Show. They will also write down their wishes for the next year on a piece of paper and then burn the paper. Once they burn the paper they then place the ashes in a glass of champagne and right before midnight they drink it!
8. Nigeria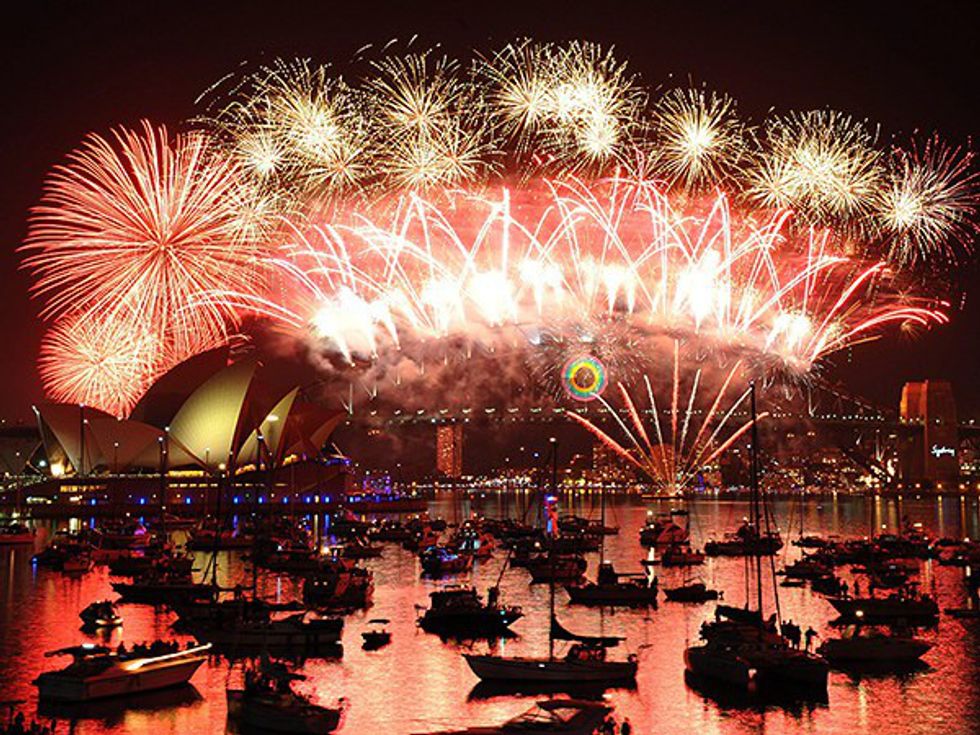 In Nigeria, New Years is a religious tradition. Among the Christian families it is a time of intense prayer and many choose to spend their time at the church with families. Some families may choose to have a month long fast leading up to New Years. Some Muslim families will spend their times at a mosque. Their traditions also include firecrackers, festivities and shopping. A lot of the younger people will go house-to-house and wish their community a good new year.
9. Germany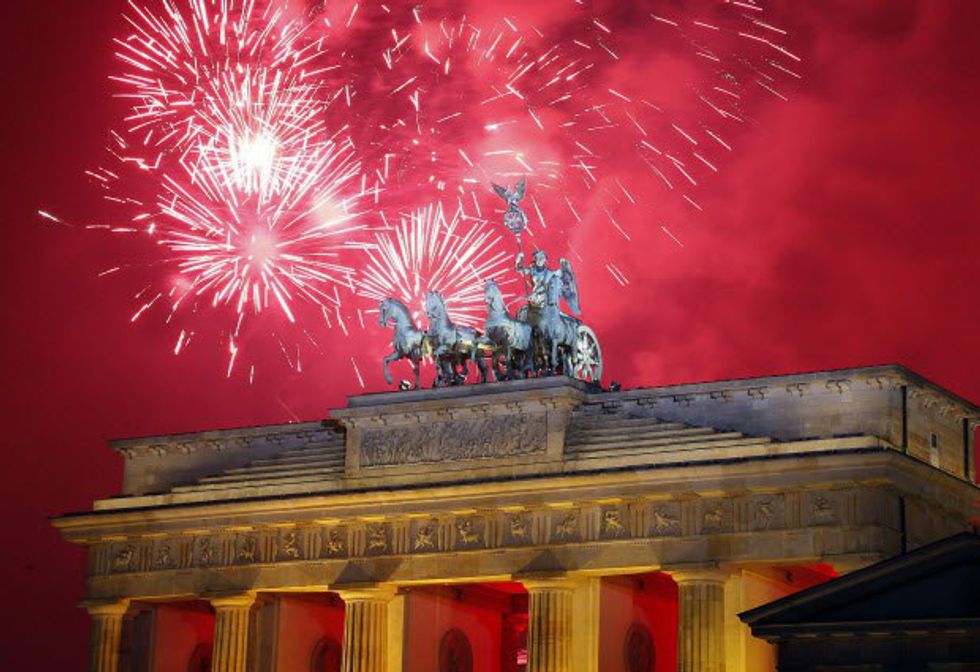 On New Years Eve this country enjoys their red wine and fireworks! They also enjoy something most people do not, lead. Some citizens choose to ring in the new year with lead pouring. They melt a small amount of lead, and after pouring the metal into cold water, it hardens and forms a shape. A special book that is made just for this tradition will then tell you what the shape means for the new year!
10. USA

In the United States we have many 'drops.' Ten seconds before the stroke of midnight they let what ever is being dropped go and we count down. TEN, NINE, EIGHT etc. Here's a few different drops that happen; a opossum drop in North Carolina. Yes, a real, live opossum that has been caught in a cage is lowered to the ground to ring in the New Year. In Pennsylvania they drop a pickle, a 3 foot tall, paper mache pickle. In Atlanta, Georgia they drop a, you guessed, peach! In Wisconsin there is a carp drop, a carp that is caught locally and is usually between 25 and 30 pounds. It is dead, by the way. The carp has been nicknamed "Lucky." In New Orleans, Louisiana, you can see a fleur-de-lis drop in Jackson Square.
11. France

In France, you are likely to receive a New Years greeting card and not a Christmas card. Also, it is common practice to give money to the people that serve you on a regular basis, like your mail carrier, firemen, and even the garbage men. This is because it is equivalent to their 13th month, and they are quite generous. They also have a New Years Eve dinner much like their Christmas dinner which you can read about in my other article here. At the stroke of midnight, you'll want to grab that significant other a prepare for the biggest kiss of the year! You'll also want to give a kiss on each cheek to and be ready to receive them! On New Years day, parades fill the streets!
12. Switzerland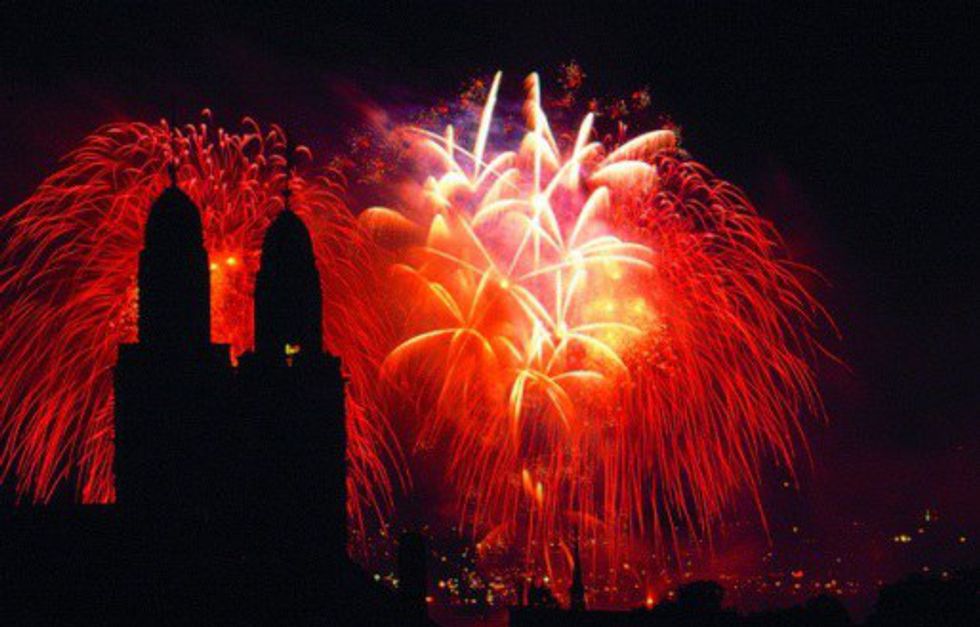 The Swiss celebrate the New Year twice in a year. The Country follows the Julian calendar so they celebrate the New Year for a second time on 13th of January. This day is also Sylvester's day, which is day where they exchange gifts and dine with the family. They also like to dress up in costumes and perform a symbolic ceremony of chasing away spirits. They ring bells at midnight and illuminate the sky with spectacular fireworks. The city of Zurich is a great place to ring in the New Year because they have live music that runs until 3 am. The ground is also filled with snow at this time of year, and that's one of the great charms of being there at this time of year.
New Years is such a fun time. It is also my birthday, and I love learning about how it is celebrated throughout the world. New Years is a time of rejuvenation and a time to start over new. Any time is a great time to start new, but there's nothing like starting fresh with a new year.
Happy New Year!
[rebelmouse-proxy-image https://media.rbl.ms/image?u=%2Ffiles%2F2016%2F12%2F20%2F636178740081731529-1297040675_happy-new-yer-2017-gif-images-free-download.gif&ho=https%3A%2F%2Faz616578.vo.msecnd.net&s=265&h=b70eabb8c954ae43c40eb2b32270ddc7da1a7f2403a8d564bf470bb39fbded7d&size=980x&c=3682921008 crop_info="%7B%22image%22%3A%20%22https%3A//media.rbl.ms/image%3Fu%3D%252Ffiles%252F2016%252F12%252F20%252F636178740081731529-1297040675_happy-new-yer-2017-gif-images-free-download.gif%26ho%3Dhttps%253A%252F%252Faz616578.vo.msecnd.net%26s%3D265%26h%3Db70eabb8c954ae43c40eb2b32270ddc7da1a7f2403a8d564bf470bb39fbded7d%26size%3D980x%26c%3D3682921008%22%7D" expand=1]