Chapter Four: Memories
I sat on an air mattress on the floor of my new bedroom with Wendell sleeping at my feet. It was just past midnight and pitch black outside yet I just didn't feel tired. What Jane had said to me kept on playing in my mind over and over.
"Well that's the thing… we haven't really talked lately… for a couple months." Jane had said earlier in the night. The moment I had the chance, I went to go talk to Alana about it.
"Did you like her!?" Alana exclaimed when I told her that I met Jane.
"Yeah I actually really did and you were right we did hit it off pretty quickly." "I knew you would!! Did you meet Jack, Janis, and her dad too?" "Not her dad but I did meet Jack and Janis. Hey but I wanted to ask you something." "Yeah! What's up?" "So, Jane and I were talking about Hawaii and we got on the subject of how we met you. She told me about how she met you in elementary school on Hickam and about all the great times that you two would have with each other." "We honestly did so many things together when we became close and there are so many great memories!" "She also told me about how you two don't talk anymore." At this point, Alana confided in me that this was the truth. Jane and Alana had not really talked since spring break. While Alana and Jane had made many great memories with each other, Alana told me how she tried and tried to reach out to Jane but nothing seemed to be working. The friendship wasn't dead, but it was broken and needed major repairing.
No matter how much Jane seemed to be pushing Alana away, Alana wasn't mad at her but was sad. She felt that Jane had lost her way, and was putting all the hope in the world that one day, Jane would find her way back and Alana could welcome her with open arms. It was then that I made up my mind and I would do everything possible to restore the friendship that was once there. Over the next couple weeks before school started, the task became more and more difficult based on the fact that I didn't see a lot of Jane, yet I wasn't ready to give up just because of this challenge. My mom and I would be leaving for California to move my Sister into Pepperdine and as the days until departure ticked away, so did my chance of talking to Jane before school started. We had talked on a couple different occasions but conversations didn't center around Alana. Most of the conversations between us were directed around her introducing me to different people.
After arriving in California, I apologized to Alana because I was not able to make much progress with Jane, yet Alana appreciated all my efforts just the same. Being back in California brought back many memories. No matter where we had moved throughout my lifetime, we had always managed to make trips to California to visit my Grandma and Aunt who lived just an hour away from Los Angeles. Just a couple months ago, in March, I was celebrating my birthday with a trip to California and adventures in Disneyland, and now I sat in one of the two guest bedrooms of my Grandma's house that I had sat in for years. The previous times were memories though and a lot had changed since the last time I had been in California. For starters, Hawaii was no longer my home, Virginia was. The last time I was in California, I was not talking to an amazing person like Alana, who had become one of my closest friends over the past month.
Pepperdine was like no other campus I had set foot on. The buildings were on long sloping hills and it seemed any point you stood, you would have an excellent view of the ocean. Leaning over the railings and looking at the water that seemed so close yet so far, it brought back memories of Hawaii. Memories of Ethan and Jared and going to the beach. I smiled as the memory of the end of the track season two years previous came into mind. The coaches had decided to have one of our final practices on the beach in downtown Waikiki. The practice outline was simple: Run the sidewalks of Ala Moana Beach Park. After a certain number of miles was reached, the coaches would tell us to stop running. When practice was complete, there would be a potluck with all the Hawaiian food imaginable from teriyaki chicken to kalua pork. We were given the opportunity to sit back and relax after a long and successful season, and eventually most of us were sprawled out on the sands of the beach or in the water.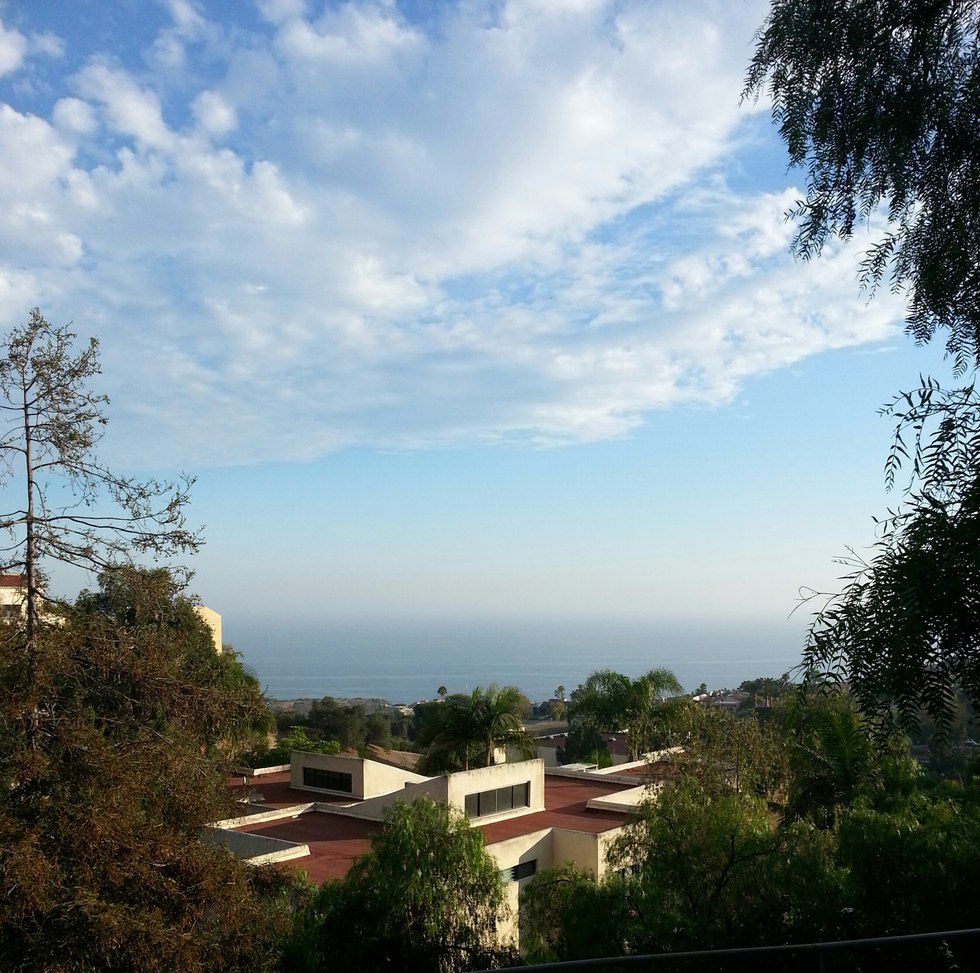 I smiled and turned away from the railing walking back to the main courtyard with my Grandma, Mom, Aunt, and sister. After moving Georgi in, we decided that it was time to go so we would beat traffic on the way home. I was already in a good mood, sitting down to eat dinner at Wood Ranch grill, but things became even better when Alana texted me to let me know how amazing of a friend I was to her. Things were going great and truthfully, I couldn't wait to get back to Virginia. There was only few days left in California and when we returned to McLean, there would only be days left until school started. Days until I would meet my new classmates and make new friends. The school was going to be much different from the one I was coming from, but for the first time since I was a younger child, I was excited for a new adventure. We would be leaving California on Wednesday, so my mom and I made the most of the rest of our time by going to the fair and talking with my Grandma and Aunt. Wednesday came quickly and after we were seen off, we had eventually boarded our sixth plane of the year. After everyone boarder and the plane was secured, we took off and once again I put my head against the window. The last time I had done this, I was emotionally exhausted and didn't know what to think about moving to a new home. That plane ride was now in the past and now a new one had come. There was new hope that I would like my new home and new hope that I would meet a lot of new people and surround myself in friends that meant the world to me.