Going to a PWI and finding yourself as the only black person in your friend group sometimes can offer you the title of "Honorary Know-It-All" regarding your race and culture. Now before you start yelling at your technological device, don't.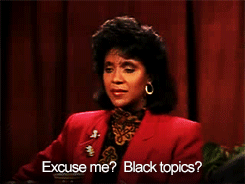 Giphy
I am not saying it is not OK to ask questions especially if you want to be more informed about who to interact with those of minority races. It is good to try and be more informed about a different culture but sometimes the way people try to achieve this can be insensitive.
This is, of course, supposed to be a light-hearted way of addressing a serious issue. But, next time you are talking to your minority friends, just be aware and culturally sensitive. Think before you speak. I mean really think before you speak.