I never thought I'd go to Tennessee, but I found myself thinking about the city after my dad's boys' trip to Nashville. I heard how fun it was and dreamed about what the city would be like.
A couple of months passed, and I made a new friend. Within a week, we were driving to San Diego on two days notice to see Greta Van Fleet.
I had already been ecstatic to see them back home for my annual concert trip. I chose Greta Van Fleet this year: My freshman year it was Liam Gallagher at The Warfield and sophomore year it was two nights with the Arctic Monkeys at The Bill Graham Civic Auditorium.
After our trip to San Diego and my journey back home, I felt post-concert depression and so did my new found best friend. After 10 hours in the car with someone, you get to know them pretty well.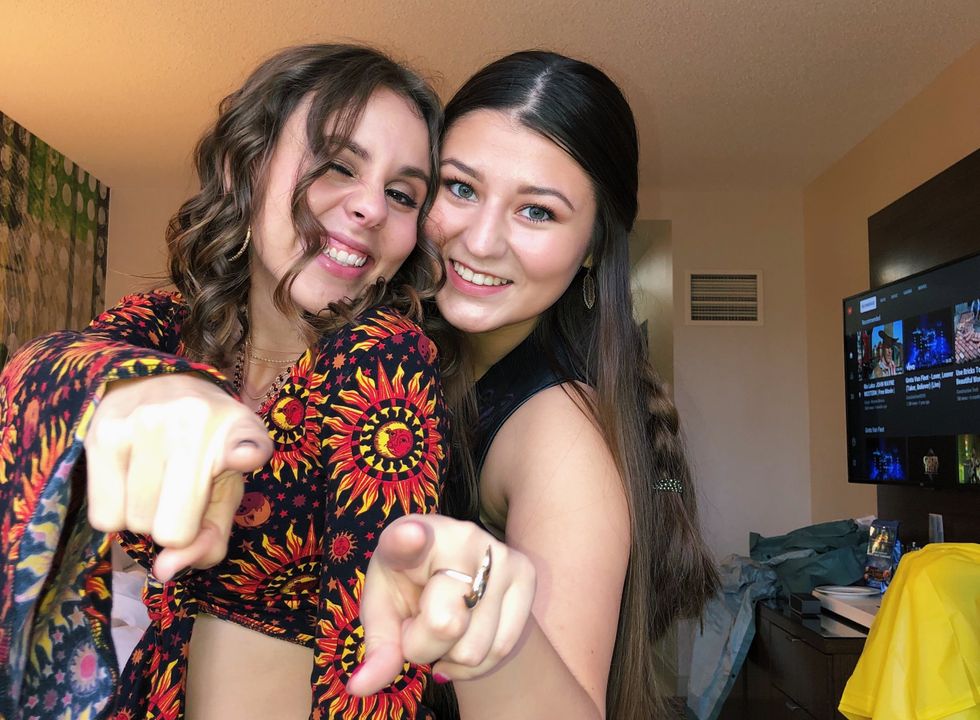 Lauren Hernandez
Within a couple of days, the band announced that four of their remaining shows would be canceled due to illness. We were obviously sad for the band, but we did look into the rescheduled dates.

The texts were coming in every announcement. Where would we choose? What city would we explore? Philadelphia, Nashville or New Orleans? Would this cure our post-concert depression?
After a lot of planning, or dreaming, we made serious plans to go to Nashville, Tennessee. We purchased our concert tickets, bought our flights and were surprised by her parents on where we would be staying! All that was left to do was wait, and as we waited, all we could talk about was how excited we were and blasting "Flower Power" every five seconds.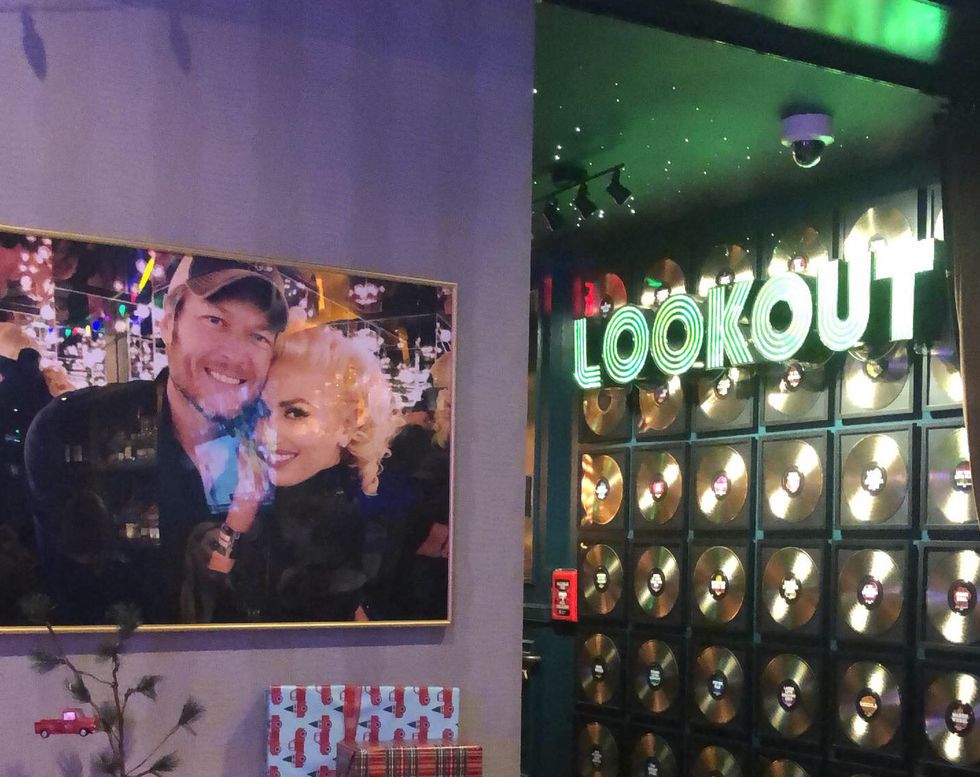 Lauren Hernandez
When the day finally came, I was too excited to sleep! We were seeing our favorite band for the third time in a city we had never been to. We had the perfect outfits, the perfect hotel room and a number of places we wanted to go, drinks we wanted to try and food we wanted to eat.

After landing and doing a full days worth of things: I was exhausted. We had taken off at 7 a.m., and it was now 5 p.m., but on our walk back, I remember seeing Broadway for the first time, in action. We were amazed and ran upstairs to get ready! The lights, the partying in the street, the music blaring and the southern hospitality! What could be better?
After going to many infamous bars including Blake Shelton's bar, I felt I knew the town pretty well and was excited to explore more. The next day we went to record stores, clothing stores, The Gulch and even the area near Vanderbilt.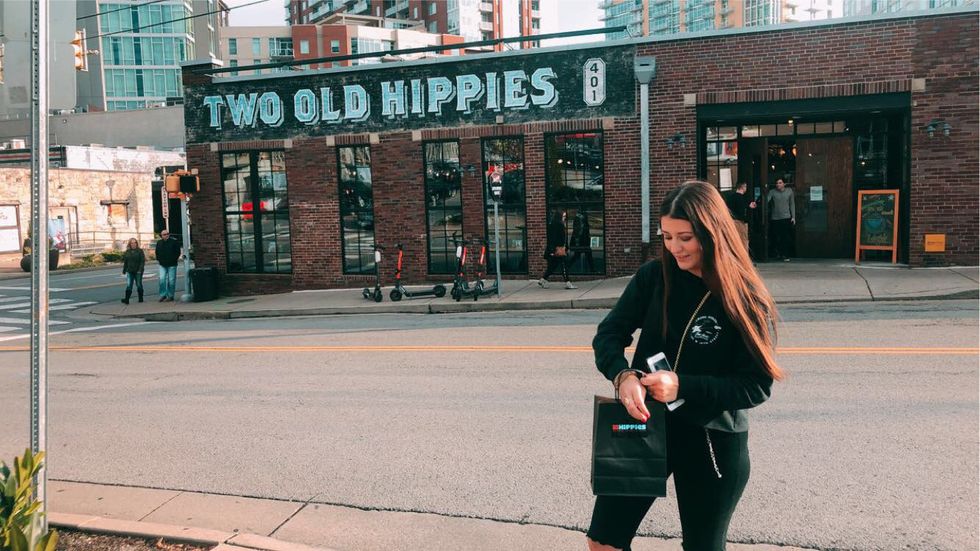 Avery DeHaven
I never realized how many people had a connection with Nashville until I went there. The number of stores, bars, record stores, etc, that were there from celebrities that were not even from Nashville was crazy! It made me feel like I had a little piece of myself in Nashville. Especially when I found the cute little hippie store with the flower pants and the peace sign door handle: Two Old Hippies.

Finally, Monday came, and I can honestly say I never experienced something like it. We woke up early, blasted music and were ready by noon. We walked to the concert venue and started our wait in line: for seven hours.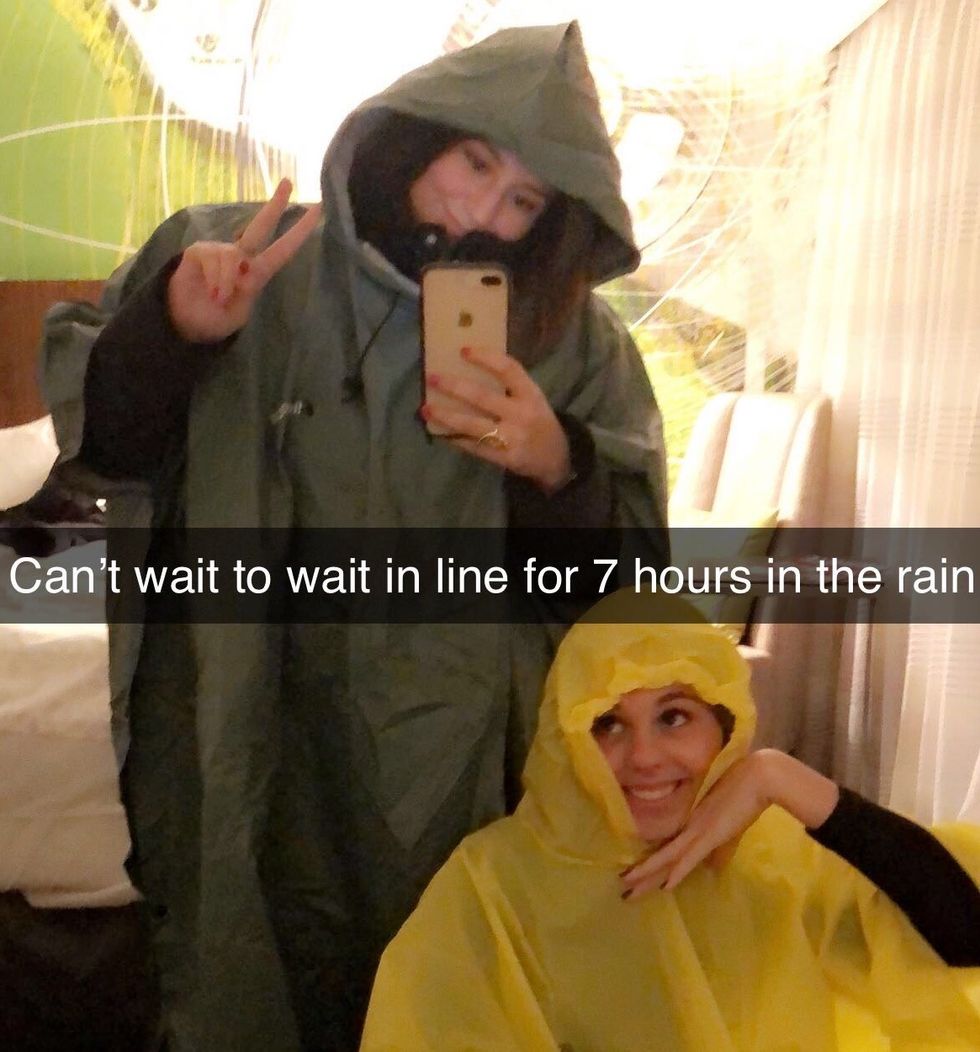 Lauren Hernandez
Not only did we wait in line for seven hours, in our perfect outfits and newly done makeup and hair, we waited for 7 hours in the pouring rain with thunder, lightning and in 30-degree weather. I think I lost my sanity the second I realized the ponchos we bought would not be enough, and I stood up and my pants were completely drenched.

Many miserable trips were made to the CVS, not exactly around the corner, by my friend and me. Handwarmers, more ponchos, umbrellas and snacks were purchased. We pulled through, even though I seriously have no idea how. I just kept thinking about how excited I'd be when the lights went off, and "My Whole World Ended (The Moment You Left Me)" started to play.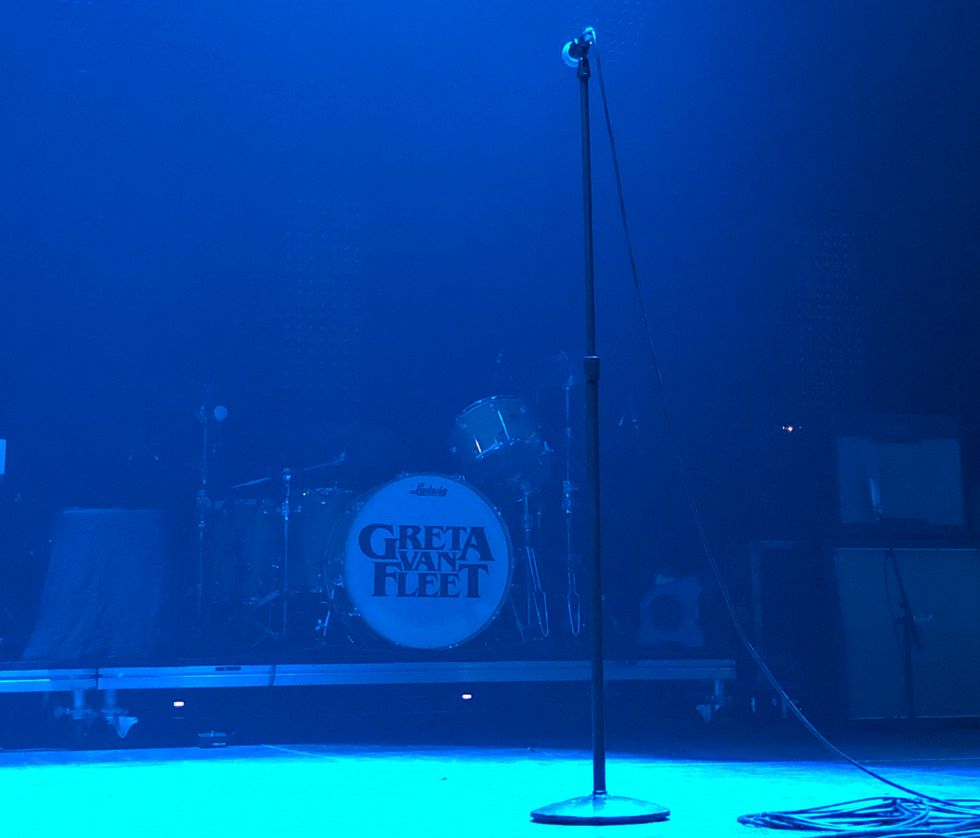 Lauren Hernandez
The venue didn't know how to prepare for the number of people waiting in line, and the second they let us all in, it was a stampede. Once we secured our front row spots: I felt so accomplished and had never been happier, that was until I took my post-concert shower after being rained on for seven hours.

Waiting for my favorite band to come on, I was soaked, dehydrated and honestly, really tired, but I didn't realize most of that because I was so happy to be where I was. Once the concert started, the band ran out with roses, one of which I got, and they began to play "Highway Tune."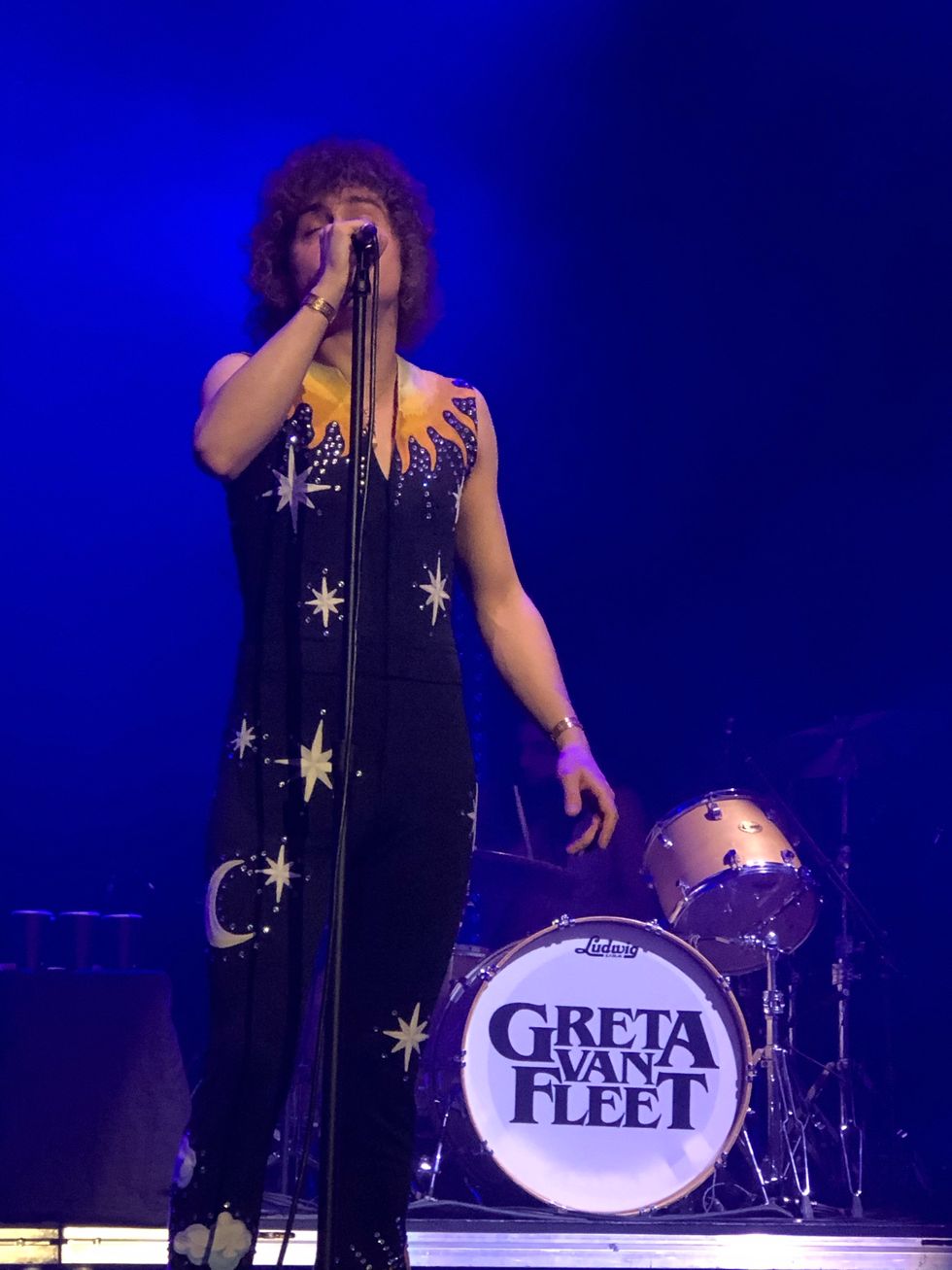 Lauren Hernandez
Now that's a song to get the crowd up! The concert was more than magical, and honestly the most special one yet. The setlist consisted of 13 songs, and in my opinion, was the best! After the show, I could barely feel my body, but I'd done something I'd never done before. In less than three months, I saw a band in three different cities. I saw a new city across the country from mine, and I'd traveled with a friend.

Once we got back to our room, I'd never slept so well. We woke up the next morning and, thankfully, we're given a 3 p.m. check out and a three-hour flight delay.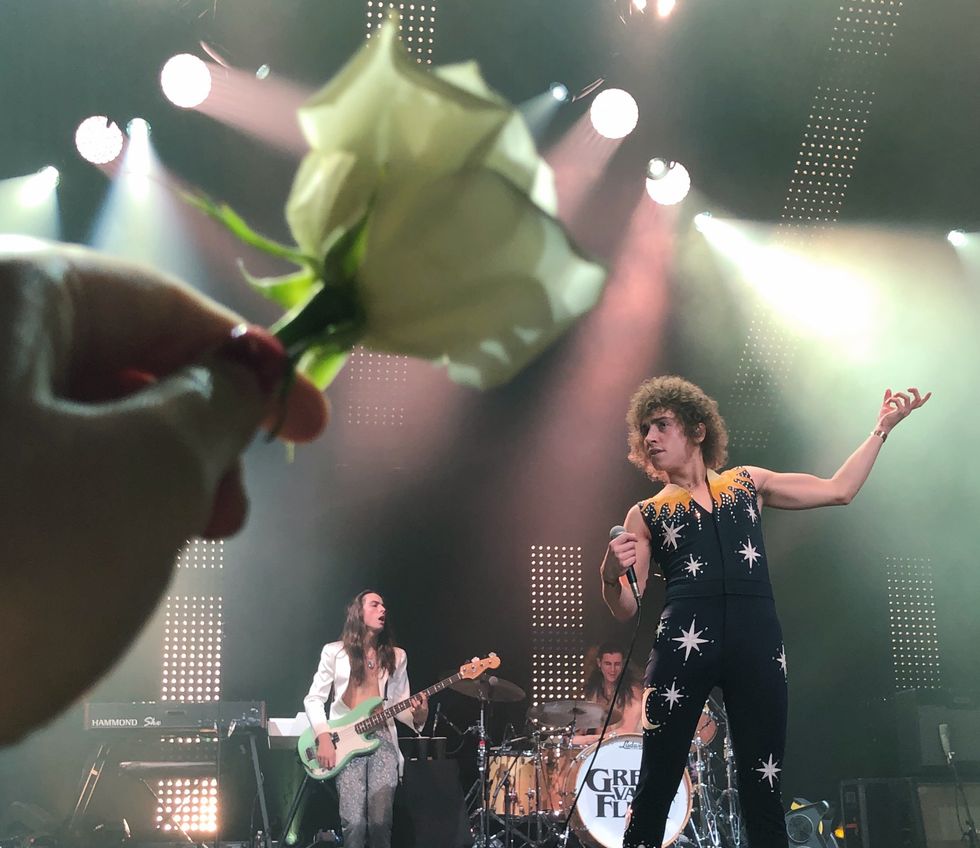 Lauren Hernandez
We walked around the city one last time. We tried some legendary barbeque, hung out in Hard Rock Cafe with one last drink, said goodbye to our local favorites and had a bittersweet goodbye. Part of me felt like I'd almost lived in the city. By the time we left, I kept calling our hotel, "Our apartment."

I just felt like every day was another day out in the town with a bunch of happy people. A little part of my heart will always be in Nashville, and I think about my trip all the time. I can't wait to go back, and I cannot wait to see where music takes me next!