Welcome, future Tar Heels! As a brand-new member of UNC's class of 2023, I hope to share some insider information about my orientation experience with my future classmates. While it is certainly an exhausting two days, orientation is a great way to meet new people and learn more about the school you will call home for the next four years.
Before we dive in, I want to give you a piece of advice I wish I followed: pack absolutely everything on the recommended items list — I guarantee you will want those shower shoes before your stay is out — and bring two bags! You will need one bag to carry around your laptop and other essentials, and you do not want to lug your bedding around after you check out bright and early on the second day.
So, here we go: day one. Most of the events are succinctly summarized on the orientation schedule, so I won't waste time recapping those, but there are a few tips you'll want to know before you step on campus. For starters, definitely check in early to your residence hall. I rode with a friend (another good idea if your parents aren't attending) and we arrived around 8:20 a.m. The line to check in was short and moved quickly, and we had time to get set up before making our way to the Student Union. As we left, the line was already wrapping around the building.
The same is true with orientation check-in, taking your One Card photo (pro tip: make sure to look cute from the shoulders up because this picture will follow you for four years), and configuring your laptops (whether you are purchasing one through the school or setting up your own from home). I heard horror stories from students who waited in line for nearly an hour before running out of time and having to return the next day. If you finish with free time, I suggest returning to the dorm (we stayed in Cobb) to regroup before heading to your first event.
It is around this time that the UNC Guides app becomes an invaluable resource. If you don't know where to be, what time to get there, or — most commonly — what time the lecture you've been sitting in for seemingly (and sometimes literally) hours will finally end, this handy app provides everything you could possibly need, from a detailed daily schedule to a series of helpful maps.
If you make it to lunch (which I'm sure you will, as you will be absolutely starving by the time it rolls around), there will be an overwhelming number of options. Make a quick loop and go with your gut or you'll be wandering aimlessly for hours. Also, don't miss the soft-serve machine (a.k.a. the best part of the dining halls)!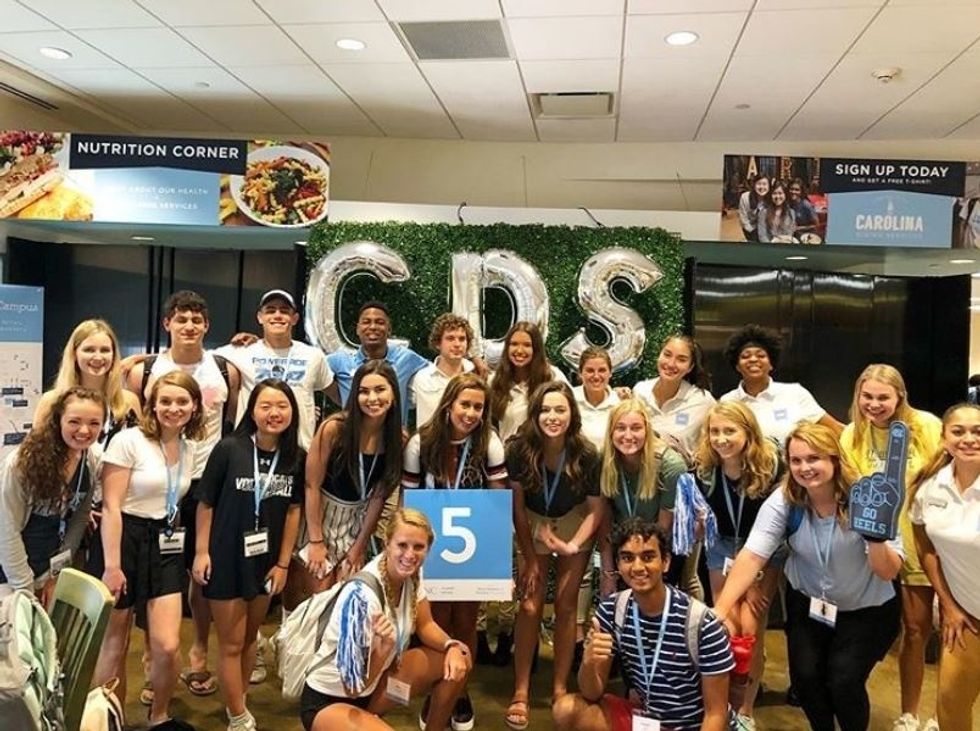 An orientation group at lunch.Carolina Dining Services on Instagram
My next tip is more relevant the second day but also applies to the first: take notes! It may be a drag, but you have a lot of information coming at you all at once. By the end of orientation, you will be too overheated and sleep-deprived to remember anything you heard, so be sure to write it all down for later. Pay special attention to information about class registration because it's easily the most stressful thing you will have to tackle this summer.
Day two is much less structured than day one, which is both good and bad. You will have more freedom to explore campus and learn about programs specific to you, and your Orientation Leaders (or "OLs") won't be there to babysit you. As tempting as it may be to sleep in, you want to take full advantage of everything Carolina has to offer.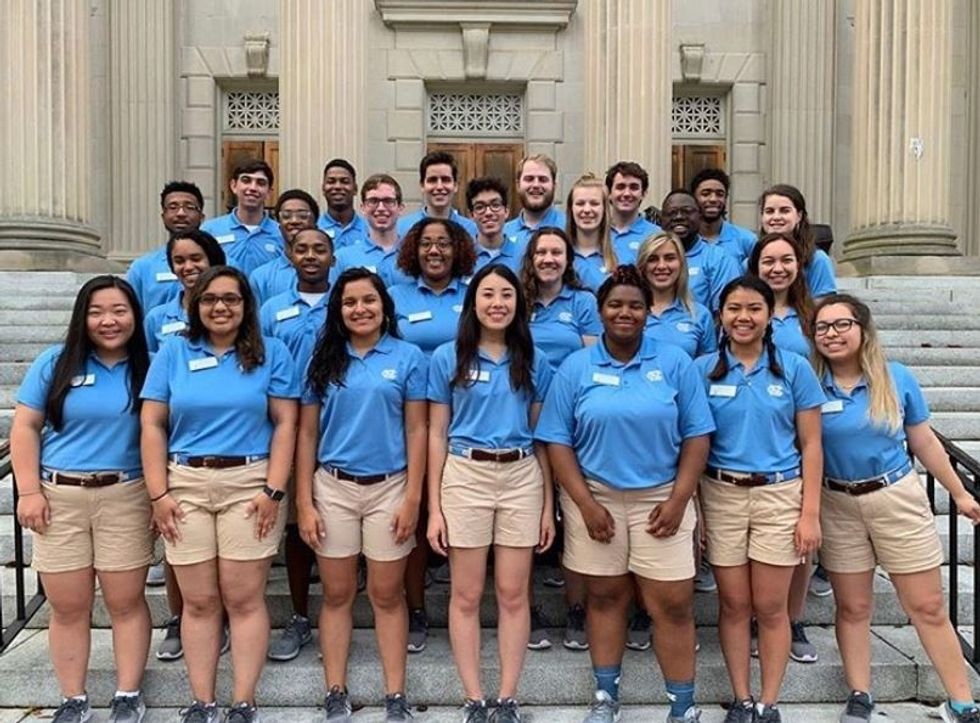 The Orientation Leaders for the class of 2023.UNC Class of 2023 on Instagram
When you get to the interest sessions, ask for directions if you can't find a certain room: everyone is happy to help and it saves you valuable time. If you're interested in attending the study abroad session, make sure to get there a little early because seats will fill up quickly. Finally, this is a good time to slip out for some coffee at the Stone and Leaf Cafe in the Student Store. From personal experience, no one will notice (probably) if you disappear for a few minutes, and this is a good way to circumvent waiting in a long line during free time. You'll definitely need some caffeine before you embark on the next leg of orientation: three straight hours of lectures, if you're as lucky as me (if you're in groups 11-20, you'll get a lunch break somewhere in there — hooray).

Throughout all these events, stay on the lookout for free stuff: you can really rack up stickers, pens, handouts, pennants, buttons, and even t-shirts if you make it a priority. There's nothing better than showing your Tar Heel pride without spending a penny (besides, you know, the $228 orientation fee).
Most importantly, the best thing you can do is stay open to new experiences, information, ideas, and people — especially in small group sessions. This is not the time to seem cool and aloof: you are far more likely to have a good time if you let yourself be excited about every new activity. You won't enjoy orientation if your group is quiet and distant, so be the first to make a joke and break the ice! Chances are, everyone else is just as nervous as you are. Feeling comfortable within your group will be super important during discussions and also guarantees you at least a dozen or so new friends by the end of your stay.
So, there you have it: my guide to surviving freshman orientation at UNC Chapel Hill. If you keep these tips in mind as you race between lecture halls, I'm confident you will have a great time. Just be careful not to trip on a brick!