The University of North Carolina at Chapel Hill, which was chartered in 1789, is world-renowned for its antiquity and comeliness. From the elegant and towering Wilson Library to the symbolic Old Well, the school's reputation lies not only in its academics but in its physical features as well. However, when people describe the beautiful, historic campus of UNC, it's very likely that one trait will slip out of their mouths: brick. In its entirety, the campus features 729 acres of breathtaking scenery, as well of 6 miles of sidewalks with safety-threatening, steal-worthy red bricks that have become the foundation of a larger problem for the school.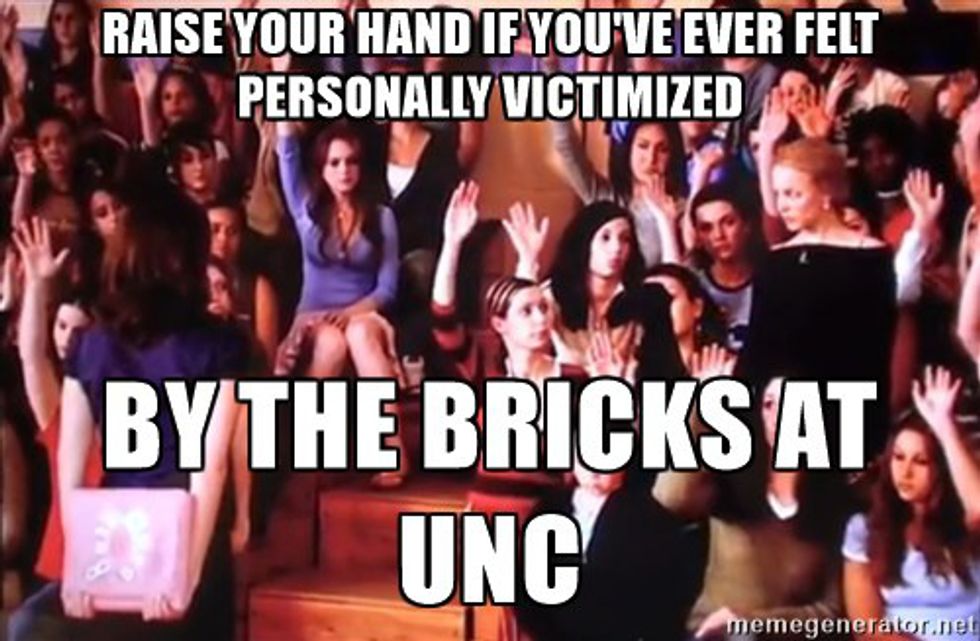 In a way, the bricks at UNC have become a part of the campus's culture over the years, mostly because of their unevenness and the tendency of students to steal them. I remember when I first started school, I was alarmed to find a large gap of about 15 missing bricks outside of my dorm. At first, I assumed they were rotting or simply being replaced, but I later learned that it is a student tradition to steal loose bricks for a keepsake. As I passed this brick-less abyss that plagued the sidewalk next to my dorm, I then paid attention to what people would say as they walked by. Sentiments such as, "Ha, I have two in my room!" and, "I saw some guys take three last night" caught my eye, and made me realize how much enjoyment the student body was getting out of stealing these bricks. As of right now, these bricks have been replaced and the incidences of brick stealing have decreased, but the discovery of this tradition was an intriguing part of my acclimation to college.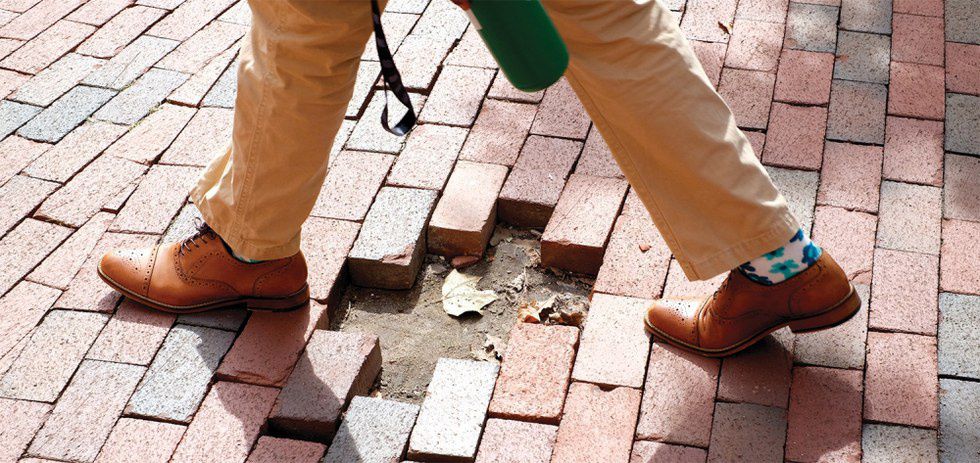 One of the main reasons that UNC's bricks are so frequently stolen is because many of them are loose. While this promotes stealing, it also serves as a safety hazard to students. Whether the bricks have come loose or have been moved by underground tree roots, it's hard to find a stretch of a UNC brick path that is completely solid, even, and safe. Unfortunately, these hazards are worsened even more by the elements and truly serve to put students at danger. Fall time on campus is breathtaking, with the crisp air and changing leaves, but these very leaves can serve as a source of injury when combined with uneven bricks. When winter comes around, the iced over bricks are a one-way ticket to the emergency room, and on a rainy day a wet brick path could be your excuse note for that recitation you didn't want to attend anyway. While the bricks at UNC serve as a staple to its beauty and reputation, and it would be unrealistic to ask for all brick paths to be replaced by concrete, it's hard to ignore the frequency of mishaps for students on the way to and from class.
[rebelmouse-proxy-image https://media.rbl.ms/image?u=%2Ffiles%2F2016%2F10%2F07%2F6361146786346650651952939476_anigif_enhanced-buzz-28593-1390065429-16.gif&ho=https%3A%2F%2Faz616578.vo.msecnd.net&s=732&h=27e47ec10ece77118c4d4bc11c635fd30fde218c61cda73ac1eb26fc0b327f04&size=980x&c=1901207513 crop_info="%7B%22image%22%3A%20%22https%3A//media.rbl.ms/image%3Fu%3D%252Ffiles%252F2016%252F10%252F07%252F6361146786346650651952939476_anigif_enhanced-buzz-28593-1390065429-16.gif%26ho%3Dhttps%253A%252F%252Faz616578.vo.msecnd.net%26s%3D732%26h%3D27e47ec10ece77118c4d4bc11c635fd30fde218c61cda73ac1eb26fc0b327f04%26size%3D980x%26c%3D1901207513%22%7D" expand=1]
By the time one graduates from UNC, it's likely that they will have at least one embarrassing story of student vs. brick, and nine times out of ten, the brick won. Sophomore Allie Cauley recalls an embarrassing moment from her freshman year where the bricks got the best of her. "One day, while late to class, I was quickly typing away on my phone to tell my friend to save me a seat, and tripped on a brick near Phillips Hall," she reminisced. The incident resulted in an untimely fall in front of about 30 people and resulted in humble humility as falling/tripping over the bricks has become a sort of initiation right for freshman.
Whether the brick stealing at UNC is simply a jolly tradition or some form of payback for their tedious hindrance, it's hard to deny that these red lumps of clay have made their way into the culture of UNC and have made a "brick" impact.