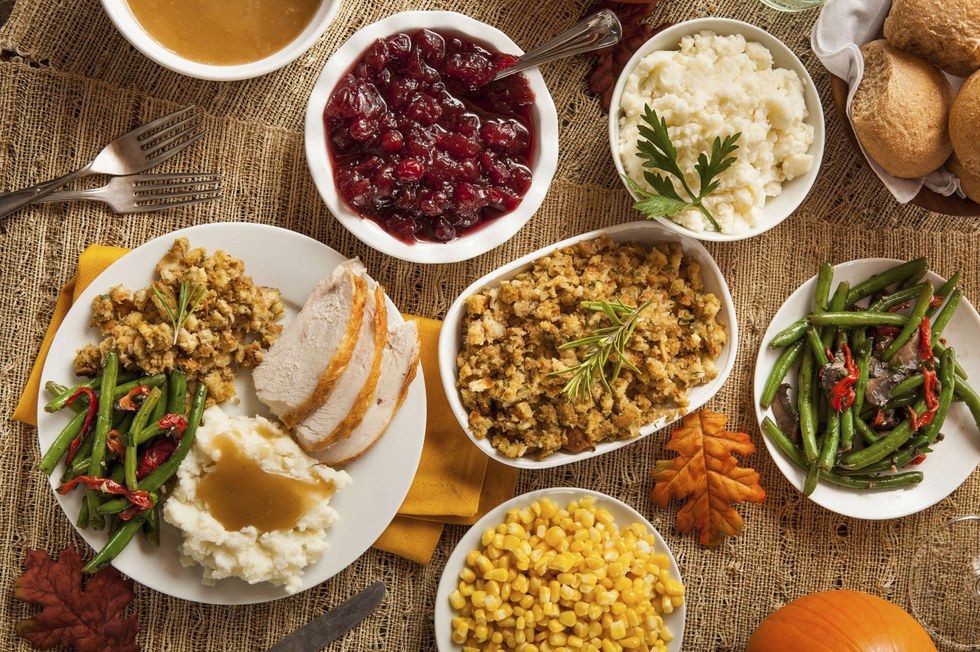 As a kid, I didn't really appreciate Thanksgiving. I just wanted Thanksgiving to be over so it could be Christmas! As I've gotten older, and gone to college, I have grown to love it. Not only does it give me a reason to go home but also because I love getting to spend time with my family.
When my dad and stepmom got married, their wedding was the weekend before Thanksgiving. They went on their honeymoon, and I went to go stay with my grandma, aunt, uncles, cousins, etc. The next year, we began a 'tradition.' Every Thanksgiving since they got married, the four of us have all individually chosen what dish we want to make. My dad always does the turkey. I'm not very good at cooking, so I stick to making a salad or sometimes the stuffing, or dressing, depending on where you're from. We eat around 4:00 and then let all of the food digest. We always go around the table and all state what we're thankful for. An hour or two after dinner, it's time for pie! We typically have an apple pie or pumpkin pie. You can't have Thanksgiving without pie!
Another tradition we have in my house is that we all just relax, and sometimes stay in our pajamas all day. My dad will sometimes make pumpkin bread out of the box from Trader Joe's, which is something my family and I are obsessed with. We all sit in the living room and watch the Macy's Day Parade. We don't have anywhere to be or anything that must get done, except for making the food, of course.
A tradition that has happened the past three to four years is something we will no longer be able to do! Every Friday after Thanksgiving, we would go out as a family and see the new movie in the Hunger Games trilogy. I guess we'll have to find a new movie to see together.
My all time favorite tradition we have done over the past few years is what we do on the Sunday after Thanksgiving. We go out to lunch with some family friends and then we go to the local nursery and pick out a Christmas tree! I think my stepsister and I both wish our ceilings were super tall so we could get a ten-foot tree, but we settle on a five or six-foot tree.
Of course, Thanksgiving is not just a day about food and eating. It is also a time to be thankful. I know that I am very thankful for my family and my relationships with them. I am thankful for so much, I could dedicate an article just to that.
I'll end on the note of saying, Happy Thanksgiving!