It's no secret that coffee shops are quite the popular hangout in the United States. While almost everybody enjoys heading to Starbucks to get their caffeine fix, sometimes it's fun to explore the more hidden gems. Here is a list of some outstanding, must-try coffee shops in every state.
Alabama: The Red Cat Coffee House

Located in Birmingham, this popular hangout is the go-to place for mouthwatering food, live music, and a quality cup of joe.

Alaska: Veronica's Old Town Café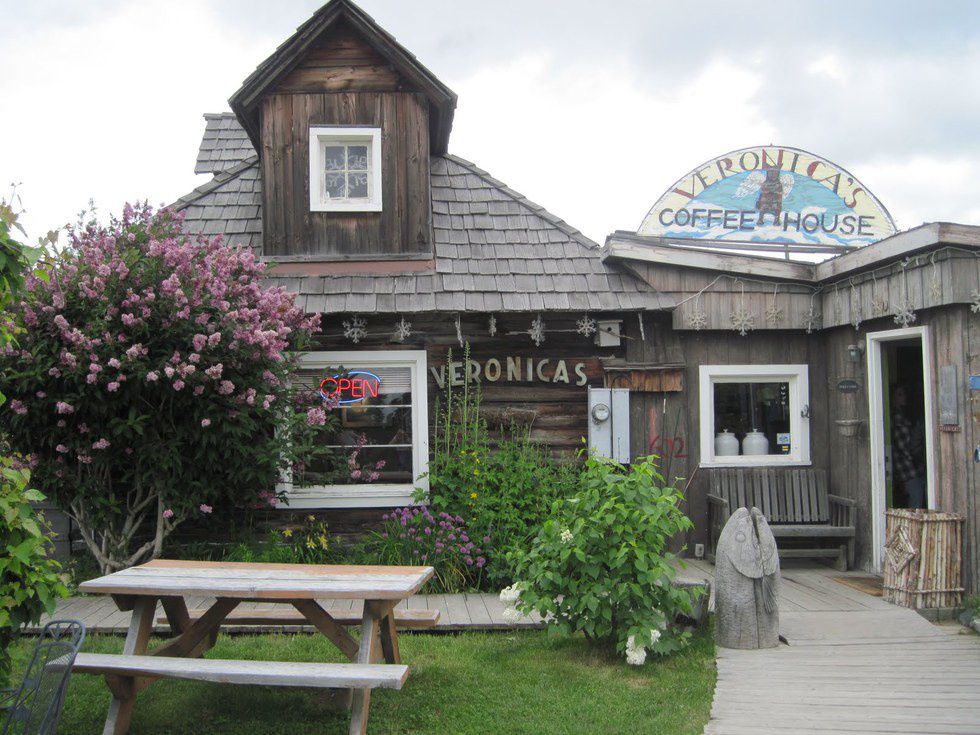 Enjoy the chilly Alaskan air while sipping on a hot, frothy cappuccino from Veronica's. This cozy café offers a variety of homemade food that will keep you coming back for more.

Arizona: Inside the Bungalow

This charming little bungalow does it all. Not only is it a coffee shop, but it is a café, yoga studio, and even a popular wedding venue. Bet you never would have guessed that all that was "inside the bungalow."
Arkansas: Mugs Café

Described by The Arkansas Times as "classy, yet comfortable," Mugs offers a variety of specialty drinks such as a "Mayan Mocha," which is made with dark chocolate and a dash of cayenne pepper.
California: Dinosaur Coffee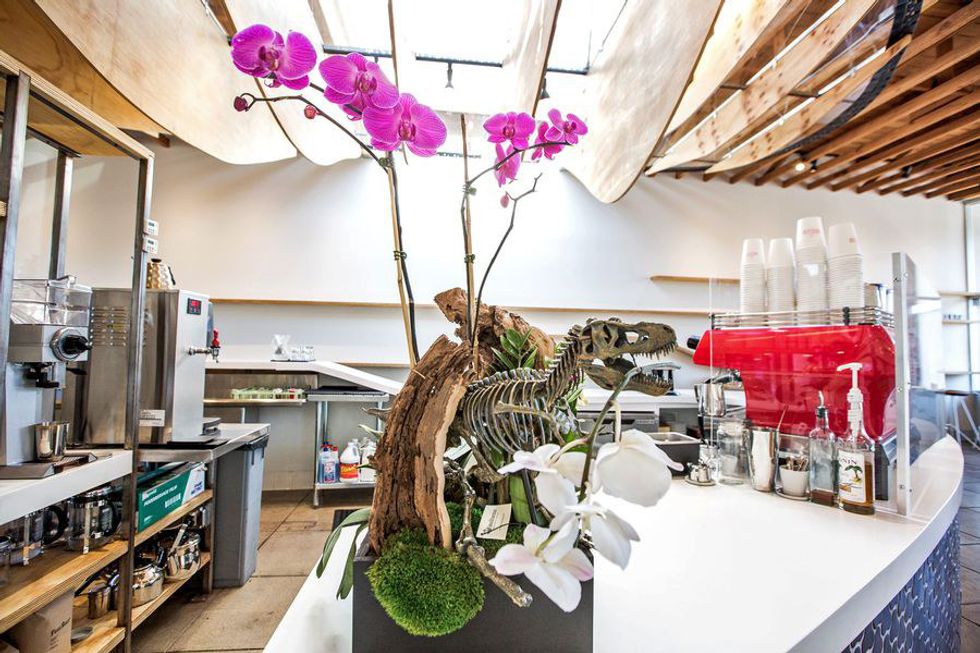 Launched by one of the Cards Against Humanity creators and his wife, this unique hangout is a local favorite in sunny L.A.
Colorado: Black Eye Coffee

Having two locations in Denver, Black Eye Coffee is described by Google as a "stylish java joint." Swing by the original shop to check out their "Walled In Magazines" shop.

Connecticut: Essex Coffee and Tea Company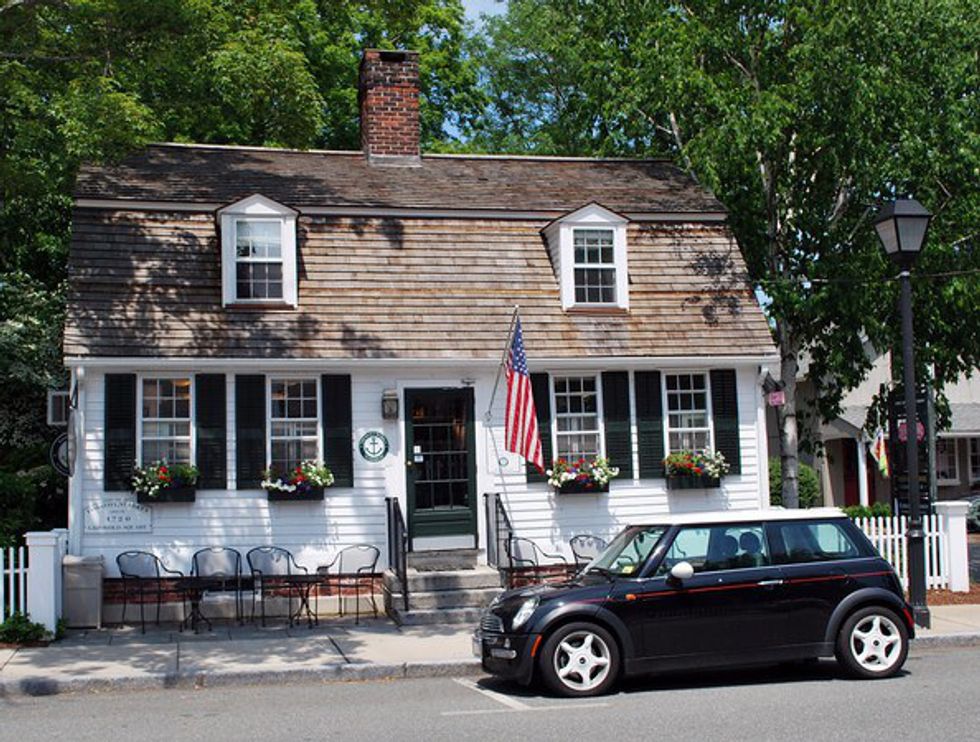 This quaint little coffee shop in Essex offers fun, specialty drink options such as the "Chai-a LaBeouf" and "S'mores Hot Chocolate."
Delaware: Lucky's Coffee Shop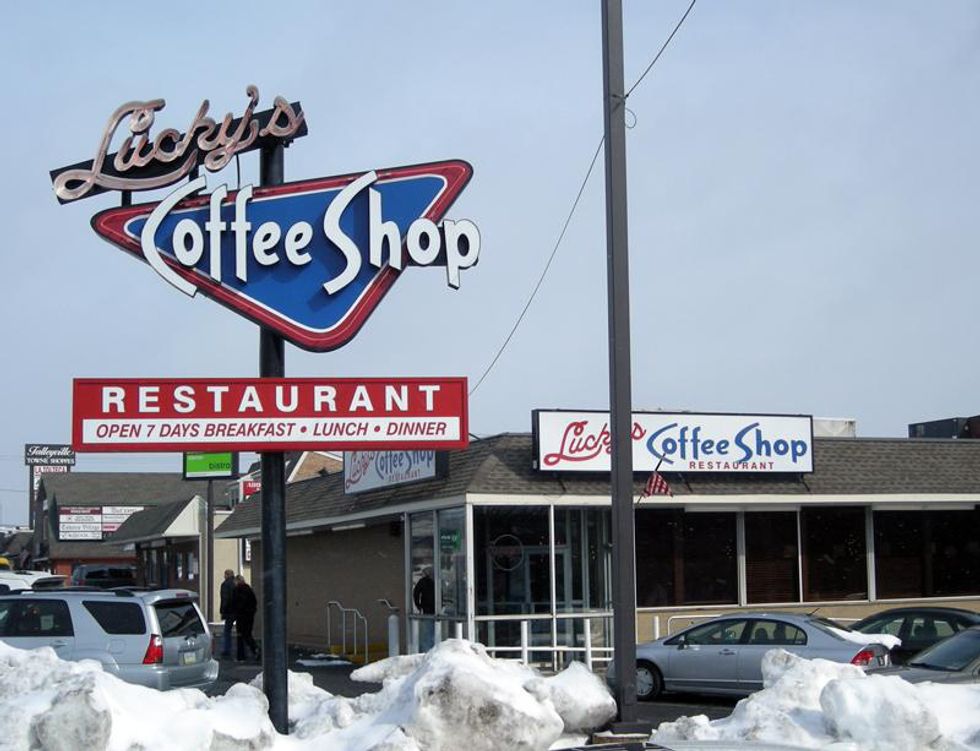 Sometimes there's nothing better than a good, old-fashioned American breakfast with a hot cup of coffee. Lucky's Coffee Shop serves exactly that. Its retro theme and friendly staff make it a fun place that the whole family can enjoy.
Florida: Date and Thyme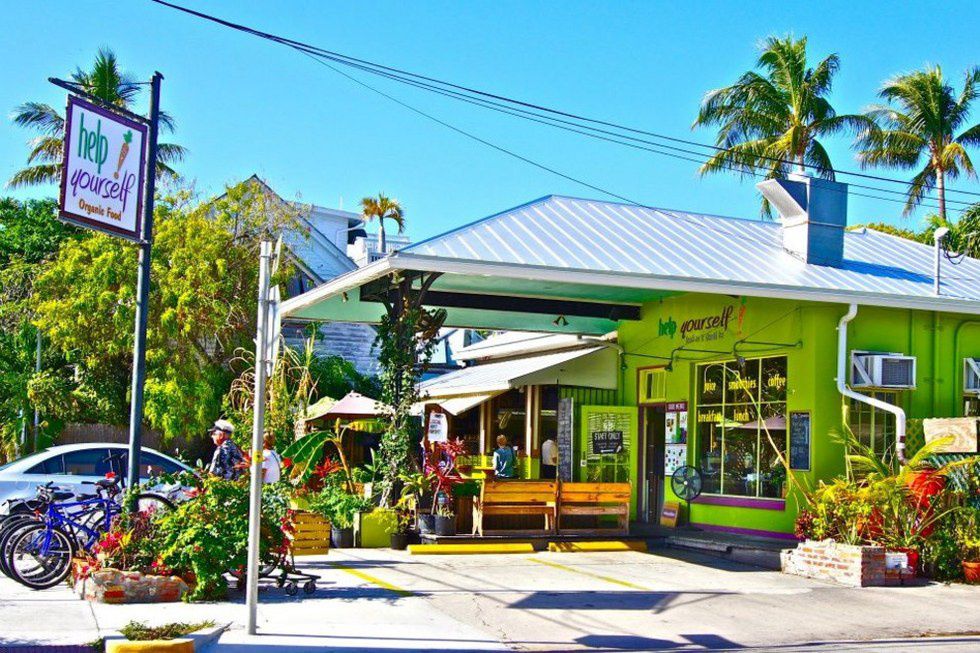 Housed in an old gas station, this is the go-to spot in Florida to grab a cold brew iced coffee while enjoying the warm, tropical weather. Date and Thyme also offers many health food options in their attached organic grocery store.
Georgia: Café Jonah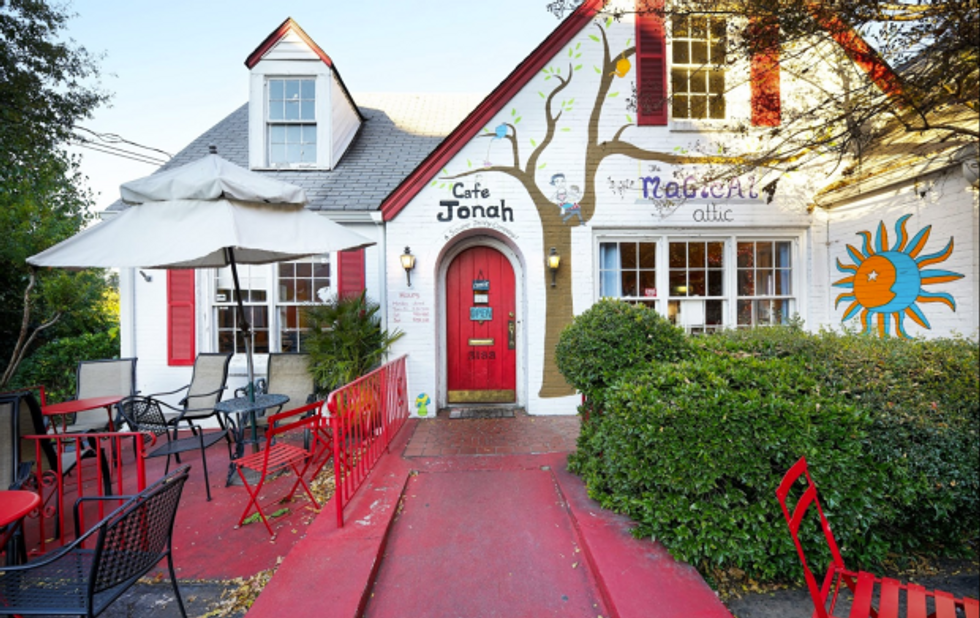 This whimsical café is a favorite hangout among Atlanta residents. Customers can spend their afternoons curled up with a good book in Jonah's magical attic, which is an upstairs reading space, or head downstairs to enjoy a vegetable frittata made with organic eggs, fresh vegetables and creamy goat cheese.
Hawaii: Surfers Coffee Bar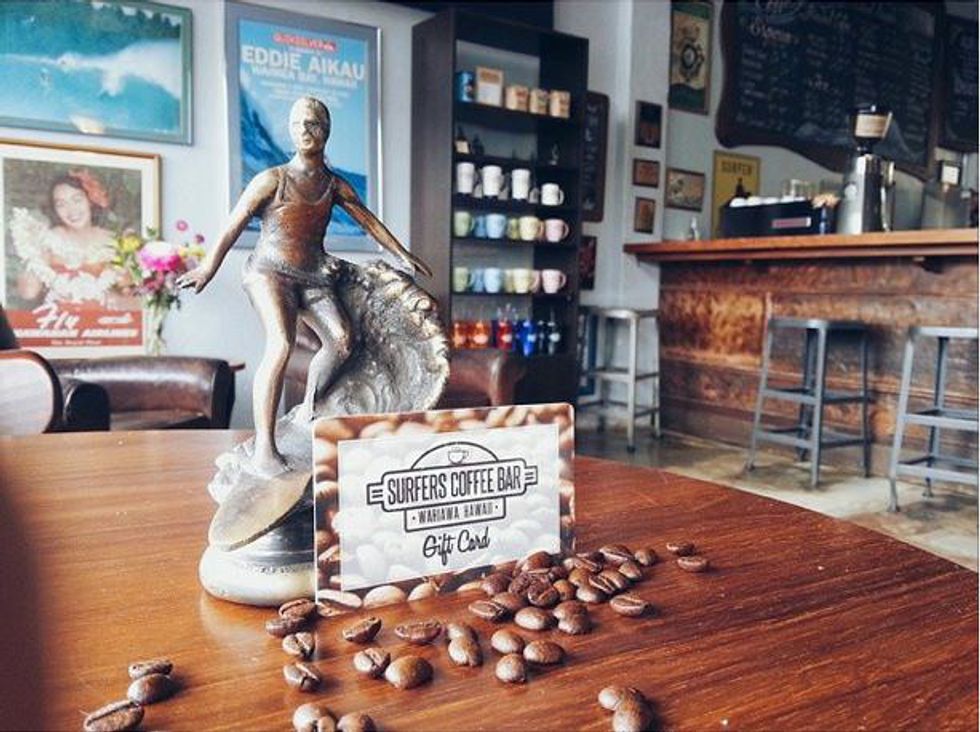 Say aloha to this airy, tropical coffee bar. You'll love Surfers not only because it serves some of the best java on the island of Oahu, but also because it is a non-profit run by volunteers.
Idaho: Flying M Coffee Garage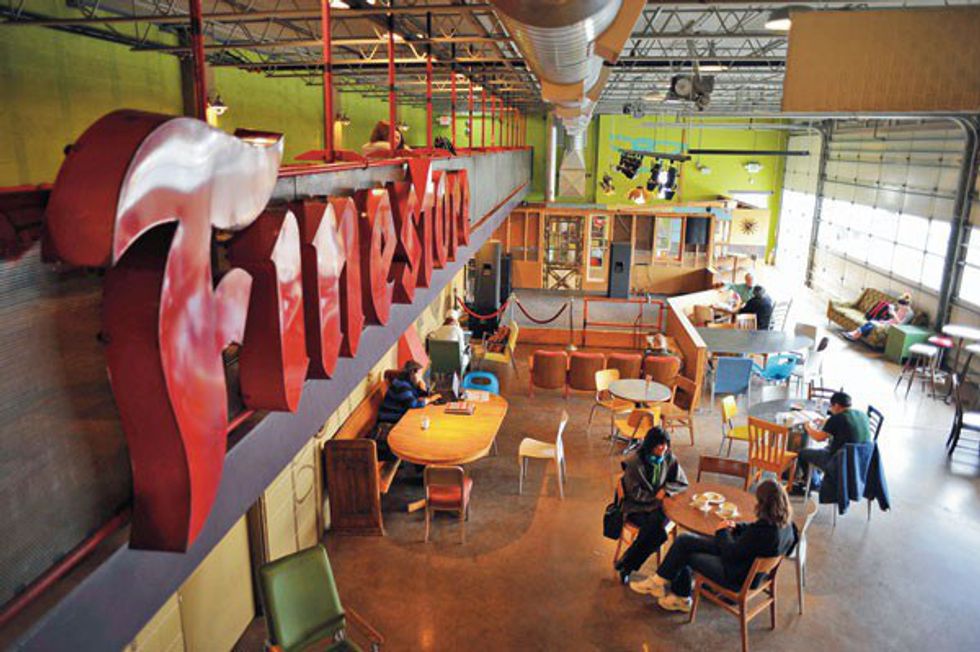 Flying M Coffee Garage is well known in Idaho for its upbeat atmosphere, local artwork, occasional live music, tasty baked goods and of course -- great coffee. Stop by this remodeled garage for a Flying M bar or a five-food-group cookie.
Illinois: The Wormhole Coffee

Stop by this stylish Chicago coffee shop to be taken back to the era of big hair, leg warmers, and cassette tapes -- the '80s. This totally tubular coffee shop includes '80s themed décor such as the DeLorean from "Back to the Future," movie posters from '80s classics and even a functioning Nintendo system. As far as coffee goes, ask for their popular peanut butter Koopa Troopa or a honey bear latte for a drink as fun as the place itself.
Indiana: Calvin Fletcher's Coffee Company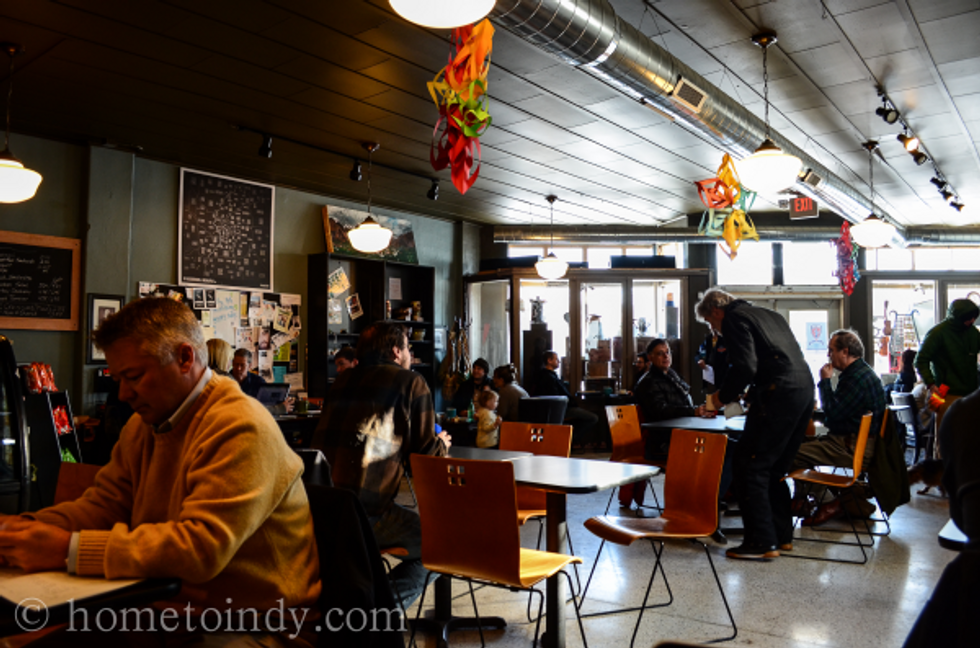 This not-for-profit coffee company's mission is to build a community through "loving and welcoming every person that walks through the door." They have a heart for others and hope to donate even more money and serve the community in the years to come. Help them give back by purchasing a blended chai latte or a raspberry almond bar.
Iowa: The Coffee Attic and Book Cellar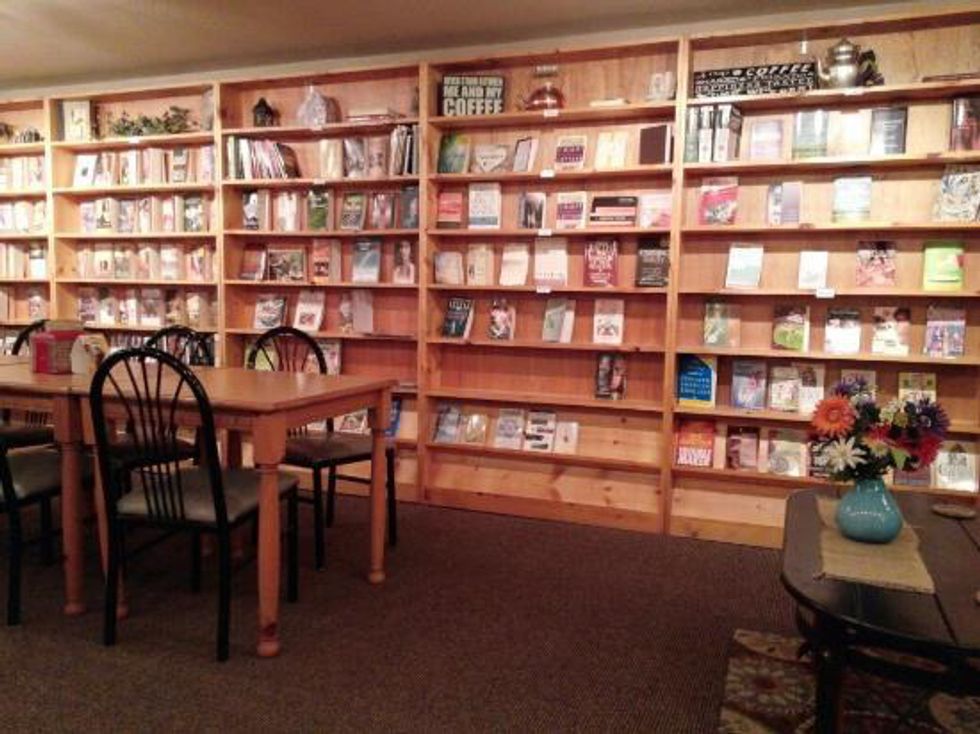 Curl up with a good book and a piping-hot mocha at this cozy bookstore and coffee shop. The Coffee Attic and Book Cellar is the perfect place to come during a cold, rainy day.
Kansas: Radina's Coffeehouse & Roastery

With several locations around the state, Radina's is known for its stylish ambiance, fresh roasted coffee and delicious baked goods.
Kentucky: Third Street Stuff & Coffee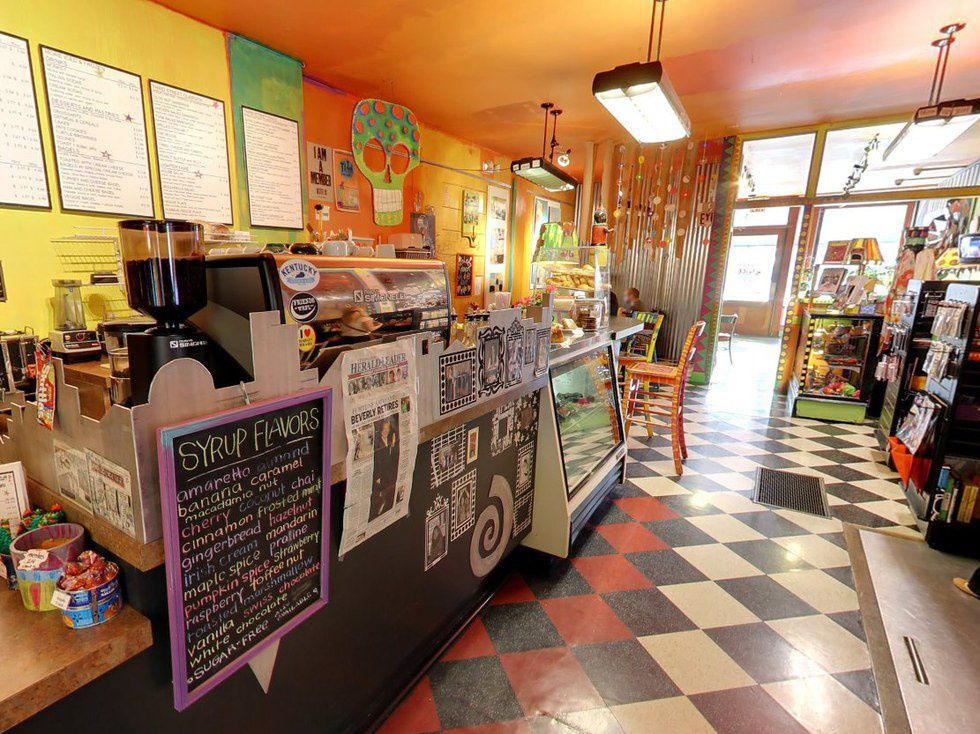 This funky coffee shop is the go-to place in Lexington to shop for unique GIFs and artwork. It serves a wide variety of fun drinks such as a "Frozen Monkey," which is a mocha with banana and an "Ahman Joy," which is hot chocolate made with dark chocolate, coconut and almond.

Louisiana: Café Du Monde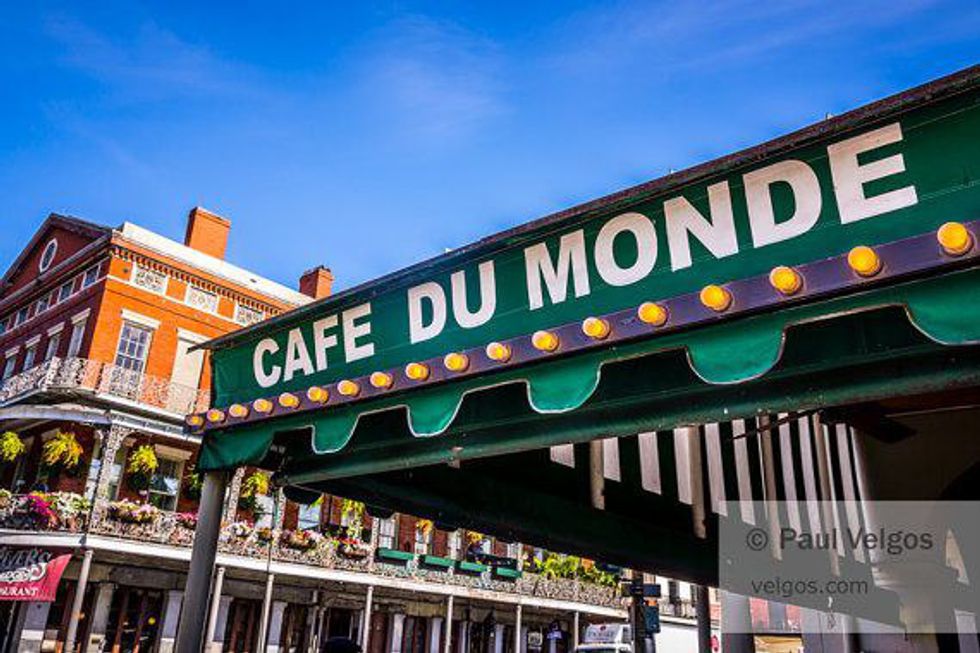 Café Du Monde, which French for "Café of the World," is located in the French Quarter of New Orleans. First opened in 1862, this historic café is the perfect place to enjoy a quality cup of coffee and a sweet beignet.
Maine: The Little Dog Coffee Shop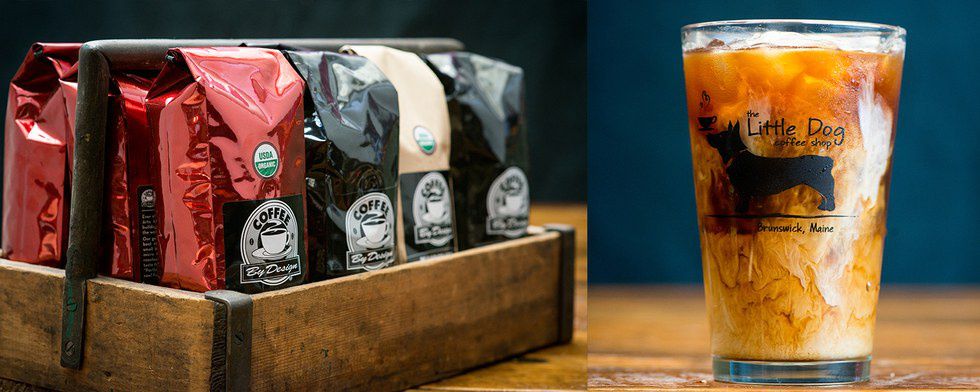 This stylish coffee shop is named after the owners own beloved "little dog," Otis. Known for its fresh-brewed coffee and delicious paninis, The Little Dog Coffee Shop offers customers exceptional food and drinks in an artsy atmosphere.

Maryland: Peace & A Cup of Joe

The name says it all. This peaceful coffee shop is the perfect place to unwind after a busy day. Customers can enjoy a delicious cup of homemade soup or a refreshing salad while they relax and de-stress in Peace & A Cup of Joe's calming atmosphere.

Massachusetts: Wired Puppy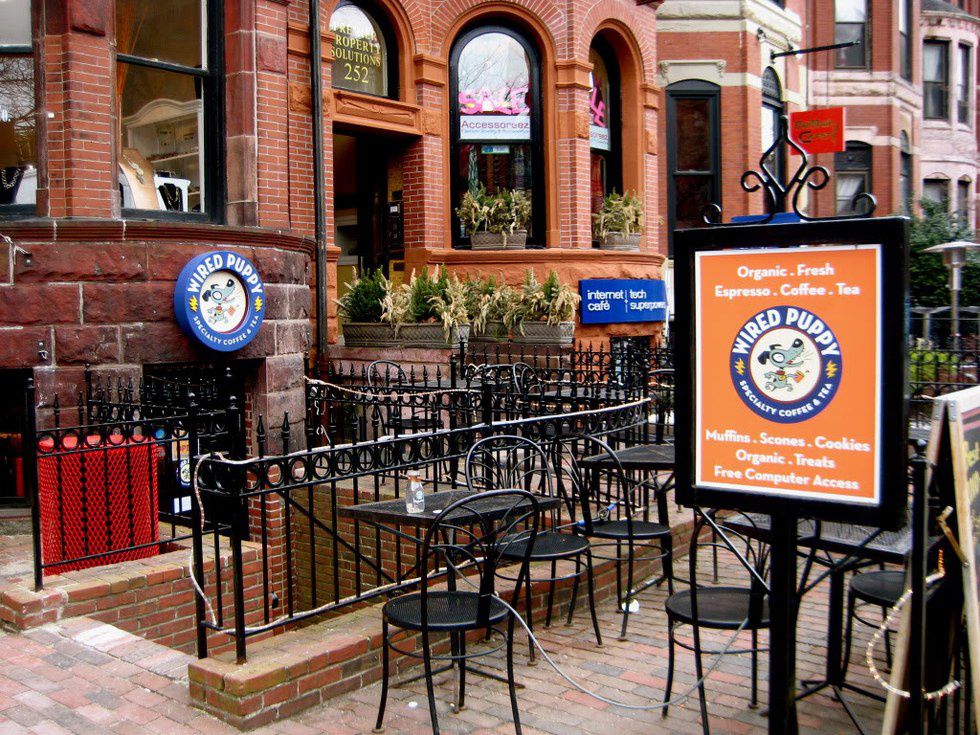 An award winning European-style espresso café, this coffee shop is the go-to place in Boston and Provincetown to enjoy free Wi-Fi, free computer use and expertly brewed coffee.
Michigan: Flint Crepe Company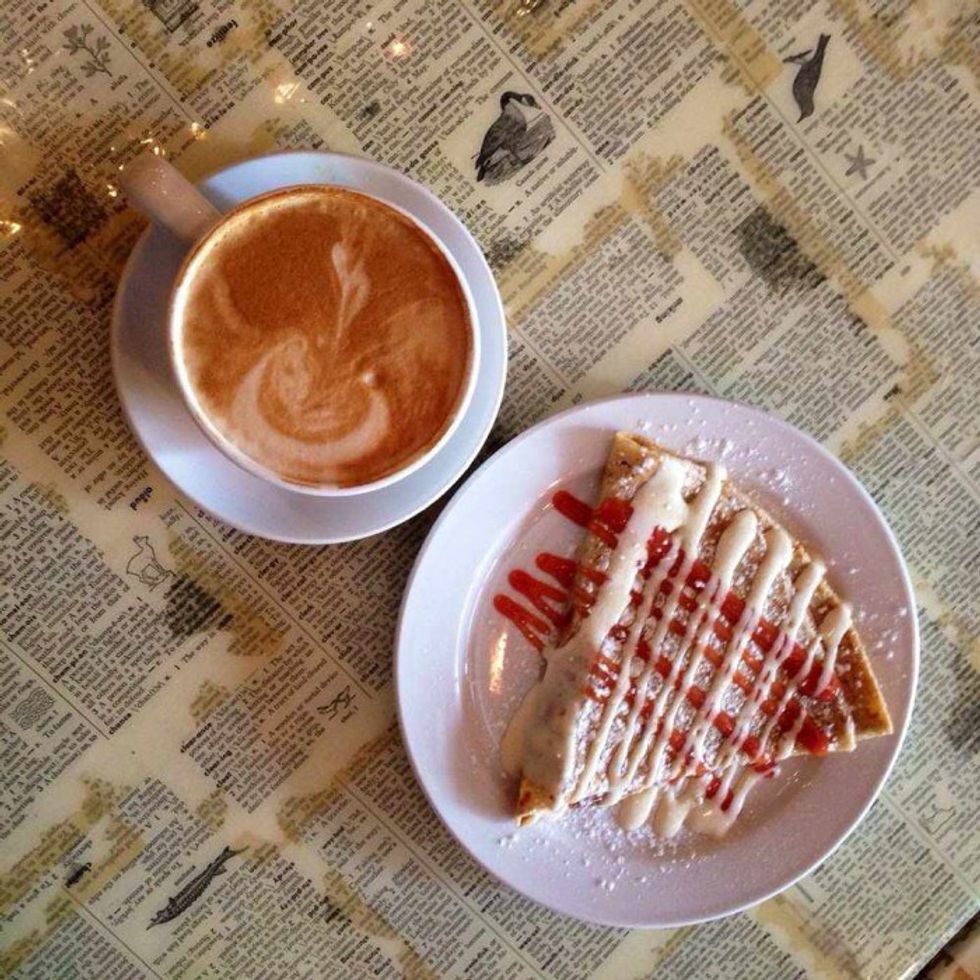 Start your morning right by getting a salted caramel latte and a delicious crepe at this rustic coffee shop. They are big believers in giving back, so they donate their tips to charities every Tuesday. Just another reason to love the Flint Crepe Company.
Minnesota: Angry Catfish Bicycle and Coffee Bar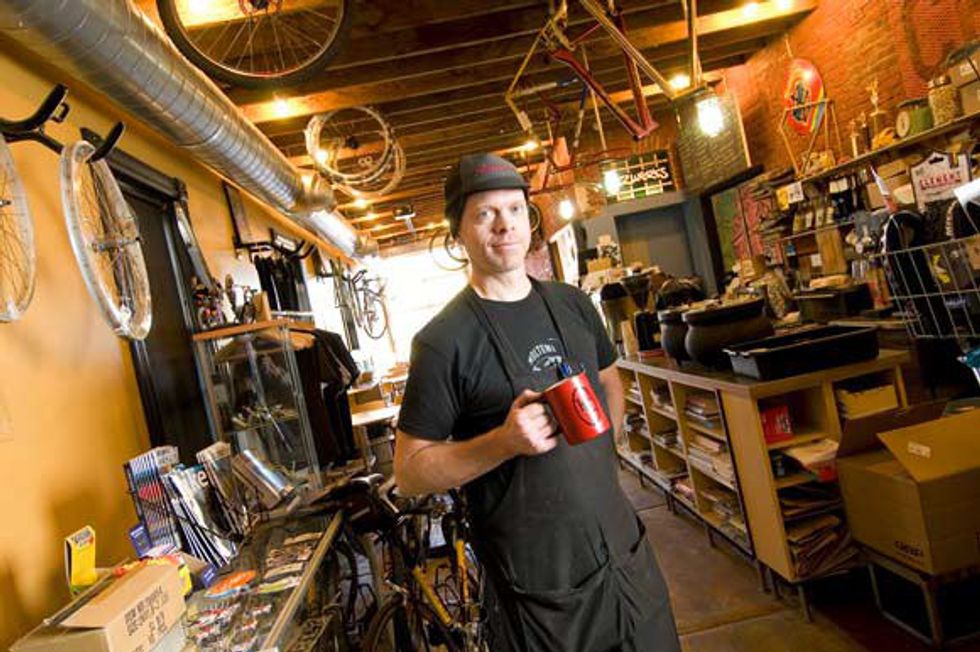 This fun bicycle repair shop serves up some of the best coffee in Minnesota. Try their smoked sea salt mocha for a sweet and savory drink that will leave you craving more — it's that good.
Mississippi: Bank Coffee House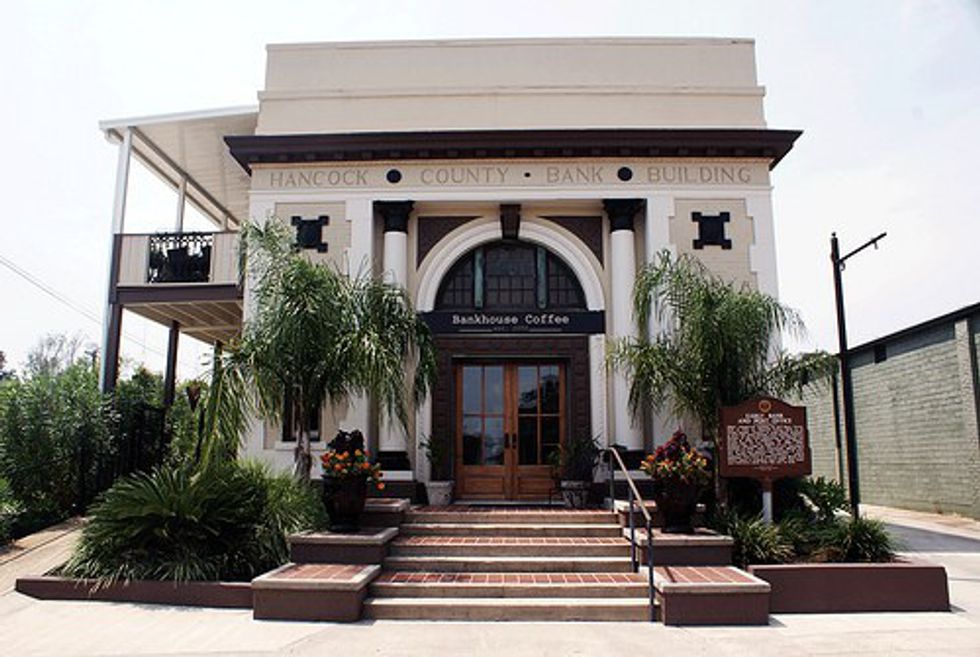 Beat the southern heat by picking up a refreshing iced coffee from this unique coffee shop. Located in a remodeled bank, Bank Coffee House offers quality coffee that is so good, you can bank on it.
Missouri: Vintage Paris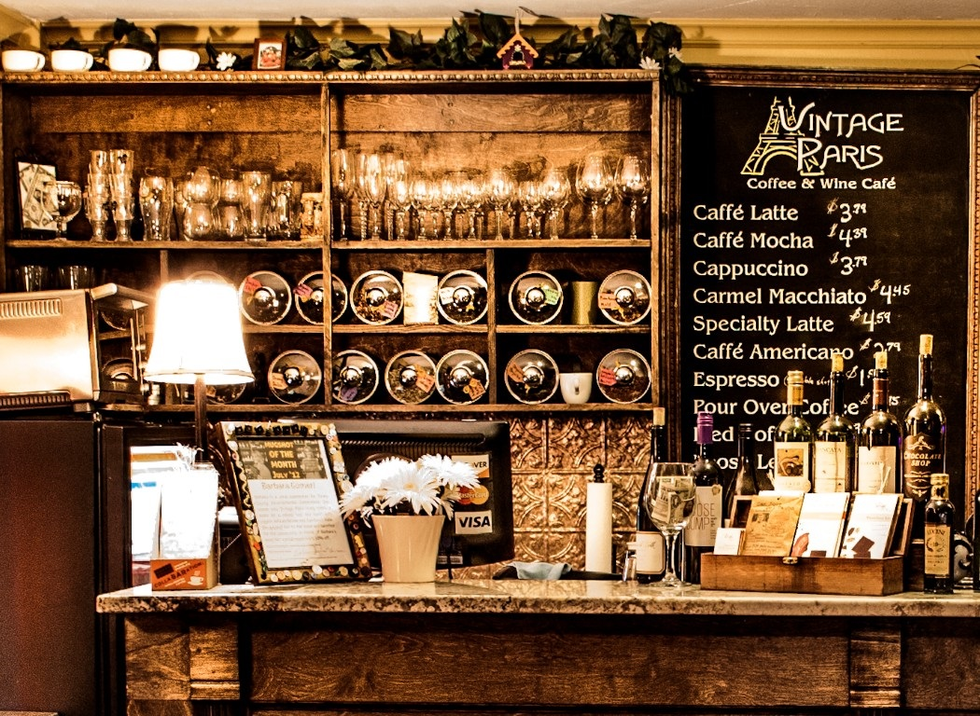 This quaint and cozy coffee shop, located in historic Downtown Hollister, offers quality, craft-roasted coffee in a setting that will make you forget that you aren't actually in the "City of Lights" itself.
Montana: Jail House Coffee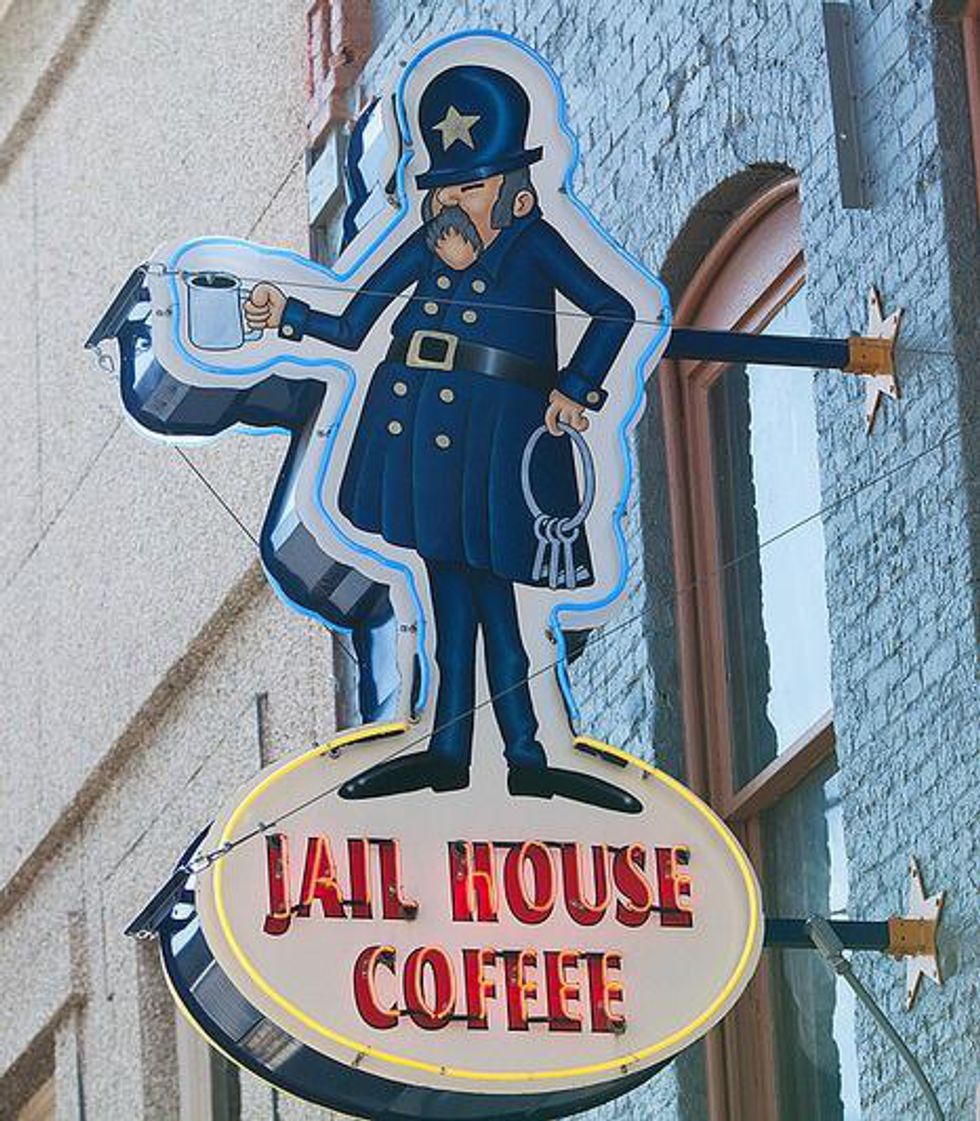 Located in the city of Butte's first jail, this hidden gem is a must-go to get a slice of huckleberry lemon bread along with a slice of Montana's history.
Nebraska: Omaha Bicycle Company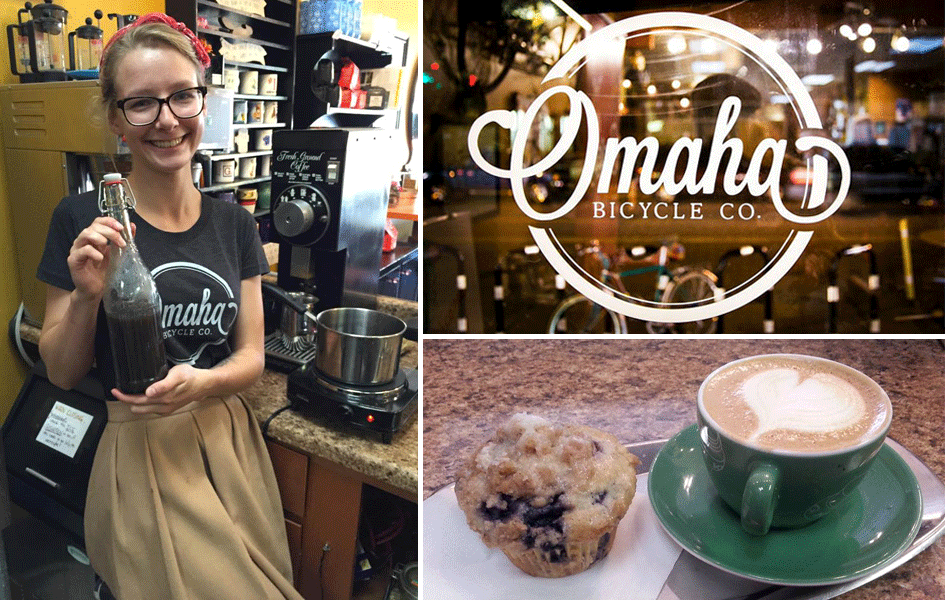 The friendly staff, cool bike repair shop and great coffee are just a few of the many reasons to love the Omaha Bicycle Company.
Nevada: Grouchy John's Coffee

Don't let the name fool you, Grouchy John's aims to keep their customers happy. They accomplish this by serving some of the best coffee in Nevada in their coffee shop and mobile coffee truck.
New Hampshire: Breaking New Grounds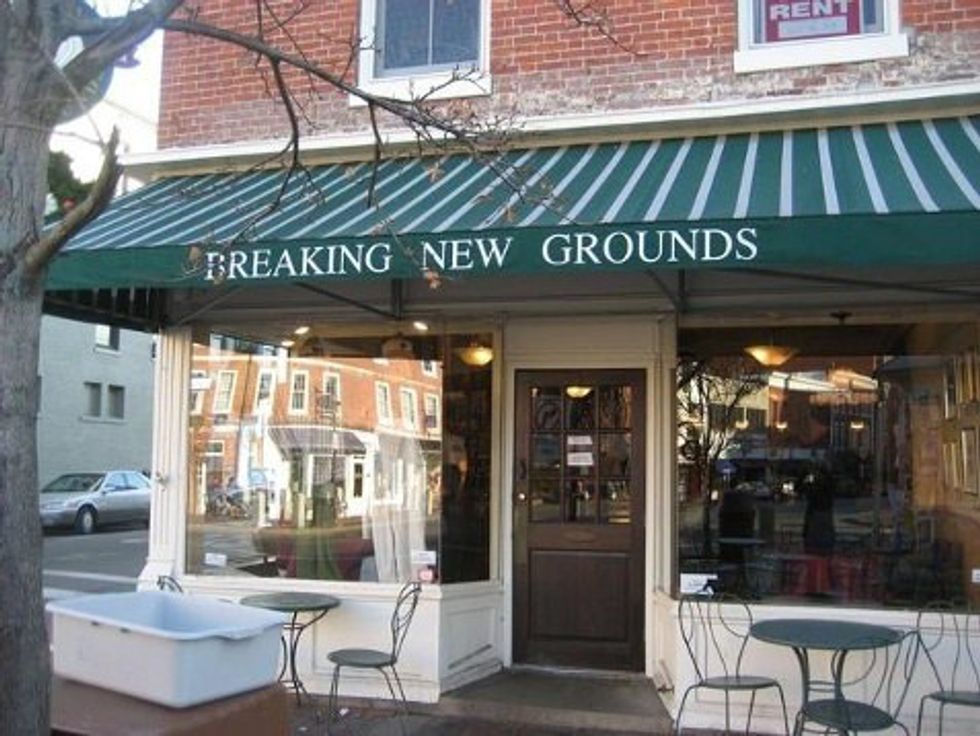 Enjoy people-watching at the Market Square while sitting in Breaking New Grounds' casual outdoor seating. This down-to-earth café offers a selection of gourmet coffees and scrumptious baked goods.

New Jersey: Van Gogh's Ear Café

This cozy hangout is the perfect place to go on a "starry night" due to its fun, live music nights and exquisite cuisine.

New Mexico: Travel Bug Coffee Shop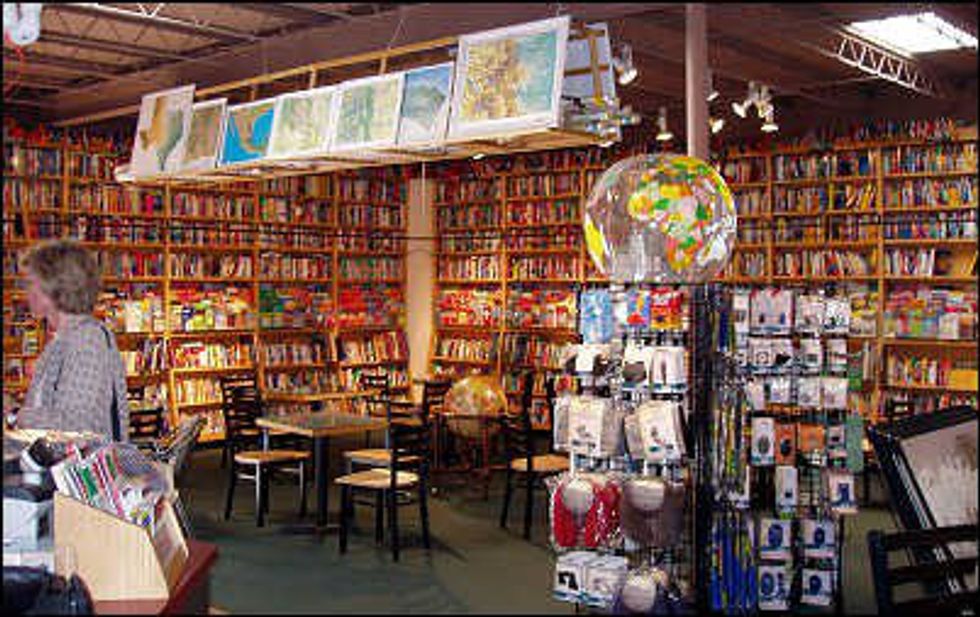 Calling all travelers. This unique shop, located in Santa Fe, sells both maps and coffee, making it the perfect place to plan your next trip while enjoying a foamy café latte.
New York: Stumptown Coffee Roasters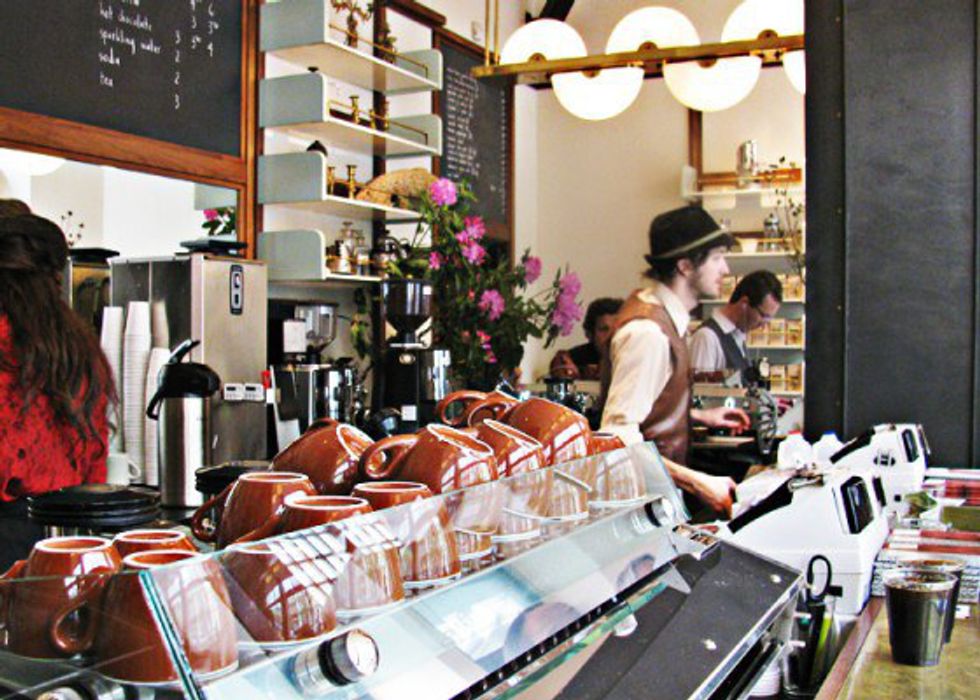 It takes a lot of caffeine to power "The City That Never Sleeps," and Stumptown Coffee Roasters does exactly that. This classy coffee shop allows customers to get their caffeine fix with a variety of drink options. This is just one of the many reasons Stumptown is locally known as one of the best coffee shops in New York City.

North Carolina: Smelly Cat Coffeehouse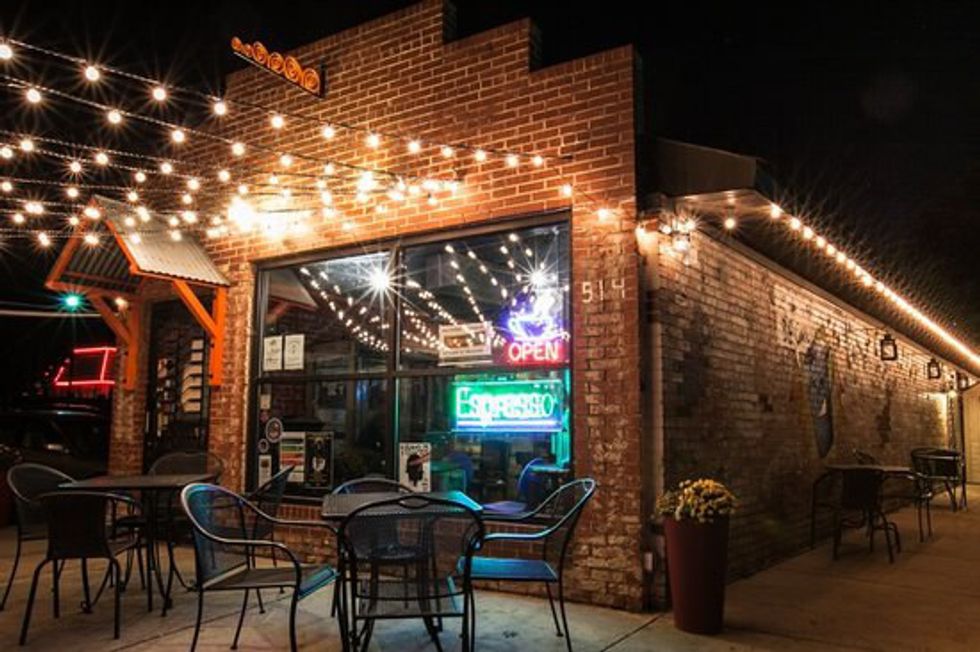 "Smelly cat, smelly cat -- what are they feeding you? Smelly cat, smelly cat -- it's not your fault." Though I can't say for certain that this coffee shop was named in honor of Phoebe Buffay's iconic song, I can say that they are incredibly high rated. Popular for their upbeat atmosphere and good pour-over coffee, Smelly Cat is a must try in Charlotte.
North Dakota: Urban Stampede

Located in Grand Forks, this urban-style coffee shop has been a local favorite since 1992. Stop by for a bagel with cream cheese and check out their "World's Smallest Art Gallery," which features artwork from local artist.
Ohio: Treehouse Play Café

Besides college students, no one need a caffeine boost more than the parents of young children. Grove City's Treehouse Play Café is the perfect place for these parents to get their caffeine fix while letting the kiddos burn off their energy in the fun, indoor play space. This coffee shop is truly a place the whole family can enjoy.
Oklahoma: Gypsy Coffee House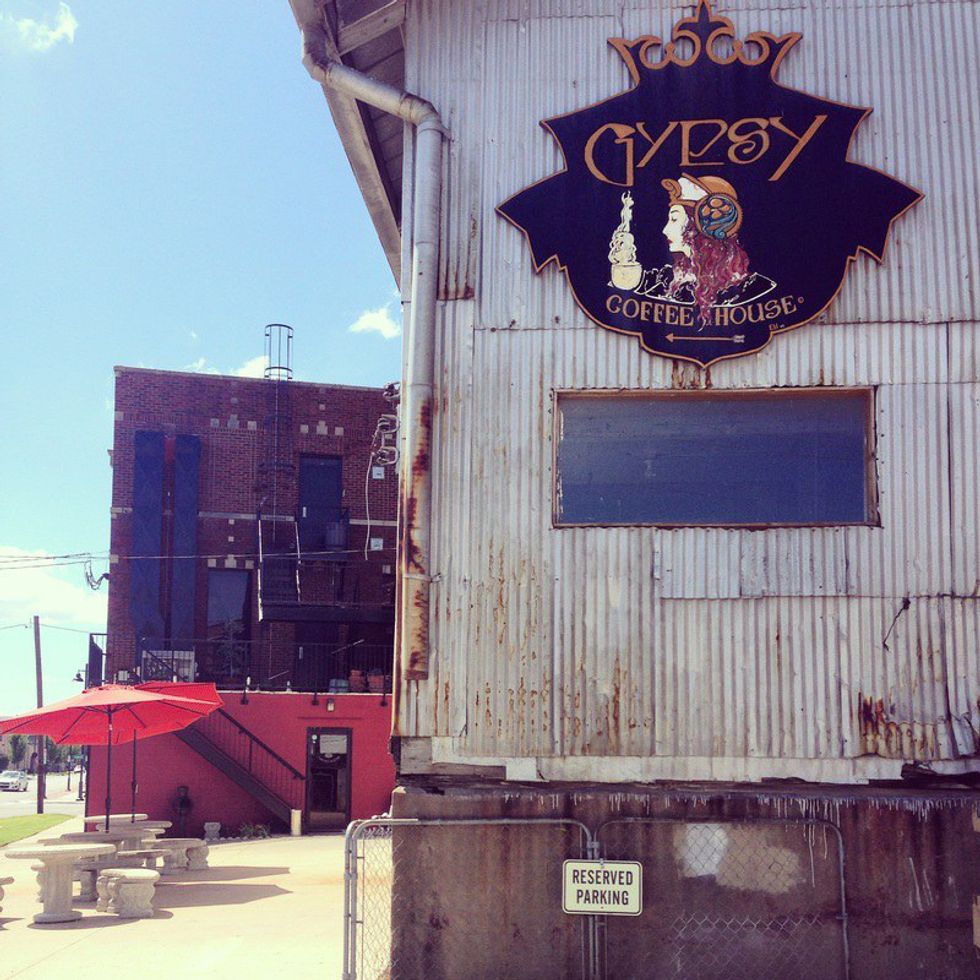 This quirky, bohemian coffee shop is definitely a favorite hangout for many residents in the Tulsa area. Located in the Brady Arts District, customers come to enjoy the impressive latte art, vegan dishes, free Wi-Fi and live music that Gypsy has to offer.
Oregon: Rimsky-Korsakoffee House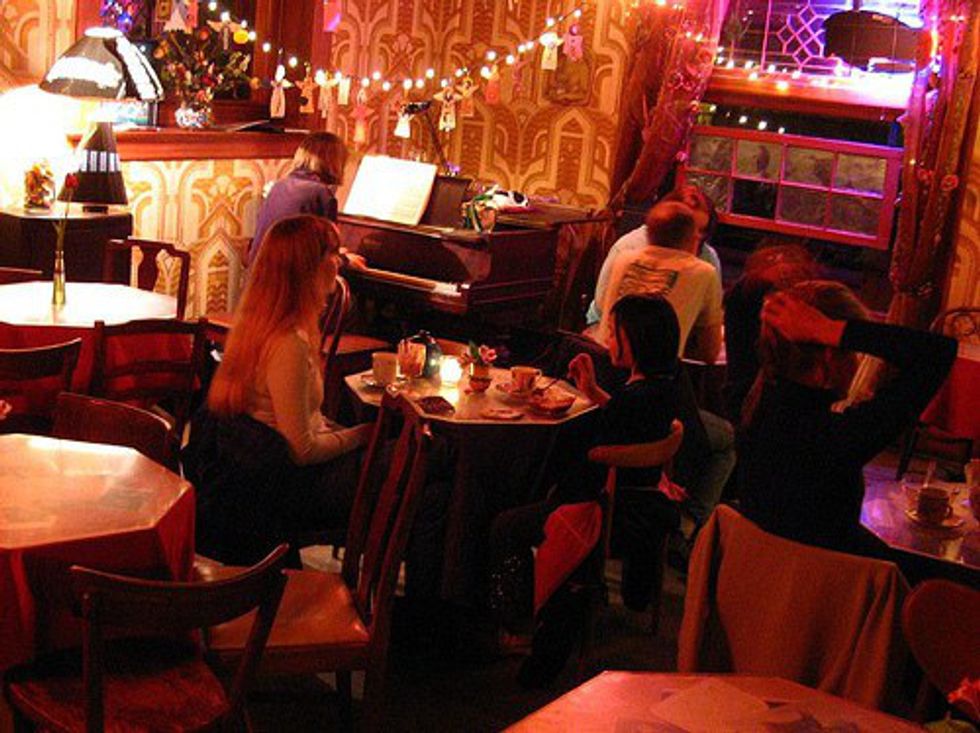 Described by Google as a "quirky, cash-only coffee spot in an old house," this one-of-a-kind coffee house in Portland is the perfect place to enjoy live classical music and foamy lattes.
Pennsylvania: Beehive Coffee House and Dessertery

Located in Pittsburgh's historic South Side, this funky coffee shop is a popular hangout spot for the creative crowd and coffee enthusiasts. Enjoy a white chocolate lavender latte while taking in all of Beehive's unique décor.
Rhode Island: Coffee Exchange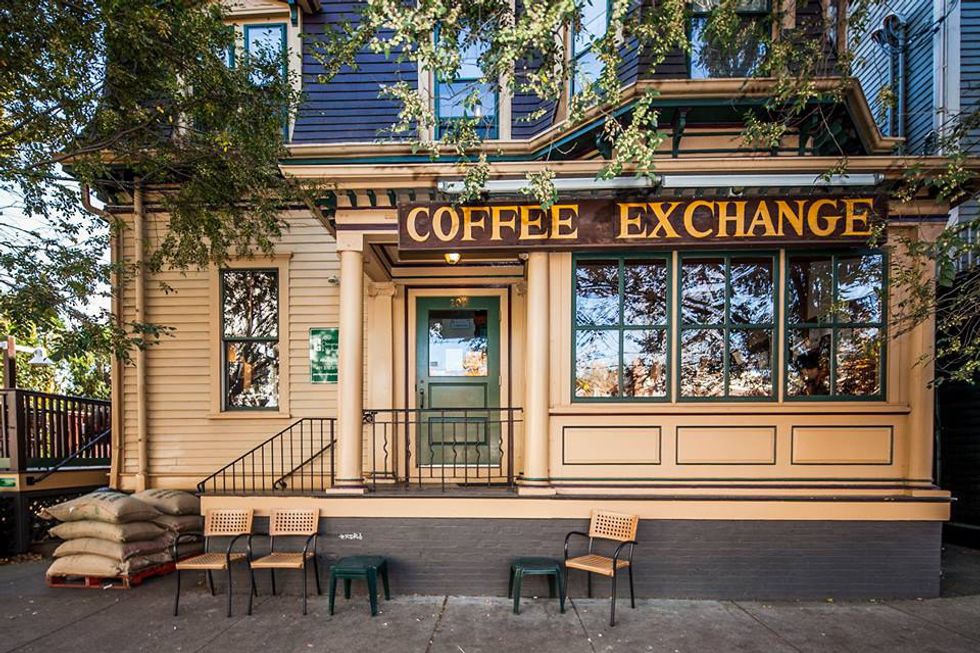 Some coffee shops are fairly limited when it comes to coffee selections. Coffee Exchange is not one of these. With a wide variety of coffee blends, customers can select anything from a mocha java blend to a full house blend, making Coffee Exchange a must-try while in Providence.
South Carolina: Black Tap Coffee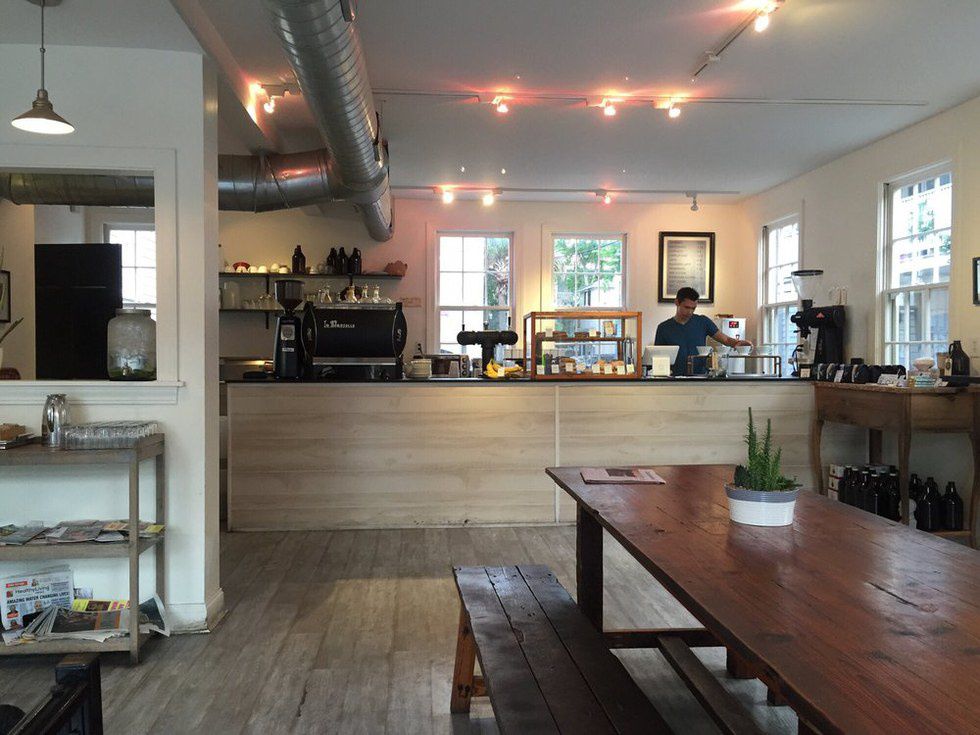 This minimalist-chic coffee bar's mission is to craft some of the best coffee in the world. Try their lavender latte with almond milk for a delicious latte with a unique twist.
South Dakota: Choco Latte Coffee and Handmade Candy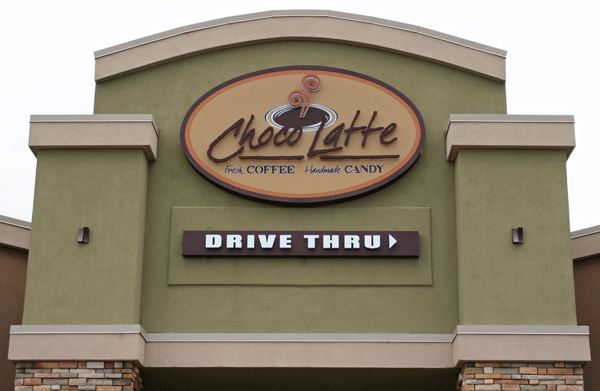 Get your sweet tooth on at Brooklings' Choco Latte. They sell a variety of coffees and sweet treats such as fudge, toffee and even chocolate-covered potato chips.

Tennessee: Barista Parlor

This hipster coffeehouse, located in Nashville, specializes in artisan espressos, latte art and American craft chocolate. Housed in a former auto garage, Barista Parlor is the perfect place to enjoy a bourbon vanilla latte while catching up with friends.
Texas: Flitch Coffee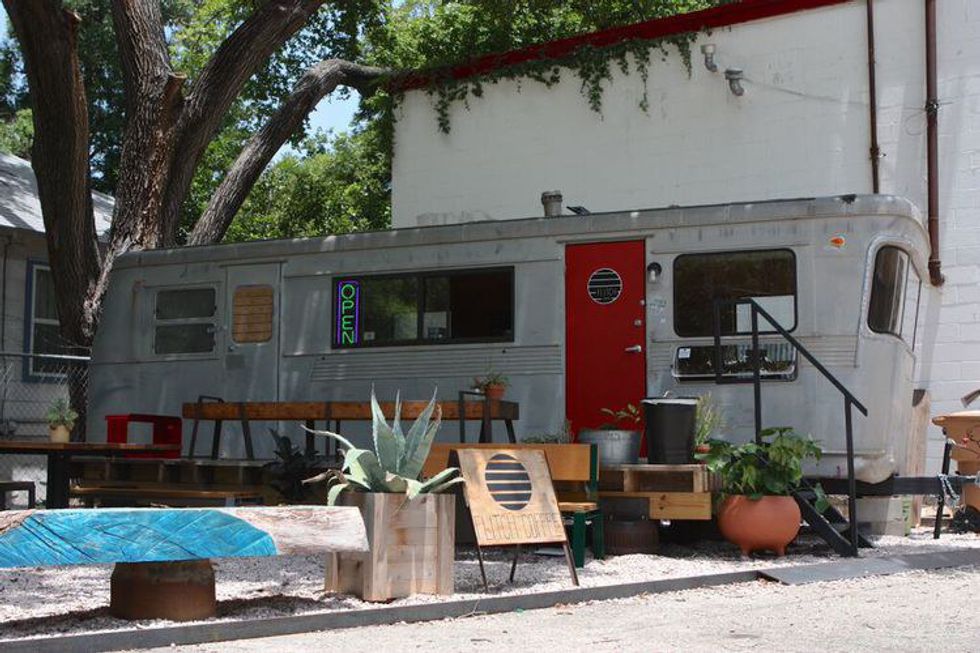 Don't let its appearance fool you, this retro camper coffee shop serves some of the finest coffee in Texas. Located in Austin, Flitch has plenty of outdoor seating so that the whole family can enjoy this one-of-a-kind coffee experience.
Utah: Atticus Coffee, Books & Teahouse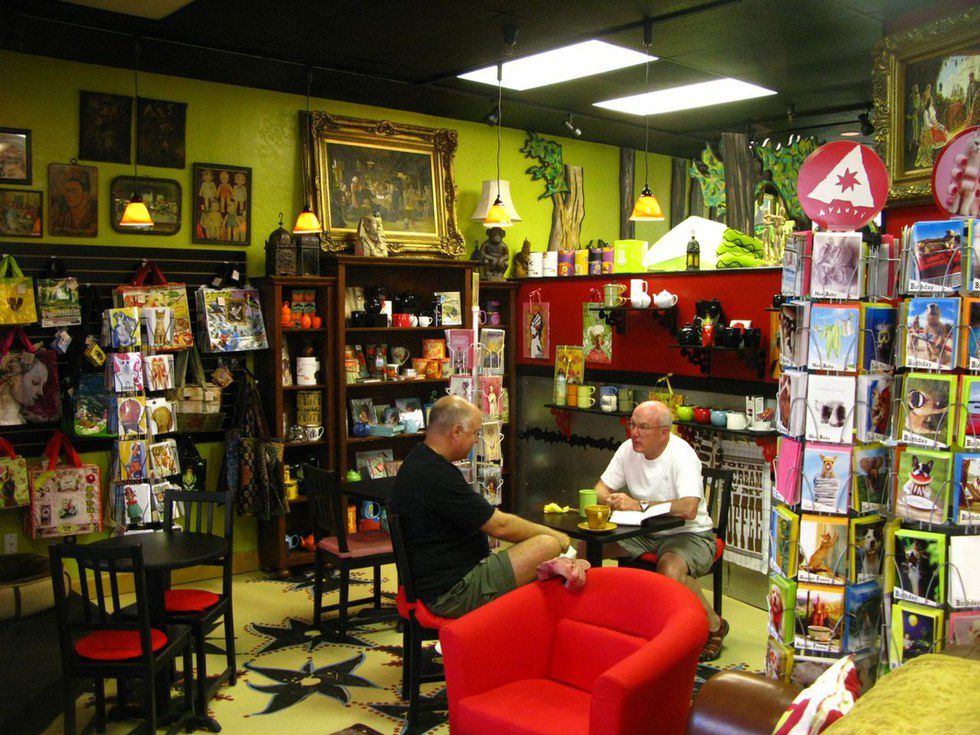 Named after Atticus Finch from "To Kill a Mocking Bird," this bookstore is a bookworm's paradise. It has thousands of used books to browse while enjoying one of their Cuban-style lattes topped with cinnamon called "The Finch."
Vermont: Radio Bean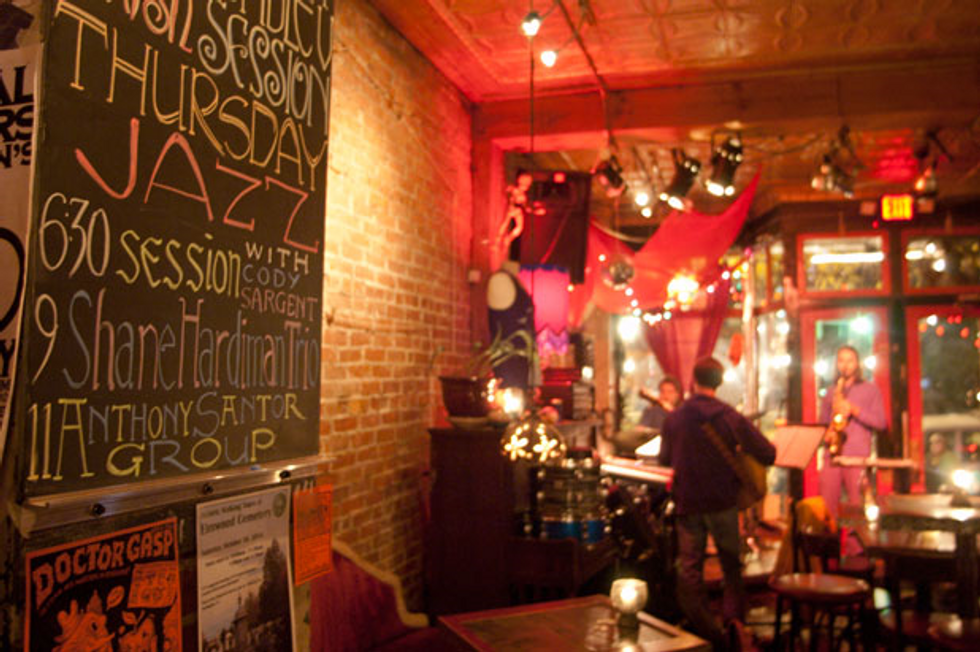 This intimate, underground coffee bar is the go-to spot in Vermont to listen to live music, enjoy a frothy cappuccino and dance the night away.
Virginia: Java Surf Café & Espresso Bar

This cheerful, Virginia Beach café is just blocks from the beach, making it the perfect spot to grab a cup of organic brewed coffee or "cowabunga sandwich" before a fun-filled day at the beach.

Washington: Argonaut Espresso Bar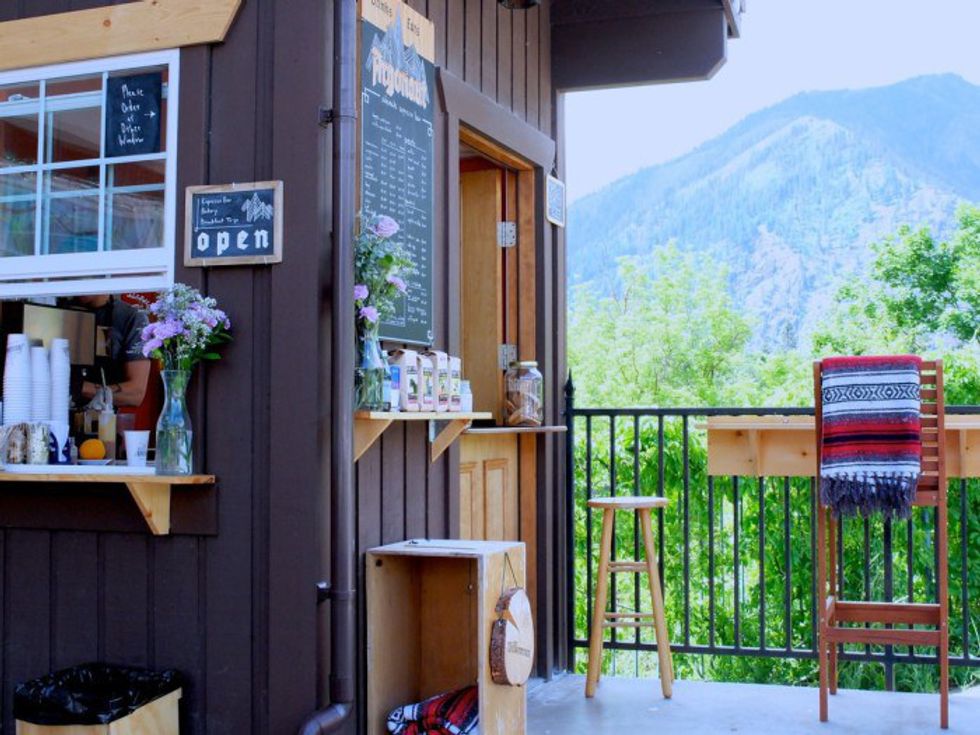 With such a breathtaking view of the mountains, it is no wonder that the Argonaut is such a popular spot in the "Evergreen State." Enjoy your views of the great outdoors with a café macchiato and delectable cinnamon muffin.
West Virginia: The Wild Bean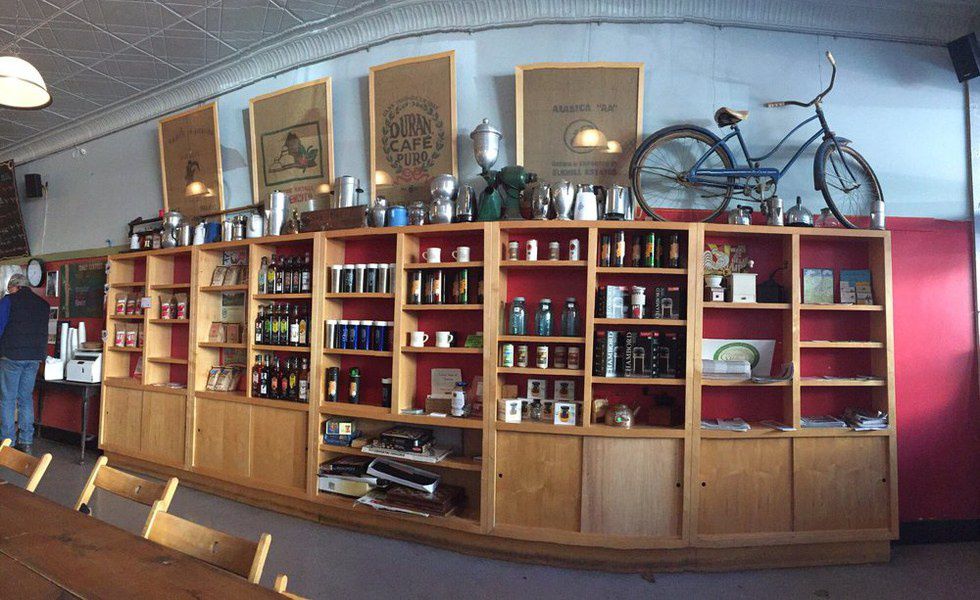 According to the Wild Bean's website, this local favorite prides itself on maintaining the "warmth and hospitality of a local community diner while at the same time the vibe of a hip urban coffee shop." Located in downtown Lewisburg, their slogan is "darn good coffee for darn good people!" Stop by for a wildly good cup of joe.
Wisconsin: Bradbury's Coffee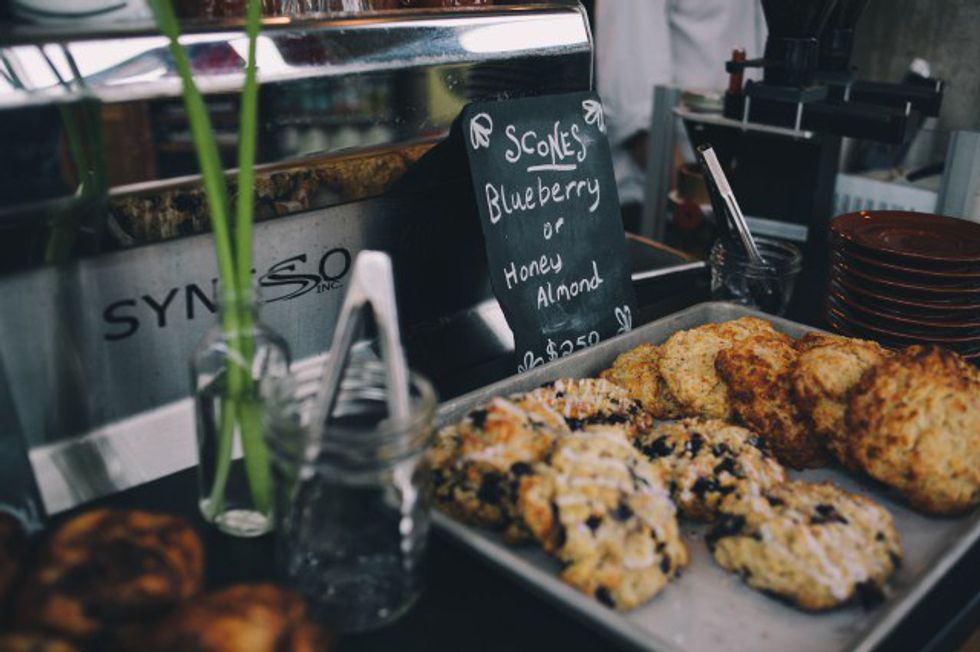 This buzzing café is a local favorite among hipsters and Madison residents. Known for their delicious artisan crepes, Bradbury's buys their ingredients from local Wisconsin farms, guaranteeing freshness and promoting sustainability.
Wyoming: Cowboy Coffee Company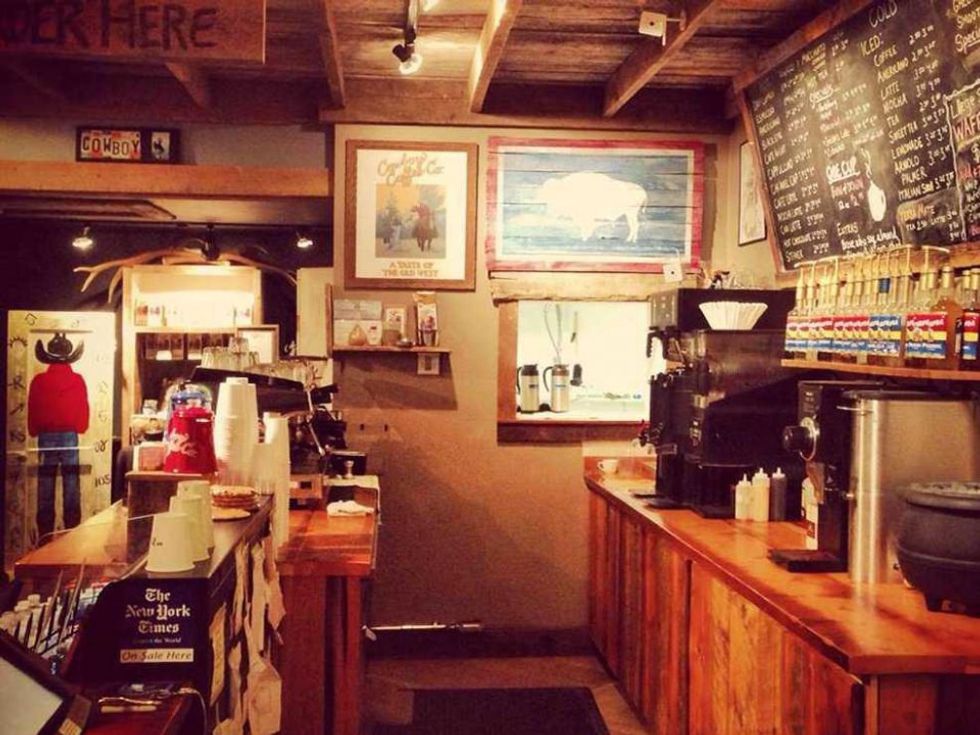 Known for their bold, fresh-roasted coffee, this "waterin' hole" prides itself in serving "a taste of the Old West." Stop by for a cup of buffalo chili or a rodeo sandwich to let your taste buds go on a wild ride.