Midterm blues are very real, especially when fall break is cancelled due to COVID-19, and assignments feel never-ending.
The good news is that, even without our normal fall midterm break, we can all implement habits over the next few weeks to help us recharge and get out of our midterm slump.
1. Get your sleep schedule back on track
Now that you're done midterms, give up late-night studying and constant caffeine. Beauty rest is the number one thing we need to recharge. Start getting your sleep schedule back by nighttime rituals like tea, essential oil, or melatonin.
https://www.amazon.com/YANSER-Anti-Aging-Comfortab...(Caramel/dp/B07JMSMMLP
2. Clean out clutter and plan ahead
Get rid of things that may be cluttering your space. Any books or notes you do not need anymore (make sure you think about your finals, though) can be cleaned out to make you feel more refreshed. Restock on any school supplies you may need. Clean your closet or tidy up your dorm, having a clean and improved space will help you recharge for the rest of the semester.
Then, start planning. Take a look at where you stand so far in this semester and what the rest will look like. Planning ahead may seem tedious and boring but it can really help prevent stress later on.
3. Have things to look forward to
Understand that the stress you feel now is temporary. Think of things you are looking forward to. If you're excited for Thanksgiving, make a countdown! If you're looking forward to Christmas, start playing some Christmas music and boost your mood.
If you don't feel like you have a lot to look forward to that's coming up, make some plans. Cross some things off your bucket list! It could be as small as trying a new place out for dinner or finally getting to reading that book you wanted to.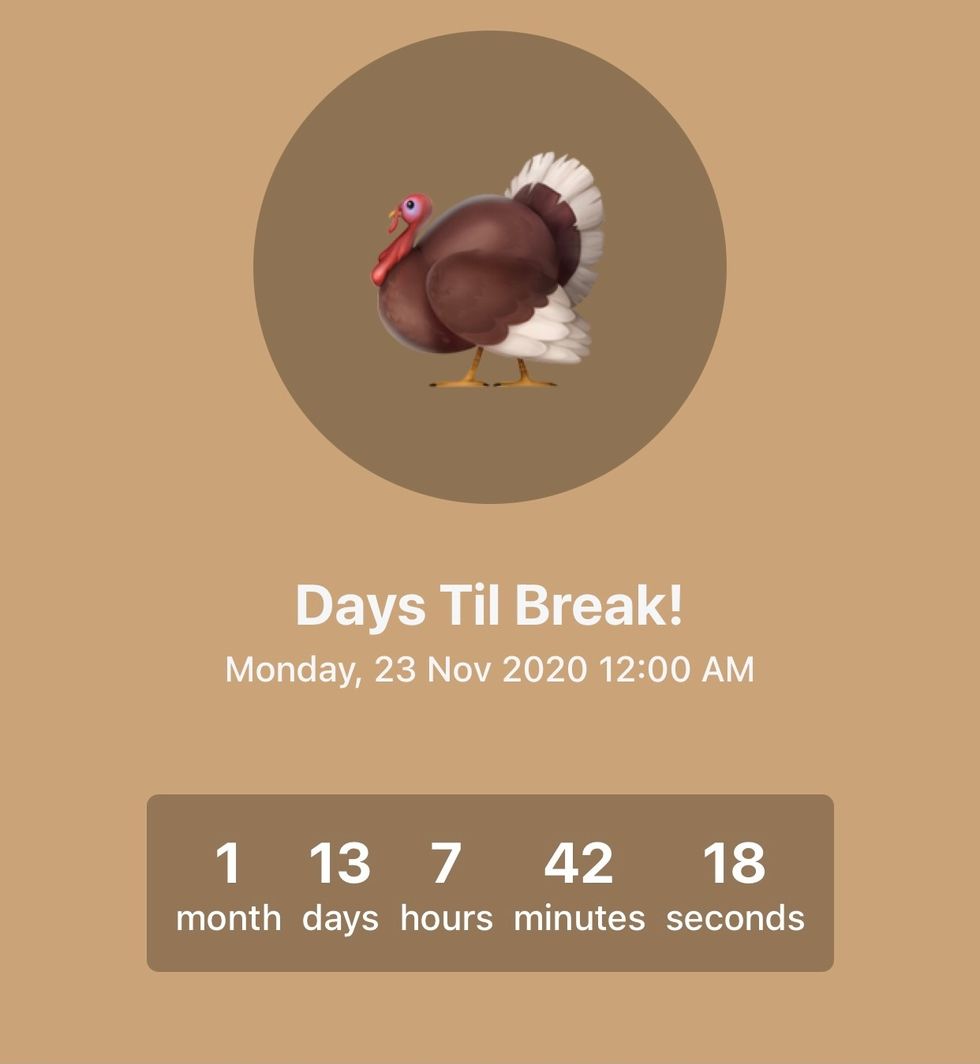 Here's an example from the app called Countdown!
4. Don't be too hard on yourself

It's important to recognize that this semester is putting a lot of added strain on you; between adjusting to online work and classes, coronavirus policies, and the election coming up, it is nearly impossible to not feel overwhelmed. Give yourself a break when it comes to being stressed or unmotivated.
Talk to your friends and family about the way you're feeling, sometimes it could be helpful to hear that you are not alone in having mid-semester slump. Prioritize your mental health and try your best to treat yourself without having a fall break this year. You got this!