I saw Rob Zombie perform with his band of misfit horror-fiends in Atlanta, Georgia on May sixth. Two days later, he headlined Carolina Rebellion, South Carolina's early summer hard rock festival held at Charlotte Motor Speedway, alongside fellow rock veterans Disturbed, Deftones and Alice Cooper. The following day, Rob (or his PR team) posted a photo of the singer with BABYMETAL, a Japanese band fronted by three adorable women who were also part of this year's Carolina Rebellion. The post went viral, with fans liking the Rob Zombie Facebook page trolling his taste in companions, posting comments akin to the ones in the photo below. This negative response prompted Zombie to start firing back in defense of the trio. Comebacks like "They roll harder than you" and "These girls had more energy than 90 percent of the bands we play with" leads me to believe this might actually have been the singer on the other side of the screen. Zombie told Blabbermouth watching BABYMETAL perform "was like nothing I have ever seen before."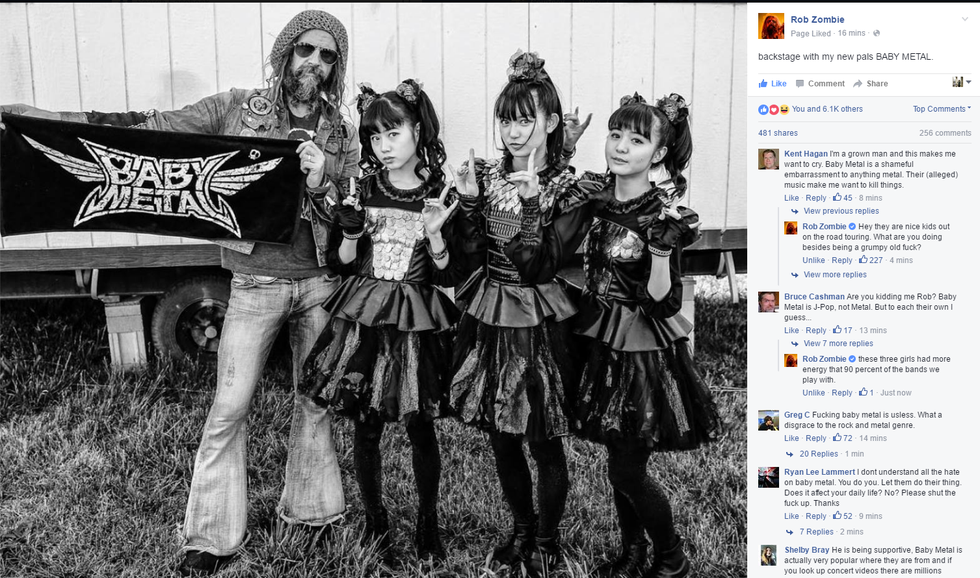 A J-pop idol band with a metal aftertaste, BABYMETAL, comprised of Suzuka Nakamoto ("Sumetal"), Yui Mizuno ("Yuimetal"), and Moa Kikuchi ("Moametal"), began their ascent in 2010 under the supervision of producer Key Kobayashi. When asked his motive behind the creation of the band, Kobayashi told Inverse, "Metal is only getting older and older and the scene isn't getting bigger anymore. I started thinking that I wanted to come up with something … no one has ever done before." The producer achieved his dream; BABYMETAL became the highest charting Japanese band of all time after the release of their second album Metal Resistance. Idol bands, according to Inverse, are entirely dependent upon the reaction of their fan bases. Many Japanese idol bands boast stars groomed by corporations to set good examples for children and adolescents throughout the country. Su, Yui, and Moa's bright smiles and tulled-out tutus fit the mold; however, their live backing band, called the Kami band, does not.
When BABYMETAL started performing in 2010, they performed to entirely playbacked music and were supported by a fake band wearing bone suits. The brutal Kami band known today slowly transitioned into BABYMETAL concerts, at first playing only three or four songs per show. By late 2013, the members of the live backing band were mostly fixed (absences at some shows due to prior engagements to original bands) and have accompanied the women of BABYMETAL to this day. BABYMETAL boasts a slew of extremely talented musicians among their Kami band that know how to concoct some seriously infectious riffage, not to mention the three talented lead women. While we're on the topic, although BABYMETAL represent a classical Japanese view of women, Su, Yui, and Moa are clearly finding empowerment through the metal genre, and regardless what one might what to think, Sumetal is absolutely singing live and has an impressively good voice for her tender age of eighteen, earning her place among veteran songstresses like Maria Brink, Ashley Costello, Amy Lee, OTEP and Simone Simons.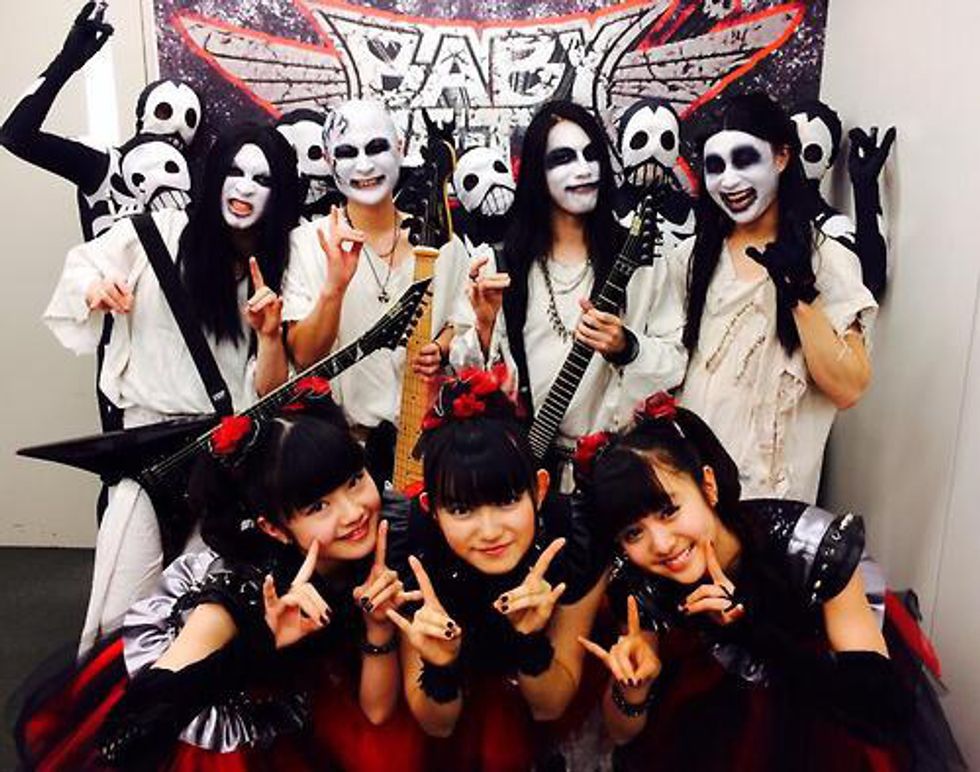 Comments now visible in the Facebook thread are more supportive of the Zombie-BABYMETAL connection, but the strong response of Rob Zombie's fans poses a greater problem concerning the divisiveness of the hard rock and metal communities. Rock and roll began as just that: lovers of heavy music joining together to bang heads and bask in the raw glory of blazing guitar solos, distorted bass and headache-inducing drums. Now, from what I've experienced, the metal community has been reduced to nothing more than a collection of factions supportive of only the best and most original bands of whatever subgenre to which they are attached. These factions are exclusive and unsurprisingly impossibly defensive of their rock gods and goddesses, leaving the majority of up-and-coming metal bands high and dry in the area of support. Some fans even go as far as openly discouraging bands from playing music. For example, Slayer's opening acts often still have a difficult time completing their sets for the chanting of rabid, die-hard fans.
When did music become less about family and more about competition? Granted, everything is a business to some extent; however, art is art, and no matter what type of art a person makes, someone somewhere will be struck by it. Metal, music, art is not about how many records are sold, about who plays the guitar solo faster or who hails from Japan and wears a tutu when she sings. Metal is about the powerful feeling that resonates from the heart center throughout the body when the black curtain drops from obscuring the stage and the first few beats of the kick drum bound across the venue. BABYMETAL is packing out stadiums with entire families banging their heads, throwing up the devil horns, sharing water bottles and beers, and patting one another on the back. BABYMETAL is bringing metal back to its roots with a mouthful of chocolate and a karate chop to the gut.
BABYMETAL told Metal Injection in an interview that metal music is more than experiencing with the ears and that one must also experience the genre with one's heart. These girls—at ages eighteen and sixteen—may be just what metal fans need to realign their senses of community, family, and loyalty in the midst of a whirlwind of subgenres and bands.