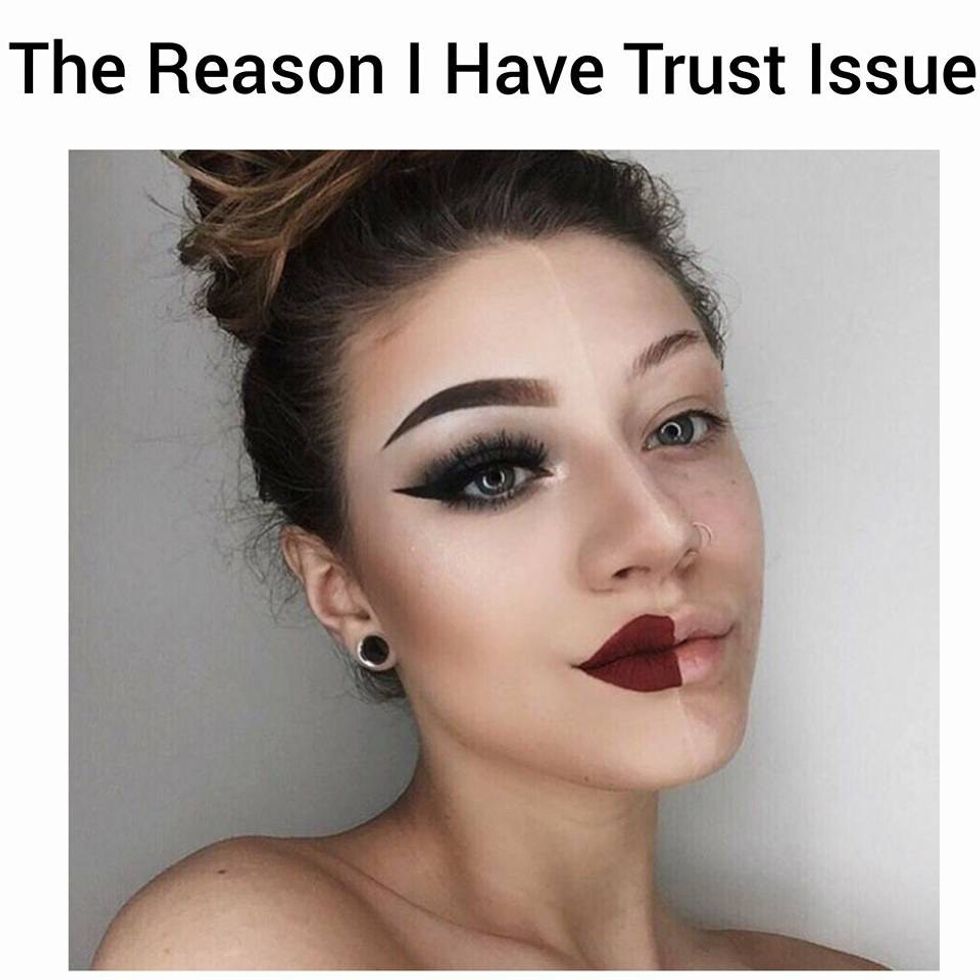 Dear Men who think the photo above is an issue,
Please know that women are not trying to deceive you. They would hope you know that they were not born with maroon lips, and a smokey eye, but they also want you to know...

...They do not put makeup on to look good for you.
For many women, applying makeup is an art form. To carefully sculpt with powders and creams a jawline, and wings on their eyes is not something a lot of people can do. For most, it's taken years of practice. Starting with the cheapest drug store makeup they can find to dropping maybe hundreds a month at Sephora or M.A.C.
Some have reasons behind putting makeup on. It's a confidence boost. If you look through YouTube, you'll be able to find a makeup tutorial or review for just about any eye shadow pallet or lipstick you can think of. They will show you tips and tricks and cheats to achieve the look of a Goddess.
Some girls on the video sharing site will share their stories of how they overcame facial scars, or acne issues as teenagers, or even how makeup gave them the confidence they needed after a house fire took half her face.
I recently saw a few people of all different ages call girls who wear "ten pounds of makeup" fake, saying that, "You cannot get to know the real person on the inside, when the outside is an illusion."
I say that's garbage.
Just because a girl decides to put lipstick on doesn't make her any less of a woman than what she was when she woke up. It gives women that extra confidence boost to go out and fight the world that lies ahead of them.
It's beautiful! It can be classy, and amazing. Sometimes makeup can fix those imperfections that are just too stubborn to leave: dark circles, blotchiness, skin discoloration, etc.
It's a way to express yourself. Every face full of makeup is different. Some will have plum lips, or red lips, or pink lips, from M.A.C, Sephora, Jeffree Star, Kat Von D, or have a smokey eyeshadow that required the Naked Pallet by Urban Decay, or the Manny MUA eye shadow pallet, or Kylie Jenner's pallet. Every day is like deciding what shirt to wear, "What color are my eyelids going to be?!"
Men, or women who don't wear makeup, leave the girls and guys who do alone. Don't call them fake, don't shame them for wearing it. Either compliment them, or keep the opinions to yourselves. Don't say that because a girl has make up on, and look different without it, is the reason you have trust issues. You all are the ones who are dumb enough to think girls get out of the shower with gold eyelids and perfectly contoured cheeks.