I've been rewatching a lot of classic moments from movies and shows, so why not?
Meet My Spirit Animals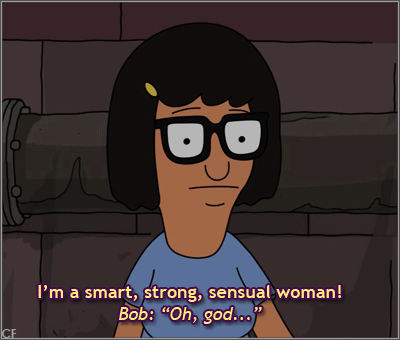 all GIFs from Google.
Tina Belcher. Awkward as all heck (the best part), good mixture of sass and serious. Also has little to no cares in the world.
Linda Belcher. She's loud and talkative. Also singing at the most random moments. Once I'm out of my shell, I'm a Linda.
Carl Wheezer. His awkwardness is a mood for me. He also has a gentle persona, and LOVES animals (perfect for a dog lover like myself).
Spongebob Squarepants. Spongebob's perpetually happy and optimistic self is me to a tee.
Ed from Good Burger. Ed is one of the most literal people I've ever seen on film. His enthusiasm and innocence are also relatable.
Karen Smith. I don't know, I took a Buzzfeed quiz to find out which character I was from Mean Girls, and it just kind of makes sense to me.
Elton John from Rocketman. He's sensitive and expressive with his feelings like I am.
Aang from Avatar. Mainly because the way he got excited at a penguin is the exact reaction I have when I see a dog. Plus his playful nature and high energy.
Gene Belcher. I've been told I'm Gene. The random outbursts are a mood.
The Grinch. His introverted nature is relatable. We all grew up to be him to an extent.