In the most shocking and deadly escalation of violence since 2014, the Israeli Defense Force fired upon unarmed protesters at the razor wire fence dividing the Gaza Strip from Israel. More than 100 Palestinians were murdered in total during the weeks of protesting, with some 12,300 wounded. More than half of these deaths occurred on Monday, the 14th when a total of 58 Palestinians, including children and an eight-month-old baby, were killed and more than 2,000 were wounded. Israeli officials claim that they were targeting Hamas; however, Israeli Brigadier-General Zvika Fogel confirmed that Israeli snipers were ordered to fire upon children.
Medics on the ground claim Israeli snipers are using butterfly bullets, an explosive round which causes major damage to tissue and born and results in severe internal bleeding. Many of the wounded protesters, mostly children, have had limbs amputated. Many have died after only a single shot. Ashraf al-Qedra, Gaza's health ministry spokesman. said: "Normally, a regular bullet breaks the leg. But these bullets create massive wounds, indicating that an explosion happened inside the body. It's an expanding bullet. It pulverizes the leg, and the leg gets cut off." He went on to describe that, when victims are hit, "all of their internal organs were totally destroyed, pulverized."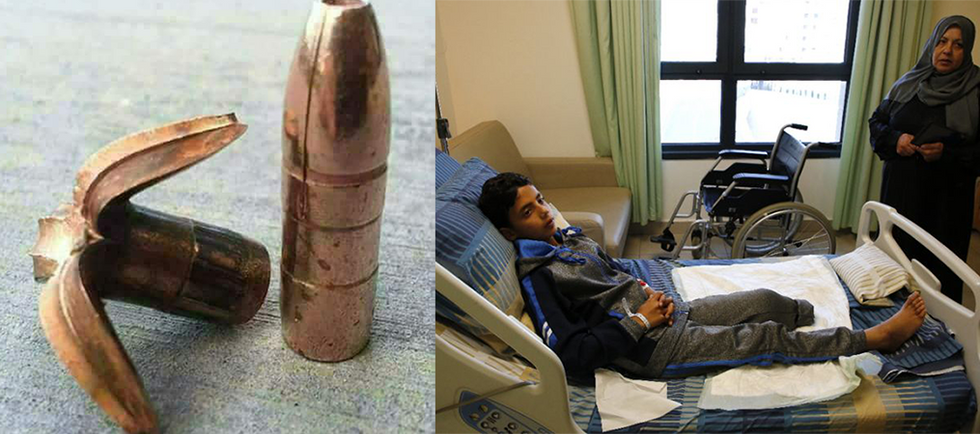 Left: Butterfly bullet Right: Abdel Rahman Nawfal, 12 in a West Bank hospital after being struck by an Israeli sniper equipped with butterfly bullets | Photos: Jamal Naim
The protests are in response to the United States moving its embassy to Jerusalem. Both Palestinians and Israel claim Jerusalem as their rightful capital. The move was intentionally provocative. The day of the opening ceremony was on May 14, a day Palestinians know as Nakba (English: the Catastrophe). Nakba commemorates the beginning of an ethnic cleansing campaign against Palestinians when Israeli forces pushed over 700,000 Palestinians out of their homes on May 14, 1948. The ceremony could have easily been put off to May 18, Israeli Independence Day. However, the more insulting and provocative day was chosen seemingly for no other reason than to insult Palestinians and further deny and downplay the genocide perpetrated against them by the Zionist colonizers.
The opening ceremony was, essentially, an invitation-only Trump rally. Those in attendance included right-wing Israeli politicians, Israeli Prime Minister Benjamin Netanyahu, Texas megachurch pastor Robert Jeffress, and Orthodox Jews and Christian evangelicals who had previously compared Trump to Cyprus the Great. Even the banners were paid for by Friends of Zion, a far-right evangelical Zionist group.
Palestinians, Jews, and even some who have supported Israel in the past were united in their condemnation of the incredibly violence against unarmed protesters by Israel. United Nations High Commissioner for Human Rights Zeid Ra'd al-Hussein announced that he would be stepping down from his position due to what he called the "chilling indifference" from the European Union towards Palestine, as well as the Syria refugee crisis and has decried US foreign policy which he described as "grossly irresponsible", especially under President Trump. As the United Nations prepares to vote on whether or not to recognize Jerusalem as Israel's capital, Netanyahu, apparently anticipating defeat, called the UN a "house of lies." Trump has been threatening to cut funding to members states which oppose the move and UN Ambassador Nikki Haley has sent letters, warning that the US will be "taking names" of those who have and continue to oppose Zionist expansion and aggression in Palestine.
This bullying and name calling shows how desperate the US and Israel are. Clearly, they do not expect to win this one. Rather than attempting anything even resembling diplomatic normalcy, they will stick to their tried and true method of giving threats and throwing tantrums while committing genocide with impunity.