Everybody knows about the cliche, alcohol-induced accidental Vegas wedding. You can visit a wedding chapel in Sin City and come out an hour later with a sparkling marriage certificate and a less than sparkling new spouse. That's not what we're talking about here. We're talking about the supreme Vegas wedding, the one that tops any and all Las Vegas weddings: the wedding package offered by the Taco Bell Cantina on the Strip.
Before we talk about this incredibly important subject, I must offer a caveat: I'm not looking for a husband or a marriage, I'm just looking for a wedding. A wedding surrounded by the medium sauce, Mountain Dew Baja Blasts, and cinnamon twists. I can picture it now: my bridesmaids walking down the aisle holding Crunch Wrap Supremes, the groomsmen holding Doritos Locos Tacos. If you share this vision, if it sounds like something you'd be into: send me a message now. Don't need a lifetime commitment, I just need someone with a weekend to spare and a craving for my favorite midnight fast food place.
The Taco Bell Cantina location in Las Vegas, Nevada has been doubling as a wedding venue since late summer of 2017. Since then, hundreds of couples have tied the knot in the private, intimate Taco Bell wedding chapel. They offer a premium wedding package for only $600, which in terms of weddings is practically free. This less-than-a-grand package (contents of which are pictured below) includes a bowtie made to look like Taco Bell sauce packets, matching "Mr." and "Mrs." T-shirts to wear on your honeymoon, and so much more.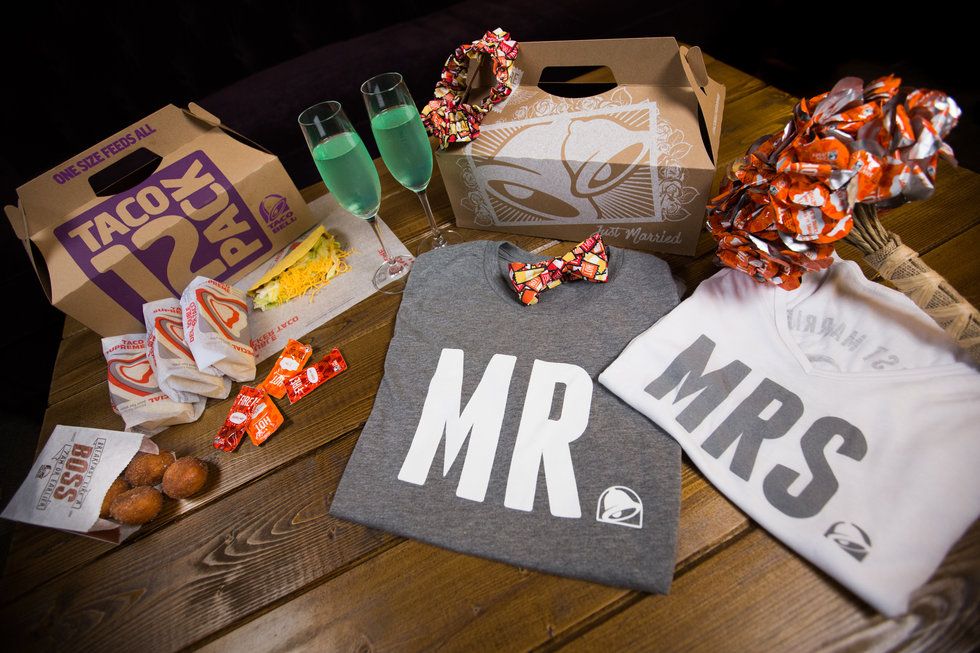 imgix.bustle.com
You can have up to 25 guests at a Taco Bell wedding, making for an intimate reception full of only close friends and family. You don't have to worry about offending the cousins you never talked to because there's only room for 25 people. Feeding all of them is easy with the included 12 pack of tacos. Parking is included in the wedding package, and you get to keep the Baja Blast champagne flutes. Basically, this is every woman's dream.
In all reality, this Taco Bell wedding really isn't every woman's dream. However, it's currently my dream. I'm young, independent, and looking for an incredible story to share one day. I don't expect a deep romance to begin with this wedding and am open to drafting up a prenuptial agreement. I don't want to fall in love, I just really want that taco twelve pack. If you're an adventurous, down-for-anything kind of person, let me know and we can get this Taco Bell wedding adventure started.