Advertising has always seemed to be a major, if not the main, perpetrator of gender roles in American society. What may seem a simple means of promoting a product in everyday lives has unconsciously warped the collective perception of men and women, putting both genders into distinctly separate boxes. If one is a female, then they must act and look this way, checking items down a list that is nearly impossible to emulate in reality; men have a similar set of expectations set before them.
The work of advocates, primarily the feminists, in modern times, have caused these hard-to-crack gender roles to slowly but surely break down. However, there are ad campaigns as of late that still perpetuate a clear line between the genders, such as Nerf's male toy blaster line and its female "Rebelle" blaster line of toys.
The popular brand of toy dart guns has kept its advertising towards male consumers relatively constant in recent years. An ad for the Nerf "Rampage" gun features a teenage boy firing the blaster at a target off of the box.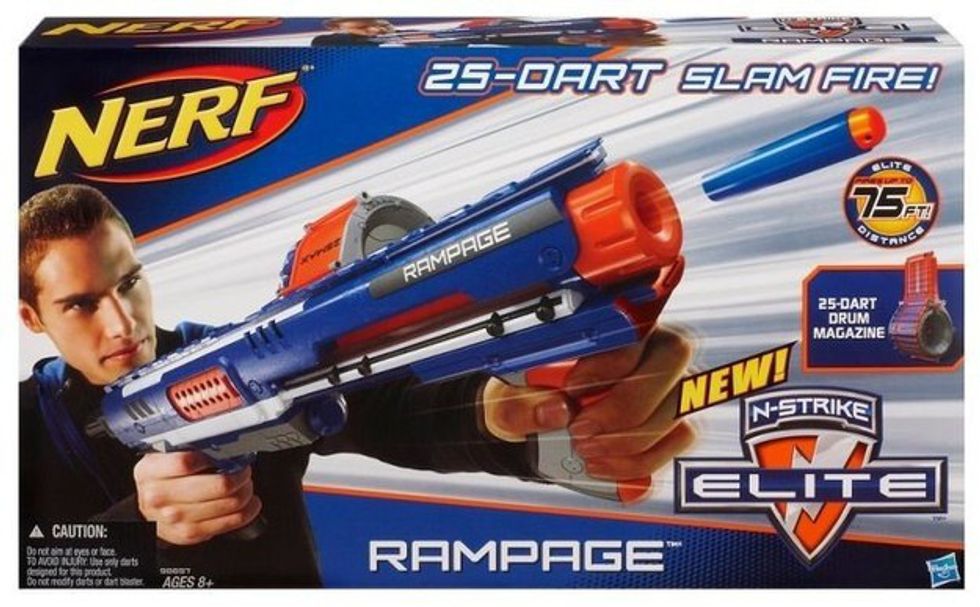 The model looks like a deviation from the target audience of Nerf toys, which is mostly composed of kids aged from 6 to about 11 years old. However, the inclusion of the teenager with a brow furrowed in concentration, entirely focused on his target, with a slight smirk on his face—essentially, he fits all the general requirements for someone that looks "cool"—causes boys to look at him and say, "wow, I bet if I get this gun, I will look as cool as he does when I am chasing my friends around the park with it!"
The model is busy in action, unsmiling and deeply focused on the task at hand because, according to Nerf, boys do not sit and pose with their Nerf guns; they shoot them. It is also notable to point out that the color of this specific line of Nerf toys is blue, and when thinking of gender, blue is generally associated with boys and pink generally with girls.
Though the inclusion of a Nerf gun line directed specifically at females is a huge step forward for the company, as Nerf has practically always marketed to boys, the ad campaign for the female "Rebelle" line of blasters falls into too many of the classic female tropes. The ad for the "Pink Crush" bow and arrow blaster features a girl that looks to be about preteen age, younger than the model on the "Rampage."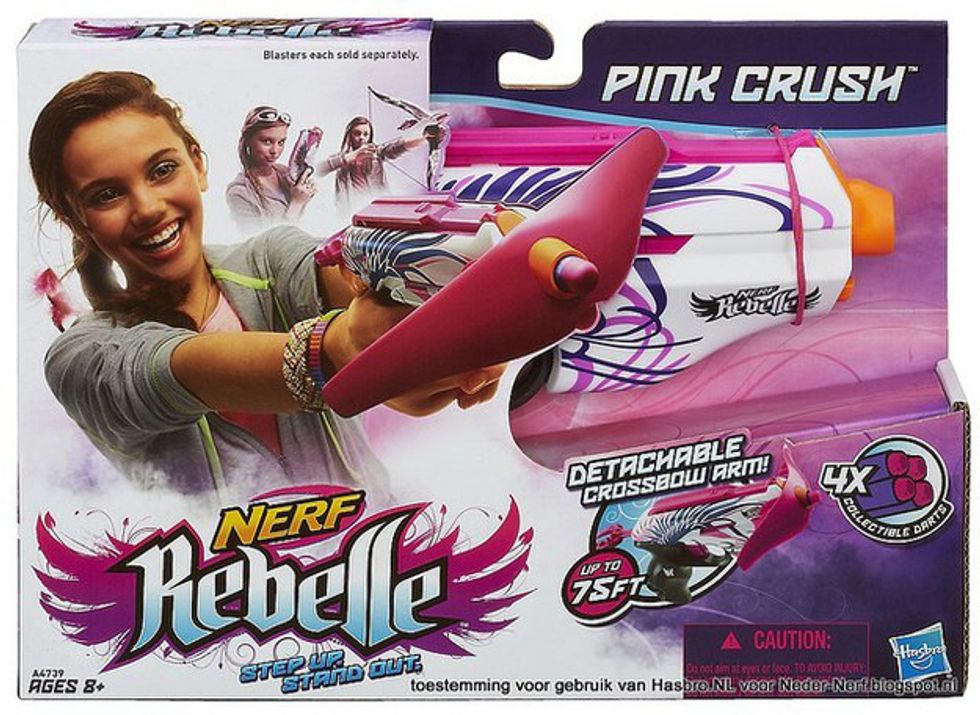 This model wears a huge smile on her face, and though she is aiming her blaster, she is not performing the action of actually firing it. In the upper background of the ad, other young models pose with their guns. One of them stands with attitude and a pinch of cute, holding her gun like Lara Croft does on the cover of Tomb Raider II.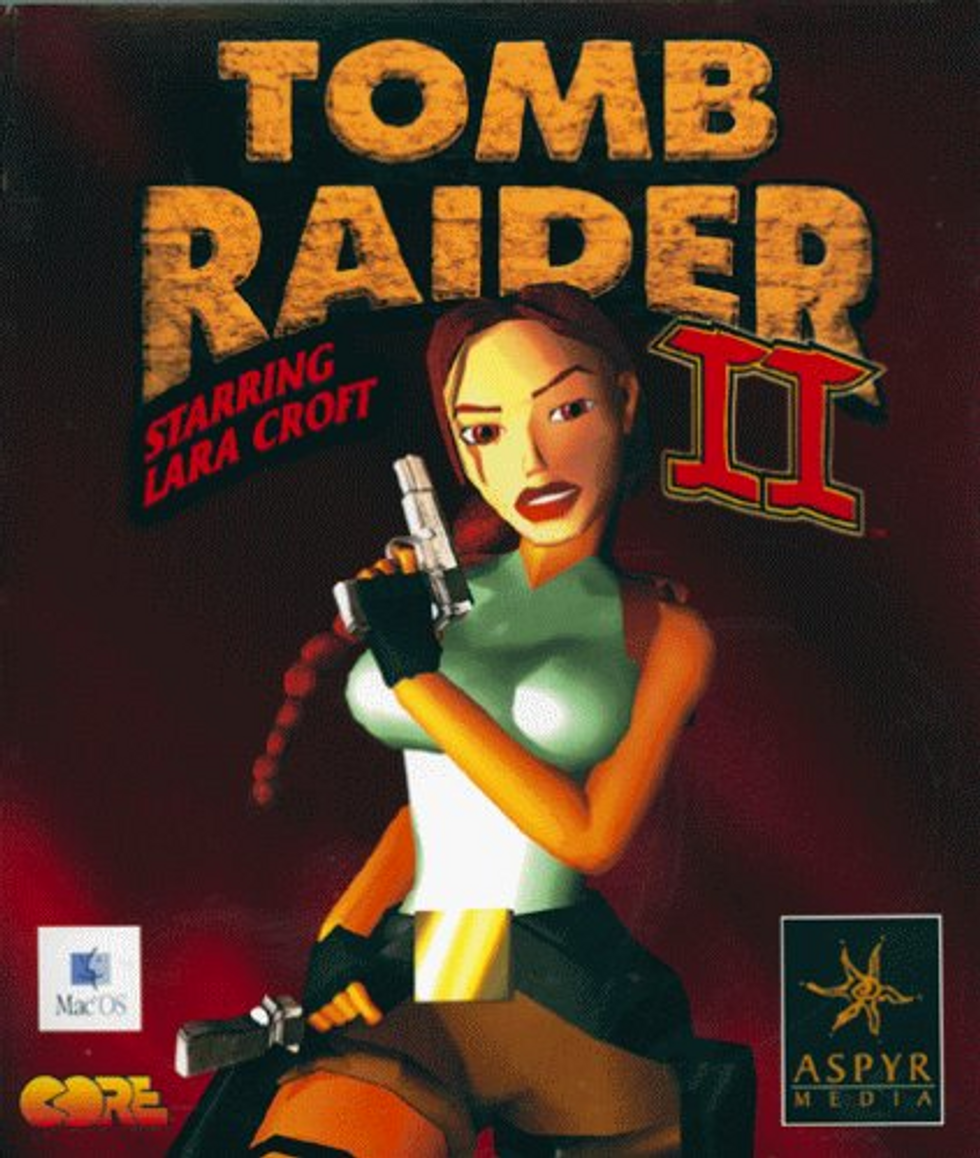 The other is, again, aiming her weapon but not firing it. While men in advertising always seem to be in action, unfocused on anything except the task at hand and ignoring the camera in front of them, it seems as though these girls were told they were being watched by a camera and instructed to act accordingly so. Where the "Rampage" gun was blue, this blaster, along with everything surrounding it, is slathered with varying shades of pink, for Nerf apparently believes girls will not buy their product unless it is painted with the "epitome of girliness," pink, and not in yellow, or green, or red, or blue, or black. That is almost every color of the rainbow for the boy guns and one for girl guns.
Despite the flaws in this ad campaign, Nerf has (almost) corrected their mistake with their line of Rogue One blaster toys based on the weapons of characters in the film. At the center of these ads is Jyn Erso (Felicity Jones), the second female protagonist of the Star Wars film universe. Jyn's blaster is the second-largest in the toy line, second only to a deluxe blaster sold only in select stores, and on the gun's box, she is pictured aiming her blaster off of the box, her face devoid of any smile.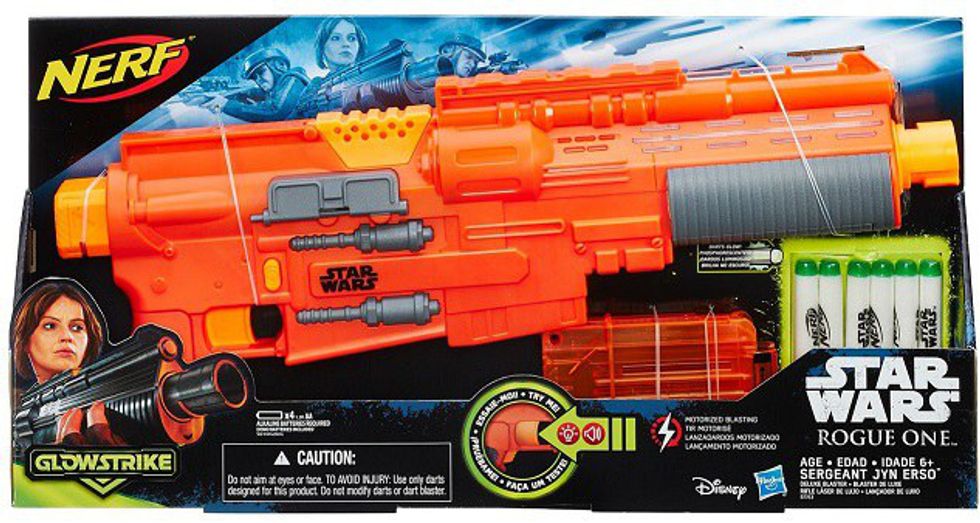 The box's label also names her "Sergeant Jyn Erso" rather than just her name, something that pays a great respect to her vastly integral role in the film and avoids belittling her in any way. The blaster itself is orange, not pink, and appeals to both boys and girls. This is in direct contrast with Nerf's "Rebelle" line, for Jyn is made to look tough, mean, and focused, a behavior and attitude previously only reserved for men in advertising.
Nerf is not the only company guilty of pandering to gender roles that will soon become too outdated to exist in a rapidly changing world. Their marketing for their
Rogue One
line of toys was a huge step forward and sets an example other corporations should follow. Companies like Star Wars and Disney have already picked up on the importance and value of respecting the consumer by marketing products that represent boys and girls equally, especially with their recent films and the merchandise that accompanied them,
Rogue One
and
Moana
. If there is one thing that is just simply not true anymore, if it even ever really was, it is that men always get down and dirty while still looking good with dirt and sweat all over their body while women sit still and look pretty.