In today's world, we all have the causes we're passionate about. And one student took his passion and turned it into action. At the age of 15 years old, Malcolm Asher decided to found ArtPass. It's a nonprofit determined to help children have better experiences at medical facilities. Still enrolled at Cleveland High School in Portland, Oregon, his success shows other youth how passion can lead to them making a worldwide impact.
What is ArtPass? According to Asher, "ArtPass takes a two-step approach in each community we serve. First, we remold children's mindset around hospitalization through our art-centric educational and advocacy curriculum. We make the hospital experience more transparent and less intimidating. This curriculum, consisting of cartoons specifically created for children no matter their English ability, is utilized by each chapter to meet the needs of individual communities. Secondly, ArtPass collects and distributes art supplies for the local healthcare facilities in these same communities to improve the experience in the facility so the child is more likely to seek medical attention the moment symptoms arise in the future." ArtPass also provides the opportunity for patients artwork to be shared with other patients, helping to eliminate the isolating feelings they can experience.
Asher explained that "while ArtPass initially started simply as a sharing-art program for my local hospital, I first-hand saw there was an even larger, unaddressed problem." That problem he went on to tell me was the vast number of children that die every year from preventable disease. According to him, that number is an outstanding 5.4 million. Due to lack of resources often the "emotional well-being' of patients isn't a concern that is addressed.
"Since wards can be 110 degrees with only five beds for 15 children, the quality of the hospital experience is severely poor for patients. This creates a stigma outside the hospital where children are so petrified of hospitalization they hide their symptoms from their parents until they are so critically ill, easily cured illnesses can become fatal, " explained Asher.
This realization led Asher to expand ArtPass. According to their website, they currently have 110 chapters registered, impacted more than 12,000 children, and have determined their educational curriculum to be 93 percent effective. They have made a global impact with their ArtPass Global Ambassadors which allows like-minded individuals to bring ArtPass to their local communities.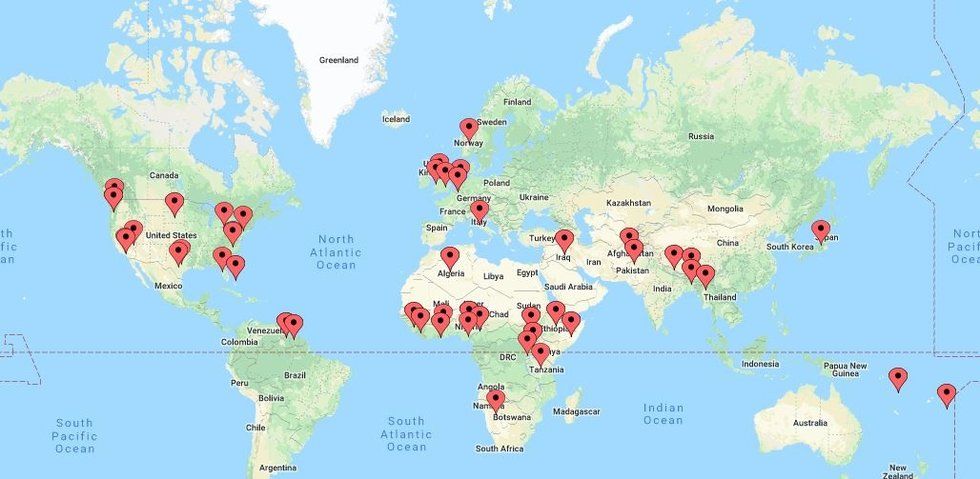 artpassinternational.org/global-ambassadors/
If you are interested in getting involved with ArtPass there are two ways Asher explained, "First, for every dollar donated, ArtPass can reach one more child. Because every community is so different, we provide mini-grants so chapter leaders can effectively utilize our programs and resources in ways that work for their homes. Additionally, if you're a student who would like to start a chapter of your own, you can apply on our website to become an ArtPass Global Ambassador."

"Based on our current growth rate, by the end of 2018, ArtPass expects to have registered over 175 chapters and have supported 20,000 children. Those numbers should triple by the end of 2019," said Asher. He doesn't take credit for the success. Instead, he cites support from art therapy-based nonprofits, local companies, hospital Child Life Specialists, and even some name brand companies like Taco Bell and T-Mobile. Asher also believes ArtPass has achieved success due to the lack of other organizations focusing on this area of work.
When asked what inspires Asher he stated, "I'm inspired by the students across the world who go above and beyond to help children interact with healthcare more positively. For example, Zainab is a teenage girl who lives in a Taliban-ruled community in Afghanistan. While she has a hospital in her community, children are so petrified of the conditions that they are too scared to ask for treatment. So, while risking her own safety, Zainab is pioneering her own ArtPass chapter. Habtsh is a college student in Ethiopia who has used all of his savings to launch his own ArtPass chapter as well, bringing in a large team of volunteers, and reaching over 15 different villages across Ethiopia, where he lives."
ArtPass is an example of what one person can accomplish and the impact youth can have on the causes they're passionate about. "I want people to learn that if you see a problem, no matter how big, it is possible to make real, sustainable change. For every one solution, there are three more problems out there. With support and allies on your side, no problem is too big," said Asher.
Asher offers this advice to other youth with a passion to make a difference: "Please, don't be scared to reach out to people (like me!). When I had my idea, I had no clue where to turn or if I would even be able to put my ideas into fruition. But after reaching out to other young social entrepreneurs who had been successful in their own ventures, I received priceless guidance, advice, and mentorship that propelled our growth. People want to help you — I promise!"