The women of the show "Mad Men" are some of the most influential characters on television to date. They epitomize a time in history when women were discouraged to work a job other than a secretary, and it was not easy for them to become anything more than a housewife. The three women that I will cover in this article are in my opinion, the three most iconic women in the show, as they portray three different types of ideals. These characters are Betty Draper, Joan Hollway-Harris and Peggy Olsen.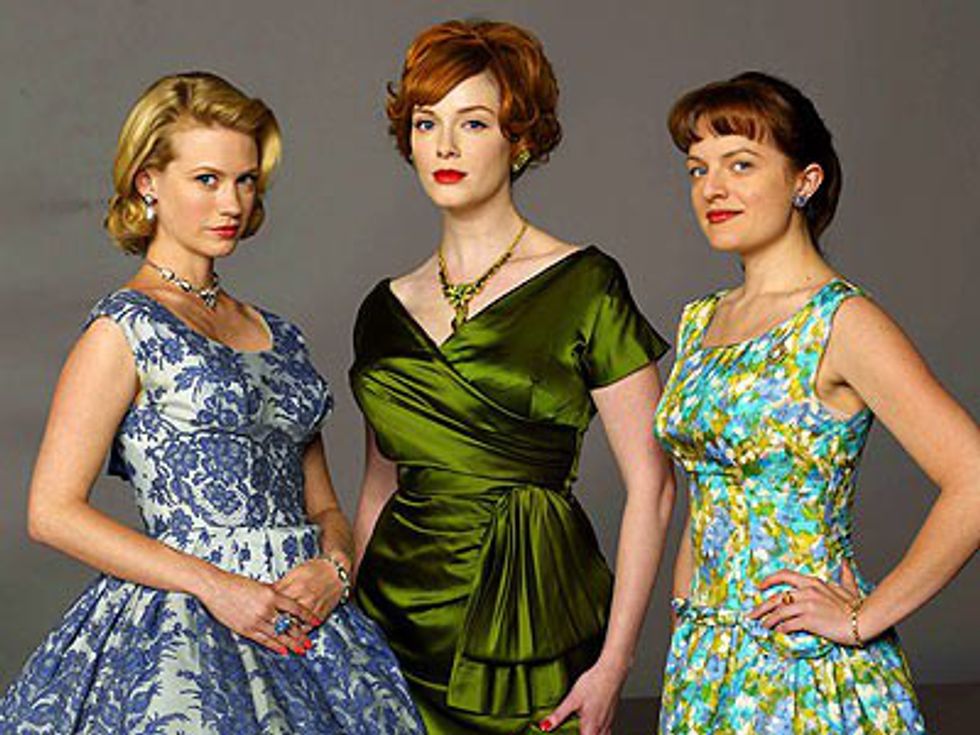 If you've never seen or heard of "Mad Men," then you have no idea what I'm talking about so, here's a quick brief:
"Mad Men" is a television show about the ad men of Madison Avenue in the sixties (hence the title, "Mad Men"). The show provides the viewer with historically accurate depictions of all types of people and places during this time, along with different norms that were established for the era. The show introduces different controversial topics of the sixties, with the backdrop as the city. Some topics covered are sexism, racism, gender roles, gender inequality, infidelity and substance abuse. The viewer finds themselves following the main character, Don Draper, throughout his daily life, along with other characters, and gets an inside look on how the sixties really went down on Madison Avenue in Manhattan.
Ok, so let's get things started with the beautiful, blonde housewife, Betty Draper.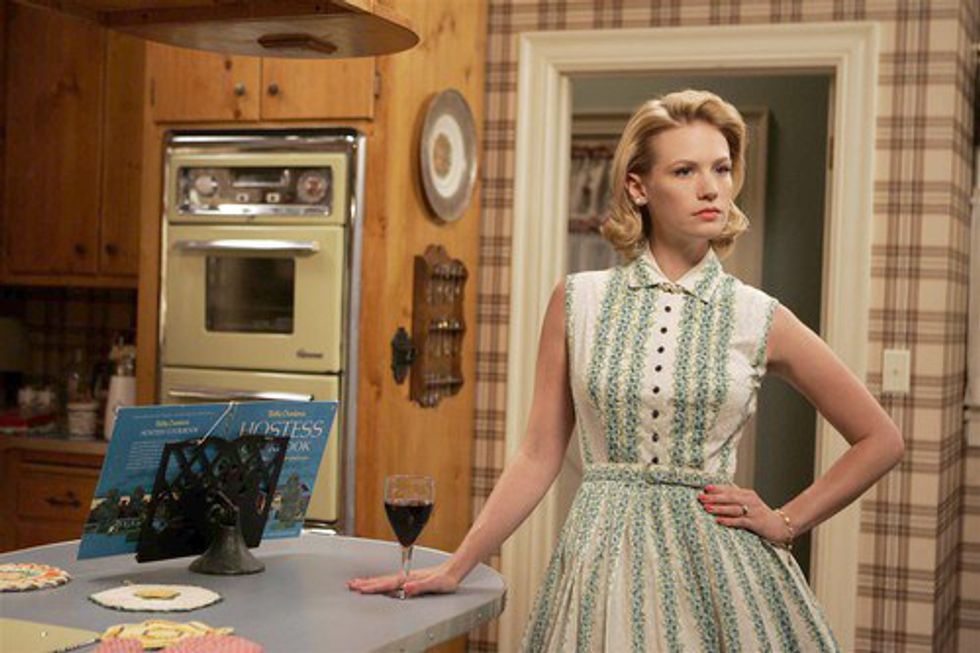 Betty Draper is the poster child for 1960s housewives. She's got the beautiful house, the handsome and successful husband, the two beautiful kids and she has an African-American nanny named Carla. Her life is literally what you would think of when you hear the terms "1960s housewife." However, upon further watching the show, we find out that her life is not nearly as perfect as we think it is, and that what goes on behind the doors of this seemingly "perfect" family, is in fact, not perfect at all. Throughout the show, Betty must deal with Don's infidelity, an unplanned/unwanted pregnancy, and her own affair(s), all while trying to maintain a smile for this "picture perfect" family image (ironically, Betty was previously a model when she met Don, so she knows how to smile for the camera). How she deals with the pressure of trying to maintain this image is interesting, and we see a growing frustration about her confines as a housewife.
Next up is Ms. Madison Avenue herself, Joan Holloway-Harris.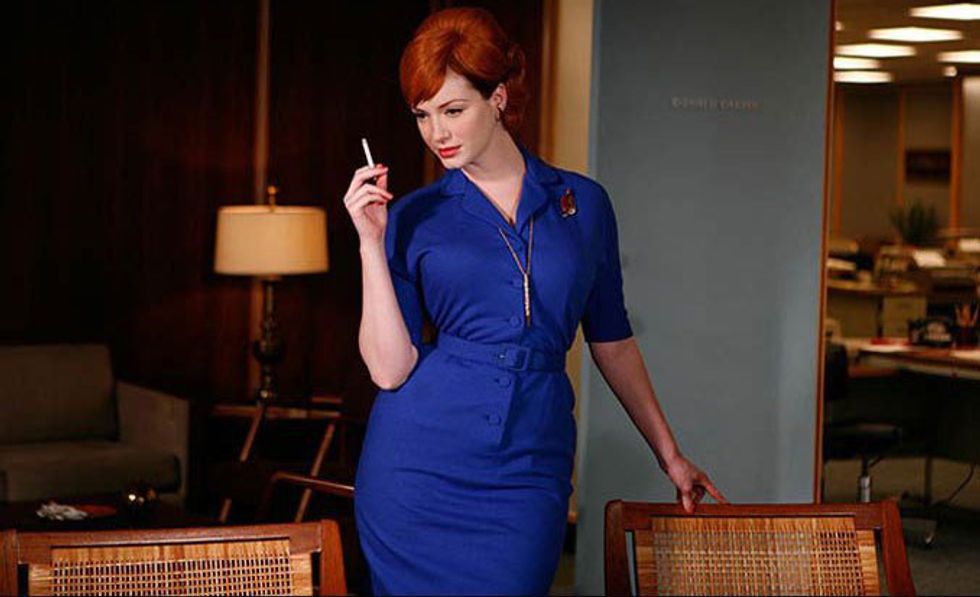 Ah, Joan Holloway. Upon first glance, she looks like someone who would sleep around with all of her male colleagues. Well, upon first glance, you are in fact correct. Although, she doesn't sleep with
every
male colleague, just a handful. Joan Holloway is the office manager of Sterling Cooper (the ad agency all of the characters, besides Betty of course, work at). She knows everyone and everything that is going on within the walls of Sterling Cooper. She's kind of like the office "mom." Anyways, Joan does what she wants. She's independent and doesn't take male opinion into consideration, and she forges her own path to success. Although the ways she goes about this can be controversial in some aspects, she does it for her family. She's a single mom, working full time at an ad agency, so she's got a lot on her plate. She doesn't ask for help from her male colleagues, instead, like I said, she gets things taken care of in her own way. She is called the unintentional career woman, because we see her as a representation of what it would have been like for a woman to advance in the workplace when they were still limited to pink-collar jobs (secretary or nurse). I could go on and on about Joan, but for the sake of the article length, that's more than enough.
Last but definitely not least, we have Peggy Olsen.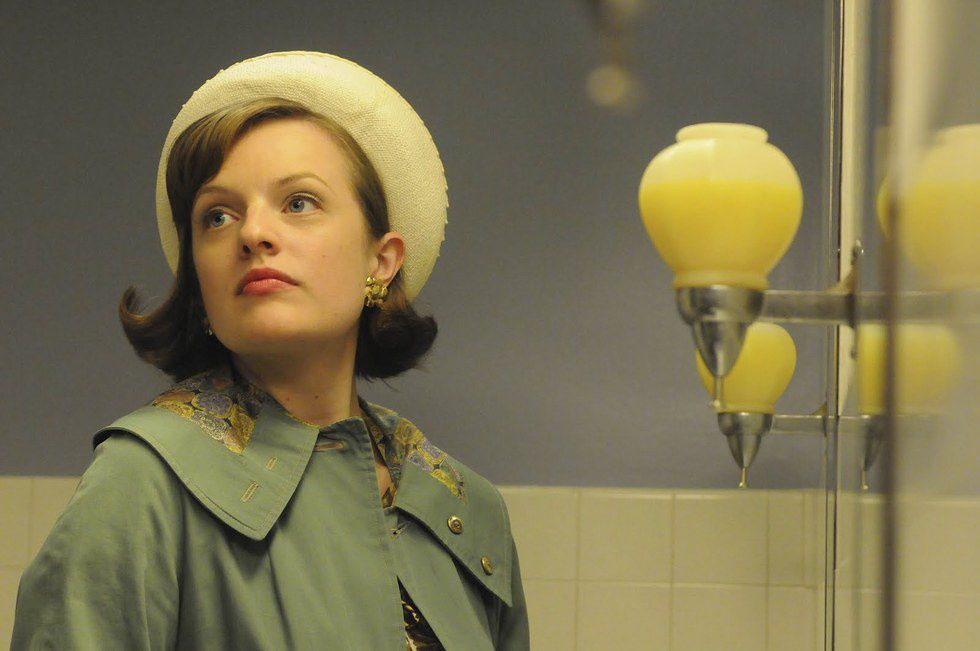 Peggy is similar to Joan in that she's an independent working girl. She's assertive and makes sure she gets what she's entitled. She's different than Joan because instead of using her femininity to get what she wants, she gains respect by asserting herself and demanding the respect that is due, or acting in a "masculine" way. In order to get different things, she acts masculine in the fact that she's very assertive and does not submit herself to male dominance. Starting out as a secretary, and advancing to senior account manager at the end of the show's run, we see Peggy overcoming many different obstacles in her own life to come out on top including an unplanned/unwanted pregnancy, patriarchal norms and just the overall demands of living in a big city like Manhattan. Of course she has her weaknesses, but none of those prevented her from getting where she knew she wanted to be since day one. She gained respect from her male colleagues who eventually ended up seeing her as an equal instead of just another woman. Peggy is a great example again of how, although difficult, women could overcome the male-dominated working world without compromising any of her characteristics.
Each of these women portray an important facet of 1960s culture, and each woman redefines her situation that defy the norms of a male-focused society. What we learn from each of these women is that you don't have to continue with the cards that you're dealt. Instead, you can reshuffle the cards and create your own game.
For further reading on each of these characters, feel free to checkout my blog I made specifically on this topic titled, Mad (Wo)Men. There are links to other sites and I share more of my opinion with a more in-depth analysis of the portrayal of women in "Mad Men." I have more stories and pictures of each, and would love to hear your input!