It's hard to love someone who doesn't love themselves. It's hard to love someone who hurts themselves, because it hurts you too. It's hard to love someone in pain. It's hard to love someone who eventually chooses suicide. But it's worth it, because no matter the lies people face, they are worth it.
I've been on both ends of the spectrum. I have loved and have been loved. Both are really, really hard. I have gotten much more than my fair share of love and I have felt unable to love anymore. I have asked myself time and time again when my or someone else's love will run out. The thought of love being totally spent and running out is scary from either perspective.
The thing with loving an unloveable person is that your love has to increase with the unloveliness, when our instinct is to let it decrease. When you realize that a person has ugly parts, and that they are really ugly parts, it get's harder to love. Our initial reaction may be stubborn love. We like to think that we're better than just ditching a person. We stick around because it is the right thing to do. But when problems don't go away and ugliness stays rather than getting better and things don't go how we want, it can get harder to love well. We may start to drift. Less time is invested. Conversations are cut short. Questions go unasked. Maybe you won't notice, but they probably will. Someone who has trouble loving themselves has no problem assuming that no one else loves them either. And they'll notice the subtle drift. They expect it. And they probably won't say anything to stop it.
In the Old Testament, God loved a people who were constantly self-destructive. The Israelites over and over again did dumb things, rejected him and got themselves into a mess, even though they were told it was coming. The book of Hosea tells the story of a man who loved a woman that he knew would hurt him and herself. Hosea 11 is the heart-breaking story of a God who loves his children, but watches them wander and hurt themselves, and in turn, hurt him.
The idea of free will is that God loves us and wants us to love him freely and by choice, but that also gives us endless opportunities to hurt him. He is able to offer this to us because his love is endless, and it has the power to overcome in the face of endless hurt.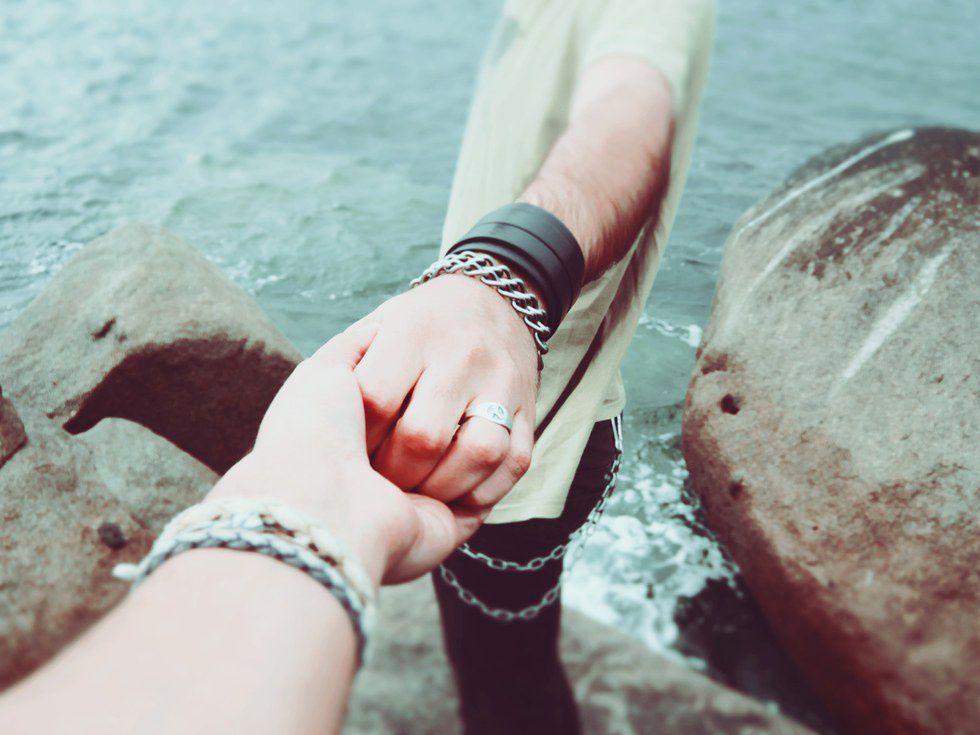 So the key to good love, love that doesn't drift or wane or end up hurting someone when they hurt you, is a love that isn't yours. I've never been loved well with a love outside of God's love and every time I've tried to love well on my own I've ended up hurting someone. It doesn't work out. It's just another thing on the frustratingly long list of things we can't do ourselves. But it is better that way, because people need the kind of love that doesn't leave more than anything, especially when they expect the opposite.
Loving someone who hurts themselves, either with thoughts and lies they believe or with a knife or pills or something else, is painful love. It takes all the happy, warm, fuzzy feelings out of love. But what it leaves is far better. It leaves joy and wonder along with the heartbreak. Because when you love and are loved this way, you get a glimpse of God's love. And it's overwhelming. It brings you to your knees, and forces out the tears you've held back, and in a wonderful way confirms that you are so finite, small and weak, but in the eyes and heart of God you are infinitely important, loved and known. To experience that with someone else is awesome.
As I started writing this it turned out to be a lot harder to write than I thought it would be. I thought I kind of understood what to do or what loving people and being loved looks like. But I don't have as good a grasp on it as I thought I did. I don't get it. I don't know how to love sometimes. I don't know how to be loved. The two go hand in hand, and I've failed at both. But as long as it's not up to me, that's okay.