Romantic comedies aren't really my cup of tea. Most of them are not original, and they always follow some sort of plot structure that hasn't really changed over many years: boy meets girl; boy and girl fall in love; boy and girl go through so many difficulties that make it hard for them to be together. Despite everything, in the end, the power of love is unstoppable.
Many of these movies manage to give us false expectations of what "true love" might actually mean. We begin to crave this idealistic stories meant to be enjoyed by the public eye. These movies deceive us with the ideality that love can conquer it all–every obstacle that it is thrown our way.
I've learned to avoid many of those movies. I've never seen Breakfast at Tiffany's or Fifty First Dates or Ten Things I Hate About You or 500 Days of Summer. My eyes have never even grazed a scene from any of these movies. However, there is one movie that I could watch every single day of my life.
Love, Rosie is your typical cliched romantic comedy. Rosie and Alex met at a young age, and they became best friends. They spend most of their childhood together. It was Alex and Rosie all the time, and nobody could change that. However, as one grows, life begins to throw many obstacles at you (am I right???), and our characters are separated from each other. Alex moved to Boston to study to become a doctor, while Rosie stayed in Ireland to raise her baby. Alex, nor Rosie, however, had the balls to tell each other how they truly felt.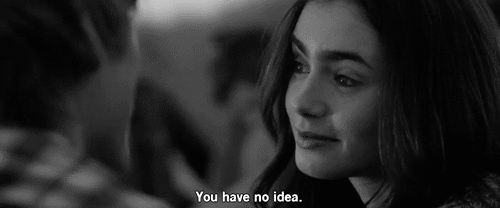 media1.giphy.com
There's something about this movie that has always made me love it from the moment I watched the trailer a couple years ago. For their promos, movie posters portrayed condoms, which I thought was a really ingenious movement. (Watch the movie, and you'll understand.)

But the movie isn't set to decide the fate of these starstruck lovers in a span of a couple months. We follow them from years. We meet them during high school, and we end many years later when Rosie finally manages to accomplish her dream. And I believe that's what I love most about the movie. Love, Rosie doesn't entirely focus on the romance plot.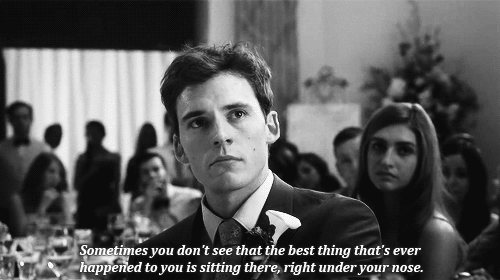 media1.giphy.com
Love, Rosie follows the life of Rosie, a girl who had so many dreams but was stopped the moment she got pregnant at the age of 18. This didn't stop her, though. She managed to still accomplish her dreams. Rosie became unstoppable. She never let anything keep her back. She strived throughout the entire movie, deciding what was better for her. The movie also, somewhat, follows the life of Alex, who's at Boston studying to become a doctor.
The movie shows that love isn't just always the first person that you manage to meet at a bar. This movie shows that, no matter what, the true person in your life is one day going to show up in your life.
That lesson is one I've come to fully grasp these years. Love is deceitful. Love is beautiful. Love can be temporary. There's this old saying that says: there are plenty of fish in the sea. And, probably, maybe, this would be why I would recommend you to watch this beautiful movie. (Plus, the comedy is on point!)