"If you seek a pleasant peninsula, look about you."
I've been traveling to Michigan my whole life; my aunt and uncle live in Ann Arbor, and we go to their house for holidays all the time. I always loved visiting them--the college town vibes, the nice breeze in the summer, the beautiful trees in the fall. However, I'd never been anywhere in Michigan beyond that. I never really gave much thought to the state--all I knew was that it has a funny shape.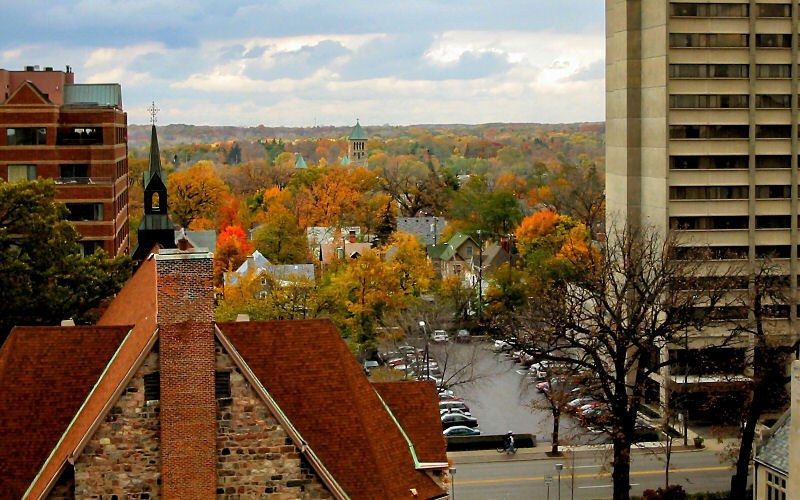 Then, I started college in the midwest, and it seemed like everyone hailed from Michigan...and wow, did they have Michigan pride. Everyone was using their hands to show where they're from, talking about what their favorite beach town is, and it seemed like every city started with either "Grosse" or "Grand." Coming from Pennsylvania, there isn't a whole lot of state pride (Pittsburgh, Philadelphia, and a whole lot of amish), so this was new, and frankly a little odd, to me.

But as I listened to them describe the state, the beaches with preppy little towns, the mountains in the Upper Peninsula, and most importantly, the fudge from Mackinac Island, I began to think that maybe there was a lot more to this state with a funny shape.
Then this summer, I visited Saugutuck, MI with my boyfriend and his family. I was so, so unbelievably excited to finally see the beauty I had been hearing about, and Michigan certainly did not disappoint.
We picked the juiciest blueberries, tasted amazingly rich fudge, shopped in the most adorable shops, ate dinner on the dock, rode every boat from a ferry to a ducky tour, and drove through sand dunes in a jeep. The beach was a few steps away, literally right in our vacation home's backyard. We may have been on a lake, but I swear, it was nicer than any Atlantic Ocean beach I had ever been to. Smooth waves, soft sand, a nice breeze, and no taste of salt in the air. In the evening, we grilled hamburgers and hot dogs on the deck and watched the sun set over the beach. At night, we bonded over beach bonfires with marshmallows and hot chocolate, then fell asleep to the soothing sounds of the waves that we could hear even from inside the house.
Needless to say, I think Michigan is incredible. Now I truly understand why all my friends at college absolutely love where they're from. I had the absolute best week of my life and I'll never forget the amazing memories I made.
Eventually, I want to explore everything Michigan has to offer. I want to travel to everywhere: the UP, Traverse City, Mackinac Island and downtown Grand Rapids. I may not be a Michigan native, but I appreciate how beautiful it is. The saying really is true: life is better at the lake.