A lot of the time, celebrities are interviewed and asked questions so that their fans can better understand them and their life. But what about the fans? I decided that it was time to take a look at a different perspective, and see what it was like to be a fangirl. Scary, I know.

This was my life for two full days. First, I picked my "celebrity crush" for the next two days, did some research, and found out that they live in LA. I decided to choose the Youtube sensation superstars, The Dolan Twins. Knowing that they have an ever-growing fan base, and that they had been in most of the places in LA I had already been to, I thought it would be easy to do some research and find them.
When I first arrived, I immediately:
Followed all their social media accounts, and made sure to have post notifications whenever they decided to post something.

Start to watch their videos on Youtube.

Scrolled through the comments left by fans, to get a taste of their devotion and love (and sometimes a bit too much love..).
Sooner or later, I began to actually feel like a fangirl.
I found myself looking for familiar places as seen on their social medias (cars, coffee shops, and even possible apartments). I even became more anxious for them to post on their social medias, and was checking my phone almost every half hour. It was terrifying. I started to feel like an actual stalker, but I kept reminding myself of what the end goal actually was.
After watching most, but not all of their Youtube videos, I started to feel somewhat of a personal connection to them. Within a night I was able to soar through 2-3 years full of memories and laughter and achievements, the good and the bad. I felt like a proud mom, but at the same time, I had never talked to either of these boys in my life. I knew their likes and their dislikes, or at least the ones they cared to share in their videos.
It was as if I had been given a friend, but we couldn't communicate or actually hang out.
Most of these girls and boys that spend their time on the Internet watching and loving the people they fan over on a daily basis feel this way. They feel so connected yet so impersonalized at the same time. And there really honestly isn't anything that celebrities can do but let their fans know that they're loved.
A lot of fans even resort to drastic measures. They take to social media and blow up their accounts with fan fiction and comments for their celebrity that they will possibly never read.
As my last resort to try to meet my goal and find them, I took to Twitter. I had my friend ask them to meet us at a pizza place, since they like pizza (...but, I mean, who doesn't honestly). There was probably a thread of 10-15 tweets asking both Ethan and Grayson Dolan to show up and meet their "number one fans", but there was no response. I can honestly say that I felt a bit disappointed, even though I have never met or watched their videos on Youtube before these two days. But, that my friends, is the struggle of being a fangirl. And I finally found out what it felt like to walk in their shoes.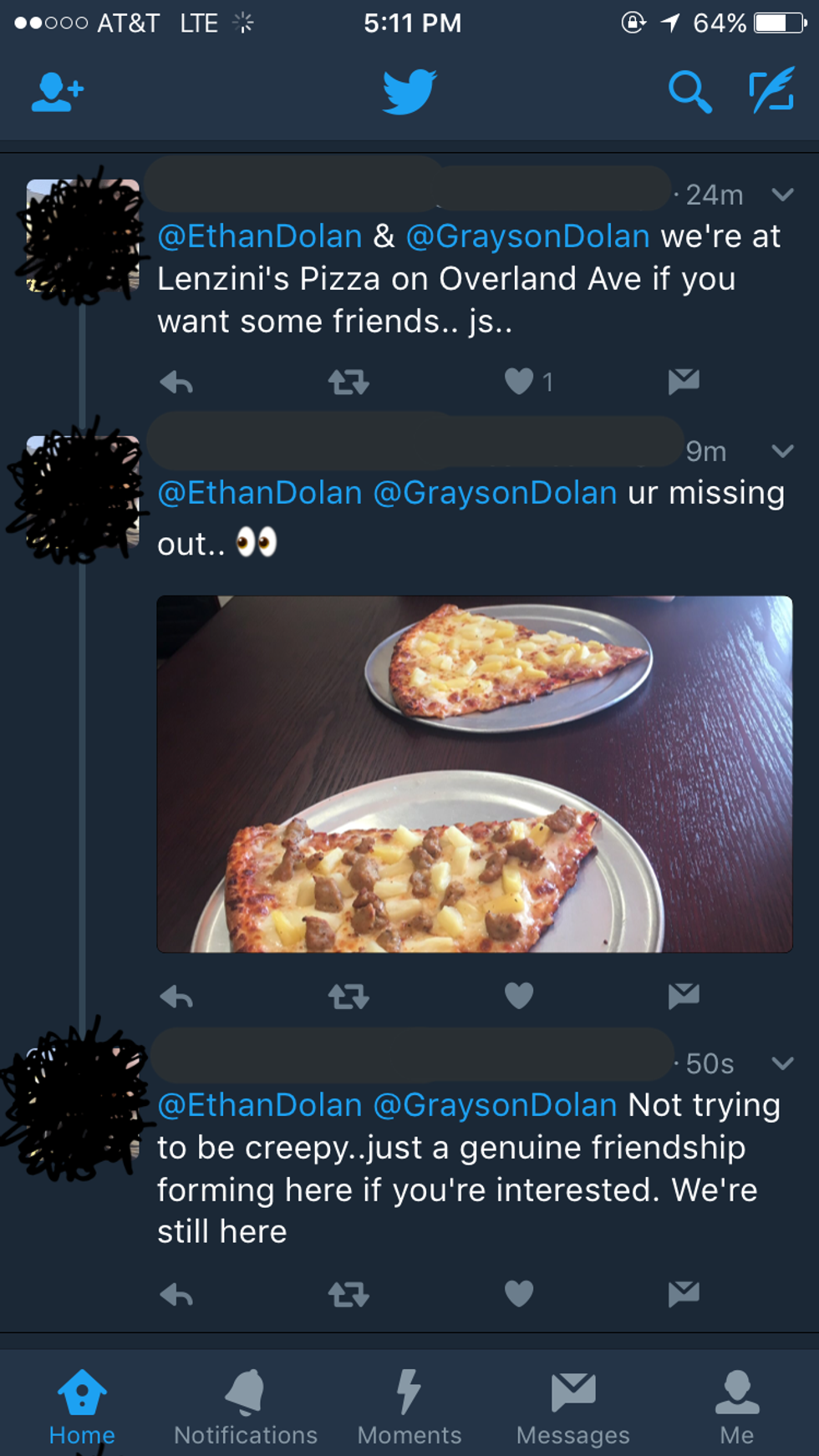 In summary, being a fangirl is very tough. You have to have the strength to know that there is a very small possibility of ever meeting the person you've watched since the beginning of their fame, but they still stay completely devoted to their fanbase. The Dolan Twins are part of a special group that actually does show a lot of gratitude towards their fans, and try to make their "fandom" feel as loved as possible. The connection between them and their fans is like a friendship; almost as if they are walking through life together, hand in hand. And that is incredible.
So, Dolan Twins, if you're reading this, I hope you find this as amusing as I did. Becoming a part of your fandom for two days felt so awesome, and caused me to actually want a genuine, non-fangirl friendship. Please enjoy reading this, and if you ever want to meet up for good pizza, I know a place. Thank you for using your fame for something other than yourselves. Keep spreading that positivity, and keep sending love to all your adoring fans!
*Disclaimer: This was pure research. I am not advocating stalking of The Dolan Twins or any other other celebrity stars. Please do not stalk people. That's weird.