Closing out the second week of the Bryant Park concert series brought to you by Southwest Airlines and The Grand Ole Opry was rising country music star, Lindsay Ell.
Ell was born and raised in Calgary, Alberta, where she grew up going to country-bluegrass camps with her dad where she discovered her true love for country music.

"Calgary is the country music mecca of Canada," said Ell. "From a music scene standpoint, it's kind of like the Nashville of Canada. It's an oil and gas town, so it's like Houston too. We have a big rodeo every year called the Calgary stampede and so it's a huge music town, especially it's centered around country music, so, I grew up with country music all around me. I started playing piano when I was 6 years old and then it was a lot cooler to start playing Shania Twain songs on the guitar when I was 8. I picked up the guitar because my dad played, and I just never really looked back since."
Following Ell's performance last Tuesday in Bryant Park, she performed at the Grand Ole Opry Wednesday night. En route to her flight to Nashville, fans onboard her Southwest flight got more than their usual in-flight entertainment. At 35,000 feet, Ell surprised everyone on the flight with a Live at 35 concert, and she performed two tracks from her Opry 9.0, Vol II Discoveries From The Circle CD.
"It was really cool when the Opry first came to me and said 'hey, we want you to be a part of this Opry 9.0 project,'" said Ell. "Chris Janson, Mo Pitney and I, they were songs that we recorded on the Opry stage in front of a live audience. It's amazing just to see the Opry wanting to support up-and-coming talent, and wanting to fully support the message of country music growing as a genre and not being afraid to endorse whatever artists together on an EP in their live shows."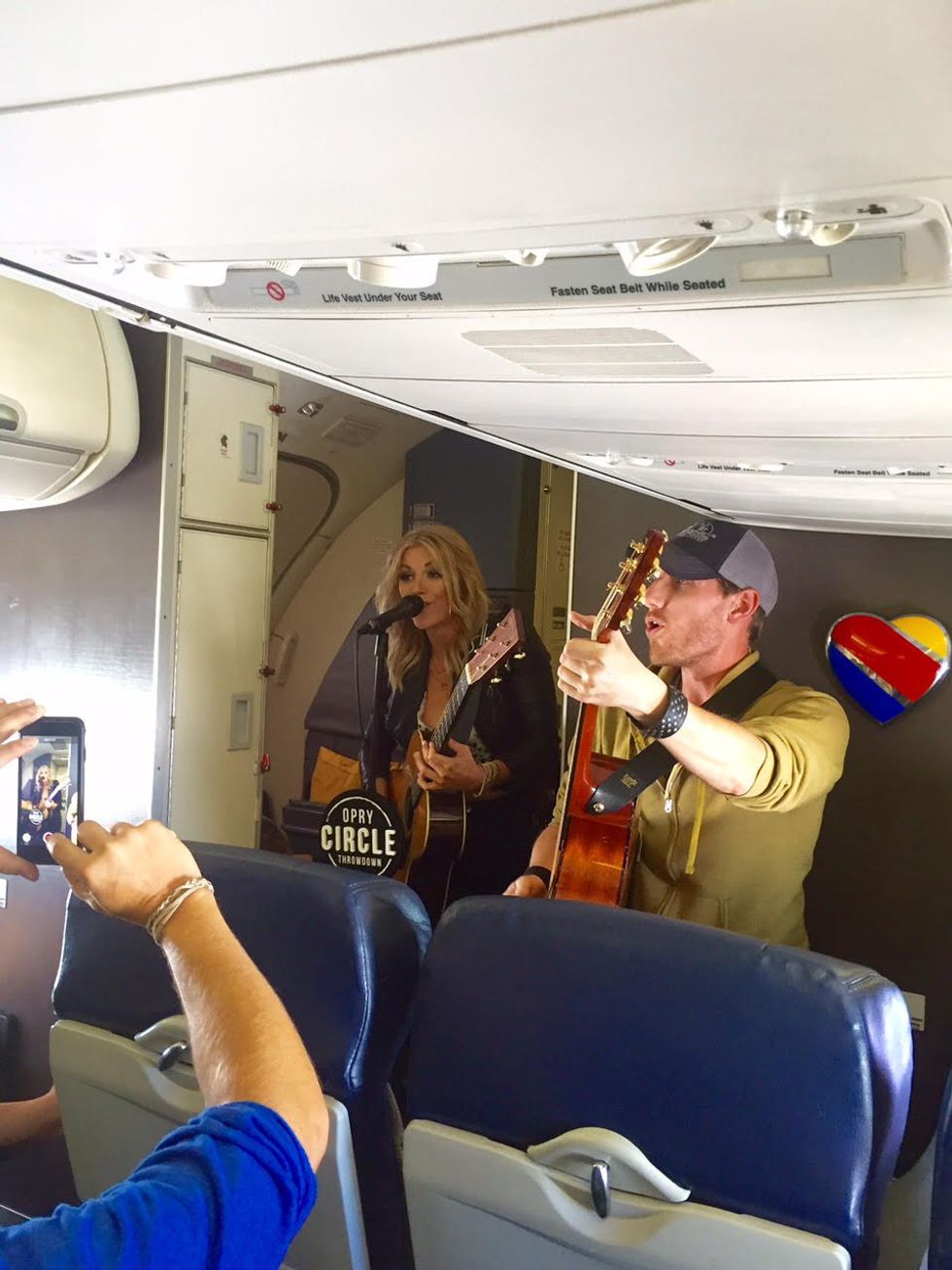 But, that's not all the singer had in store for all of the passengers. Ell surprised everyone onboard with tickets to see her on the Opry stage that Wednesday night.

Over the past couple of years, Ell has climbed her way to the top. Her debut single, "Trippin' On Us," garnered praise from Taste of Country, and her other singles, "Shut Me Up" and "Pickup Truck," went Top 25.
Ell will be attending the Canadian Country Music Awards this September where she is nominated for "Female Artist of the Year" making this her fourth nomination in the last two years with her "Rising Star of the Year" nomination in 2015 and 2014 and her "All Star Band (Guitar)" nomination in 2014.
The 27-year-old songstress is all about girl power and is currently paving the way for women in the industry. Taste of Country recently dubbed her one of the best guitarists in country music, alongside other notable musicians like Keith Urban, Vince Gill, Brad Paisley and Merle Travis.
"The fact that there aren't a lot of female musicians, and specifically even in country music there's less female musicians, I love the fact that I can pave the way for them,"said Ell. "You're starting to see more female artists come out of the woodwork, and I think it's a really exciting time for females in the industry. I think the caliber of music that females are writing is at an all-time high, and it's causing more fans to want to seek it out. It's causing more fans to start listening to country music, so slowly we see this demographic as country music as growing. But, the fact that as a guitar player I can stand up there on stage and be like, 'you know what? Girls can play guitar, too!' It means a lot to me."
Ell's latest single, "By The Way," was a top 15 hit on the Canadian Country Radio charts and ranked into the top 10 on iTunes Country after its release in fall 2015. "By The Way" pushes boundaries and goes down a path a lot of women in the music industry are afraid to walk down, and that's what makes this song such a powerful anthem for women across the country.
"It was really exciting to have a song for me that was about female empowerment and women and centering around this fact of sometimes a girl's gotta do what a girl's gotta do," said Ell. "When I look the people who were role models to me growing up like Shania Twain and Sheryl Crow and Bonnie Raitt, they had this way of saying what they wanted to say, but still being fun and sassy or cheeky about it, but still saying what they wanted to say and just centered on this strong woman thing, so before we wrote 'By The Way,' I wanted to have a song that focused on being a strong woman and standing up for what you believe in."
Ell recently just wrapped up traveling the country on the 2016 CMT's Next Women of Country Tour with three incredible women who are also paving the way for women in the industry alongside the Canadian-native.
"Everything that CMT has done for women and country music over the past year is absolutely incredible," said Ell. "Last year, Jana Kramer and Kelsea Ballerini did the next women of country tour, and it was awesome! So, this year, for us to follow it up with the second year of the tour, and Jennifer Nettles, Brandy Clark and Tara Thompson and I went out on the road. Just four female artists -- when can you go to a show and see four female artists at the same time? All of us were so different, that the night just took on a special aura of its own. You had Tara come out, and she's a hillbilly from East Tennessee, and then me with my guitar and my songwriting -- and Brandy is a such a killer songwriter, you could listen to her lyrics all night. Then, Jennifer just commands that stage. She's such a legendary veteran of her own right, because she's been doing this for so long. It was so empowering to me for me to watch her do her thing even at this level at her career, and you see her slowly morph into all of these different aspects from when she started as Sugarland to now being Jennifer Nettles, it's really inspiring to watch, so I love being out on the road with them."
Ell also toured the UK and Europe twice in the past two years with The Band Perry on their We Are Pioneers World Tour. They played 50 dates and traveled to 12 different countries. She also toured alongside Luke Bryan, Keith Urban and Buddy Guy while headlining some of her own dates.
"It's so eye-opening to be able to tour with superstars of their own right where over here, in America, they're opening arenas full of screaming fans, and that was the first time Luke had been over to the UK and Europe, so we get to open up shows with him in Germany," said Ell. "I'd be standing there, and there was this whole room of ladies who could barely speak English, but they knew every single word to every Luke Bryan song, and they were dancing to 'Country girl, shake it for me,' and they knew all the dance moves. I was like, this is amazing to show the outreach of music. It was really eye opening to see how small the world is. My first tour over there was with The Band Perry, and we played 20 shows in nine different countries, and they were so sweet, they took me in as like another extended member of their family for the time we were over there. Traveling on a bus, it was like my first real worldwide tour over there with them, and so there are memories I'll never forget."
If setting an example for young girls and women who want to stand in Ell's shoes one day isn't enough, the singer-songwriter has now become the youngest mainstream female country artists playing electric guitar in today's market.
"I want to be a role model like Shania Twain was a role model to me," said Ell. "She was so confident and yet so classy in everything that she did. She really made believe that I can do whatever I want to do. I want to be able to empower, specifically little girls, and you know, even younger boys growing up that they can do whatever they want."
Ell is currently putting the finishing touches on her debut country album that incorporated different elements, genres and soul from when she was growing up. Ell says the album will "kind of be like if Keith Urban and Sheryl Crow and John Mayer were blended up together."
"I feel like I've been writing this debut album for the past 17 years ever since I've started playing guitar almost and so, it's amazing even moving to Nashville, now seven years ago, how much that has changed my songwriting and how much it's changed who I am as a person and as an artist, so I feel like right now, I'm writing the most honest music I ever have," said Ell. "I'm not really afraid to say things that I used to be afraid to say -- and now going into the studio, we're going in the next couple weeks, I'm just not really putting any rules on it. You shouldn't have to live life under, 'this is what you're supposed to do, and this is how it's been done before,' so I'm just really trying to be as open as possible when I go into the studio and go with my gut and see what comes out."
Ell is a social media fanatic, and you can stay up to date with her on all of her endeavors on Facebook, Twitter, Instagram, Snapchat @lindsayell, and on her Youtube channel where she teaches guitar lessons to anyone who wants to learn.
Ell's latest single, "By The Way," is available to download on iTunes today.