Growing up as a little girl, I remember my favorite go-to place as I came home from school was always the television. I constantly reminisce about turning on Disney Channel and the excitement I would get when I'd see a Hilary Duff movie was on, or perhaps when her show "Lizzie McGuire" was on too.
Now, I've learned something throughout the past 20 years. Watching a movie when you're only 10 years old is not the same as watching it over again when you're 20. You have two very different perspectives due to how much you've grown. It is possible to have many things stay the same, such as the nostalgia you get from traveling back to your childhood, but there's always something new about the movie that catches your eye.
Now, I've watched some of Hilary Duff's movies many times -- so many I believe, that I've honestly lost count. She never starred in a movie that didn't have a deep-rooted and valuable life lesson instilled within the plot. When I was younger, I would always grasp onto the moral of the story very quickly. Now as I come to re-visit some of her movies 8, 9 and 10 years later, I've noticed some very important life lessons, apart from the general moral of the story, that were showcased, but perhaps weren't as obvious to me when I had that teenage-girl mindset.

1. Fear -- "A Cinderella Story"
While this movie conveyed the importance of staying true to yourself regardless of peer pressure and your surroundings, one of the very big things that often passed me by was the life lesson about fear. Fear paralyzes. Apprehension about what may be lying on the other side of the door can be big. Hilary's character, Sam, is constantly paralyzed by fear in this film. She fears being herself, following her dreams, and taking risks; and if there's anything that should be lined up next to the importance the film gives to finding your Prince Charming, it should be what's mentioned at the start and at the end of the movie:
[rebelmouse-proxy-image https://media.rbl.ms/image?u=%2Ffiles%2F2016%2F06%2F04%2F6360065524794855201936219068_tumblr_nb6ebzaRyD1spdza3o1_500.gif&ho=https%3A%2F%2Faz616578.vo.msecnd.net&s=766&h=98d3cc44439a55fd67114de9583ce3aa1c0cbd7db6de91a9ee80480c67526734&size=980x&c=946376665 crop_info="%7B%22image%22%3A%20%22https%3A//media.rbl.ms/image%3Fu%3D%252Ffiles%252F2016%252F06%252F04%252F6360065524794855201936219068_tumblr_nb6ebzaRyD1spdza3o1_500.gif%26ho%3Dhttps%253A%252F%252Faz616578.vo.msecnd.net%26s%3D766%26h%3D98d3cc44439a55fd67114de9583ce3aa1c0cbd7db6de91a9ee80480c67526734%26size%3D980x%26c%3D946376665%22%7D" expand=1]

2. Pain -- "Raise Your Voice"
As much as this film showcases the importance of being brave and not being afraid to showcase your talents, it brings to my attention that the actual reality of losing someone is emphasized as well. Seeing this movie at the age of nine is tremendously different compared to seeing it at the age of 20. Choosing to live even after a loved one has passed away is something that takes a lot of emotional strength and courage, and I think this movie does a great job at showcasing how we must confront death and grief. How we choose to deal with pain and use it to our advantage is always up to us in the end. We always receive the last choice. Will you use your emotions as a motivation to keep going and to motivate others to keep going even when the biggest adversity hits?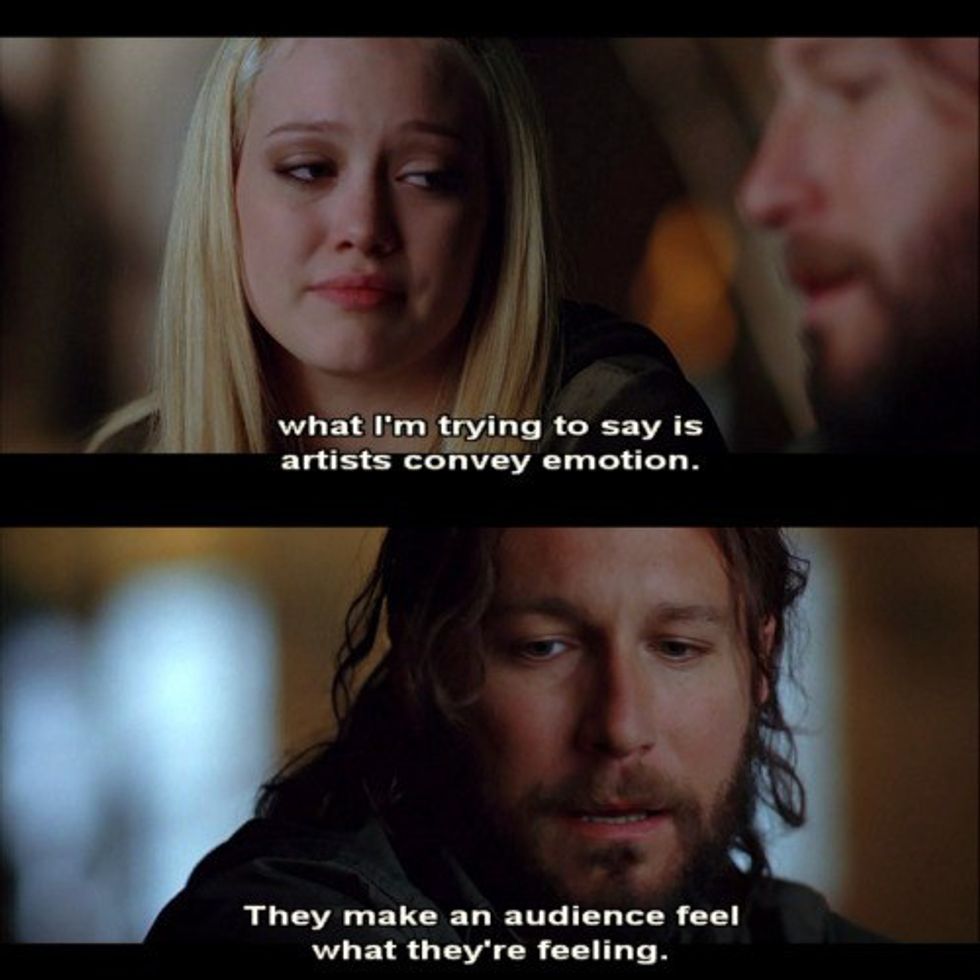 3. Listen, Don't Just Hear -- "The Perfect Man"
Although the central theme of this movie is that there is no such thing as the perfect man, Hilary Duff's character goes beyond that to show the importance of not forgetting about those around you even when your significant other might just be at your doorstep. Just because you're in love, don't forget to dedicate time and effort to those who have always done the same for you.
[rebelmouse-proxy-image https://media.rbl.ms/image?u=%2Ffiles%2F2016%2F06%2F04%2F636006596381247868322413977_tumblr_muw4uiS5VW1suc9oyo1_500.gif&ho=https%3A%2F%2Faz616578.vo.msecnd.net&s=432&h=db2fab123b745a129e9eb8de95657e80d33f43778243e3f6a10b9a77541d1665&size=980x&c=1972912763 crop_info="%7B%22image%22%3A%20%22https%3A//media.rbl.ms/image%3Fu%3D%252Ffiles%252F2016%252F06%252F04%252F636006596381247868322413977_tumblr_muw4uiS5VW1suc9oyo1_500.gif%26ho%3Dhttps%253A%252F%252Faz616578.vo.msecnd.net%26s%3D432%26h%3Ddb2fab123b745a129e9eb8de95657e80d33f43778243e3f6a10b9a77541d1665%26size%3D980x%26c%3D1972912763%22%7D" expand=1]
[rebelmouse-proxy-image https://media.rbl.ms/image?u=%2Ffiles%2F2016%2F06%2F04%2F6360065976747766352084762100_tumblr_mh7m4brs2G1qf9mevo1_500.gif&ho=https%3A%2F%2Faz616578.vo.msecnd.net&s=719&h=4286df5dc18786b79be20fedcc5989dd383bbefcd0032a18822eff94e8fcc411&size=980x&c=863602027 crop_info="%7B%22image%22%3A%20%22https%3A//media.rbl.ms/image%3Fu%3D%252Ffiles%252F2016%252F06%252F04%252F6360065976747766352084762100_tumblr_mh7m4brs2G1qf9mevo1_500.gif%26ho%3Dhttps%253A%252F%252Faz616578.vo.msecnd.net%26s%3D719%26h%3D4286df5dc18786b79be20fedcc5989dd383bbefcd0032a18822eff94e8fcc411%26size%3D980x%26c%3D863602027%22%7D" expand=1]