I'm beyond broken hearted that I had to self-term, or quit, the Disney College Program, DCP for short. Anyone who knows me or follows me, knows I was beyond excited that I got accepted and that I got to work in the park that I wanted, a.k.a. Magic Kingdom!! Your girl was going to "Yeehaw" at Pecos Bills. And I was beyond excited that I got randomly picked to participate in the Event Operations seminar that Disney offers their students in the college program, or CP's. This is something that I looked forward to for months on end, so you can only begin to imagine the disappointment when I found out I had to go home.
But let me get this out of the way, it wasn't that I didn't like the program because honestly I loved the entire vibe the DCP had. I had to adjust to the idea of living in Vista Way, and not having the on suite bathroom, after having my heart set on living in The Commons. But after I moved in and met all 5 of my "roomies" and my roommate roommate, was from Australia, like how cool is that?? But anyway besides the point, I had one day called Traditions, and I was in love.
We got to learn things about how Disney World, Disney Land, even across the globe, and everything Disney works and operates. All the little secrets that cast members know, and use. We got to learn about all the new attractions coming. But the most exciting part was getting to see Magic Kingdom from the point of view as the rest of the cast members do. Let me tell you, it was pretty cool getting to go in the "Cast Members Only" areas.
Mickey himself even came in and gave us our name tags to go along with our new Mickey ears that were given to us as a welcome gift.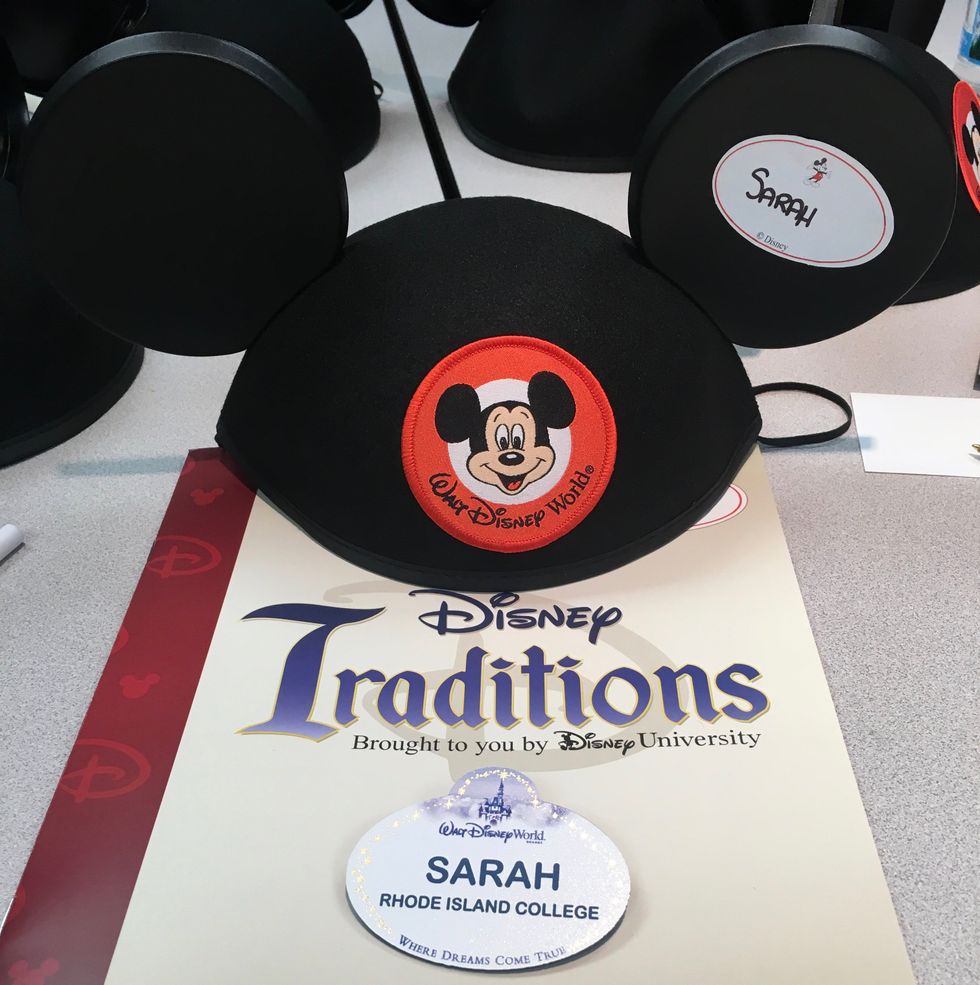 Side note: My ears don't actually say my name, I took my name tag off and stuck it on there once we got our real ones.
I loved everything about the DCP, of course I never pictured leaving, and especially so soon before I've really earned my ears.
So during my Traditions, I was having trouble swallowing water from my throat being swollen. I ignored it thinking that it was the temperature difference between Rhode Island and Florida, and that I was just catching a cold. But that night as I was going to head into one of the parks, I really couldn't swallow anything, so I stayed at my apartment. The next day I was choking on my spit and I could barely eat chicken broth so I slept all day. The next day, same thing so I went to the closest ER and what does the Doctor tell me? I possibly have Esophageal Achalasia, and I need to go home to see an ENT doctor and have my throat expanded.
Disappointed doesn't even begin to describe the feeling that came over me when I heard that. I had just moved in, just met my roommates, just started training and I had to leave. To be honest, I wasn't even going to go home, I was going to stay and deal with it until the middle of May, when my program ended. But after giving it a lot of thought, I decided that my health isn't worth the Disney Magic.
Yeah the Disney Magic is a huge reason I applied and accepted the position. To create it for guests and to experience it my self, was a huge thing that I wanted to be able to do. But is it worth my health? The answer to that is a solid NO. How can I create magic for guests if I can't swallow food or drinks and be able to recommend my favorite dishes at Pecos Bill? How can I create magic if I pass out from being dehydrated? That would scare any guest, especially children and completely ruin the Disney Magic and make it look like Disney doesn't care about their employees, which is so far from the truth. Disney loves their employees, and everyone who works for Disney loves the company!
But me, not taking care of myself right now is going to ruin my health and body even more. I want to be able to take my kids to Disney, like my parents took me, and I can't do that if I didn't leave the program.
But leaving the program doesn't end my love for Disney or ruin the Disney Magic for me because I know once I get this throat thing taken care of, I can book a Disney trip and go meet who would have been my Pecos Bill family. I can take my children there in the future, I can go back and to any Disney across the globe and/or Disney resort and make memories and magic there.
So really leaving doesn't end the magic for me, it only opens the door for me to create more. Plus I can apply for the college program again for after I finish college, or maybe a professional internship.
But thank you Disney College Program for creating some great memories the whole one week I was there. Maybe one day, I'll be able to personally create magic for Disney's guests. But my throat issue and my health definitely comes first right now!