Kylie Jenner, 20, gave birth to a daughter after months of hiding her pregnancy to her fans and the media. News of her alleged pregnancy broke in September, rumors to which herself and her entire family remained tight-lipped. Five months later, after taking a social media hiatus she has officially announced the arrival of her first child on February 1st, 2018.
This social media blackout was very out of character for Jenner as she, for the most part, earns her livelihood through posting on social media. From her makeup company to using her personal accounts for advertising purposes, Jenner's name is almost synonymous with apps like Instagram. So why was Jenner so secretive about her pregnancy that she made the choice to log off?
Kylie Jenner is not your average twenty-year-old girl.
As she describes in a statement via Instagram, she wanted to prepare "in the most positive, stress free, and healthy way," she knew. Her life is viewed through a microscope through her own reality shows and by being constantly harassed by paparazzi. In her own words, "I knew my baby would feel every stress and every emotion."

Being pregnant at twenty years old carries a certain connotation. Even as progressive as the world seems, there is still a lot of stigma against young women for being sexually active. It's even worse when you get pregnant "by accident" or "mistake." Kylie Jenner, or any other young woman, should not be ashamed or stressed to bring a child into the world, no matter the circumstances. Children are not accidents or mistakes, and their mothers deserve to retain their dignity.
Kylie Jenner will have every resource possible to be a good mother. The only thing she doesn't have is complete privacy.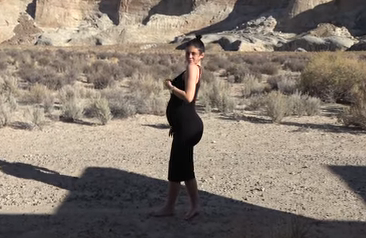 For those still doubting Jenner's choice, there are many reasons why she made this decision. Kim Kardashian-West, Jenner's sister, was held at gunpoint and robbed of ten million dollars worth of cash and jewelry in October of 2016. It's alleged that the perpetrators knew of Kardashian-West's whereabouts by watching her location on social media accounts. Since then, the entire Kardashian-Jenner clan have rethought their social media usage and have upped their personal security.
As a mother of three, Kardashian-West has also had her fair share of pregnancy troubles. When she was pregnant with her first child, North, she was scrutinized and mocked by the media. Her maternity fashion choices were referred to as "garish," "deplorable," and most famously, like a couch. Commenters online have written the most disgusting, despicable things about her and her family. Check any comment section under an article that mentions her name.
The bottom line is that the Kardashians and Jenners are people too, and they deserve privacy and respect.
They are not exempt from these just because they use social media to their advantage. Given her sister's and her own past experiences, keeping her pregnancy a secret would be the only way to protect her child from undue stress.
Now that her baby is born, Kylie Jenner will have every resource possible to be a good mother and protect her child. Being constantly stressed during pregnancy would only put herself and her child in danger. Kylie Jenner made the right decision, regardless of the constant pressure from her fans and the media to confirm the rumors and give back access to her life.
Her only job now is to be a good mother and role model to her child.
Congratulations, Kylie. I hope this baby changes your life in ways you never imagined. This child is the only person you owe anything to.