On November 20 around 1:30 AM, I received a text message no one ever wants to read just before going to sleep: 
"I'm not sure if you've all heard the news, but I just wanted to let you all know I'm okay! There was a shooting at the library but I'm home with my roommates and we're all okay. Love you!"
My cousin Joelle Garcia is a senior at Florida State University. I've been to Tallahassee to visit her and my sister, who now lives with me in Orlando, more times than I can count. It took me a moment to process those words and realize their full meaning. The first thing that ran through my mind was, what the heck is going on at FSU? 
The next morning, that answer became abundantly clear. I spent all of Thursday morning sitting in my living room watching hour after hour of local news reports, reading articles being shared on my Facebook news feed, and reading tweets from Blair Stokes, a girl I've met several times on my visits to Tallahassee, who was in the library at the time of the incident. A gunman had shot 3 students at the Strozier Library at FSU.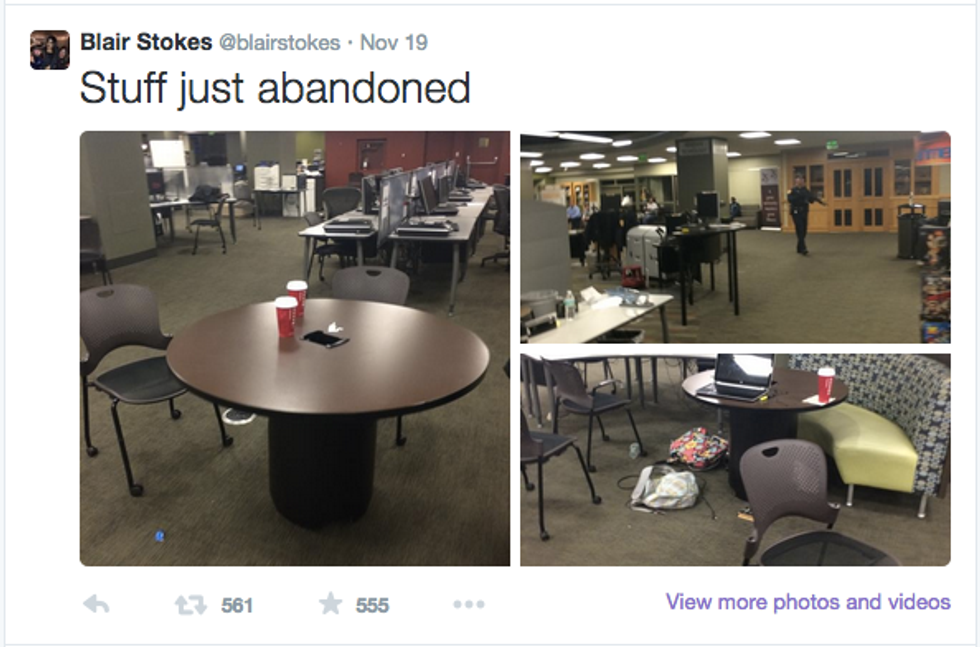 ---
Even re-reading these tweets now sends chills down my spine. I couldn't begin to imagine the amount of horror that Blair went through. And yet, I knew only too well. It was only less than two years ago that at UCF, we too experienced the same fear, confusion and unrest when UCFPD prevented a massacre at Tower 1 on March 17th, 2013. Since then, every fire alarm makes students uneasy. Every time a siren goes off, we cross our fingers and hope it's just another false alarm. But early Thursday morning, that hope was shattered for FSU students when those sirens were followed by the bone-rattling announcement.
At UCF, University police arrived to campus Thursday morning as classes began and increased safety measures across campus after news of the shooting broke. 
"Here at the university… We've taken some proactive steps just to make sure that our students feel safe and we have a very visible presence, which we do every day," said UCF Police Chief Richard Beary. "We have kind of enhanced it a little bit and we'll continue that over the next few days."
Police force was seen all day Thursday, as UCFPD enhanced patrols in the UCF Library area as well as in other campus buildings.
By mid-afternoon, a statement from Maribeth Ehasz, Vice President for Student Development and Enrollment Services, and Richard Beary, Police Chief was emailed to the entire UCF community.
"The news about today's shooting at Florida State University reminds all of us of the importance of not taking our safety for granted and also of showing compassion for each other. We ask our entire UCF family to keep Florida State students, faculty, staff and police officers in your thoughts. Our university has extended an offer to assist Florida State with its response and recovery, and we encourage you to support your friends, family members and colleagues in Tallahassee."
Though the morning after the shooting was an unreal awakening, that initial, jarring feeling was soon overcome by a strong sense of community.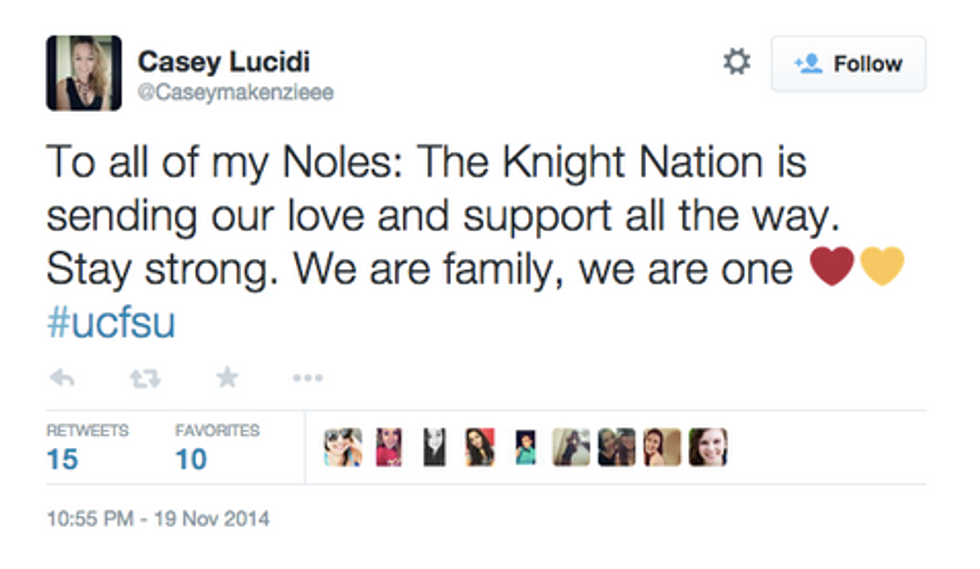 ---
This is a tragedy that no school should ever have to live through. No student should ever feel unsafe in a place we call our second home, and especially not in a place we gather in our efforts to learn and prosper in college. As Joelle wrote, "Strozier has always been a place of community. A place for students to pursue research, write papers, study for exams, and enjoy Starbucks 24/7. It's a place where I have spent dozens of all-nighters and have definitely stress-eaten my fair share of croissants." It's upsetting to think that a place of community, learning and scholarship is no longer a place we can sit comfortably in. 
To the students, faculty and staff at Florida State, and all of those affected by this senseless act, the University of Central Florida stands behind you 110 percent. We are #FloridaStrong, we are #UCFSU, and we stand #FSUnited. From a Knight to a Nole, we send to you our thoughts, prayers and love tenfold. Whether we're wearing our Black and Gold, or Garnet and Gold, we are all one community, one state, and one tribe.