In bouldering, the term "problem" is used to describe the route the climber takes; once you've gotten to the top, you've found the "solution."

While I enjoy finding solutions to problems within the climbing gym, I am honestly frustrated with another kind of problem that I haven't been able to figure out.
I believe that we have an issue with who we've picked to idolize in our society. In regards to my generation in particular, I know way too many people who spend way too much time and money emulating Kardashian-like public figures. We live in a time where priorities are completely disordered and selfish; so much effort going into selfies, so much concern in how many likes we get on them. When did what we see on our four inch screens become so much more important than the vast world around us?
After watching the ESPY's last week, I was struck by the call to action proposed by Carmelo Anthony, LeBron James, Chris Paul and Dwyane Wade, and inspired by the stoic speech from cancer survivor Eric Berry.
The leadership roles that these professional athletes are taking on and urging their peers to usurp as well is a prime example of what kind of people we need to be following. These men got me thinking about the possibility of change that could take place if we followed their lead. Eric Berry noted that the most important thing he learned on his journey to defeating cancer was "to honor the ones that come before you and leave a legacy for the ones that come behind you."
But who are we choosing to honor? The top ten accounts followed on Instagram include Kim Kardashian, Justin Bieber, and Kylie and Kendall Jenner. What kind of example are we following when turning our attention to these stars? What perspective are we gaining? Are they galvanizing us to take constructive action?
I personally choose to follow the example of Yvon Chounaird. Among many things, he is an elite athlete, philosopher, conservationist, husband, father, dirtbag (see definition below), inventor, and businessman (though he is reluctant to even use the term businessman). He's been on adventures all around the world, climbing, skiing, surfing, kayaking, trekking, you name it.
But, chances are, you haven't heard of him. (If you have, let's be friends)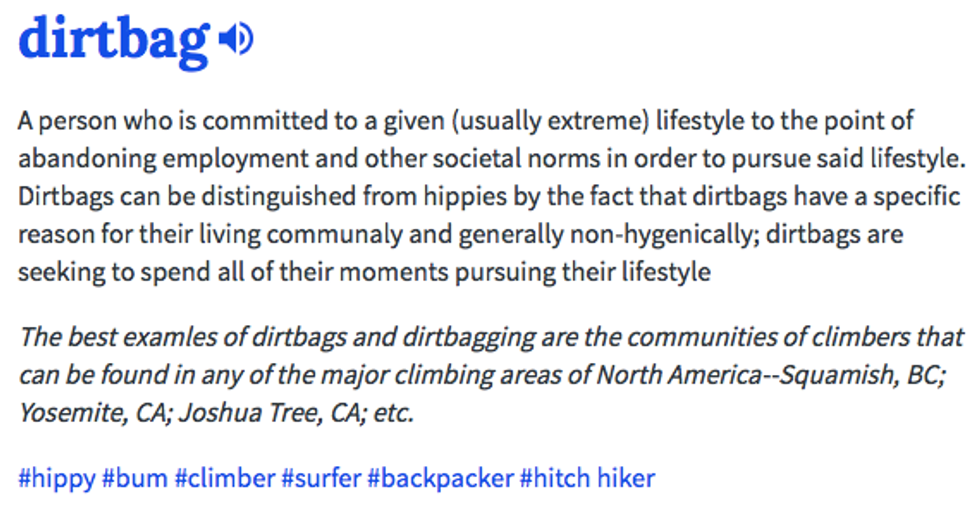 Yvon Chounaird is, among the plethora of things I just listed, a pioneer. In the literal sense of the word pioneer, he completed the first ascent of El Capitan's North American Wall, one of the hardest big wall climbs in the world in 1964. He also catapulted the use of "clean climbing ethics," with he and Tom Frost's invention of hexcentrics. This changed the sport of climbing and it's impact on the earth entirely.
He started many businesses, most notably probably being Patagonia. Respectably, he says that making a profit is not the goal of his company, rather the focus is to have as little of an environmental impact as possible while still producing effective outdoor clothing. Patagonia only uses organic cotton, spun with recycled plastic bottles, and donates more than 1 million dollars to eco-groups annually.

"Everything we personally own that's made, sold, shipped, stored, cleaned, and ultimately thrown away does some environmental harm every step of the way, harm that we're either directly responsible for or is done on our behalf."
Chounaird's candidness about our accountability on earth as humans is just one of the reasons he deserves to be a more prominent idol among our generation. He uses his successful business platform as a way to give back to the planet, stimulate change, and encourage thoughtfulness. Kim Kardashian uses her business platform as, well, a platform for herself to stand on, and occasionally call out Taylor Swift..
If you're still likely to spend time and money in efforts to replicate Kim K's hair, or Kylie Jenner's lips, or Kanye's.. Kanye-ness, I'd honestly, but ruefully, understand.
I'd understand because, as a 24 year old female, I know that this integrated, smart phone-centric society can have that indoctrinating power. Nine out of ten messages I receive as a consumer of social media are purely superficial propaganda, telling me that I need to apply more make up and buy more clothes.
Forget about racism, deforestation, overpopulation, etc. More importantly, what am I doing to make my lips more full and my eyebrows more fleeky? (Am I even using that right?)
While having plumper lips and nice eyebrows is obviously of the utmost importance, what is it going to do for the next generation? Are our kids going to look at photos of us and think, "Wow, I'm so proud of my mom's contoured cheeks, it made such a difference in the world." I'm not trying to be cynical or judgmental, at all, really. And I'm not trying to antagonize Kim Kardashian as a person, I'm sure she is a nice lady in real life.
I'm just trying to point out that if we keep neglecting to honor the Eric Berry and Yvon Chounairds of the world and continue to live lives centered around such superficial concerns, we're going to leave no legacy.
If we keep our eyes locked on our phone, scrolling through posts from celebrities who's only concern is themselves, the world's condition is going to get to the point where we won't even have anywhere to leave a legacy, even if we wanted to.
We are the reason for most environmental issues, but who is left to take care of the world when we are all putting ourselves first?
As for me, I'll opt against wasted hours in front of the mirror and on my cell phone. Instead, I'll be following the lead of my role model Chounaird, looking for solutions to problems inside and outside of the climbing gym.