When we think of society, we reflect a mental conditioning that begins at birth. Generations before us have laid a foundation for ideals and beliefs that contribute to the thoughts we experience daily. Think about all of the themes and lessons you encountered while watching television. I bet that as a kid, seeing a stethoscope and white coat instantly made you associate such objects with a doctor.
That association of specific symbolism is a product of constant conditioning. From the constant inclusion of doctors in media channels, such on Disney Channel shows when they cured your favorite cartoons, to the lectures your parents constantly brought up about apples keeping doctors away, your experiences continuously taught specific values behind this iconic archetype of a profession.
This is the case for most societal stigmas: bras are for women, dogs walk with leashes, swimming trunks are for the beach or pools only, and the list can continue through multiple volumes of a series of novels. Luckily (for yourself), I will not be extending my list of examples... by much.
Societal stigmas have invaded practically every aspect of our lives, especially health and medicine. For decades, people mistakenly believed AIDS and HIV to solely affect the LBGTQ+ community; to date, people refuse to give their children vaccines due to an inaccurate association with Autism; and, for decades, people thought that Diabetes could only affect the overweight and obese.
These stigmas, like most, are often misconstrued and taken out of context- which is a big reason as to why medicine is so complex and debated throughout the world. Luckily, modern technology has extended the knowledge we have on the aforementioned stigmas, but there is still an overwhelming amount of inaccurate stigmas that haunt the mental health field.
Horrifying encounters of crippling stigmas- such as the past's acceptance of lobotomies as treatment for psych ward patients (a technique that left the individual a hollow shell of his or her former self)- have plagued patients of mental health for over a century.
Luckily, those of us who live with these cognitive differences, are no longer seen as hopeless, or "crazy." In fact, the successes of numerous individuals within this demographic could even say that some of us may excel in ways that the average human cannot. Therefore, I would like to offer a fresh perspective, from a man whose life with a condition many attribute to mental illness has been in the public eye for years- a fact that many to this day fail to recognize.
Kanye as a Superhero:
The controversial "Poopy-di scoop" rapper engaged a multitude of communities as he released Ye— the Grammy-Award-winning artist's eighth studio album. To many listeners, this album represents West's courageous admission to living with a Bi-Polar state-of-mind.
To those who have been REALLY listening to Yeezy, the album cover's poetic symbolism— and hand-written text— is actually not the first time he has revealed his condition, or at least hinted at it. In fact, just in his last studio album, The Life of Pablo, he references Lexapro— an antidepressant often used to "treat" patients with bipolar "disorder"— in his song "FML":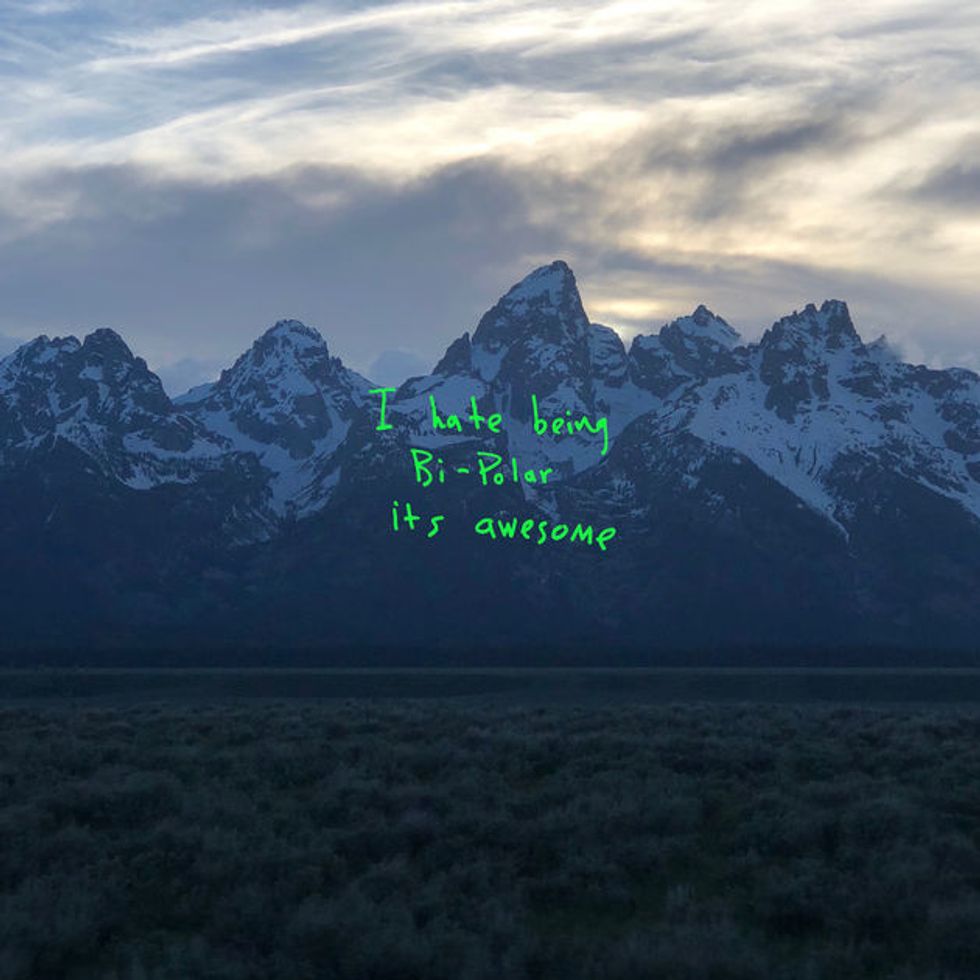 Ye's enlightening Cover Album.MoneyTalks Ent,Business
2016 was not even the first time the notoriously troubled rapper spoke out about his Lexapro use. In fact, his feature on Vic Mensa's "U Mad" back in 2015 expresses the following:

The man even went as far as to referencing his psychiatrist on his 2016 song, "No More Parties in L.A." As an avid Kanye enthusiast, I began to believe he was subliminally asking for help. This is primarily because the dire need for help has often followed the stigma surrounding previously proclaimed "disorders" and "disabilities," like the condition we've come to know as "bipolar disorder."Yes, I too, fell for the misconceptions behind stigmas, but I promise you'll find that I have fixed the error of my ways.
Mr. West completely pulled the rug out from under me— and opened my mind a little—when his second single off of Ye, "Yikes," featured the following claim:
I must have played this specific verse at least a dozen times in response to overwhelming inspiration and curiosity This man, someone who has been an example of both the height of cultural influence, as well as the subject of an immeasurable amount of memes on social media, has not been subliminally crying for help. In fact, his latest hit actually demonstrate that he's been challenging the way society looks at those with "Bipolar disorder".
Thus, I myself began to see that what society often says about a disease may not always be entirely accurate for the entire community. This whole time, this man has continued to revolutionize the Hip-Hop genre, as well as the fashion industry— all while living with a neurological makeup that has been viewed as a complete disability since its discovery.
As people have ridiculed him— many of which are the very same people who continue to advocate for mental health reform— he has remained a staple for those with a similar structure/function within the brain by demonstrating that it IS possible to be successful and influential.
He proves to us all, that a difference in brain structure, and way of thinking in general, does not necessarily lead to disability. The high-profile celebrity stood there, opening up to millions, as he attributes the way his mind works to a supernatural ability that has potentially led him to sheer power. In other words, Kanye West ultimately shows that his unique mind is the infinity gauntlet to his Thanos.
Now, I am in NO WAY condoning his political views, public bursts of sporadic behavior (which is often misconstrued, as demonstrated by a poorly distributed portion of a recent TMZ interview that painted Kanye as more ignorant than he actually is), nor do I condone any particular lifestyle choice of his. I will leave this type of writing to my very honest and reliable peers at Fox, CNN, and the all-knowing BuzzFeed.
I AM merely trying to open up a conversation wherein we discuss the possibility in which a portion of people living with "disabilities" are not at a general disadvantage, but rather, just different from what society attributes to "normality." I AM NOT, in ANY WAY, belittling the severity behind a significant amount of mental health issues people face— my own mother's 20-year battle with clinical depression proves to me the immense mental health problem in America. I'm just trying to dive into a new— and completely extraordinary— perspective in which SOME people may thrive under conditions that previous generations characterized as "diseases" with often very little hope.
ADHD as MY Superpower: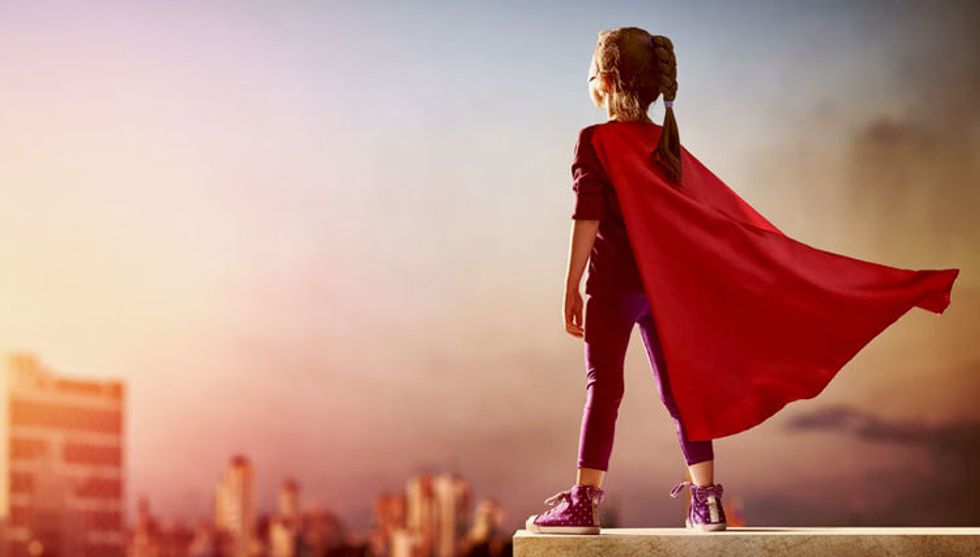 Nick Usborne
To avoid speaking on a subject I lack personal experience in, I shall disclose a case very dear to my heart: a 22-year-old who was diagnosed with ADHD at 9 years old- ME. Ostracized from a "gifted" program because of the societal stigmas surrounding Attention Deficit Hyperactivity Disorder, the lack of positive reinforcement from my teachers and peers led to many years of low-self esteem and thoughts of worthlessness (9 pertains to an age critical in the establishment of self-esteem for such delicate minds). From my own experience, the lack of studies and education on what scientists label as ADHD led many teachers and parents to view kids like me as "troublesome," or "in need of a good spanking. But, with a Kanye-eque approach to my condition, I may have skipped the years of belittling myself as "sick," and could have embraced a completely different way of viewing my own life.

This fresh perspective led to an adventure into the innermost depths of my psyche, wherein I explored the possibility of utilizing my different mind in ways that optimize my success in life. Kanye's lyrics directed me towards a way of thinking that sees pros in response to society's cons- at least for my specific case of ADHD.
These superpowers include, but are not limited to: resistance to exhaustion after a long day of work (from which many are often burnt out), the ability to multi-task due to the constant surge of multiple- but short- stimuli from many different directions (which would normally be fewer in variety and lengthier in occurrence), and- don't judge me- my cardio surpasses the average gym-goer.
Of course, these are just promising factors I found within my own specific case; genetic factors, and the environmental factors surrounding everyone's unique experiences, ultimately make every individual's ADHD different from one-another. By Kanye's standards, I have a superpower that allows me to see life in a different perspective from the rest, rather than a crippling disease that prevents me from submitting to societal standards while learning through a very specific— and often ineffective— method of education.
After exploring these thoughts I've presented— as they started as mere ideas fueled by curiosity, not solidified claims— I decided to research if this philosophy was shared among other communities, as well as the spectrum on which professionals and patients view the disease. I decided to look into ADHD for this particular piece, as we DO share a personal relationship.
ADHD as nonexistent:
My first dabble with this fresh take on ADHD led me to a peculiar article from Independent wherein the author suggests that the "condition may not even exist."Hey, don't get mad at me! I'm just relaying one person's opinion. I actually disagree with the complete dismissal of ADHD, but he did bring up the excessive abuse of drugs like Ritalin, which— as he highlights— generously contributes $9,000,000,000 to the pharmaceutical industry.
Since the idea that scientists completely made up this condition for pure profit seems to me a little too much like a conspiracy theory that leads people to wearing tinfoil hats. I also have to bring up this claim wherein "ADHD Correlates with any known biological or neurological abnormality" has been disproved by several studies.
In fact, our pals at the National Institute of Health actually concluded that patients with ADHD did exhibit neuorological differences, including one in the frontal-striatal-cerebellar networks, which have been tied to attention-span and other functionalities that are altered in people with ADHD. These researchers, as well as the majority of the scientific community, ultimately acknowledge these findings as mere clues— since the true origins and cause of ADHD have yet to come to light. However, the neurological differences in a brain with ADHD and one without it are undeniable.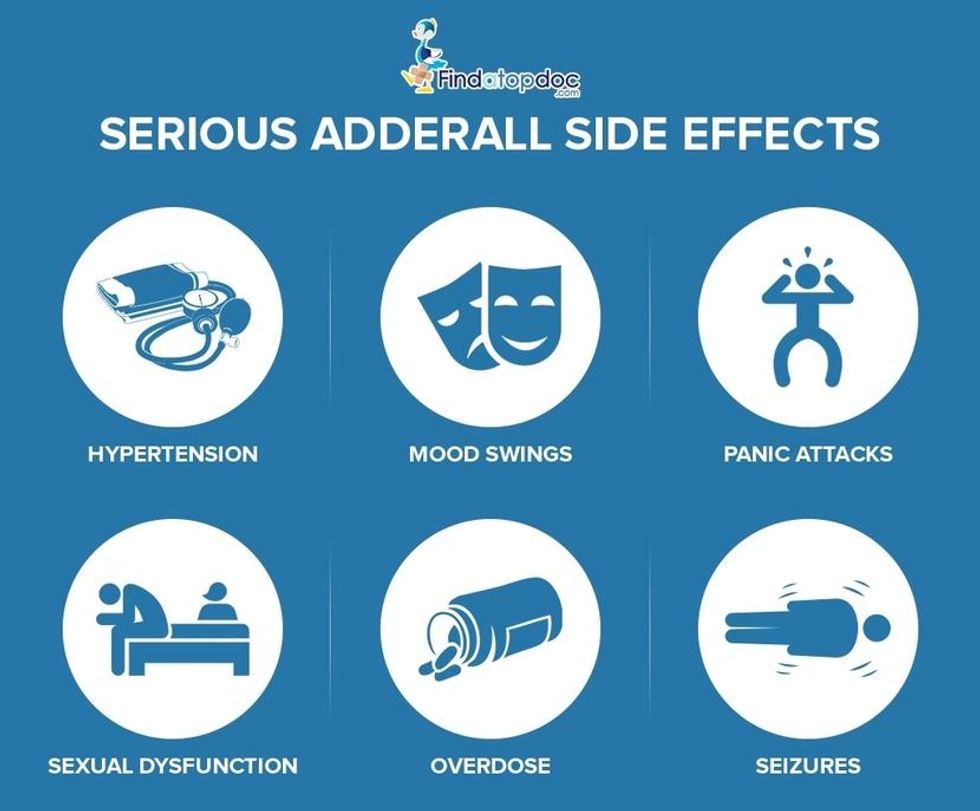 The severe side-effects of current ADHD medications continue to prove that many of us need change.Findatopdoc.com
ADHD as a manageable spin on life:
Our beloved researchers at the NIH actually explored unique takes on the disease as well; this indicated that I am on the same track as the professionals– which is always a good sign for someone as inexperienced in their field as myself. In 2012, scientists actually studied the "stigmas in attention deficit hyperactivity disorder." Conclusions from this experiment highlighted a tendency in those with ADHD to submit to stigmas.
Through firsthand research, these researchers found that children in this study actually improved in their "symptoms" when exposure to stigmas was reduced. Imagine that: these children with a different thought process than the average child actually function better in the standardized classroom setting when they don;t face discrimination and/or discouragement from outdated beliefs.
Don't reprimand a child for failing to pay attention without trying to get inside their mind, first! It may come as a shocker, but many of us don't need "proper discipline," we just need a different approach than what has been put in place by those before us. We needchange.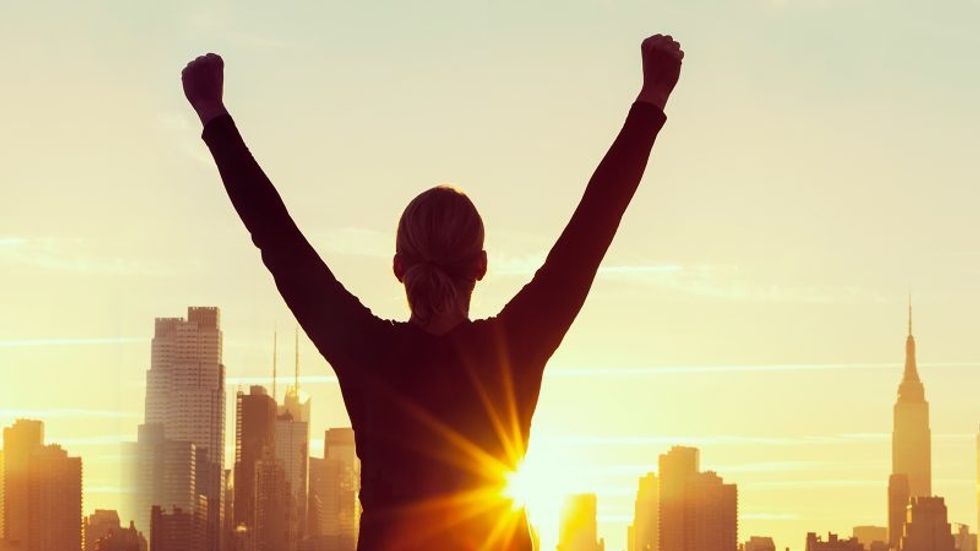 Happiness is quite possible for many with ADHD.Lindsay Tigar
Science can explain certain differences in the way we process the world, which means there is proof that we are different— NOT "sick" or completely incapable of functioning as well as the average American. I may not agree with belief that ADHD can be prevented or completely cured by proper nurture– as I believe nature to also play a role in this different mindset; however, I do see where nurture can, in some cases, problems patients that many with ADHD face today- particularly misleading stigmas.

ADHD as a disability:
As within any engaging piece, the writer must play Devil's advocate, and offer a refutation to his or her main point (that ADHD, and possibly other conditions, do not necessarily support modern stigmas). Psychologists from all realms of the mental health sector can agree that ADHD may exist in severe cases.
I am lucky to have been given the right combination of environmental conditions and experiences wherein I have adapted to my unique state-of-mind (such reading aloud to maintain focus while studying for exhausting Organic chemistry exams, grueling anatomy cadavers, and never-ending piles of calculus problems). However, it is my duty to speak for those in my community that have not had the opportunity to embrace the mindset in the same manner as myself.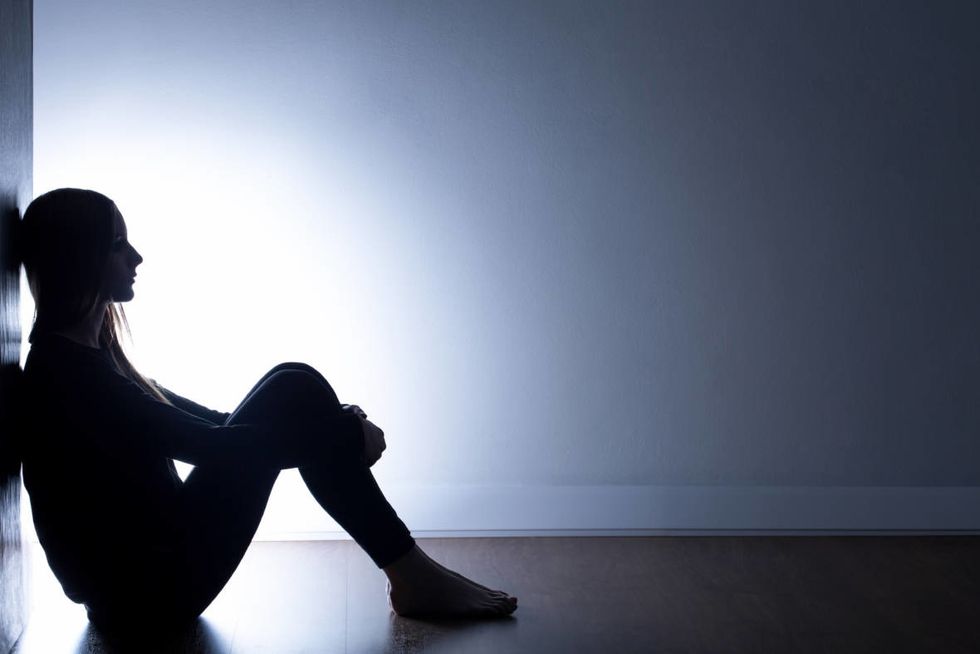 There are still way too many of people with ADHD that aren't being helped properly.Dana Smith
Everyone is unique; therefore, this mindset will affect everyone differently.
Where I have been able to use it as a superpower that allows me to pull all-nighter's without lethal doses of caffeine and stimulants, others may only survive college under the effects of stimulants, or even suffer the inability to function under the imposed societal standards we call "normal life." In fact, there are cases of ADHD in which other conditions of the brain work together to impede societal function.
With insufficient funding for proper research, as well as a substantial divide between scientists, we must work to find a solution to these cases. There are people who continue to prove ADHD as a manageable state-of-mind, such Ryan Reynolds— everyone's favorite gunslinging, sword-waving, potty-mouth. In fact, even Will.i.am, a core member of the famous Black Eyed Peas, claims ADHD is a gift for his specific circumstances. But, as our modern world continues to reveal the uniqueness of the individual, we have to hold ourselves accountable as we remember that the condition varies from person-to-person.
Optimism as a Conclusion:
We're all made different—it's made certain by our completely unique DNA, and reinforced by the individuality of our experiences. Therefore, I cannot guarantee that a positive outlook on your ADHD, or diagnosis of Bipolar "disorder," will improve your condition, and allow you to truly shine.
However, I can guarantee that there is nothing wrong in trying. If your medications haven't worked, if you've been feeling down about yourself because you don't seem to conform to the unfair demands of an education system that was not built for someone of your caliber, or if you just find yourself looking for a way to better yourself: explore your mind, as you will never know what's inside until you do.
Don't assume that hope is just a fantasy. Use Kanye— or any other prominent superhero in pop culture, if you can't stand the man— as an example of, and reason why, self-exploration is key. As you ignore what society labels you, look for the positive angle within your difference. There may be light within the darkness of your mind. There may just be a superpower for you, and all it takes is trying to look at yourself in a different light.
I don't mean to shoot down anyone's condition, or state-of-mind. I am just encouraging people to look within a depth greater than that which society demands. Society has standardized normality, which completely ignores the laws of nature. Nature wants us diverse. It wants us unique. Therefore, look at your uniqueness, and attempt to fly with it.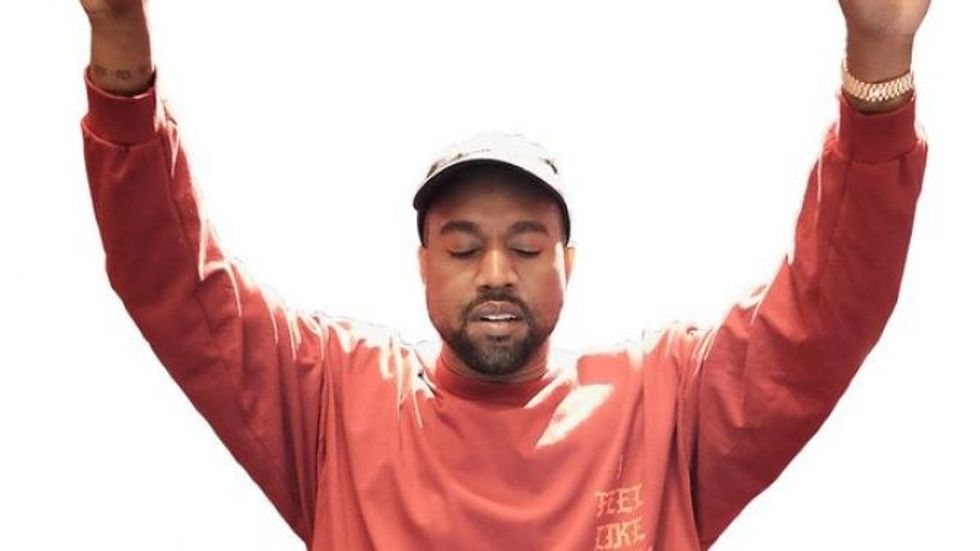 Embrace the inner light.Zana Rose