The Jonas Brothers. The JoBros. The original JB. Since 2006, they've been gracing our radio stations and YouTube playlists with the biggest pop hits that we'll never forget (and haven't forgotten). It was the best thing to obsess over as a kid. Endless tv show appearances, Camp Rock movies with Demi Lovato, and a dedicated fanbase were everything we lived for. The Jonas Brothers knew how to combine soft, sweet melodies and switch it up into a rock song that everyone enjoys jamming out to. Now that they're back together again, it's time to bring some of the best lyrics back from the Jonas Brothers' greatest hits.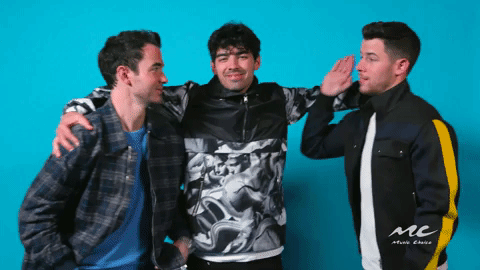 1. "Mandy"
An age-old classic. We all wanted to be Mandy at some point and some of us may even feel like Mandy in some of our relationships now.
Lyric:
"Mandy always laughs when I act stupid
I am unaware that I'm a nuisance
With her, it's never wasted time"
2. "SOS"
We can all agree that this is one of those songs you just can't resist shouting at the top of your lungs; I mean, we've all been there before.
Lyric:
"I gave my all for you,
now my heart's in two
And I can't find the other half"
3. "Hello Beautiful"
The Jonas Brothers just have a way of serenading you and making you feel like you're in love for the first time. This ballad is heartfelt, and teen girls everywhere definitely melted into puddles.
Lyric:
"Cause I could go across the world
See everything and never be satisfied
If I couldn't see those eyes"
4. "When You Look Me In The Eyes"
I can't tell you how iconic this song is. It's one of the Jonas Brothers' most popular songs that everyone could recite while holding up a flickering lighter. You can feel the soul in this song.
Lyric:
"I can't take a day without you here,
You're the light that makes my darkness disappear."
5. "Just Friends"
IM? I'm too scared to see who even remembers that. But for those who do, this lyric sure does take us way, way back to the days of creating cliché usernames and cringy chats with our bestie.
Lyric:
"Small talk on IM
Just one-word sentences
It's cool we're just friends"
6. "Burnin' Up"
The song that men, women, and children of 2008 everywhere could rock out to. Everyone knew it. Remember how shook we were because Selena Gomez was in the video? And the way that Nick says, "red dress"? Nine-year-old me is screaming on the inside. Also, there was nothing more satisfying than spitting Big Rob's verse perfectly.
Lyric:
"Baby, who turned the temperature hotter?
'Cause I'm burning up, burning up
For you baby"
7. "Lovebug"
This song about finding love again really makes you wanna lay back and reminisce. That is until you get to the super cool beat drop where the song goes from sweet ballad to fun rock.
Lyric:
"Suddenly I forgot how to speak
Hopeless, breathless
Baby, can't you see?"
8. "A Little Bit Longer"
This song hit like a truck. The lyrics detail of someone getting bad news at the doctors and being told that maybe if they hold out a little bit longer, they'd be fine. This song is presumably about Nick Jonas' diabetes discovery.
Lyric:
"But you don't know what you got 'til it's gone
And you don't know what it's like to feel so low"
9. "Live To Party"
This song was the theme song to the Jonas Brothers' Disney Channel show called "Jonas". It really makes you want to have fun and just live your life instead of staying at home. Also, this is a great reminder of how amazing the show was!
Lyric:
"I drove her home and then she whispered in my ear
The party doesn't have to end we can dance here"
10. "Paranoid"
The music video to this song was what made it so iconic. I remember seeing the video and thinking, "Whoa, this is trippy" because of the visuals. The paranoia in this song is reflected in the several different versions of the brothers running away from something.
Lyric:
"If you hear my cry, running through the streets
I'm about to freak, come and rescue me"
11. "Before The Storm"
This all-too-relatable track really blew my socks off because of how iconic it was at the time. Nick Jonas and Miley Cyrus were dating, and so she featured on this song with the band. Their voices combined together was a once-in-a-lifetime harmonization that we'll probably never get again (but it was such a huge deal).
Lyric:
"I'm flooded with all this pain
Knowing that I'll never hold her
Like I did before the storm"