If you were a major Disney Channel fan growing up in the early 2000s, you probably have heard of the handsome Jesse McCartney. Whether it was his music videos playing during commercial breaks, cameos in Disney Channel shows, or his movie credentials, Jesse McCartney made his way into your childhood. The nostalgia was definitely real when I found out he was performing at the University of Illinois Foellinger Auditorium on October 6th, 2018.
What made this even better was the student ticket with VIP was just $67!
My friend Caley and I arrived at Foellinger an hour before the Meet and Greet, which was expected to begin at 5:30PM. Luckily we were one of the first people in the VIP line! As the minutes went by, the line extended all the way to the middle of the Quad.
Once it was time, we entered in and receive our tickets and wristbands. As we made it up the stairs to the upper level, we saw him. He was wearing a black hat, white T-shirt with a light brown jacket, black jeans, and a gold chain.
In my mind, I was thinking "Jesse McCartney is literally 5 feet away from me. OMG OMG OMG."
The student volunteers started calling up people so we can take a professional picture with Jesse. When it was our turn, Caley and I did nothing but squeal. Kindly, Jesse pulls out his hand and says..
"Hi! My name is Jesse."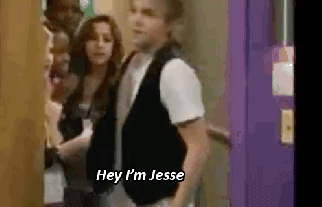 It was totally like this! imcclass.files.wordpress.com
Then, there's me.

"Hi! You really do have a beautiful soul!"
Okay, I get it. I was totally nervous and did not know how to act in the presence of greatness. On the bright side, it made him laugh and he said I was funny.
Since this Meet-and-Greet was quick, we instantly posed for the camera with Jesse and grinned. I'll forever cherish meeting someone that I have loved for many years.

At 8 PM, Jesse McCartney appeared on stage and began performing with "She's No You," which is one of his major hits from his "Beautiful Soul" album. The crowd went crazy and screamed simultaneously. Let me just say, he sounds just like the records. His voice was very heavenly. He still got that charming groove in him. Throughout the entire concert, he danced, hit high falsettos, and made everyone in Foellinger enjoy being in the moment. He belted out many more hit singles, such as "Leavin'" and "Shake." He also performed his new songs, which are "Better with You" and "Wasted." In between, he took time to talk to the audience and say witty jokes. What made this concert experience more amazing was definitely the energy. People, including myself, sang our hearts out along with Jesse. It was such a beautiful sight.
thumbs.gfycat.com
Near the end, Jesse McCartney did not perform Beautiful Soul. He waved at us and started going backstage. I looked at Caley and was confused. He has no right to try to leave without singing Beautiful Soul. Then, everyone started screaming "BEAUTIFUL SOUL! BEAUTIFUL SOUL!" This caused Jesse to come back on stage and bless us with the song. Singing along definitely put a strain in my voice, but I did not have a care left. I sang my whole heart out to that song

As the concert concluded, I almost teared up. This concert was not just about Jesse McCartney performing at the great Foellinger Auditorium. It was also about experiencing childhood nostalgia. He is one of my idols and seeing him made me realize I am not a little girl anymore. Growing up can be tough, but it takes moments like these to make us appreciate life even more.

Paying $67 for my VIP Student Ticket was definitely worth it.