Every 15 minutes an elephant is killed just for the Ivory in its tusks.
You most likely didn't know that until now. Currently in Africa there are around 350,000 Elephants remaining. There used to be 1 million in 1979. Over the course of 37 years, 650,000 elephants have been killed by humans. Netflix just released a movie called The Ivory Game, and I suggest you watch it and educate yourself on this problem.
Elephants are pretty awesome animals-they're gigantic, they have funny noses, and a herd of elephants is a family, not just random animals that coexist together. When one elephant is killed, the whole family remembers. If something or someone is threatening a baby the herd will surround the baby to protect it. I'd compare them to humans, but at this point in time most humans are looking pretty horrible to me.

Elephant tusks don't just look cool, they serve a purpose for the elephant. They use their tusks for protection, to dig holes to find water, to strip bark off tress for food,and way more things. These tusks are incredibly important tools for elephants, and they need them for survival. Unfortunately if it looks cool, humans also have to have it. So poachers go out and kill the elephants just so they can get their tusks.
The process works like this: the Elephant is killed in Africa, then the tusks are shipped to Vietnam and then to China where they will be sold. Middle-class Chinese people see Ivory as a symbol of wealth and the demand for it is high. Once in China, the Ivory is carved into figurines, jewelry, and sometimes even chopsticks. The demand for Ivory is so high that it has become more valuable than gold. The saddest part is that as the elephant population dwindles, the price will go up even more.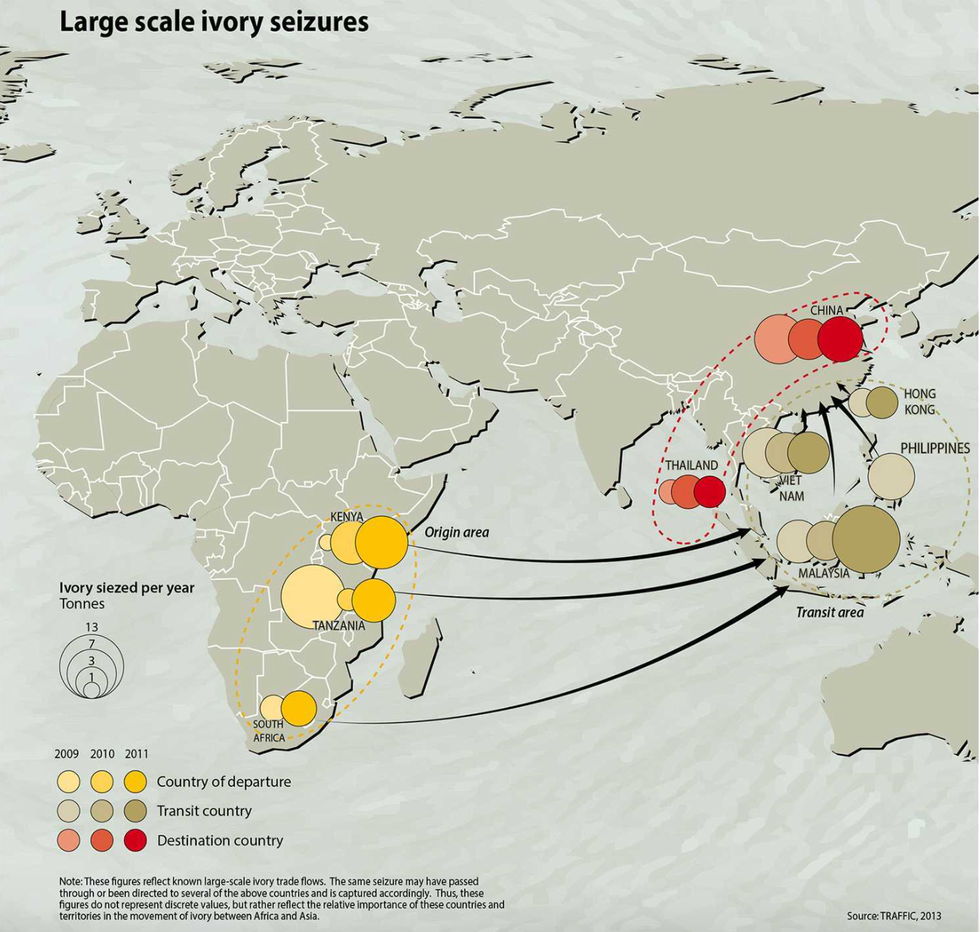 At this point you may be wondering how we can stop this. The answer lies with us, and we have the power to stop this. Education is something that is really important, in a survey conducted by the IFAW (International Fund For Animal Welfare) 70% of Chinese people thought that the ivory just fell out of the elephants. They had no idea that the Elephants had to be killed to get the ivory. Other ways to help include buying only items that are on the U.S Wildlife Tracking Alliance's list, you can help fund the protection by park rangers for the elephants and inform people that this is happening.
Countries such as The United States, Kenya, France, Chad, Belgium, The UAE and more have all destroyed their Ivory stockpiles. Last month, at the convention for International Trade in Endangered Species (CITES) an agreement was made by 182 countries to close legal Ivory markets around the world. Things are being done to save the elephants and that is good. But we can't stop protecting them, they're just way too cool an animal to not have on earth. Elephants and animals in general can't talk, we have to talk for them.
You can learn more about the Ivory trade here: https://theivorygame.com/the-crisis#solution
You can watch The Ivory Game trailer here: