Hands down 'The Office' is the funniest television show that I have ever seen. I've actually watched the series in its entirety about four times. After watching it over and over again, I've become kind of an expert on the show and feel as if I know the characters on a personal level. So personal in fact, that I actually thought about how each of the characters would fit into my life, more specifically my sorority life.
1. Kelly Kapoor
Kelly would be the sister that knows everything about everyone. Your boyfriend just broke up with you? Yeah, Kelly would know about it the week before it actually happened. Kaitlyn and Shannon aren't talking to each other? Kelly would know when and why it happened probably before either one of them even knew what was going on. Although you would want to hate her, you would keep her around just so you could always be in the know.
2. Toby Flenderson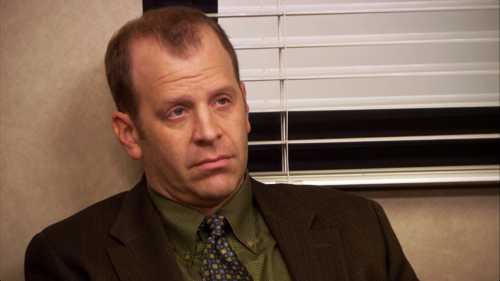 Toby would be that senior who's been in the sorority all four years of his college career. He would be the one constantly reminding everyone about how the sorority was run back when he first joined and how it was "so much better" than the way it is now. I can almost guarantee that he would hold the risk management position for his chapter. Although everyone would be secretly counting down the days until he graduates, the chapter would miss his mothering presence. He would be the sister to call if you needed someone responsible and sober to drive you home or to just help navigate you throughout college.
3. Meredith Palmer
Need moves? Meredith would be the sister to hit up if you wanted to know which fraternity was having a party or which nightclub was serving the best drinks. Her inappropriate (yet funny) remarks would help make chapter meetings not so boring and her confidence would help inspire others to become more comfortable in their own skin. Bonus: the Executive Board would be so focused on taming Meredith that you would be able to get away with practically anything.
4. Dwight K. Schrute
If Dwight joined a sorority, he would be a contributing reason as to why people think sororities are cults. He would be the member that spent his whole life dreaming about being in a sorority and when it came time for him to accept a bid, he'd let it go to his head. He would know absolutely everything there is to know (and probably more than any member would ever want to know) about his organization and often brag about it to others. All of Dwight's belongings would somehow be affiliated with his sorority and he would never shut up about how much he loves being involved in Greek life.
5. Michael Scott
Michael Scott would be the ideal sorority girl! He would be the sister that joined for all the right reasons. His loving presence would help unite the sorority together and help strengthen the overall sisterhood. He would be the shoulder to lean on in tough times and the one holding your hair back after celebrating the good times.
Unfortunately, these characters aren't real and if they were real, I don't know if they would necessarily leave Dunder Mifflin to join a sorority. However, a girl can dream, can't she?!