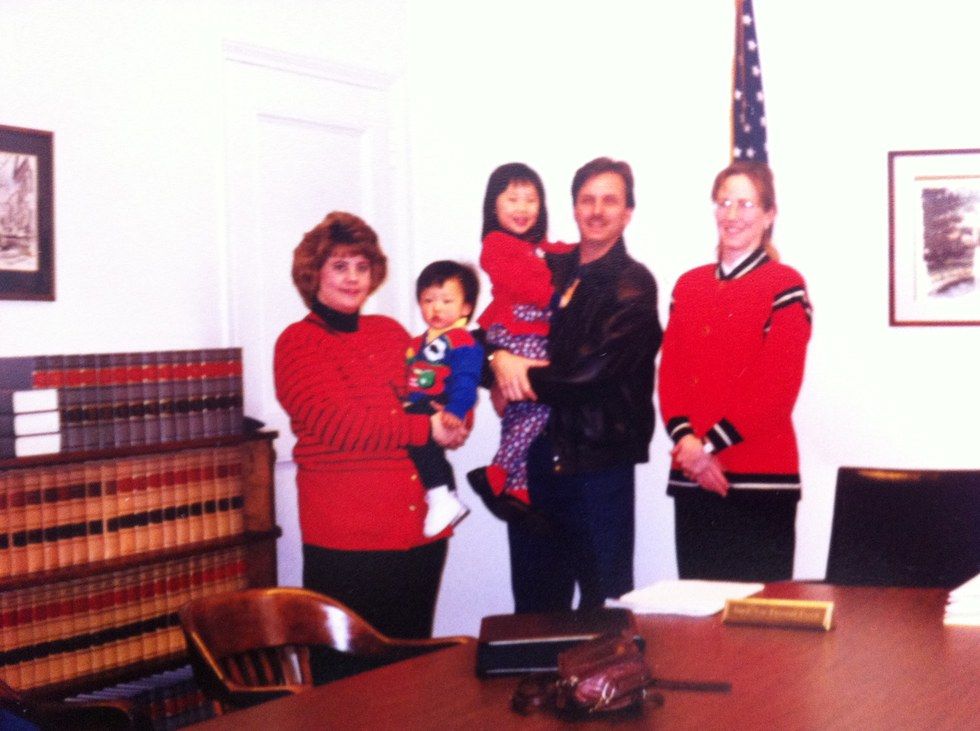 Have you ever taken a look at your hands and wondered which parent or relative you inherited them from? Or looked at your facial structure and noticed you get your nose from your mom's side, but you get your eyes from your dad? Three years ago, I finally found out what side of the family I got my hands from… But more importantly, that same day, I realized how being adopted has truly defined me.
All my life I've known I was adopted. I came home when I was about four months old. My parents never sat me down and had "the talk" about where I came from, it was always known. As a South Korean adoptee, I've never looked remotely close to my parents. My father is German and my mother is Polish in which both are very far from looking South Korean. But regardless of race, I was never treated any differently. My "adoptive" father has always been my dad and my "adoptive" mother has always been my mom. People out of curiosity would always ask questions regarding my "real" parents and, of course, I don't correct them out of respect, but never has there been an instance that I've ever had to think differently about my parents.
My birth mother and birth father are just my genetics, but my mom and dad are the people who are my real parents. They gave me my name and a meaning for life. For years, I was ashamed of being Korean and being adopted. It took a few years of growing up to realize that both are pieces of me that I couldn't deny.
In 2013 I was given a once in a lifetime opportunity to meet my birth mother. Without any hesitation, I booked a round-trip flight to Seoul, South Korea. From the support of everyone around me, I got ready for something that was about to change so much. The thirteen-hour flight could not prepare me for what was about to happen. Between feeling extremely jet lagged and scared, it all came down to that moment when I finally got to meet one of the most important people in my life.
During the arrangement of meeting my birth mom, my adoption agency explained to me that this meeting could go either one way or the other. Because of the circumstances, my birth mother could either want to hug me or feel so ashamed of what she did that she might not be able to even look at me. It was one of those things that I had to be optimistic about.
When I arrived at the agency in Gwangju, South Korea, not only was it a new environment that I had to adjust to, but also I knew my birth mother and maternal grandmother were in the same building I was going in. Chills ran up my entire body just at the thought of what was about to happen.
No words could describe the moment when I walked in a room where they were standing. It was like looking at a reflection in a mirror. It was absolutely amazing. Unlike what the adoption agency forewarned me about, my birth mother did nothing but hug me. She finally was able to hug and see her first born after nineteen years of waiting. She could see for her own eyes the beautiful woman I've grown up to be (obviously, since I'm an exact replica of her). For her to be reunited with me after all this time, I couldn't imagine to feel and go through what she has. For my maternal grandmother, she was finally able to see her first granddaughter.
She explained to me how sorry she was and how she's been hurting since she gave me up for adoption. I learned how in South Korea, their society is much different than ours. Having a child out of wedlock, no matter what the age, is shameful in which family, friends and even potential jobs lose respect for you. It's one of those things that must be kept a secret without anybody finding out. She explained how when she was young, she made a mistake and I was the product of it. She knew she couldn't keep me or else "we would have had harsher times." Neither of her parents or siblings knew she was pregnant with me. She only told her best friend about me in which was with her when she gave birth. Before she handed me to the adoption agency, she gave me my name, Hyun Mee, wise and beautiful.
I don't know how she did it. She could have made a hundred different choices, but she made the one decision that was meant for me and only me. It was important to her that I live a happy, healthy life. In return, after all those years of feeling regret and sadness, I was the reassurance that she made the right decision. It was as if tables turned by the end of our day together. I went there for me, but in fact, it was for her. She gave my life a meaning, and all she ever wanted was to know that she could forgive herself. To see a smile on her face and feel her holding my hand tightly, it meant the world to me to know her heart fell whole again.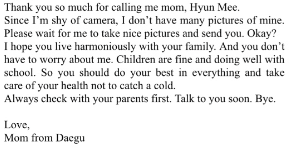 After my experience in Korea, I felt different. When I got back to the United States, my dad was waiting for me at the end of the stairs in JFK Airport. How ironic… The last time we were at JFK together was when him and my mother were waiting for me to come home to them as a baby. Nineteen years later and here I was, coming home to my family all over again and I couldn't be any happier. Nothing beats coming home to hug from your old man.
Being adopted has defined the true meaning of love in all different ways. It has given me the ability to see different aspects of life in which I never thought were possible. I have two parents who would do anything and say anything to ensure I was happy. Never have they looked or acted differently towards me because of my race. I have always been their daughter, but I'm also the daughter and granddaughter to my family who lives 6,909 miles away from me. I learned that almost all my life I was ashamed about something that was always a part of me waiting to be embraced. And as soon as I embraced it, it showed me how important that aspect of my life was. I am blessed to have two loving parents, as well as the friends and family that support me through everything. I am also incredibly blessed for the woman who decided I deserved much more than she could give.
So when you ask, who am I? I'm Brittany but also I'm Hyun Mee. I'm adopted from South Korea and I couldn't be more proud. I talk fast like my Dad, argue like my Mom, and have the same exact hands as my birth mom. But most importantly, I'm incredibly loved.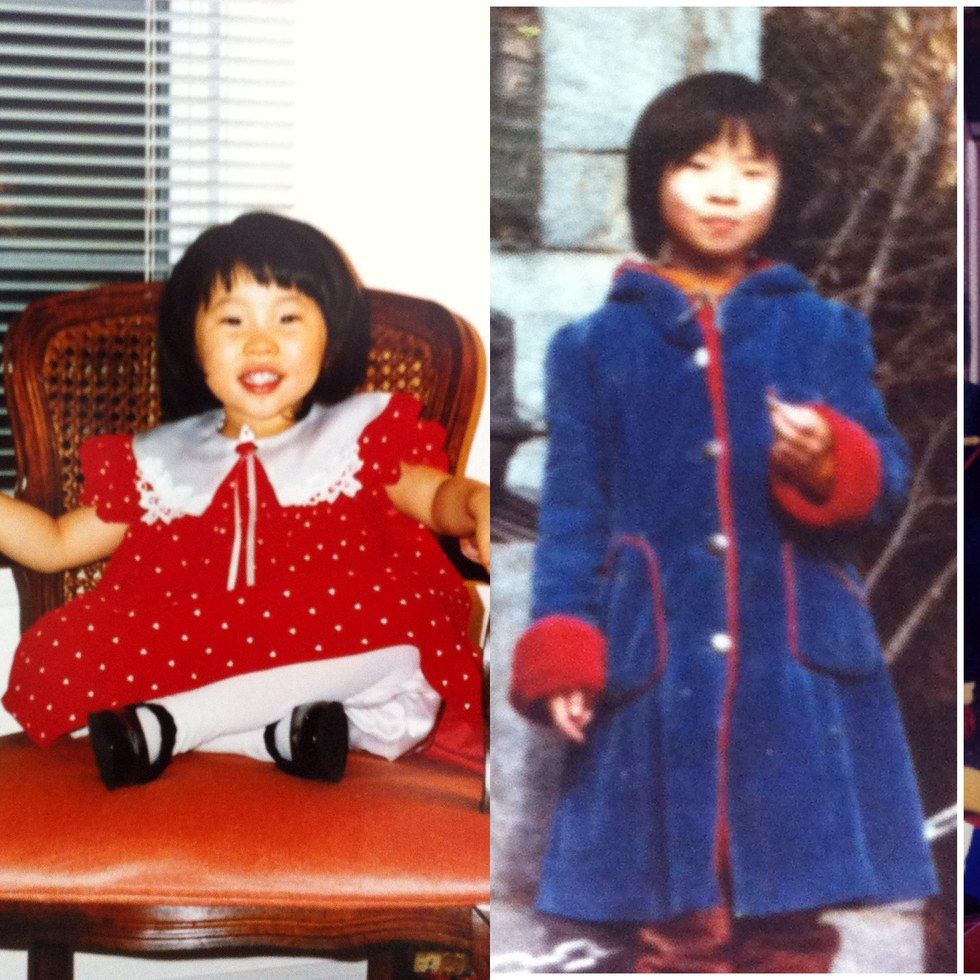 Cover Image Credit: Brittany Schlenk