Every year, just a few days before Christmas, many groups of people from all over the United States come together to honor our nation's veterans, both living and deceased, but especially those deceased. Over 1,000 wreath-laying ceremonies are held on just one Saturday (National Wreaths Across America Day) each December. These wreaths are laid on graves of soldiers from every war in which our country has taken a part. These ceremonies are hosted by cemeteries, such as Arlington National Cemetery and local city cemeteries, in which tens-of-thousands and even hundreds-of-thousands of soldiers have been laid to rest with their brothers- and sisters-in-arms, but the program itself is called Wreaths Across America. This program makes it possible for other groups to sell sponsorships for these wreaths so that every Christmas our veterans' graves have wreaths adorning them. Each December, the Worcester Wreath Company drives convoys of trailers transporting the wreaths from Maine to Virginia, although all 50 U.S. states host multiple wreath-laying ceremonies on National Wreaths Across America Day.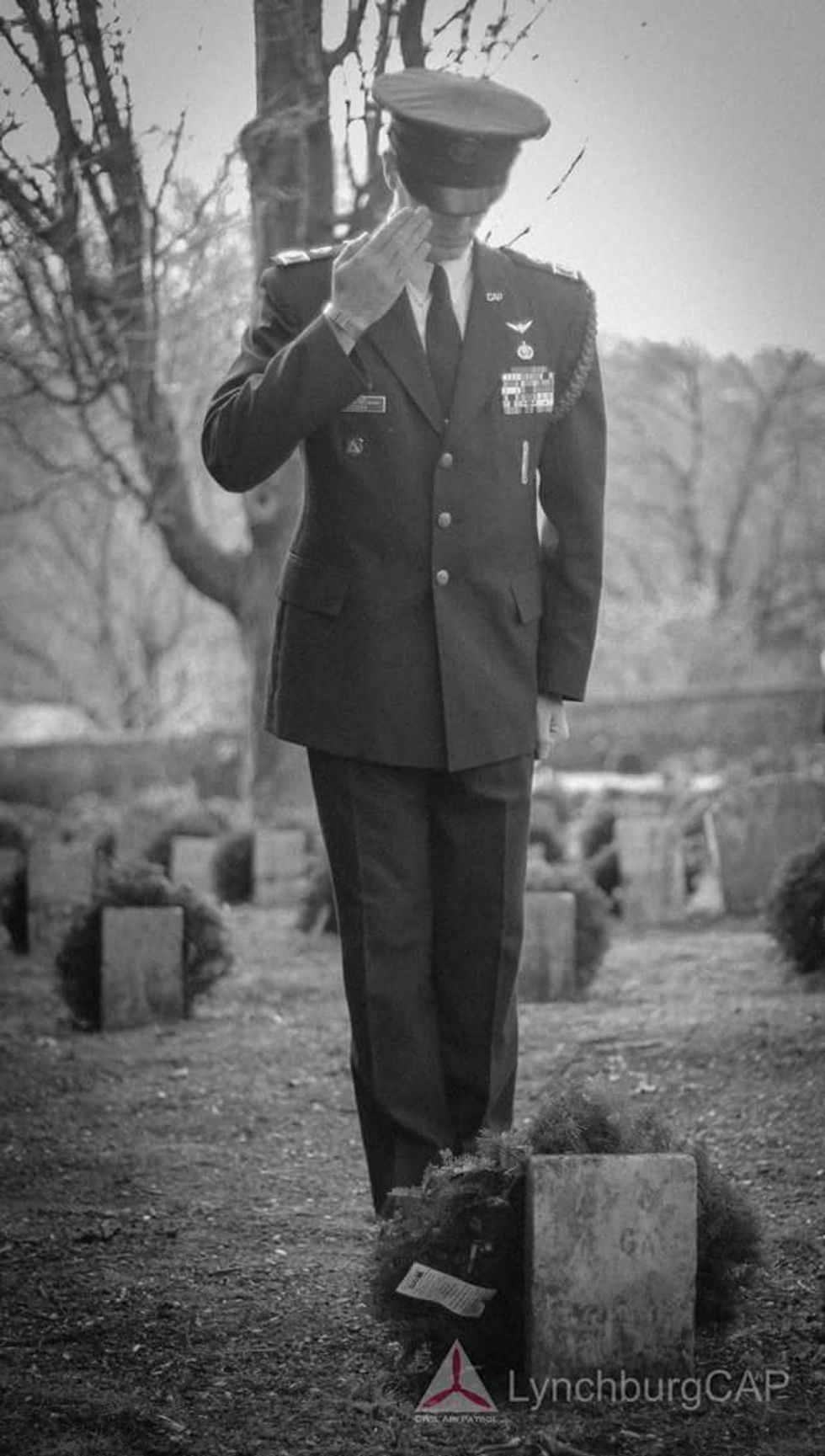 The group with which I serve, Civil Air Patrol (CAP), organizes these Wreaths Across America ceremonies with the assistance of some other groups. At these events, our members perform services such as distributing wreaths to the audience so they can place them on graves, performing tributes to the branches of our nation's armed services, and conducting fly-overs in our aircraft as an act of honor to our veterans.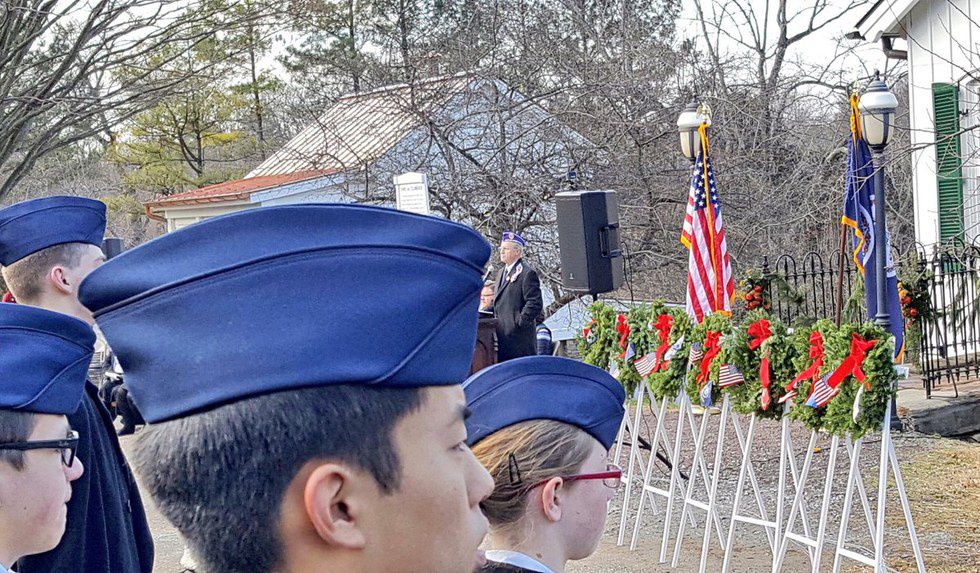 Over the past few months, my unit (LynchburgCAP) hosted multiple wreath-sponsorship fundraisers in our local city, and this past Saturday we participated in a local Wreaths Across America wreath-laying ceremony represented by the Daughters of the American Revolution (DAR) at the Lynchburg Old City Cemetery in Lynchburg, Virginia. Other distinguished attendees were the Lynchburg Mayor, Deputy City Manager of Lynchburg, Lynchburg Chief of Police, Lynchburg Fire Chief, and special representatives of each branch of the United States Armed Forces.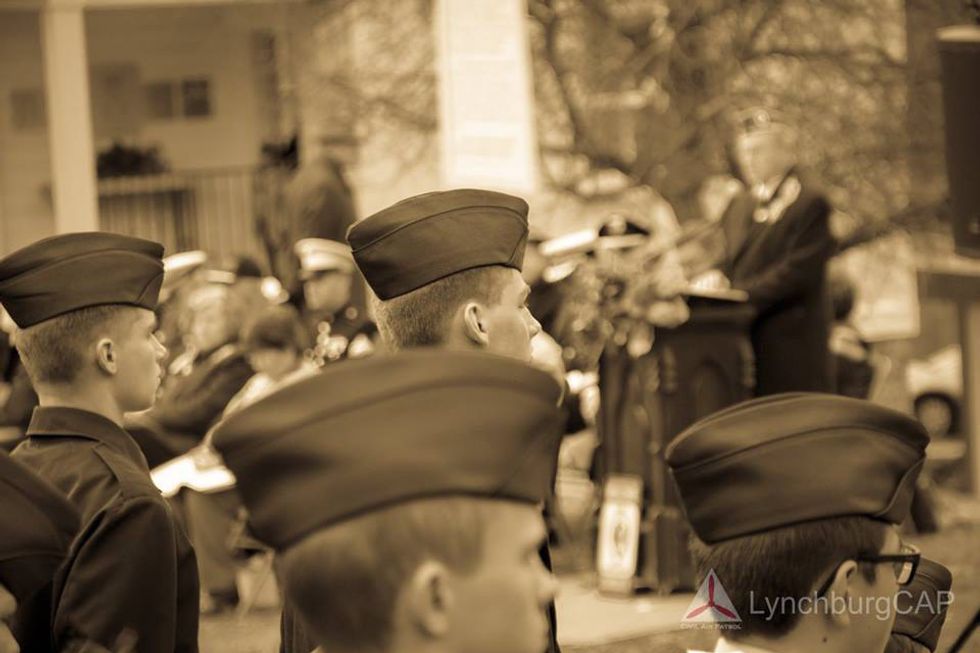 My unit, LynchburgCAP, assisted with the pre-ceremony services by distributing ceremony bulletins. During the ceremony, our pilots were to perform a fly-over as the music played, but due to inclement weather, the conditions were unsafe for flying, although that didn't prevent our unit from participating on the ground. We were tasked with presenting wreaths to a crowd of people who then proceeded to lay them on the veterans' graves. We also had the opportunity to personally lay some wreaths ourselves. This year, over 1,100 wreaths were placed on the veterans' graves at the Lynchburg Old City Cemetery.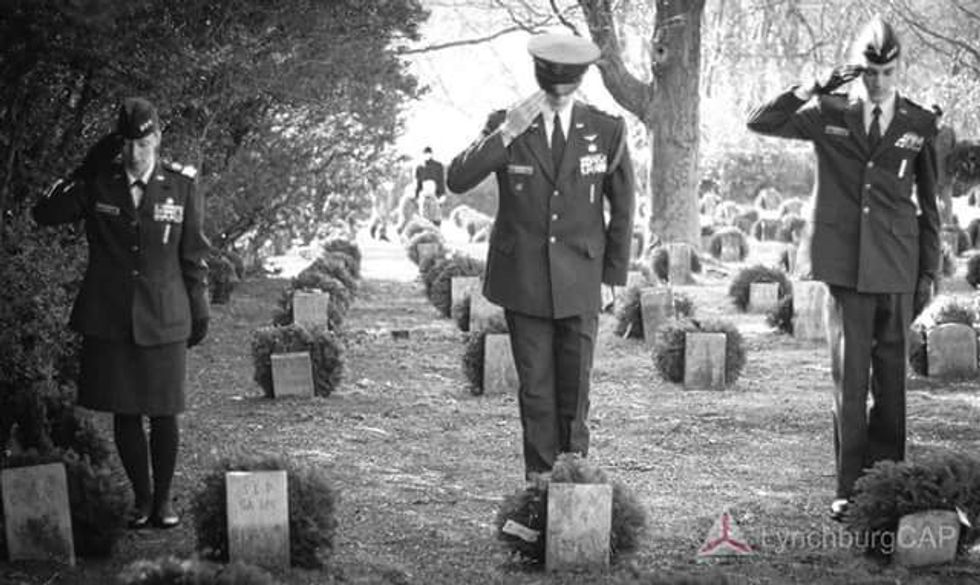 The purpose of Wreaths across America is to honor our fallen veterans, and as a part of doing that, it has three main objectives: to remember our fallen U.S. veterans, honor those who serve, and teach children the value of freedom. One thing we do to remember our fallen U.S. veterans is saying their names as their wreaths are placed on their graves and rendering a salute in honor of their lives. "We are not here to 'decorate graves.' We're here to remember not their deaths, but their lives." – Karen Worcester, Executive Director of Wreaths Across America. Part of what we do to honor those who serve is writing and sending Thank-You cards to those who are serving our nation and will be away from home for Christmas. We teach children the value of freedom by introducing our youth to veterans so they can see and hear directly from our veterans. We share stories of our American heroes who are in the military, and we talk to the youth about how we can do our part in preserving the freedoms we have today.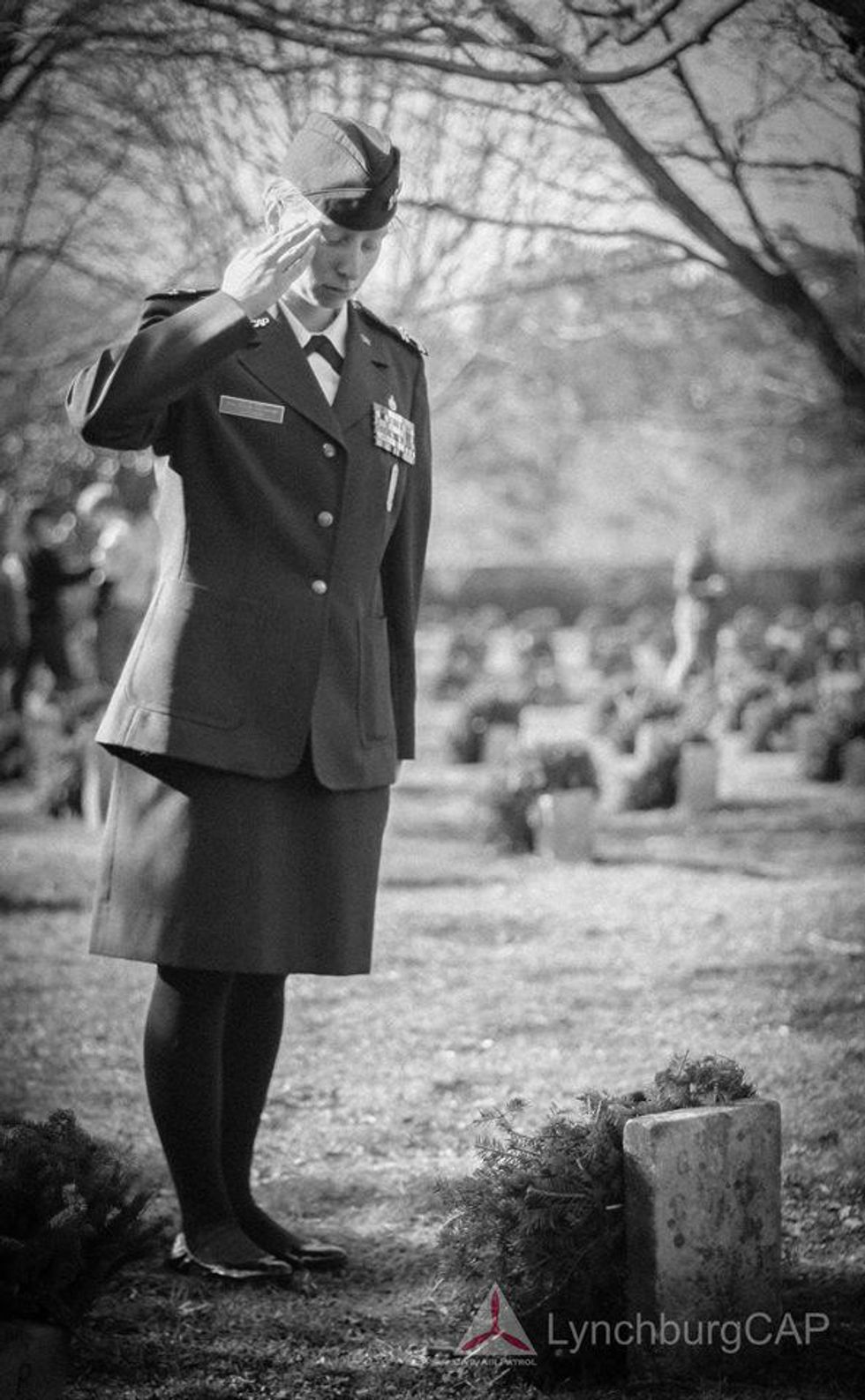 Many people drive past cemeteries during the Christmas season, and they see wreaths on all the graves of service members, but only a small portion of those people actually know the real reason for these wreaths being on these graves. Quite often, those who see them simply think that the wreaths were placed there to make the cemetery look nice during the holidays. However, those impressions are false. You now know the story behind these wreaths, and I hope you will think of this every time you see the wreaths on our veterans' graves. I also hope you will do your friends the favor of sharing this message with them, so that they too may know the story of why and how these wreaths got on these graves.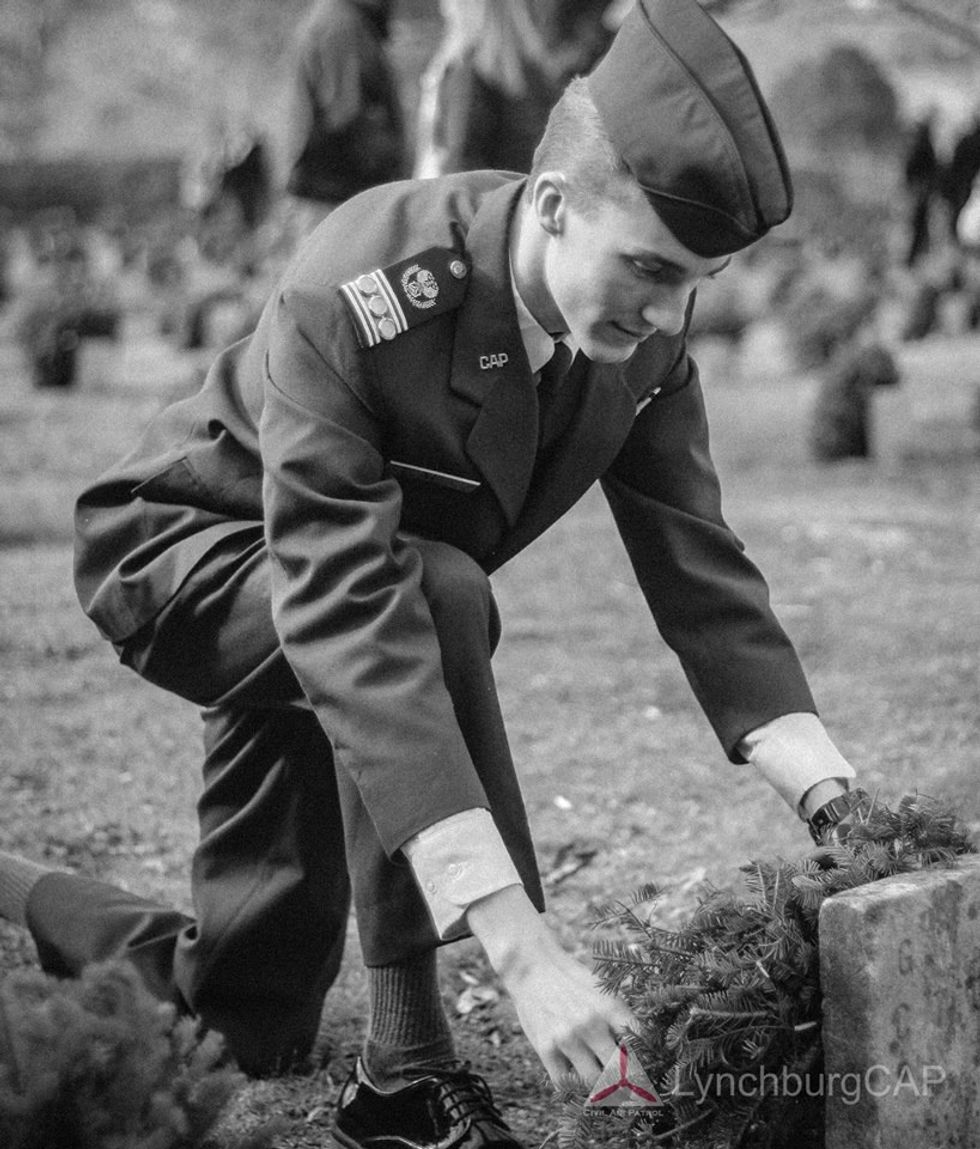 Photo Credit: LynchburgCAP Public Affairs Officer - Lt Gregory Morgan & Assistant PAO - Lt Velvet Sharp.