Note: This article was written in collaboration with my friend and fellow Clinton supporter Somya Jain, a student at UC Berkeley. You can read her companion piece to this article here.
On the evening of July 26th, for the first time, a woman received a major party nomination for president of the United States. Hillary Clinton celebrated this victory with a live video, where a montage of all 44 male presidents was shattered, to reveal herself on the screen.
To two strong young women, both eager to see female representation in leadership, this isn't just inspiring. It's a moment in history.
But, many disagree. They credit her nomination and successes to her gender, saying she'd never have become more than First Lady had she been a man. They say the very act of caring about her gender is inherently sexist, that we shouldn't treat her as special or any differently than any other candidate.
They, like Republican nominee Donald J. Trump, charge her with playing "the woman card".
But would we even be discussing her gender or sex if she weren't a woman? Would it even be called into question? I don't recall hearing any commentary on Barack Obama's or John McCain's playing of the "man card," or discussion about what role their spouses would play if they won the presidency. The same certainly can't be said in Clinton's case, with a simple Google search of "Bill Clinton, first gentleman" yielding dozens of results. There was never the need for such discussion or fixation about the role of other spouses who were always presumed to be the traditional FLOTUS.
Clinton receives storms of criticism over her fashion choices, especially their price tags. Her character is called into question when she wears thousand-dollar designer suits, and media outlets practically write full portfolios analyzing her fashion strategies, but there's almost no scrutiny over Trump's coequal thousand-dollar designer suits, and there's certainly no conversation about his character or use of wealth.
Much of the media and discourse circulating Clinton is consistently sexist, made evident by the lack of attention received by Trump over issues Clinton would undeniably be berated over.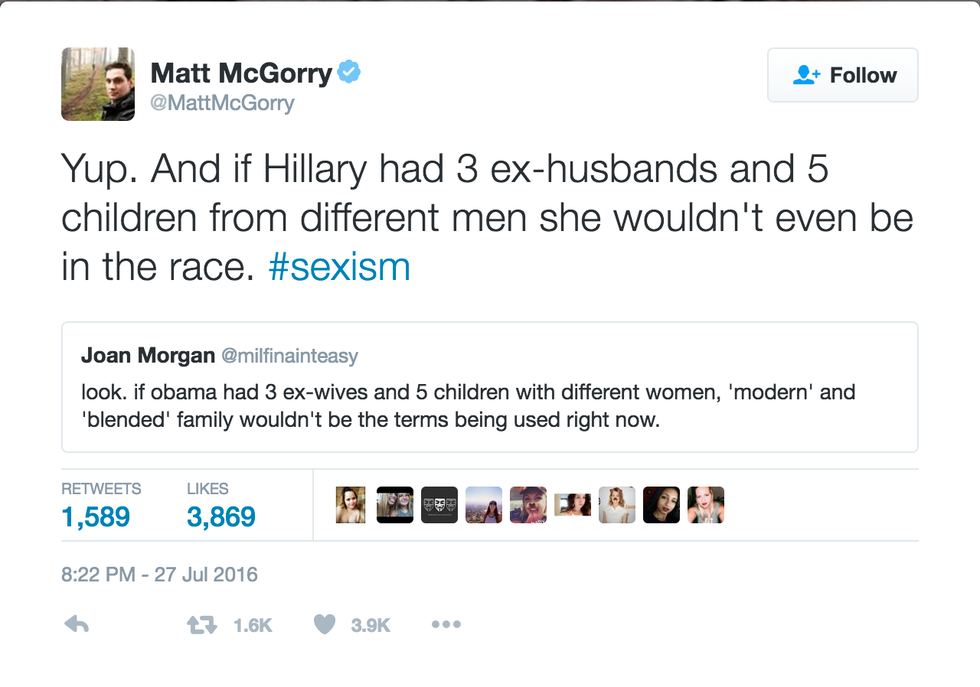 Hillary receives neverending denouncement for her support of Bill Clinton when his infidelity was revealed, yet Trump receives minimal criticism for his well-known affairs and infidelity. Hillary's personality is constantly attacked, being called too cold, distant, and assertive, all of which defy the expectation for her to confirm to the stereotypical behavior of a warm, reserved, and motherly woman. Hillary possesses many traits of a leader: strength, resilience, and calmness, yet they're constantly portrayed negatively, as coldness, detachment, and passivity.
During her historic nomination-acceptance speech, condemnation of Hillary's voice, laugh, insufficient emotions even, were beyond abundant. These types of objections overtake the amazing milestone that her speech is meant to be. Instead, people censure her in ways that women have been censured for decades- telling her to be quieter, to talk prettier, and to smile.
If anything, her gender was a handicap throughout the primaries, which makes her nomination an even bigger accomplishment. It's certainly even more of a reason for me to celebrate.
While yes, I wish we lived in a world where it didn't have to matter that Hillary Clinton is a woman. I wished we lived in a country where the first potential woman to become President wasn't preceded by 44 men. I wish we didn't live in a society that has systematically and repeatedly suppressed and discriminated against women since it's very creation. I wish no one cared about any presidential candidate's gender, but that's simply not the case.
Unfortunately, these problems are all very concrete factors in our reality, ones we shouldn't now try to ignore as we take a step towards equity and equality.
So, let's acknowledge the truly landmark achievement of Hillary Rodham Clinton, as the first woman to be receive a major-party nomination for President of the United States, and the many sexist obstacles she's defeated simply to reach this point.
Perhaps you disagree with Hillary's policies and perspectives, perhaps you're a die-hard Bernie supporter or a Trump supporter. I'm not telling you to be or believe otherwise. I'm certainly not telling you that Clinton's gender is any reason or justification for supporting her. But, her nomination definitely is an accomplishment that should be applauded, as it demonstrates the overcoming of often seemingly endless societal barriers.
In actuality, celebrating Hillary Clinton as the first woman nominee is no different than calling feminism- a movement for equality amongst both genders- FEMinism and not equalism or humanism. It's about bringing attention to an unjust imbalance in society, and applauding the gradual leveling of the playing field.