It's been 12 years since High School Musical, 10 years since High School Musical 2, and 9 years since High School Musical 3. So around this time it is appropriate for a High School Musical 4.

Disney did make a Toy Story 3, Finding Dory, and soon to be Incredibles 2.
If you are a die heart fan and every time someone says "What Team?" you reply "Wild Cats!" or "What time is it?" you reply "Summer time!". It's just instinct because like Troy Bolton said.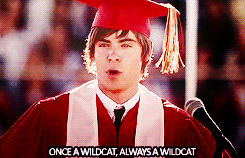 If you are a Wild Cat then you do know there is a teaser trailer floating around and fans are loosing their minds. Here's the trailer if you haven't seen it. This was posted on August 22nd on a fan made Facebook page High School Musical 4. It's sad to say that this is only fan made and not the real thing.

Though don't be disappointed because you know most of our beloved actors are still in acting. That is what our Wild Cat graduates have been up to.

Zack Efron has been on the big screen since HSM with his recent movie Baywatch with costar Dwayne 'The Rock' Johnson. Vanessa Hudgens has been on NBC's television series Powerless and the 3rd judge on So You Think You Can Dance. Lucas Grabeel has been on ABC's Switched at Birth and now voice acting in Elena of Avalor, Nickelodeon's Pinky Malink, and DreamWorks' Spirit Riding Free Season 2 on Netflix. Ashley Tisdale did star in a spin off movie Sharpay's Fabulous Adventure. She also has been making weekly posts on her YouTube Channel which consist of makeup tutorials and song covers with her husband Chris French (yea she's married if you didn't know). She also did a duet of What I've Been Looking For featuring Lucas Grabeel and Ex's & Oh's featuring Vanessa Hudgens. Corbin Bleu has been here and there on the screen. He guest stared on ABC'S The Fosters. He has been mostly on the stage than the big screen like Mama Mia!. Monique Coleman has also have her foot in acting with her most recent short film Distortion. She is also part of Girl Up and AwesomenessTV's Guidance Show.
As mush as we want our beloved stars to reunite, sing and dance to catchy songs together like the good ol' days, and make a High School Musical 4. We are content that they are doing. High School Musical was high school and they are all in their late 20's to early 30's.
Still kudos to whoever made that realistic trailer that caused all this drama.