If you're like me, you probably made a New Year's resolution to be healthier this year. Well, it's officially February and the veggies are starting to look a whole lot less appetizing than the Oreo cakes; not to mention Valentine's Day is right around the corner with heart-shaped chocolates decorating store aisles. I'm sure some of us have significant others who live or go to school hours away and you're probably planning a road trip to see them for Valentine's Day. It's hard to have healthy food options on an eight-hour car ride where McDonald's is advertised at every exit, but that's where I come in … I'm here to help.
If you don't know this about me already, I work at Burger King back home (please don't ask me how we make the meat, it comes pre-frozen and ready to put in the grill/fryer when needed). Yes, my advice will be a bit more geared toward BK, but fast food options are almost universal.
I am going to say a quick disclaimer before we get started: I, myself, am a vegetarian, but this article will be for the vast majority of people who are meat eaters, simply due to the fact that meat eaters are generally the ones who order food from a place that literally has "burger" in the name.
First and foremost, it's almost always healthier to eat chicken than it is to eat beef. At Burger King we grill our burger meat (Whoppers, Whopper Jr., burgers) and our Chicken Tender Grill meat, pretty much everything else goes into the fryer. So, if you want the healthiest option, ask if the restaurant carries any grilled chicken. Grilled is always healthier than fried.
Secondly, almost every fast food place has a side salad. It's really easy to switch out fries/onion rings/curly fries for a side salad! It's healthier and it's usually bigger than a small fry.
Speaking of fries, that leads me into my third tip. If you've got to stay behind the wheel, a salad probably isn't the best option (please, drive safe!) so, if you're really hungry and want a side of fries, ask to get them unsalted. That takes the sodium out of the equation and you're guaranteed some hot and fresh fries, just realize that you will have to wait for them to cook.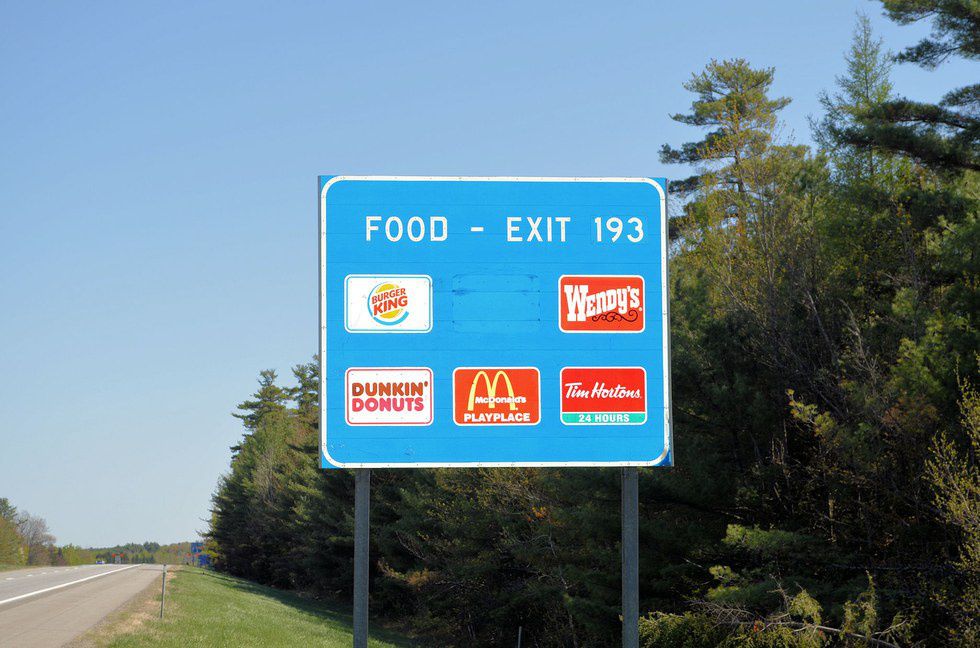 To further cut down on your intake, stick with smaller portions. It never hurts to ask if the restaurant has sizes smaller than small; at Burger King, our sizes are value, small, medium, large, at McDonalds, there's only a small, medium, or large (a Burger King small is about equal to a McDonald's medium, by the way). Another example of smaller portions would be to order a Whopper Jr. instead of a Whopper. It's half the size and costs less money as well but it's made the exact same way as a Whopper (trust me, I know).
The absolute healthiest drink that you could get would be a water, and a cup of water is usually free (unless you want the largest size, but I've never heard of charging more than 50 cents for water), but sometimes you really need some flavor. I understand that, but pop isn't your only option. If you want some flavor with less sugar you can ask for lemonade, tea, fruit punch, milk, or juice.
I'm sure that there are plenty of more tips and tricks to eating healthier fast food. I know some of you are probably saying, "Just don't eat fast food!" But we've all been in a position where there are almost no other choices than pulling off the expressway and stopping at a Wendy's. Coming from somebody who eats healthier more often than not, and has real work experience with fast food, I thought that I'd share my tips that I've learned along the way.