If you ever wished you had a sister, join the club! Sometimes it would be nice to have a bigger wardrobe and more shoes to choose from. Read this article if you have an older brother and soon you will realize how much you learned from your older brother and how much you look up to him. I guarantee all of these signs will apply to you and not only make you appreciate the love and special bond between you and your brother but make you realize how awesome it is to be a little sister!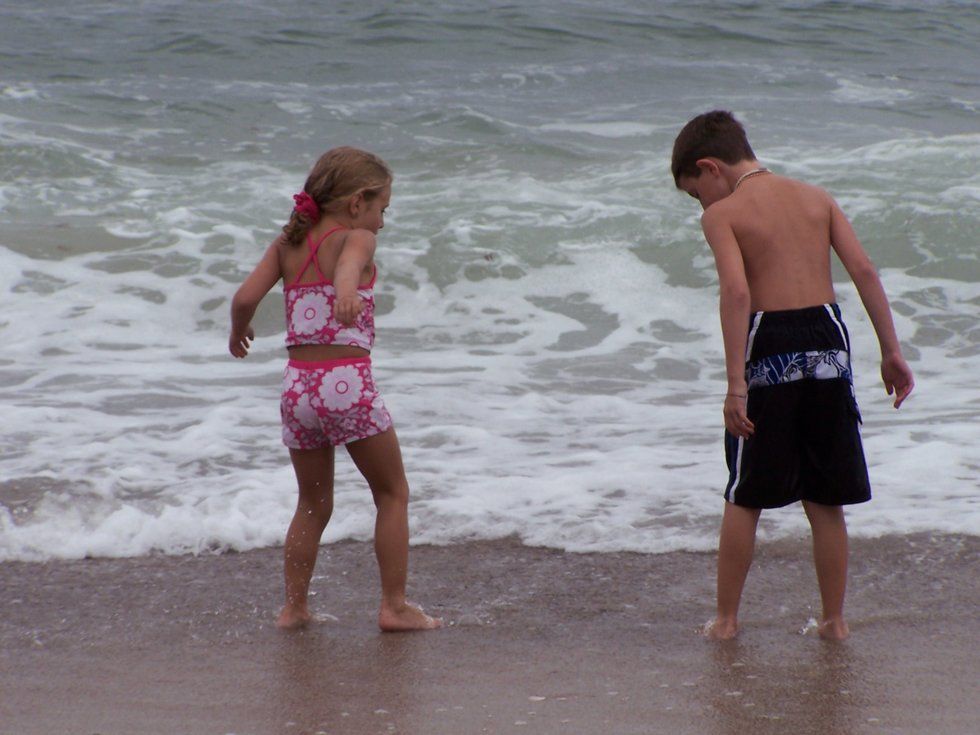 Lexi Garber
1. You were constantly dragged to your older brother's sports games
Whether it was baseball, football, soccer, or lacrosse, you were constantly dragged to all of your brother's tournaments, late night games, and practices. You constantly tried to find other siblings to play with but spent most of the time complaining to your parents that you wanted to go home. At this point, your parents just gave you five dollars to go find the snack stand to shut you up! Hey, don't worry little sister at least you got a good candy bar out of it and know that Eli Manning doesn't play for the Jets!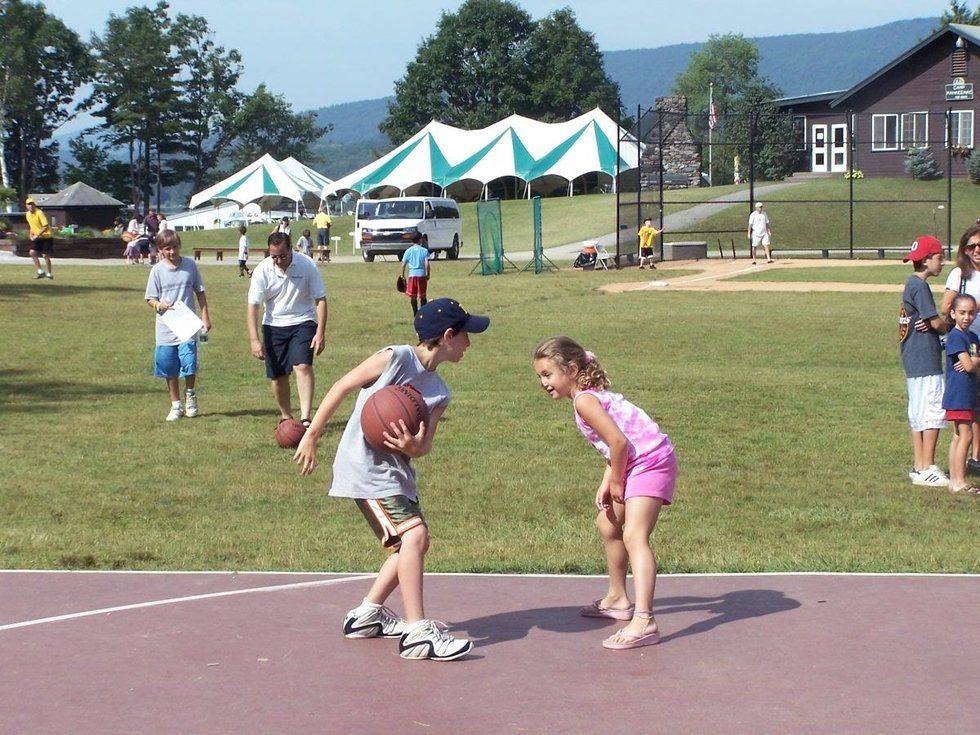 Lexi Garber
2. As you got older, you secretly conspired with your mom to see if he liked a girl
This is my all-time favorite sign! You and your mom would always sneak around and ask your brother what girls he was texting. Your mom would hire you as her own spy to check up on your big brother with just about everything in his life, but especially the girl he liked. When he found out you two were trying to pry information out of him, he would mostly be annoyed with you and the worst part of all, you still never know to this day who his crush was.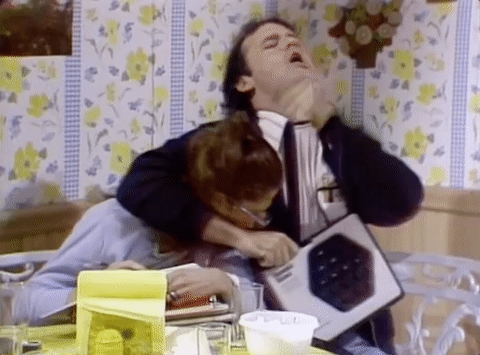 assets.rbl.ms
3. Your brother got his clothes laid out for him and you had to fend for yourself
People must always tell you how independent and down to earth you are because most of the time it was your older brother who was getting all of the babying and not you. It's bad enough that sixth-grade boys don't know how to match the color of their clothing and even worse that they need their mom to lay their clothes out for them in the morning before school. As a result, you were left dressing, feeding, and taking care of yourself. Don't worry little sister, at least you're ten times more independent and able to dress yourself. Get a good laugh at that floral Abercrombie skirt and cami tank top outfit you dressed yourself with in middle school!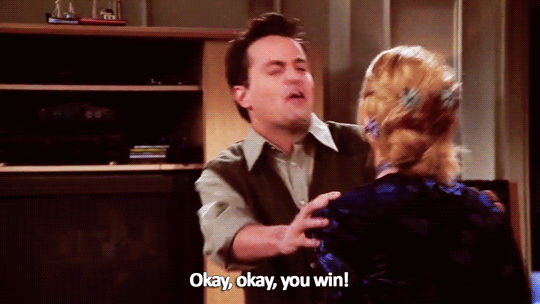 assets.rbl.ms
4. You secretly crushed on all of his friends
You were probably ALWAYS knocking on your brother's door when his friends were over. That could have ended in two ways: 1) He told you that you were stupid and to get out or 2) him and his friends would put you in a headlock and decide that wrestling with you was hilarious. Either way, you always thought your brother's friends were adorable and would have done anything just to hang out with your brother and all of his friends.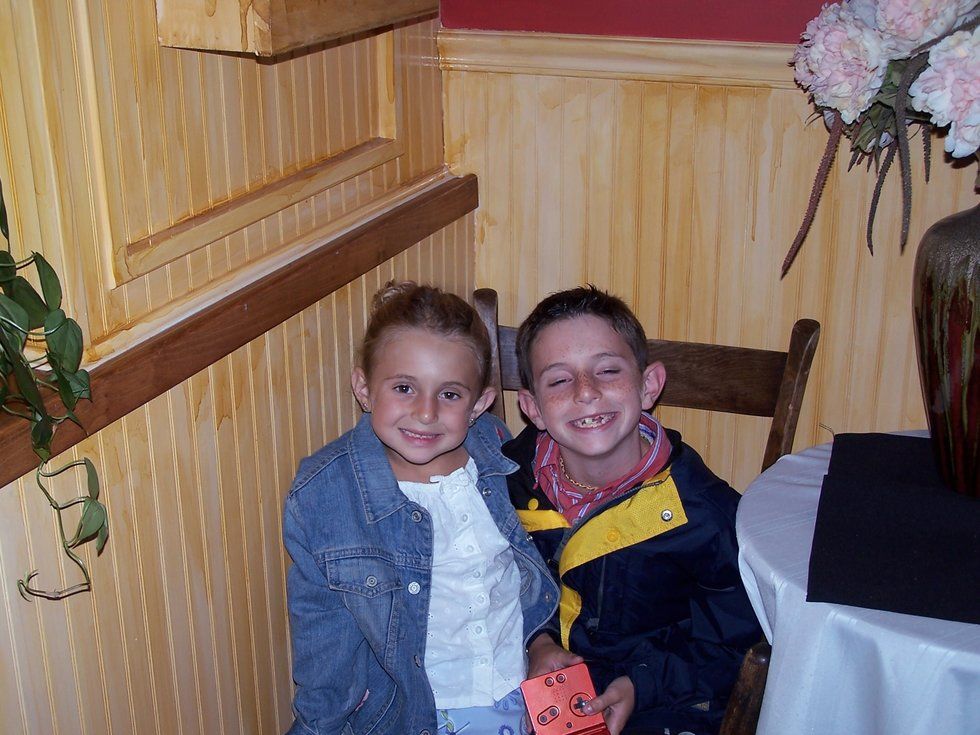 Lexi Garber
5. You always told your best friends they were like a sister to you because you never had any
Unless you're a ton boy, you always envied your friends who had older sisters that they shared clothes, makeup, and accessories with. After all, it's not like my brother wanted to hear about all my juicy gossip and nonsense drama from middle school. You always relied on your close friends to give you the sensation of having a real sister. Now that I think about it, maybe I wouldn't have been so laid back and down to earth without always being around my brother because let's be honest, having sisters can be too much estrogen in one house!

assets.rbl.ms
6. You played Grand Theft Auto and Mario Cart
Whether it was Xbox, the PS4, or even the GameCube, your brother's room was always a video game man cave and he only ever let you in his room so he could beat you at Mario Cart or SuperSmash brothers. You only played video games when you were with your brother and enjoyed it because this was one of the many things you could bond over. At least you can add "video gamer" under the skills section in your resume!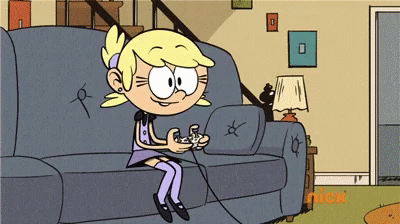 assets.rbl.ms
7. You're a good secret keeper and listener
Your brother was always mischievous, whether he kept it a good secret or not, but somehow you always found out about it. However, being the good sis that you are, you never told on him to your parents and all of his secrets were safe with you. Maybe you could relate to me and your brother accidentally (well, this is debatable) threw a binder out the classroom glass window or hit a substitute teacher in the head with a kickball. Either way, your parents never found out about it because of the great little sister that you are!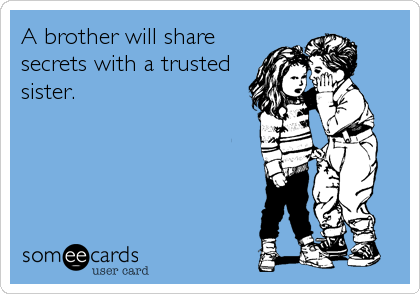 Someecards User Card
8. You have a huge appetite
You always ate when your brother ate and probably even tried to out eat him, even though that always just ended in a stomach ache. Also, you guys would most likely conspire to sneak gushers and fruit rollups into the cart at the grocery store without your mom knowing. If your brother loves cooking, like mine, this big appetite can actually be useful! No matter what, you will always have a huge appetite and you can only thank one person for that: your big bro!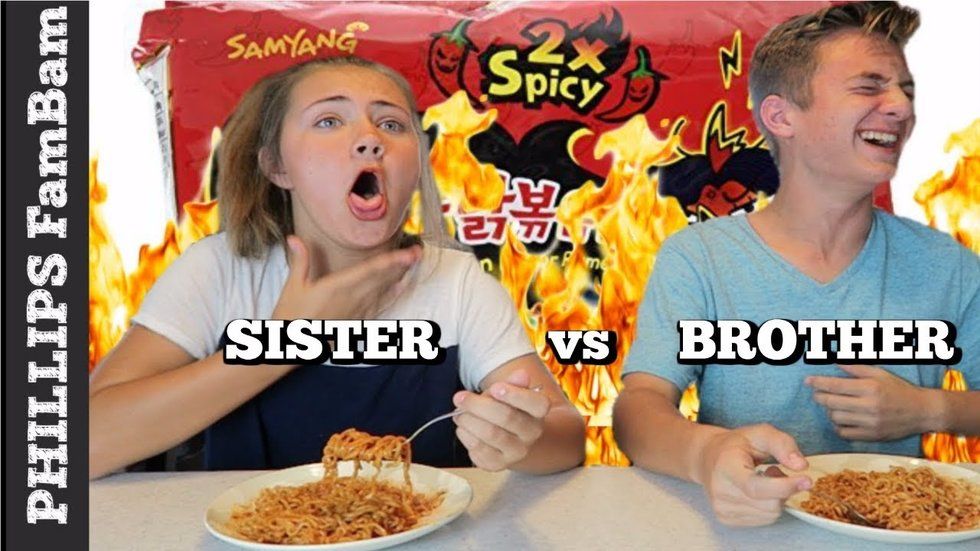 YOUTUBE
Overall, even though there were definitely some annoying things when growing up with an older brother, you would never trade him in for the world. You both grew up to become best friends and each other's confidant. And yes, it does take until you both get to college for him to actually want to spend time with you. Well, just wait until he brings his future wife home... you and your mom might want to start going to therapy ahead of time!!!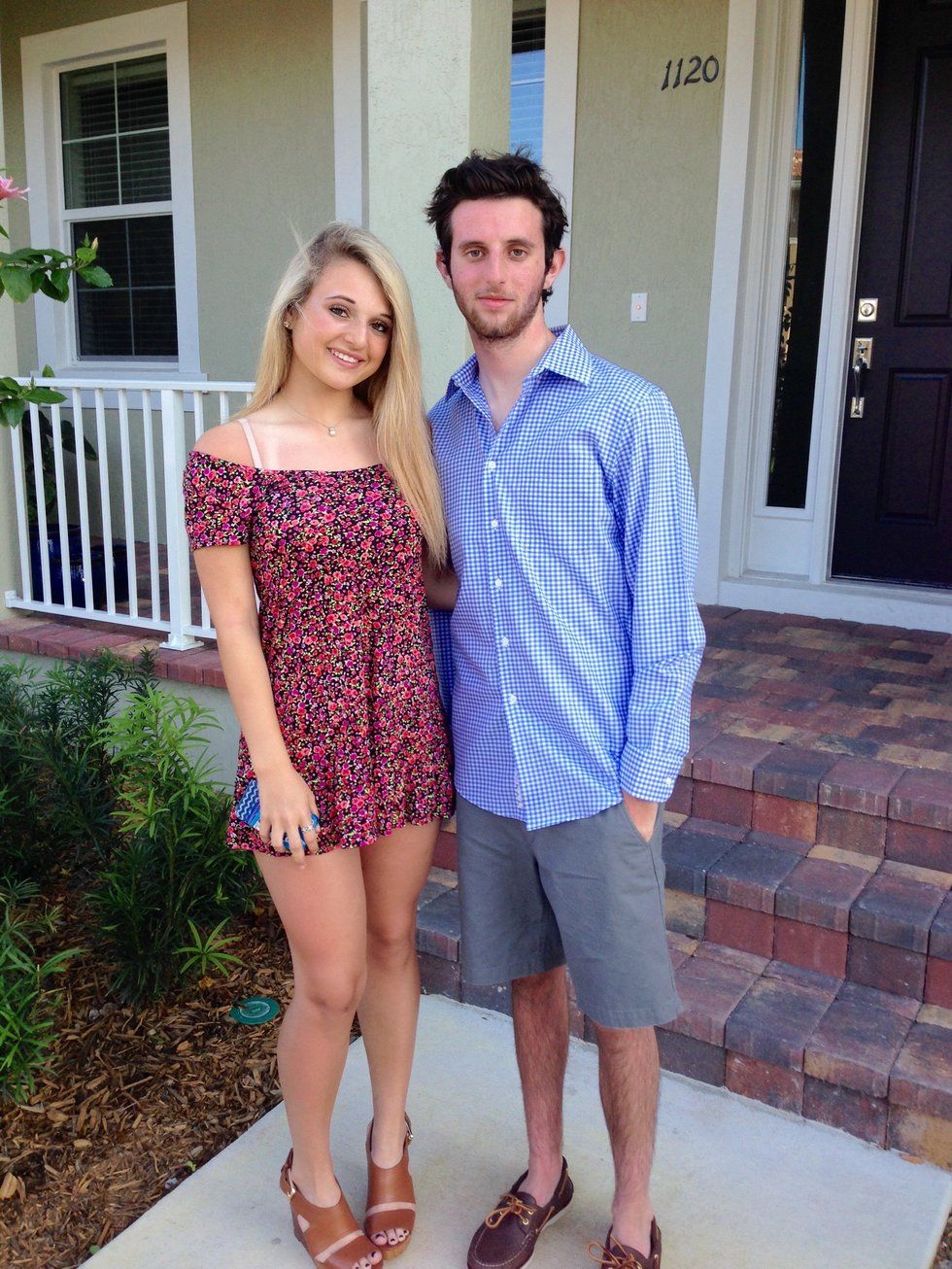 Lexi Garber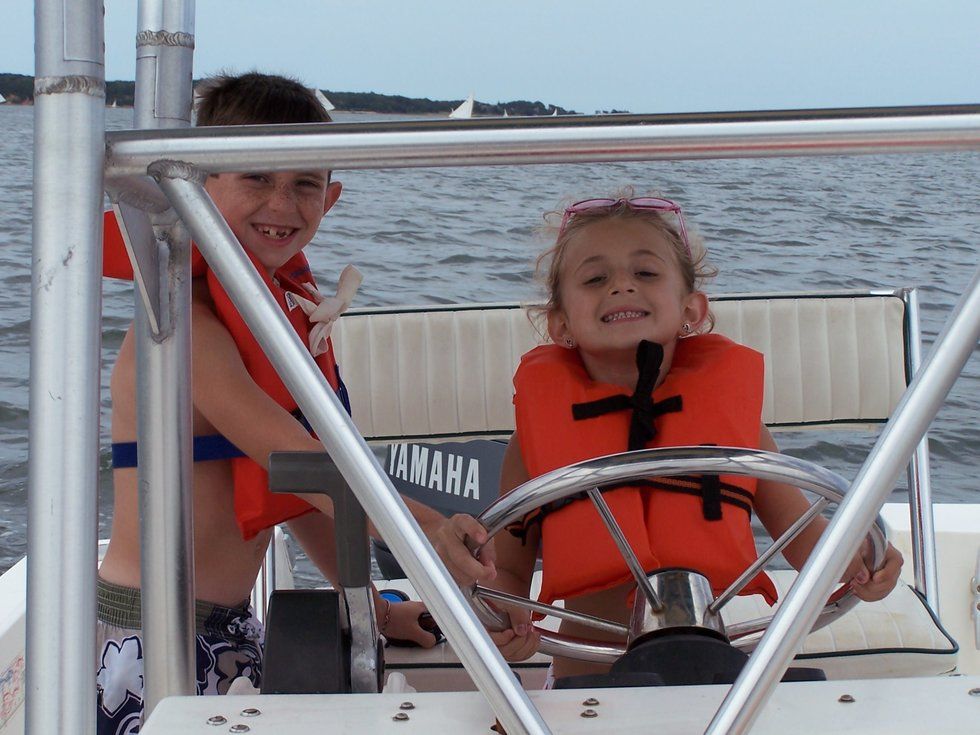 Lexi Garber