I have always believed that it is the duty of every celebrity to speak on and show their support for human rights. Celebrities have an enormous amount of influence on not only their own audience but also the general public. When they share that they stand with a certain movement, they spark interest in it and are likely to inspire their fans to become involved.
One of the celebrities that I have been a fan of for the majority of my life that lives up to this expectation is the legendary Harry Styles. I was lucky enough to see him on his tour stop in Sunrise, Florida last week and his show reminded me of the reasons why I respect and admire him.
Prior to the show starting, my friend and I went to the merch table and we saw a shirt donning one of Styles's most iconic quotes: treat people with kindness. This quote truly sums up what he stands for because Styles has always emphasized to his fans that no matter how scary or upsetting the world gets, the most important thing you can do is choose to spread love to those around you. The quote resonates with me in particular because it is what I want my activism to be at its core. I write articles about issues facing marginalized groups because I want to educate my readers and make them more compassionate. We should all be treating people with kindness no matter their gender, race, sexuality, etc. and I believe that Styles's shows are fostering an environment of humanity and acceptance.
The crowds that come to Styles's shows are a testament to that because everywhere you turn you are guaranteed to see some form of Pride flag. Everyone in the arena felt safe and comfortable enough to not only hold and wear their flags but also come up with a fan-based project to create a Pride flag in the crowd during his cover of "Just A Little Bit Of Your Heart" by Ariana Grande. The unwavering amount of support that he has shown his LGBTQ+ fans during every tour stop by taking one of their flags and dancing with it and holding it as he sings on stage has only created an increasingly uplifting and understanding atmosphere at every show. During my show in Sunrise, Styles even told the crowd "Happy Pride!" and then encouraged them to let loose and be their most authentic selves because his show was a safe space.
Even though the energy in the arena was filled with an overwhelming amount of joy and love, there was still a slight bit of sadness hanging in the air because of the proximity of the arena to Parkland, Florida, the city of the Stoneman Douglas High School shooting. As I was waiting to enter the arena before the show, I saw a girl handing out roses to the people around her. When my friend and I approached her, we saw that the roses were to honor Meadow Pollack, one of the victims of the shooting.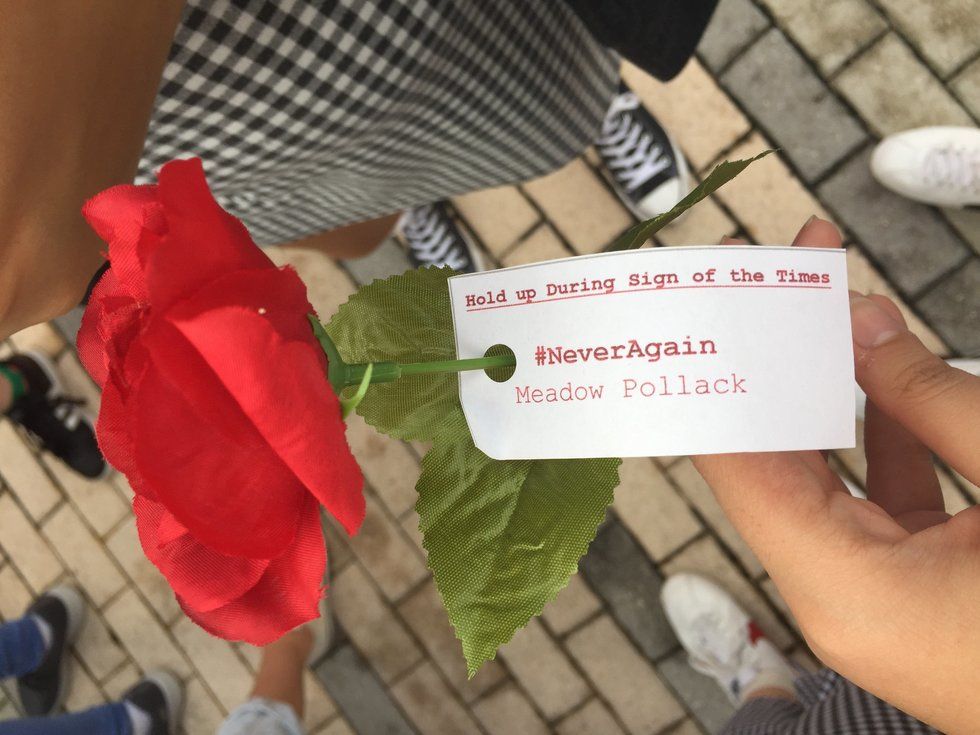 Valentina Duarte
Everyone around us happily took a rose and were fully prepared to hold it up during Styles' song 'Sign of the Times,' but unfortunately, the security guards in the venue forced us to throw away the flowers before entering because we were not allowed to bring in items from outside. Nevertheless, Parkland's presence was still seen and felt during the show because Styles had come onto the stage with an orange ribbon attached to his jacket.
The ribbon was for the 'Orange Ribbons for Jaime' foundation that was started by Fred Guttenberg, the father of one of the victims of the shooting. It is significant that Styles decided to pin the ribbon to his jacket and wear it for the entirety of his show because that meant that he understood that many people in the crowd would be feeling an immense amount of pain from being so close to Stoneman Douglas, so he wore the ribbon to show his support for the movement to end gun violence. It is powerful to see someone that you admire stand with your community because it makes you feel less alone. I am positive that Styles' gesture brightened up the day of everyone in the venue that was affected by the shooting.
Of course, Styles is not without his flaws. He has made mistakes along the way as he has become more involved with social justice, but he has listened to the criticism and learned from it. It is impossible for him to be perfect and never make any mistakes in the future, but Styles has shown that he makes equality and inclusivity at his shows a priority and that he is willing to make changes in order to grow as an activist.
Cover Image Credit:
Valentina Duarte