It's the battle of the blondes at this year's Politicon! Earlier this week, The Daily Beast announced that former late night talk show host, Chelsea Handler will interview the former host of The Blaze, Tomi Lahren. Tomi Lahren later confirmed the event on her Twitter.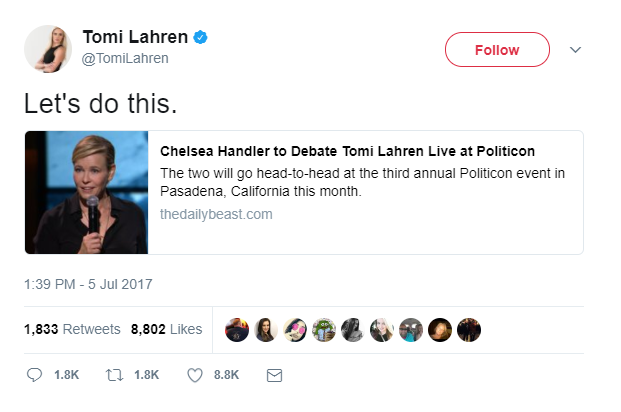 Chelsea Handler and Tomi Lahren basically describe every American in today's political system; loud, uneducated, but will fight you to the death if you tell them that they're wrong. Chelsea Handler has been against the Trump train since the moment he won the primary elections calling him a "whoopsie doodle sh*tsky mix" among other things. Handler also recently led the Women's March on Sundance back in March.
Oh Tomi Lahren, how we love to hate you. I'm not sure who is more blinded on politics, Tomi Lahren or her band of dedicated followers. Lahren is still desperately trying to hold on to what little fame she has left after her fall from The Blaze after she admitted she was pro-choice. But that hasn't stopped her from talking, unfortunately. Lahren has made several guest appearances on Fox News, calling every millennial a "snowflake" and crybaby.
Tomi Lahren has already tweeted her excitement for the event and started the hashtag #ChelseaTomiInterviewQuestions, which basically turned into a Chelsea Handler roast page. And while Tomi Lahren is totally prepared to put up her manicured fists, we all know she doesn't stand a chance against Chelsea Handler's sarcastic, tell it like it is, sense of humor. While the event is being described as an interview, we all know that this will be a roast made straight out of political hellfire.
Politicon is a nonpartisan political convention that is celebrating its third year. The convention will take place July 29-30 in Pasadena, California. However, the Chelsea Handler and Tomi Lahren debate will be broadcasted live on July 29 at 4 p.m.