The cabin lights dimmed, but I couldn't sleep, I was too excited.
The flight to Italy was six hours, but it felt like an eternity. I think my bouncing leg and unending fidgeting annoyed my sister, so she decided to distract me by suggesting we watch a movie. It was nearly Christmas, and I'd never seen Jim Carrey's notoriously scarring take on "The Grinch," so we decided to sync up our 4x6 screens and hit play.
I'd heard upsetting things, but nothing could have prepared me for my reaction to that movie.
I won't upset you with the details, but I would describe the movie as equal parts Christmas and horror film. At about an hour through, when the Grinch was reunited with his Whoville childhood crush, my sister and I had to pause. It was too much.
Now, haters may say what happened next had nothing to do with the movie, but I think the fuzzy, freakish face of a lime green Jim Carrey is truly what sparked it all.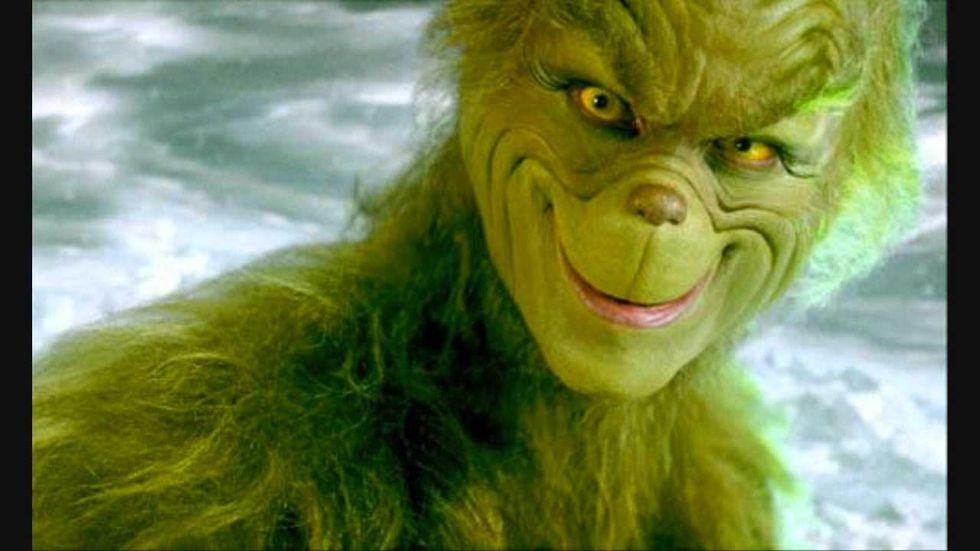 Frankmag
Suddenly, my stomach began aching, bad. A grim future quickly became clear: I was going to throw up. Immediately.
Panicked, I shoved my way out of the middle seat, stumbling into the aisle. I started heading for the back of the plane, but no luck: taken. I swiveled, but the one in the middle was occupied as well. Squinting all the way down the aisle - the plane air had caused me to choose my slightly-off prescription glasses over my preferred contacts - I saw my saving grace: a faint green light at the very front signaling the one free restroom.
I half-ran, half-tripped down the aisle, frivolously attempting not to wake the sleeping passengers on my left and right. My stomach heaved worse than the turbulence, but I was close. I would make it.
BAM! Out of nowhere, a flight attendant blocked my path to safety.
"You can't use that!" She said, trying to stop me from continuing towards my much-needed finish line.
I pushed past her, worried that if I opened my mouth to speak, words wouldn't be the only thing to come out. She grabbed my arm, but I ripped it away, running towards the bathroom. The plane made for a terrible sprinting surface, but I managed to outrun her and finally reached my destination.
It was the most beautiful airplane bathroom I'd ever seen, and not just because it was my new safe haven. No, this bathroom had nice mints and lotions and seemed bigger than the others. I breathed a sigh of relief and turned to shut the door.
Suddenly, a hand darted into my bathroom, stopping the door from its slide shut. It was the flight attendant!
She ripped my door open, angrily trying to pull me back out. I looked over her shoulder to the sleeping passengers behind her. They were lounging in...beds? Oh my god. This was first class. No wonder she needed me out.
Unfortunately, my leaving wasn't an option. I desperately tried to shut the door on her, but she pulled on it relentlessly, whisper-demanding to know what I was doing.
She looked at me to answer but all I could say in response was a horrible, squelching BLEUGH. The poor flight attendant stumbled backward as I threw up right before her eyes. Luckily, even for a first-class bathroom, it was small, so I made it in the toilet.
The flight attendant suddenly had a change of heart, seeming to conclude it was much better to just lock me inside, thus both of us now desperately tried to shut the sliding door. It wouldn't budge. The thirty seconds of this flight attendant and I struggling with the door interspersed with my throwing up were possibly the longest of my life. With one last combined shove, the door finally shut.
Yet I couldn't be relieved. After several stomachs emptying minutes, I slunk past the wealthy I had accidentally woken in my skirmish with the flight attendant and back to my seat. I took off my glasses and lay down, hoping to wake up feeling better.
But fate, or turbulence, or the lingering fear from the "Grinch" movie would not allow me that dignity.
No, two minutes later I stood up in a panic, my stomach screaming at me to go, go, go!! before my airplane food dinner of ravioli and meat sauce had its encore in Row 32, Seat C. My brain only knew one thing: hurry. I didn't even have time to put on my glasses.
Luckily, I was spared the embarrassment of returning to first class, and instead, I rushed to the middle restroom, blessedly open.
I spent a few more unfortunate minutes in the restroom, fully emptying my poor stomach. I heard the PA above call for any doctors on board, and I hoped the flight attendant hadn't made the call for me. I'd be fine soon, if only by necessity. I was running out of things to bring back up.
Finally, my pain subsided. I felt around for the door handle - without my glasses, I can see absolutely nothing - and tried to make my way back to my seat.
But when I stepped out of the bathroom, something had happened to the floor.
The first place I put my foot was not hard, as an airplane should be, but squishy and soft. I tripped forwards, grabbing onto a man standing by for support. I looked back at the floor, and to my horror, I realized I had stepped not on the ground at all, but on a person.
This had been who the doctor was for. I had stepped on the person having a medical emergency.
I tried to apologize, but the man I had clung to threw me off of him, so sick, blind, and afraid, I fumbled back to my seat. Luckily, as I walked off she began to too, meaning her emergency had mainly been over, but it did not change the humiliation and self-disappointment one feels after stepping on a person in such medical distress, not to mention the knowledge that the noises coming from inside the bathroom could not have helped any sort of emergency situation.
I made it the rest of the flight in one piece, although thoroughly over my in-flight experience. I will leave you with this advice, in hopes no one else ever goes through what I did: order vegetarian meal options on planes, wear your glasses to the bathroom, and for goodness sakes, never watch Jim Carrey's "The Grinch" on your flight.