One year ago this week my fourth grandchild was born. She is the first child of my last child; the baby girl of my baby girl. Yes, I am a happy grandma and a very proud mama, but why does being a Grandma mean more to me than any other role I have ever held? I would say that most likely has something to do with my Grandma, my namesake, Margaret "Ellen" Savage Rebman.
We learn by example. I learned much from my childhood and my grandparents. Both of my grandmas were named Margaret, but my mother's mother used our mutual middle name as her first. Everyone called her "Ellen," but for me and three other very special children, she was "Grandma."
Grandma would have been 100 years old last week if it had not been for lung cancer. My childhood memories are full of her. From beachcombing trips to my first trip on a salmon charter boat on the Pacific, Grandma was there.
My Grandma and Grandpa (Ellen and John) lived on the beach in a cove on Hood Canal at the base of Puget Sound in a tiny community called Union, Washington. It was a slice of heaven. They moved to Olympia to be closer to their great-grandchildren after my second child was born, but my memories of them were on the Canal.
A CB Radio handle she adopted fit her well, "Beachcomber" fit Grandma as well as "Monkey" fit me. Many of the summer days I spent with my grandma was on the beach in front of their home. Grandpa had built a dock jutting out of the bulkhead between their home and their neighbor's summer home. It was the perfect place to fish off the end of and catch the ugliest fish you ever saw… but grandma's cats loved them.
The cats that grandma allowed me to feed my catches to were actually strays. As an adult I now realize being so close to the water, the only way to keep rats away was to keep cats around. My grandma was pretty smart that way about a lot of things.
Ten days before I turned forty, my second son and his girlfriend became the proud parents of a baby boy, Aydin. My first grandchild and only grandson to this day. He changed my life by making me a grandma.
Very soon after Aydin was born, his mother decided to continue her education. By taking a class here and there, she could continue to be active in school, yet still, feel she was fulfilling her duty to her son. I agreed to help out.
The daily traveling to my baby grandson's home, then taking his mom to school and spending time with him and sometimes my mother who worked on campus was an incredible opportunity to bond with my grandson. This also allowed Aydin's great-grandma to see him much more than she would have had an opportunity to if we weren't visiting her at work. A few hours a day, every weekday for a three-month period of time, I had "grandma duty."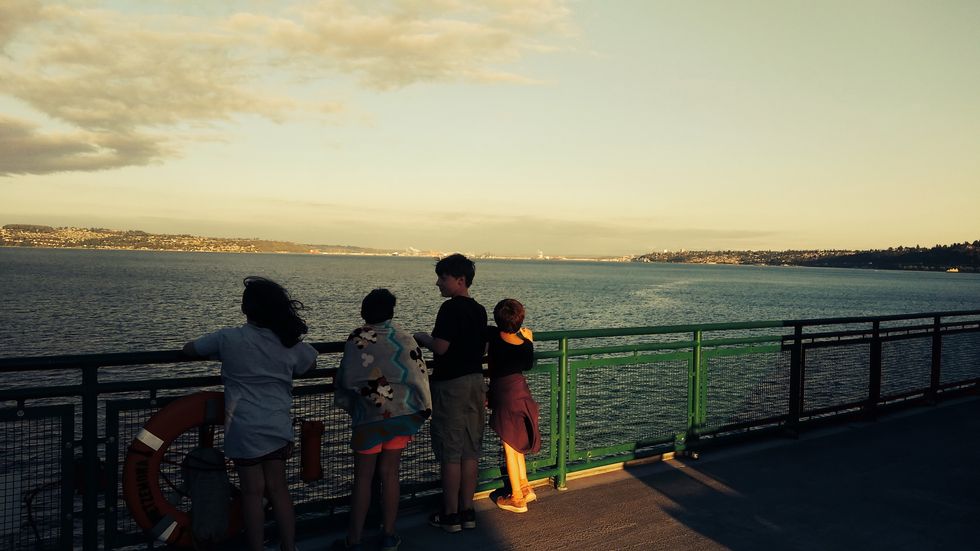 Aydin and the twins joined three grandmas for a ferry ride last July
In 2010, I finally had the opportunity to meet my twin granddaughters, Saphira and Serulea, daughters of my estranged firstborn son and his wife. They were just getting ready to turn two years old. The girls were living with their mother's mother, Mary, and their little sister B.
Our visits have gotten more frequent over the years. Currently, we live only about a mile apart and we TRY to go to church together each Sunday. It is a crazy new experience for me to live just down the road from these now preteen girls and we are having a lot of fun getting to know one another.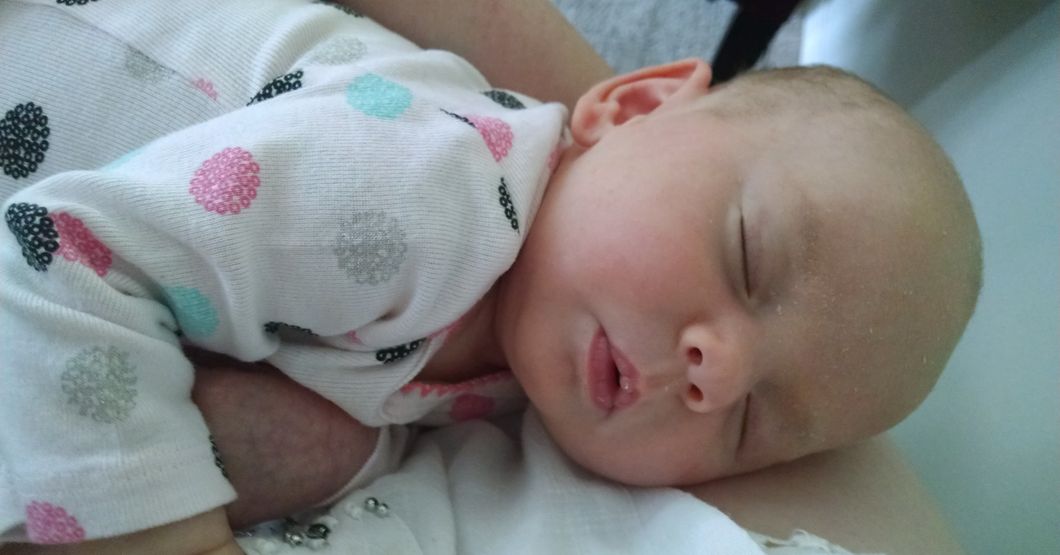 Jaina asleep in grandma's arms
As I held my daughter's daughter last year…this precious new life… I reflected on what being a grandma means to me. What "duty" do I have to these little girls and one lonesome boy?
I am a different woman than I was when Aydin was born. Jaina's grandma will not be the same woman Aydin's grandma was. I'm eleven years older than I was back then. Aydin's grandma roughhoused with him, Jaina's grandma gets around by powerchair.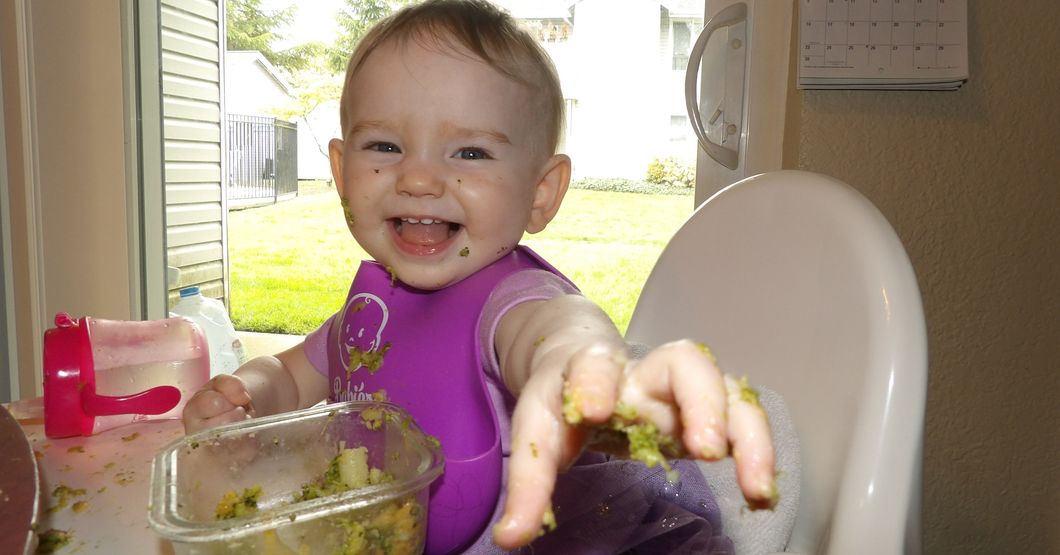 Jaina reaching for grandma with broccoli fingers
One year ago, and every single day in the year since, I have seen my daughter display more strength than I thought possible. From her tiny frame she gave birth naturally to the most perfect little angel I have ever met with a team she compiled with love and thoughtfulness. She and her husband are raising Jaina with an abundance of love and family built with both relatives and close friends.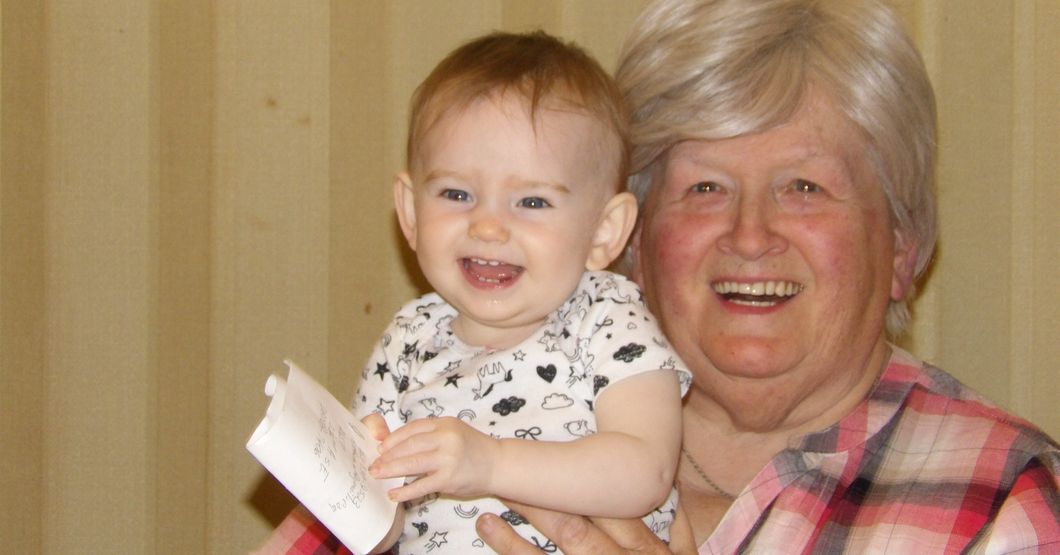 Jaina and her Great-Grandma Joan (my mom, her GeeGee)

This past year I have fallen in love with this precious child more than I ever thought I could. I am so looking forward to watching every day I can as she grows and learns from her amazing parents and their friends and family.
Each day I have an opportunity to have "Grandma Duty" with any of my grandchildren, I will look forward to it with joy.