Back to school is upon us! College students, you've likely spent all summer procrastinating, working, relaxing or some combination of the three. Getting back into gear for school is a little bit difficult after three months off. Not only do you basically have to move out of your house, but you have to go back to school shopping, wrap things up at home with your job and summer life, and on top of all of this, prepare yourself to go back to college! We could all use a little help in the planning department for back to school, so here are some ways you can make your life easier before heading back to college.
1. Get your schedule in order.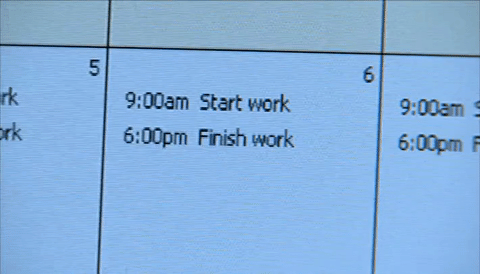 Giphy
Having a schedule in college is about more than just classes. Extracurricular activities are also a huge part of college life. Take a bit to evaluate how much time you are going to need for your classes. Reevaluate all those groups you joined freshman year that you've either spent hours working with when you didn't enjoy them that much or get the ListServ for when you don't even remember ever signing up. Quit them and unsubscribe! By understanding how much time you're going to need for classes, studying and work, you'll be better prepared to manage your time this fall when it comes to extracurriculars.
Note: This does NOT mean planning out your schedule hourly. If that works for you, great. If that stresses you out as much as it stresses me out, there are lots of other ways to estimate how much time you spend on different activities. Investing in a good planner and setting out all the dates in advance for appointments, school holidays, exams, etc. will be monumentally beneficial when evaluating your time.
Check out my favorite planner line here.
2. Buying school supplies. Yay!
Buying school supplies was always a wonderful and terrible experience for me as a child. I loved picking out fun folders, pens and fancy erasers in funny shapes, but I hated how we had to have certain types of pencils, paper, etc.
The good news is, in college, you can almost always pick out your own supplies! You're not going to need a whole backpack full like you did in middle school, and you can probably leave the funny erasers behind, but you do get to choose (for the most part) how you want to keep your materials in order. Check out how many classes you're taking and any syllabi that are posted for an idea of what items you will need. I typically keep notes on my computer, so just a folder or two and the same number of notebooks works for me. I do love my highlighters and sticky notes, though, so I always stock up on those!
Even if you're not sure what you need for classes, it's always good to pick up the basics before you move back to school. Everyone will be trying to go to the local Walmart in your college town to get the same stuff during syllabus week, so don't cause yourself unnecessary stress by not having a single pen to write with on the first day of class and having to run to the store frantically searching for the last pack of pens in the brand you like.
3. Get your jobs in order!
If you don't work, first of all, lucky duck, and secondly, disregard this point on the list. Make sure you turn in your two weeks at any summer job you may have or let your boss know about your change of schedule due to the start of the school year. If you work at school, find out what kind of jobs your campus offers if you're looking for a new job and send in your applications before you get to school. This will save you time when you're trying to get into the groove of the new semester. If you are returning to a campus job, send out the necessary emails to find out what the next steps are, if you have to reapply and when you can request your hours.
4. Take inventory of what you have—and what you need.
Getting to school without a toothbrush is not the best way to start off the new semester. Before you start officially packing, check around to see what you have left over from last school year that you can bring back with you and make a list of what you need to purchase. It will be the simplest things you forget, so I suggest using two methods to make sure you're completely prepared and you don't have to do a mad Walmart dash on move-in day. First, make a list of everything you need. Sit down in front of your laptop or a pad of paper and pen and go through your day. Think of every item you use during the day and write it down. Print it out if you're using a laptop, or copy if it's handwritten, two copies of your list. Then, use one list as a packing list, and the other as a store list after checking off all you already have.
Note: An extra or two can be helpful in a dire situation! If you're struggling with figuring out what to pack, check Pinterest for a college packing list and use that as your loose guide, adding and subtracting items as needed.
5. Get your money in order.
Paying for college is so ridiculous, as I'm sure everyone knows. It's easier to get your financial aid settled before you go back to school in order to avoid extra fees and extra stress. Plus, your parents are at home with you and able to help instead of being a phone call away when you're already at school. Not having to call your mom with 85 different questions about your family's tax history is going to go so much more smoothly than if you would have waited until you got to school to sort out the whole money mess.
Make sure you also have enough money to purchase your books because often you can only do so after going to class. It's only going to be difficult if you don't set aside the money during the summer and you wait until the day before your first exam to buy your textbook. Just set it away now so you know that you need to buy the books before you spend the money on something else!
6. Learn some stress coping mechanisms.
Inevitably, the school year is going to bring some sort of stress along with it. It's important not to let this stress overcome your life. Learning some mechanisms to cope with stress will help you to relax and realize that not everything is so serious. Putting some of these coping methods in place in your daily life will make you a happier, more relaxed person.
Here are a few strategies!
7. Setting goals
Going into a new school year is a great time to set your sights high. Make that grade! Audition for that play! Get involved with a student org! Writing down your goals before the school year even starts is a great way to lay out what you want to do while keeping perspective on where you are at the moment. Make different goals—monthly, semesterly and yearly. These small steps (monthly and semesterly goals) should be stepping stones for the biggest goals you might have. Knowing from day one what these goals are puts you on the right path to success!
Hopefully, these tips help you get on the right track to getting ready for college, both physically and mentally. Make sure you are fully prepared for going into the new semester. Don't stress too much, and get ready to have the best semester of your life!