"Greys Anatomy" seems to cover every scenario, every emotion, and every feeling all in one episode. It really does hit all the feels. And although 007 didn't get a lot of say in all that goes on in this world, he did have some good advice and raw feelings to share with us.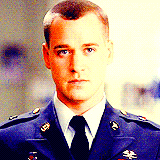 1. Overwhelmed
"It's like we're on a train and it's going 200 miles per hour, and it would be so nice just to get off."
2. In love
"You know, whenever anyone says something really funny and I laugh, I always look around to see if you think it's funny, too. Even when you're not there, I still look around."
3. Moving On
"Sometimes, no matter how much you love someone, they just can't love you back in the same way."
4. Grieving
"She would want you to have her heart. I would have given my dad my heart if I could. If I could have saved him, I would have given him my heart."
5. Loneliness
"I just feel like the world.. is just going on without me."
6. Confused
"You know, when your brain tells you what you want and what you actually want don't match it. It's exhausting."
7. Independence
"I think you're going to be mad at first, but I'm about to do something important, and I'm very sure about this decision."
There was never a time when he didn't have the right words to say.. you know, except for the times when he just stood and stared in silence. Now if only we got to keep his wise words and lovable attitude around for (a lot) longer.