If you have never heard of a catfe, it combines two awesome things: a cafe as well as a cat rescue. The catfe is a great place for pet lovers, coffee drinkers, and especially students.
Gem City Catfé - Dayton's Cat Cafe www.youtube.com
Owner Karin Johnson previously did marketing for another local animal shelter. She saw an opportunity to create the cat cafe as a way to get the general public involved in animal rescue and welfare. The goal was to provide a positive place where people and cats can positively interact without any expectations of adoption and without feeling guilty. So it's a win-win situation for students who can't own pets to be able to spend time with animals while also helping the cats to socialize.

The Catfe has a cat lounge that is home to 18 adoptable, cuddly cats. Whether you are a cat or a dog person, there is something to be said for being able to go and pet an animal. Research has also found that animals as pets can help improve mental health, especially in calming stress and reducing anxiety.
In addition to the cat lounge area, there is also cafe seating and an art gallery area upstairs with additional seating. So there is plenty of area to spread out and study! The cat lounge and the other areas run on separate air systems so even people with allergies can visit.
The cafe has a full-service espresso bar that serves fair-trade coffee and tea. They also offer bakery items and snacks like soft pretzels, hummus, bagels, and cupcakes from Butter Cafe. They have also expanded their menu to serve wine and cocktails. You can enjoy a caffeinated beverage as you study, and an alcoholic drink to unwind and reward yourself afterward.

Since opening in January of 2018, the Catfe has experienced great success and continued to grow. In addition to the cat lounge, they also educate about caring for feral cat communities as well as spaying and neutering through their Trap, Neuter, Release (TNR) programs. The Catfe's success is most evident in how 104 cats and counting have already been adopted as well as over 60 people trained through the TNR workshop.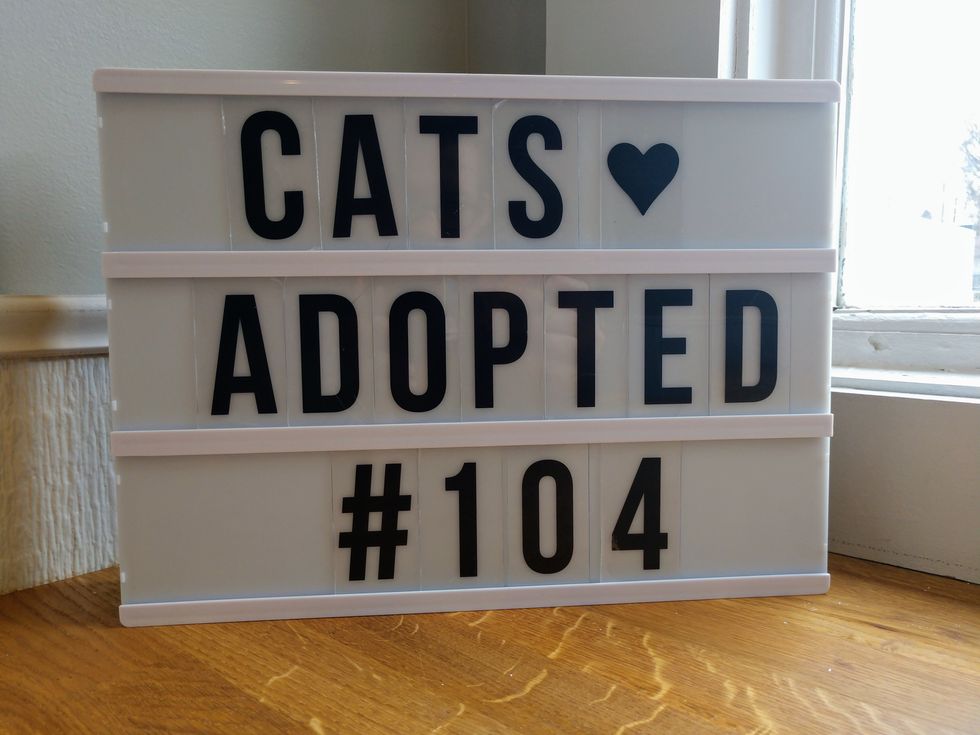 Lindsey Bronder
They have also added other programs and events like yoga every month, a game night, and now are going to offer study nights for students! On Monday nights from 5-9 PM the Catfe will offer students with a valid student ID the use of their upstairs space and free WIFI. Additional perks during this event is that their drip coffee will have free refills and there will be pizza for sale by the slice from Pizza Factory. Most importantly, every hour students (with the purchase of any food or drink) can take a free 5 minute study break to relieve stress by going into the cat lounge and cuddling the cats!

If you can't attend the study nights, the Catfe is open Monday-Thursday from 7AM to 8PM, Friday from 7AM to 9PM, Saturday 8AM-9PM, and Sunday from 9AM to 7PM. The Catfe is located on 5th Street in Dayton, so it is a quick walk from the RTA Flyer free shuttle route stop in the Oregon District also located on 5th Street. The cat lounge does offer reservations and has an entry fee to help care for the kitties, which is $10 for non-members and $5 for members. Members pay a $25 annual fee and can share their discounted entry rate to others visiting with them. I am a member of the Catfe, and I have found that it is a great way to show your support and to also save money on future visits!

In addition to studying, I also like to go to the Catfe for just relaxation. I brought my parents when they visited UD for a peaceful afternoon. My boyfriend and I enjoy going there for a fun, inexpensive date night. It's all around the place for students to be!
So be sure to visit the Catfe and to follow the cute cats on Instagram!