What time is it? SUMMERTIME!
We've jumped into summer two feet first at this point. Face it, folks, it's pool season, party season, and when you put the two sets side by side, there's nothing better than a frozen concoction to amp up any scene. Even if you're just relaxing by the pool, cool down with one these summer-inspired servings of sweetness.
1. Frozen Sangria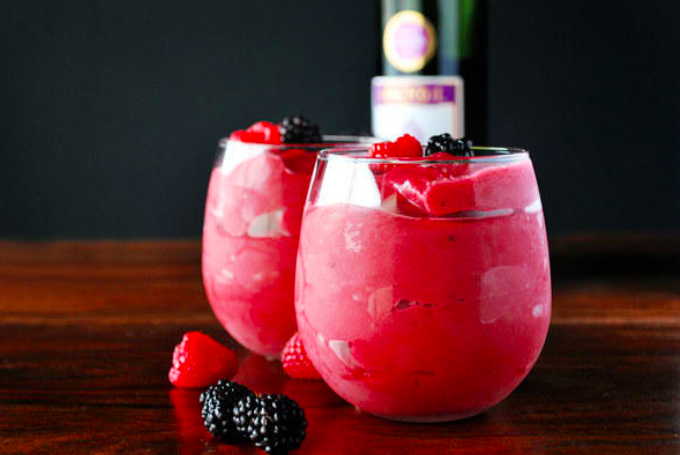 There's never an appropriate time to say no to sangria, and this is certainly an even better reason to say yes! Pull out the blender and get ready to make your sangria stay cold twice as long with twice the flavor.
Ingredients:

2 pints Talenti Sorbetto (Blood Orange and Roman Raspberry)
1/2 lime, juiced
1/2 bottle of cabernet sauvignon or other dry red wine
1/4 cup mixed berries (optional)
Directions:
Add all ingredients to a blender and mix until smooth. Add more wine if too thick, or more sorbetto if too thin. Garnish with berries and serve immediately, or freeze for later use.
See the original recipe, plus more delicious photos here.
2. Sparkling Pearl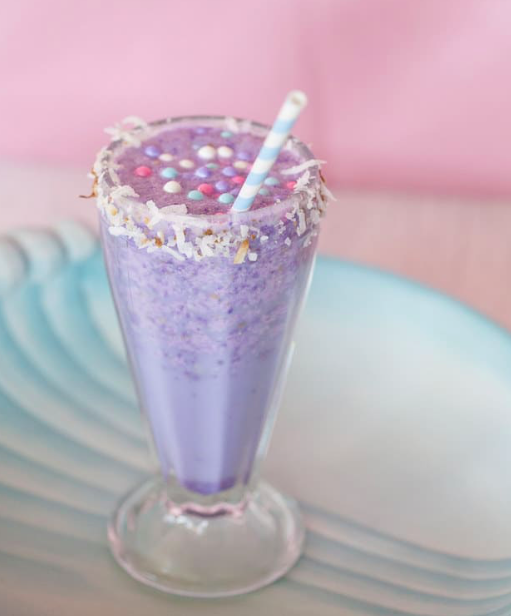 It's even more delicious than it is Instagram-worthy! Serve this stunning sweet drink at your party of choice, but preferably as an afternoon treat or evening dessert drink. It's a sure hit for the coconut-lovers out there! Plus, you'll have quite a few foodies liking your Instagram post, guaranteed.
Ingredients:
2/3 cup coconut flakes, plus more for the rim of the glass
4 tablespoons (2 ounces) royal blue or purple jimmies
2 ounces crème de cacao*
2 ounces white rum
2 ounces dark rum
2 ounces overproof rum,** optional
1/2 cup (4 ounces) coconut milk, plus more for garnish
5-6 cups of ice
sugar pearls (dragées) for garnish
Directions:
Preheat oven to 325°F. Sprinkle coconut flakes onto an aluminum foil-lined baking sheet, and toast for 3 to 5 minutes, just until golden. Let cool.
Combine 4 tablespoons of toasted coconut flakes, jimmies, crème de cacao, rums, and ice in a blender and process until thick and smooth.
Place the remaining toasted coconut flakes in a shallow dish. Dip the rims of two parfait glasses in coconut milk and swirl them in the dish of toasted coconut to coat.
Pour cocktails into toasted coconut-rimmed glasses and float a few pearl dragées on top. Serve with a clear straw and watch the pretty bits of sprinkles swirl and ascend up from the bottom of the glass as you sip and enjoy.
See the original recipe and explore the blog of Jackie's Happy Plate here!
3. Frozen Butterbeer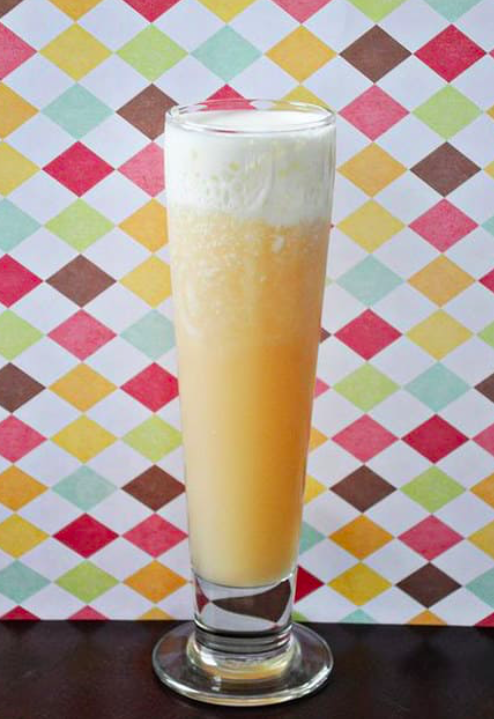 For those movie marathon nights, you can't go wrong with fan favorite. Get ready for a whirlwind of flavor with magical charm! Perfect for both rainy day movie nights and parties by the pool.
Ingredients:
1-½ cup cream soda
7 tablespoons butterscotch schnapps, divided
2 cups ice
6 tablespoons heavy cream
Directions:
1. Combine cream soda, 6 tablespoons schnapps and ice in a blender. Blend until slushy. Pour into a glass or mug.
2. In a small bowl, combine heavy cream and the remaining 1 tablespoon of schnapps. Using an electric mixer, whisk together until almost whipped. You want the cream mixture to be slightly loose, not as firm as whipped cream.
3. Top the butterbeer with the foamy topping and serve immediately.
See more photos, the original recipe, and explore the blog of Cook Like A Champion here.
What will you be mixing for your summer soirée?