For the past several months, I've been working part-time at a public library. And let me tell you - it's an interesting and exciting experience!
Though everyone knows what the average patron does at the library (check out books, use the computer, et cetera), not too many people know what goes on behind the scenes. As a result, I get a lot of questions about what it's like to work at a library. Here are some of them.
1. So are you a librarian?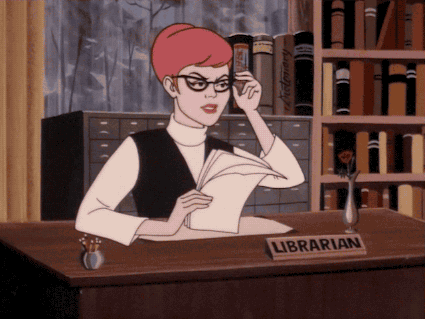 No, I'm not. You have to have a Masters in Library Science (or an MLS) in order to be a "librarian." But that doesn't mean that everyone that works at a library has an MLS; most library employees are paraprofessionals who are in charge of specific areas, such as interlibrary loans or circulation.
2. Wow. I didn't know the MLS was a degree/a master's degree.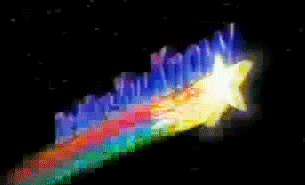 3. So what do you do?
I'm a library tech, so I mostly do the "customer service" stuff that a library requires-checking books in and out, answering questions, helping with computers, accepting payment for prints, and fielding phone calls. I also do a fair amount of shelving.
4. So you don't just read all day?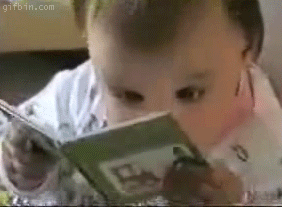 No.
If you think about it, this is kind of like asking a Baskin Robbins employee if they eat ice cream all day or asking a bartender if they drink all night. You might get to enjoy the fruits of your field while on the clock every now and then, but most of the time you're too busy with, you know, your actual job to do so.
5. But it must be a peaceful place to work, right?
Not really. On a good day, it is quite peaceful. But sometimes, there's a program and the library gets packed and noisy and generally not library-like. And sometimes, it's an average day, only it's chaotic in other ways: There's a screaming, unsupervised child in the kids' room, or a printer issue that's preventing the fifteen people from sending their fifteen documents apiece, or an angry patron who wants to talk to my manager right! Now!
I wouldn't say that it's ever as bad as, say, Macy's on Black Friday, but it's not the idyllic haven from rude patrons customers by any stretch of the imagination.
6. Aren't libraries dying?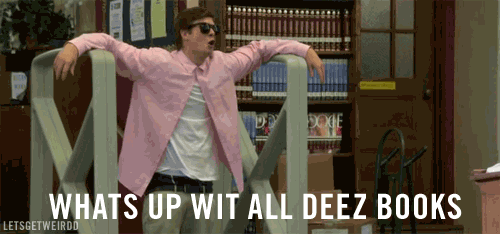 That sounds like something someone who's never been in a library would say.
But seriously - libraries are still excellent resources for communities everywhere. Libraries provide access to materials that you might not have had access to before, whether it's to someone who can't afford to pay $20 a book at Barnes and Noble or to someone who can't find an out-of-print book anywhere else, to someone whose printer is broken or to someone who wants to learn more about car reconstruction. In addition, libraries host all kinds of programs that range from children's storytimes to senior technology times. Whether a program is educational or for sheer entertainment, participating in these programs - which are always free-increases your involvement in your community and provides endless entertainment. Libraries, or at least the ones I know of, are thriving.
Perhaps the old-fashioned library with card catalogs is dying, but in its place is forming a new type of library.
7. How do you get a job at a library?
Depends on the library. For me, I had been volunteering at the library for three summers and happened to be looking for a job when a new part-time position opened up. One thing led to another, and voila! I was hired.
If you want a job at a public library, I would highly recommend that you volunteer there first, and continually check your city's employment site for any openings. And if you're a college student, there's always working at your school's library!
8. Is working at the library a good job?
Why, yes. Yes, it is.