On Wednesday July 13th, 2 Detroit artists headed to court to fight felony charges for allegedly painting the words "Free the Water" and a large black fist on the Highland Park water tower in 2015.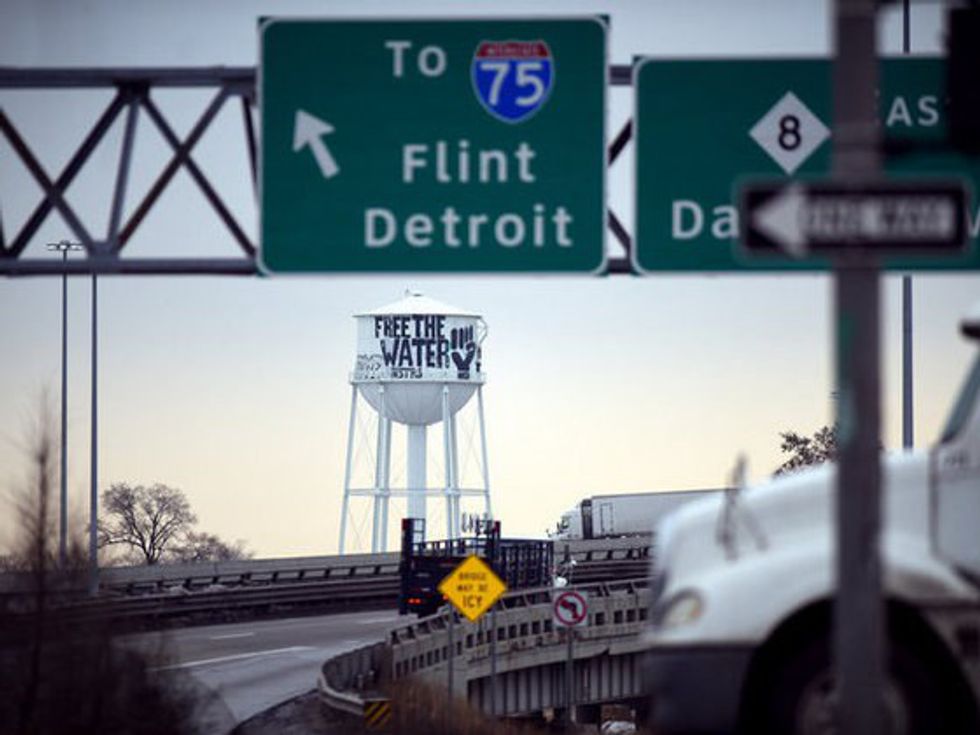 Antonio Cosme and William Lucka are facing up to 4 years in prison on charges of malicious destruction of property, totaling at least $45,000, the alleged cost to remove the graffiti.

Antonio Cosme is a 28-year-old farmer and community organizer, active in "raising awareness about political and environmental injustices." William Lucka, 22, is a muralist and an "outspoken opponent of gentrification and emergency management." The two are members of the Raiz Up collective, a Xicano, Latino, Indigenous hip-hop and arts collective rooted in South West Detroit.
After one year of no correspondence, the two received a court summons in early March. Since then, Lucka and Cosme have been in and out of court. Two lower courts passed the case forward, then offered two settlements- one asked them to take the felony charge or spend time in jail.
Instead, the two artists decided to take the case to trial, set for July 13th.
However on Tuesday, July 12th, eight felony charges were filed against Lucka and a warrant was issued for his arrest. Early Thursday morning, Lucka turned himself in. After his arraignment, his bond was set at $3,500. With the aid of funds raised by the community at the Wednesday court hearing, Lucka was released at a $350 bail before the end of the day.
In a video press release, Antonio Cosme said, "The criminalization of artists is part of a larger war on public space. It's coinciding with a war on public good. And privatization is being implemented on our public schools, on our water, our healthcare."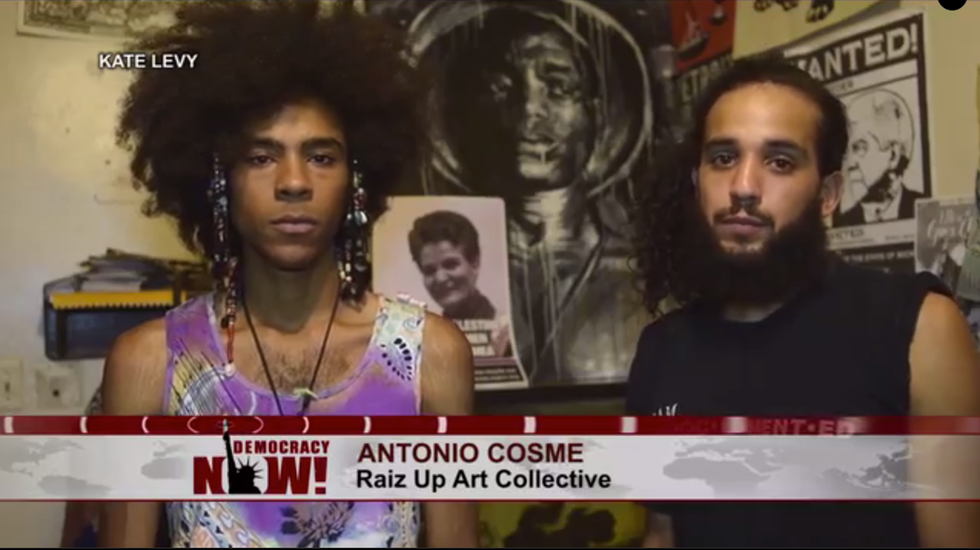 Because their lawyer was unable to represent them on Wednesday's hearing, another appearance needs to be filed with the court by next Wednesday, July 20th.
I write this article in an act of solidarity with these Detroit artists and for all those whose creative expression is targeted and criminalized.

It astounds me that two young men of color could face such trumped up charges for allegedly painting on a wall, charges that could significantly damage their futures, when in the last couple of years, Michigan has violently failed its communities in regards to safe water access.
In Detroit, government has continued to shut off water access to thousands of poor and working class families. Water is a human right. Being poor and unable to pay a water bill is no reason for a government to decide who has access to this vital resource. Government assistant programs must not be based on debt but instead sustainable methods that will uplift the people from poverty.
An hour north of Detroit is Flint, Michigan. Earlier this year the world took notice when it was revealed that Gov. Rick Snyder, in an effort to save money, decided to switch Flint's water source from Lake Huron to the toxic Flint River, contaminated with a half dozen toxins, including lead. All 9,000 children in Flint, and all adults, have been exposed to this water.
This neglectful act has led to irreversible damage for the people in Flint, much of which is no longer being discussed in mainstream media: the number of cases of Legionnaires Disease has increased tenfold since the switch to the river water; people can no longer sell their homes because their worth has dropped to zero.
As of today, not one member of Flint's government has been charged for their actions, including Gov. Rick Snyder. Of course, excuses are made that a conviction is impossible without valid proof- proof which is difficult to ascertain, they claim. Of course, government is going to protect themselves and their corporate companions.
And yet, when we compare these cases- Detroit shutting off water, Flint poisoning the entire city and two artists accused of tagging on a water tower- I am astonished by the audacity of the Michigan government to so shamelessly expose their injustice system.
It is clear on whose side they stand, but nonetheless, it is also clear on which side the people stand.
Support Antonio Cosme and William Lucka by donating funds for their legal fees.
Let's see to it that their charges are dropped because as they and the great Assata Shakur said, "We have nothing to lose but our chains."