Growing up in Florida, I can't say I have a very good conception of what it feels like to actually have a fall. The word brings me images of kids in red coats and hats, walking down leaf-littered sidewalks beneath trees decked in orange, aside stoops dotted with scarecrows and pumpkins. The fall I see when I look out my window or walk between classes looks exactly the same as the last two seasons, and is only two degrees cooler.
I sometimes hear my peers talking bitterly about Florida's lack of fall, but it's really all I know, so I've learned to enjoy it. Sure, I'd love an excuse to wear more flannel and sweaters and go to a real, live pumpkin patch (not a tent selling pre-picked pumpkins from another state), but you have to make the best of the hand you're dealt. If this is your first autumn in the Sunshine State, or you're a local still suffering from this autumn-deprived bitterness, fear not—autumn in Florida is not, in fact, nonexistent.
While we may not have pumpkin patches, Florida is still known for its wide bounty of produce, and just like in more Northern states, fall means that corn is in season! Florida has a wealth of annual corn mazes, and most of the farms that make them have loads of other fun autumn festivals and activities to enjoy as well. Take some time to Google "Florida corn mazes" or "Florida festivals" and plan a trip with friends. Some of these farms have hayrides, crafts, live music, pony rides, petting zoos, classic car showcases, and fresh produce picking.
The latter, I think, is one of Florida's greatest cooler weather activities, and can really make the season felt. Find out what's in season and grown near you and pick it right off the branches/vines. After a quick search, I found out that right now (October), blackberries, blueberries, peaches, raspberries, and tomatoes are all in season in Florida. I don't know about you, but homemade blackberry pie made with fresh berries sound pretty autumn-y to me.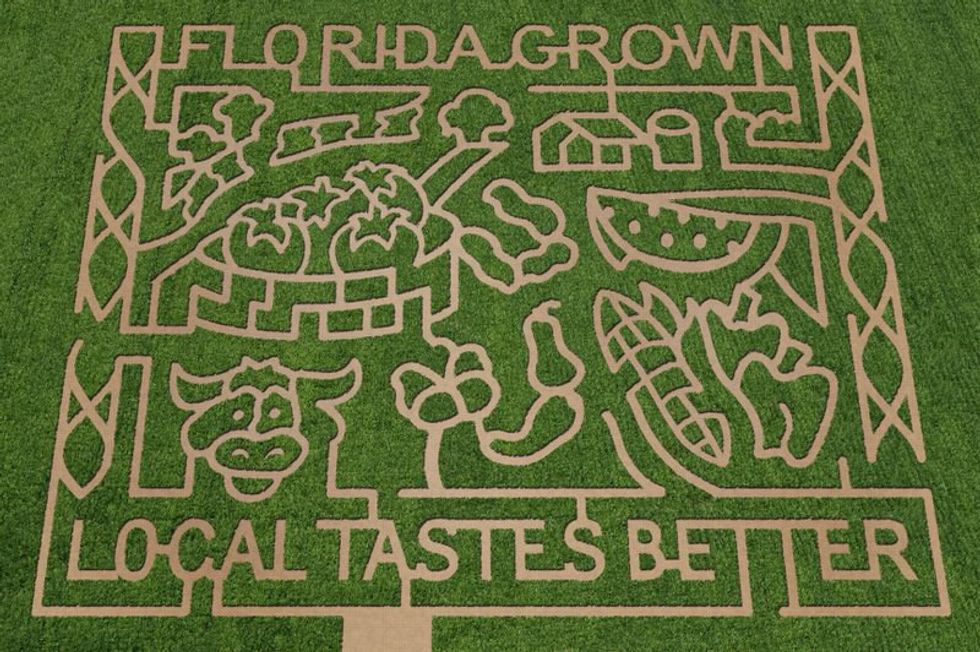 If your idea of fall is more spooky in nature, Florida is full of notable haunted houses. Take advantage of our proximity to so many theme parks and see what they have to offer. Most, even the small ones (and a lot of zoos, colleges, and other attractions), do something seasonally festive. You could even do a real-life ghost tour of your city, or another nearby location. Ghost tours are one of my favorite past times—the closer to Halloween, the better. A really good one will even bring along ghost hunting equipment for patrons to try out.
Aside from these things, Floridians can still take advantage of farmers markets, pumpkin carving, seasonal drinks at Starbucks, and fall specials at their local restaurants and attractions. See what businesses around you do to celebrate the changing seasons. At the very least, they might offer some fall coupons and deals. Ethos, my favorite Winter Park restaurant, gives visitors in costume a free cookie on Halloween!
It may not look like fall, and you may get heatstroke wearing the layers you crave to, but fall is still very much alive in Florida. Make the most of our unique version of the classic time of year—not everyone lives within four hours of so many farms and famous Halloween celebrations!
Also, I hear that zombie paintball is a thing now. No clue what that is, but it definitely sounds like something Florida would embrace.